Data growth is a fact of life. As your business grows, so does the amount of data it generates, and the amount of storage capacity needed to properly retain the data cascades out.
How to plan your important data backup? Is your business looking to backup to NAS devices?
The term network attached storage (commonly abbreviated as NAS) describes storage devices that can be accessed over a computer network rather than being directly connected to the computer. NAS devices enable multiple computers to share the same storage space at once. NAS has emerged as a powerful, proven technology for storing data that needs to be shared in the office or the home. NAS devices enable home and business users to easily share large amounts of data in a cost-effective and efficient manner.
NAS devices are commonly used as backup servers. Rather than buying a USB external backup device for every single device in your home or office, a single NAS can be purchased and all computers on the network can backup to the NAS device. Backup software delivers a comprehensive backup solution for both business and home. This completely eliminates the need to walk from PC to PC or laptop when you want to backup or restore data. The NAS will be available on each machine when you backup data to NAS or restore data from NAS.
If you are looking for an easy-to-handle backup solution for NAS backup, why not try EaseUS Todo Backup, which is quickly gaining praise from for delivering a complete NAS backup solution, while being easy to use.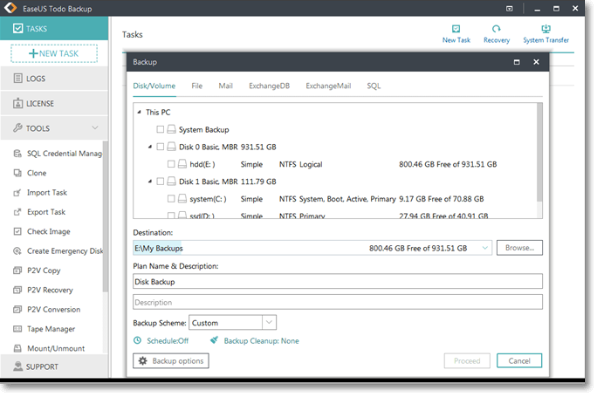 Backup to NAS is simple with EaseUS Todo Backup
EaseUS Todo Backup makes the backup so easy, any individual(experienced or novice) can set up a backup to NAS strategy in minutes. Just install and follow the wizard. Only one thing that should be paid attention is to make sure the destination for your image files is NAS.
EaseUS Todo Backup provides the most professional backup solutions for home and business users under Windows 7/xp/Vista as well as Windows Server. It has won numerous applauses and become their first choice for data backup. See its main functions listed below:
System state backup and restore
Disk/partition (or files) backup and restore
Disk/partition clone for data transfer and hard disk upgrade
Automatic backup as well as incremental/differential backup being supported
Guide to make WinPE bootable disk for disaster recovery
SQL and Exchange Server backup
P2V, image splitting, compression, etc.
Tutorial about NAS backup software: How to backup data to network storage with NAS backup software?