Nowadays, hard drives are getting lighter, smaller yet the capacity bigger. Meanwhile, functions are more versatile but selling cheaper. It's no longer a dream for small companies to invest in a new server in a minute. Isn't it a great idea to find the best Windows server migration tool to transfer well-adjusted, stable and smoothly running OS with all applications to a new server?
Other top reasons you may want to migrate Windows server
The OS performance and speed on old machines is decreasing, and you wish to upgrade the old machine.
Your server crashes a lot and cannot boot normally at times. You plan to move the OS and data to a new server, to avoid the frequent downtime.
Many more scenarios in which you have no choice but to switch to a new machine, such as software failure, hardware failure, user error, natural disaster...
PAGE CONTENT:
Windows Server built-in tool
3rd Party Windows Server migration tool
Windows Server built-in tool
Take Windows Small Business Server 2003 for example, migrating from an existing computer running Windows SBS 2003 to new hardware includes the following operations:
1. Evaluate the current status of the source server. Install Windows SBS 2003 and join the domain.
2. Transfer Exchange Server 2003 settings and folders.
Migrate shared folders and data folders.
3. Install and configure the Dynamic Host Configuration Protocol (DHCP). And then configure Windows SBS 2003 settings.
4. Migrate Internet Information Services (IIS) Web sites.
Install and migrate Windows Server Update Services (WSUS).
5. Migrate Internet Security and Acceleration (ISA) Server settings.
6. Migrate Microsoft SQL Server databases.
7. Remove the source server from the network.
3rd Party Windows Server migration tool
You see, the Windows server disk image software is good at backing up the old Server operating system to an image file. And then, through the software, you can restore the backup image to a new computer with different hardware, and everything is maintained as it was: same machine ID, same domain name, same configuration, etc.
EaseUS Todo Backup Server Edition provides with a 'System Transfer' function to enable Windows Server migration to a new one. It supports Windows Server and PCs. Backup old Server OS to image first, and follow the steps and find out how to restore os to dissimilar hardware.
Step 1. Create an EaseUS Todo Backup emergency disk
Run EaseUS Todo Backup, and click Tools, under which click "Create Emergency Disk".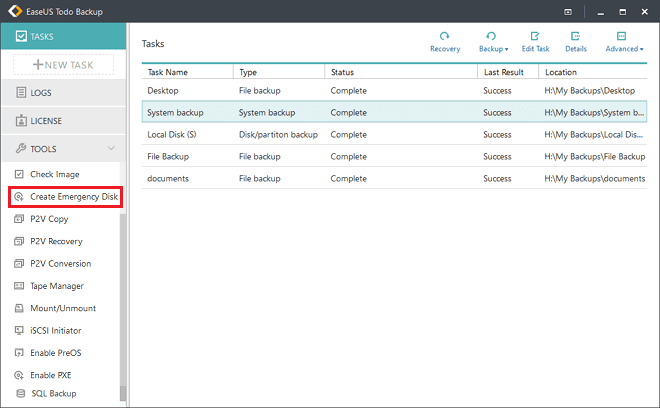 Between "Create WinPE emergency disk" and "Create Linux emergency disk", choose the former. Select a USB flash drive to create the rescue media.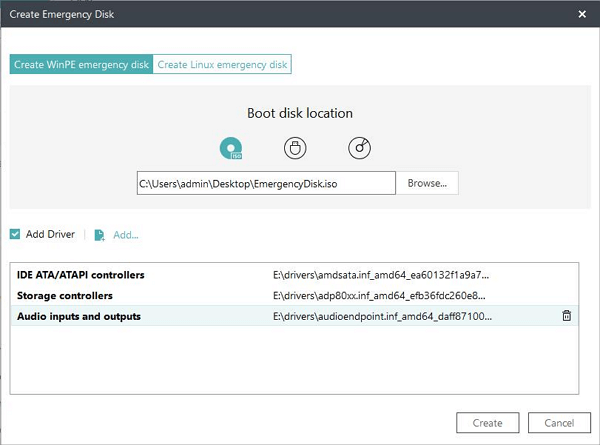 Tip: If you prefer a bootable CD/DVD, you need to burn the ISO image to CD/DVD with assistive tools like Nero.
Step 2. Create a Server system backup
Run EaseUS Todo Backup, and click the +NEW TASK.
Select the backup task of Disk/Volume, and then select System backup.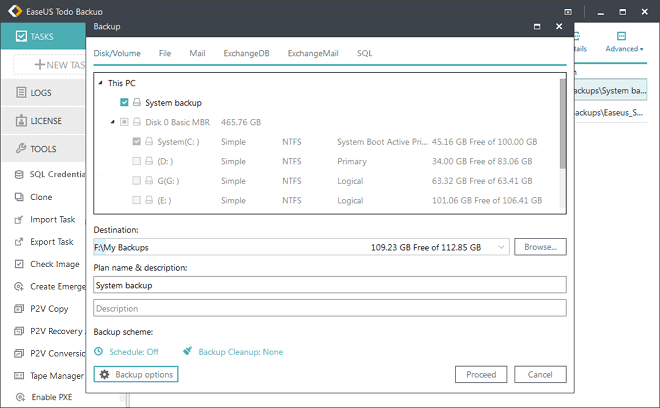 Choose the bootable USB drive to store the system backup image. Other locations are workable as long as the new server can detect and access.
Click Proceed.
Step 3. Start to transfer system to the new server
Run EaseUS Todo Backup from the bootable USB drive on the new server. Click System Transfer.
Select the system backup image on the USB drive. Click Next.
Select the recovery location on the new server disk. Click Proceed.
After all these steps, the Server OS will be transferred or migrated to new disk successfully. And then can remove the old disk and boot Server from the new disk now.