A lot of people may wonder whether we can migrate an operation system to new hardware just as easy as we transfer files. Because most of the PC users, especially those server users, complain about the tedious task of buying computer with new hardware and installing the operating system and moving all primarily settings and trusted applications to the new hardware. It's a time-consuming and exhausting work and everyone wants to make it as simple as possible. EaseUS Todo Backup represents one of the best solutions: Recover to dissimilar hardware to best migrate system to new hardware efficiently without reinstalling operating system and applications.
If you decide that your server running the Windows Server software is no longer able to keep up with the demands of your organization, and expansion is not a viable option, you may consider migrating the Windows Server settings and data to new hardware with professional and effective migration software - EaseUS Todo Backup Server Edition - as a solution.
Conditions of migrating a Windows Server to different hardware
Over the life cycle of a Microsoft Windows Server operating system, you may have to migrate it to the same physical computer or even to a different physical computer. Under the following conditions, Recover to dissimilar hardware of EaseUS Todo Backup Server Edition can solve those problems with ease:
1. Prevent motherboard failure.
No matter which operating system you use, there is still risk of motherboard failure. With this restore feature for system recover to dissimilar hardware to new hardware, there will be no trouble for you to select replacement hardware.
2. Migrate system to dissimilar computer.
Try to transfer your current system to dissimilar computer with all programs and installed applications saved. Recover to dissimilar hardware is just the efficient way to transfer your current system to dissimilar hardware with all necessities saved.
3. Instant recovery of a failed system on different hardware.
4. Deploy the same system on many computers with dissimilar hardware.
When you try to create multiple computers with the same system state, Recover to dissimilar hardware is the easier and faster way to restore the same system state to many computers.
Migrate a server to new hardware with EaseUS Todo Backup Server Edition
EaseUS Todo Backup with "recover to dissimilar hardware" function can transfer operating system to new hardware for hard disk drive upgrading and system migration. It offers maximized data protection and ease-of-use. With this cost-effective backup & recovery software, users can perform self-service backup operations like creating an exact disk image, backing up entire operating system, applications, and all data. In addition, you can get system up and recover files and folders in time, saving your time and work.
Recover to dissimilar hardware in EaseUS Todo Backup Server Edition is designed to restore image from the system originally backed up to a hardware platform with a dissimilar processor, different motherboard or a different mass storage device, as well as ensure the server or workstation can boot its operating system normally after a restoration/deployment.
In conclusion, EaseUS Todo Backup Server Edition makes the best choice for server users to fast and simple transfer system to new hardware.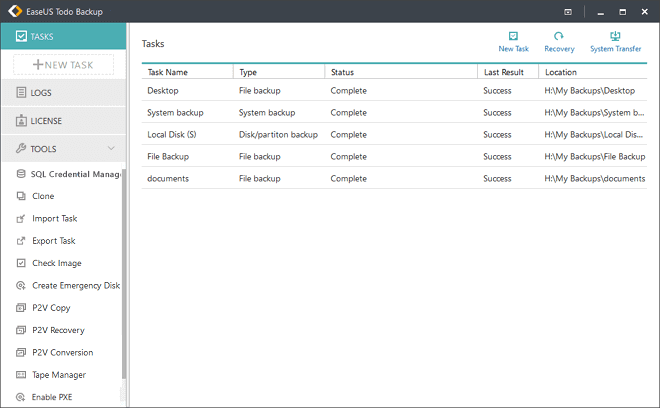 Tutorial: How to migrate server system to dissimilar hardware?