What Are Lenovo Backup Software Available to Use?
Are you looking for Lenovo Backup solutions? Someone may think of the preload backup software reflexively. So the OneKey Recovery feature is not new to Lenovo users. This is just one of the backup software. Here is another backup software for you to use, not just for Lenovo. All Windows laptops can be supported. The second way is to take advantage of Windows built-in tools: File History and Backup and Restore. Choosing a third-party software can be the third way to help you.   
Lenovo Backup Software Free Download with 2 Options 
However, there are two detailed options below to help you have overall knowledge about Lenovo backup software since they are free and reliable. Don't worry if you are not familiar with the backup software mentioned before because this article will give you a more detailed introduction and guidance. Just take a closer look, and you will get all the information.
Option 1: Third-party Free Backup Software for All Lenovo Desktops and Laptops
The EaseUS Todo Backup is free backup software that provides automatically backing up the Windows 11 system, particular files and folders, and whole hard drives. It is a reliable backup solution worth having around for safeguarding important documents and even the entire system clone. 
The advantages can be summarized as follows:
Reliable and safe: support encrypting the partition backup images to make your data safe with 13 years of experience, and compress backups quickly and safely.
All brand compatibility: not just apply to Lenovo. It supports all brand computers, like Apple, HP, and Dell. 
User-friendly: due to the clear interface, friendly to every user.
Here you can follow the steps in several simple clicks:
Step 1. Launch EaseUS Todo Backup and choose "Create Backup" on the home page, click "Select backup contents".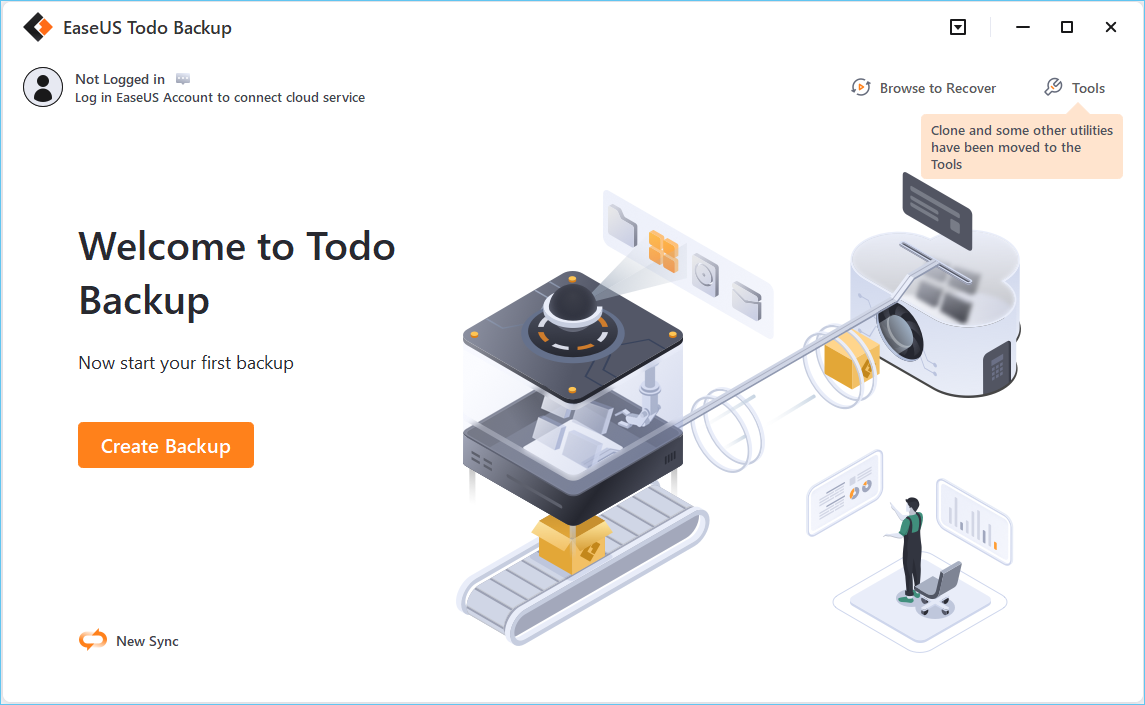 Step 2. Among the four available categories, click "OS" to start back up.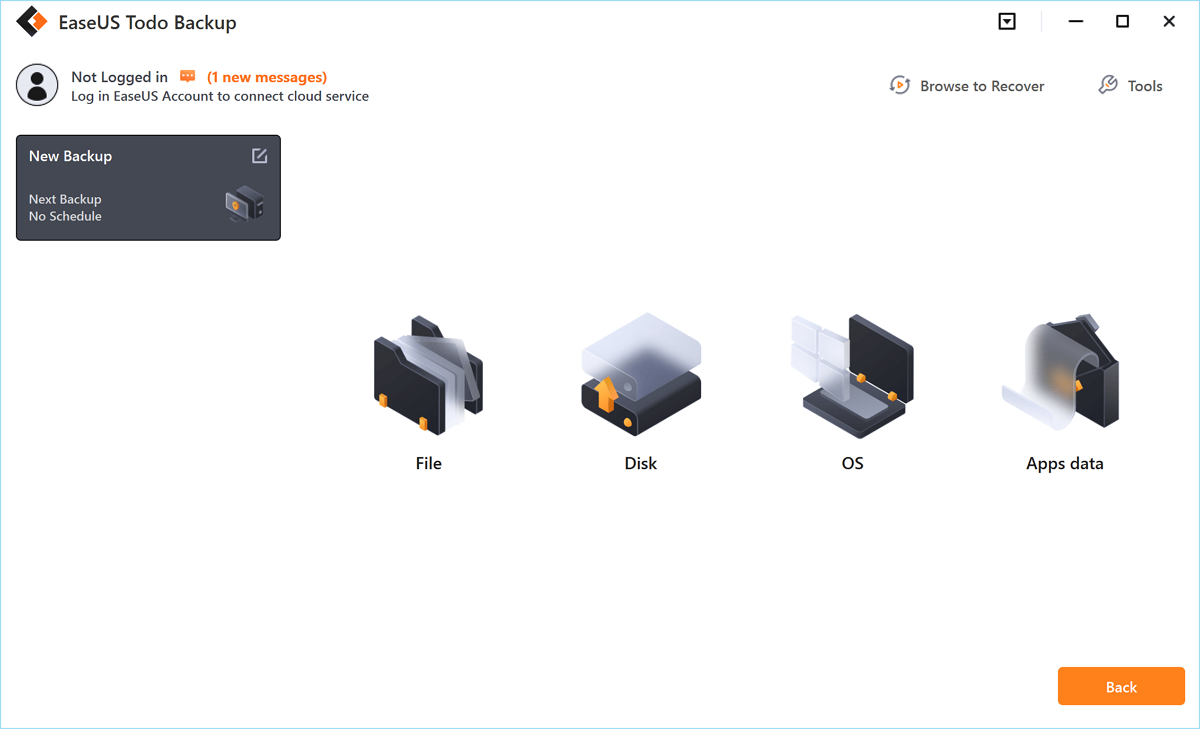 Step 3. The system partition will be automatically selected, you only need to select the location.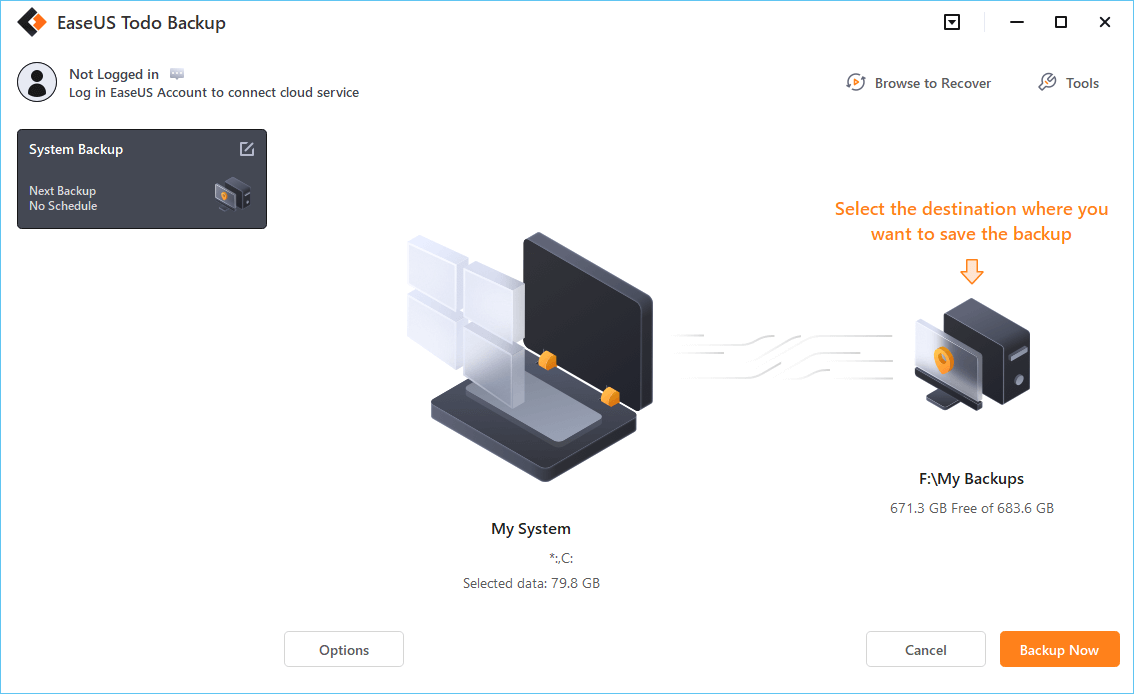 Step 4. Local Drive, Cloud, and NAS are available for you to save the backup file. You can also connect an external hard drive to preserve the system backup files.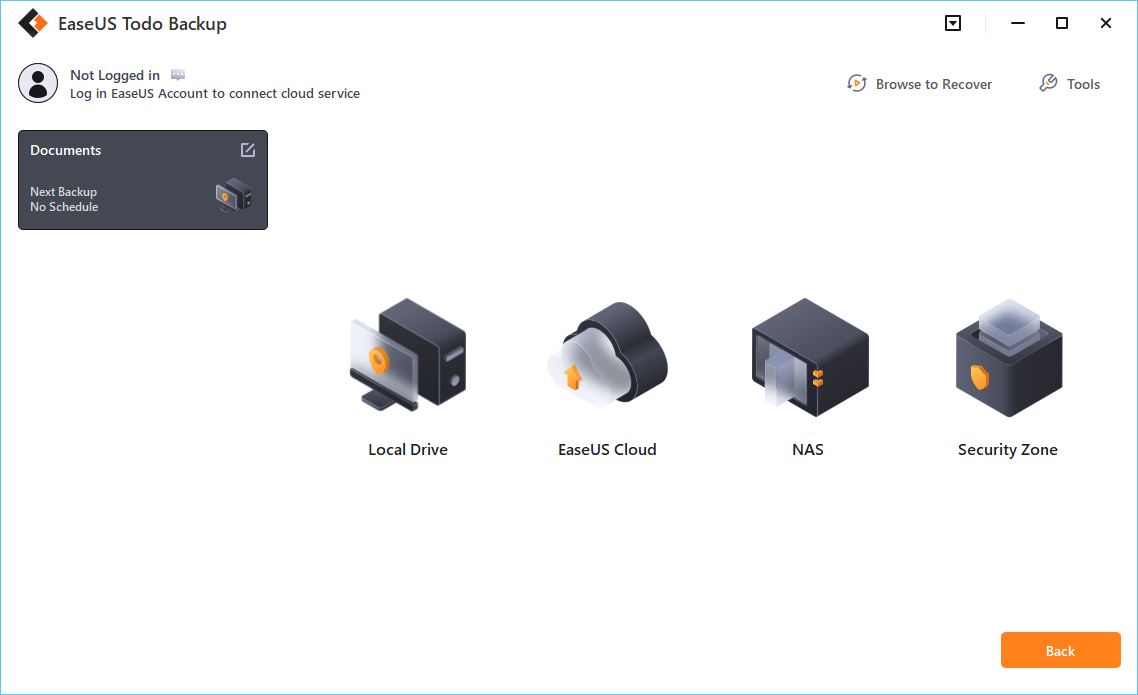 Step 5. You can customize the settings in "Options" at the left bottom. After that, click "Backup Now", and the process will begin.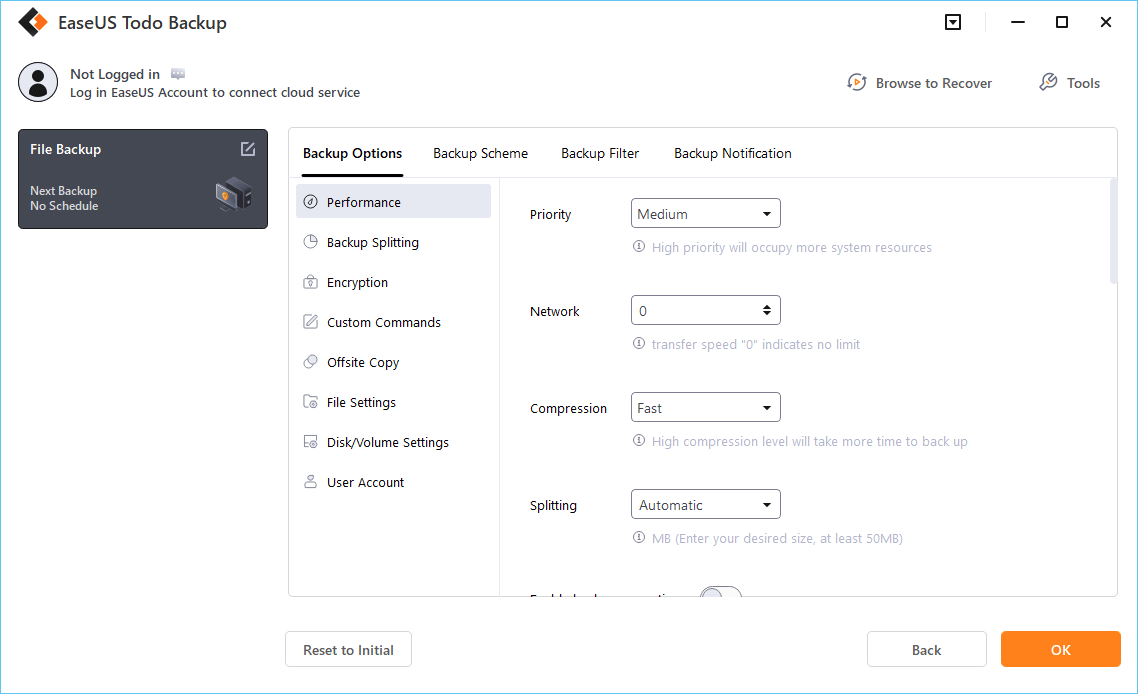 *After finishing the backup process, you can check the backup status, recover, open, or delete the backup by right-clicking the backup task on the left.
Option 2: Lenovo preload backup software - OneKey Recovery
OneKey Recovery is designed to back up and restore your Windows computer. In order to utilize the features of the Recovery system, your hard disk already includes hidden partitions from the factory to store the system image file and the tool system program files. 
It's easy to use OneKey Recovery for you to back up Windows 11. Check these steps if you need them.
Step1. Login to the Lenovo laptop and click "Onekey Recovery".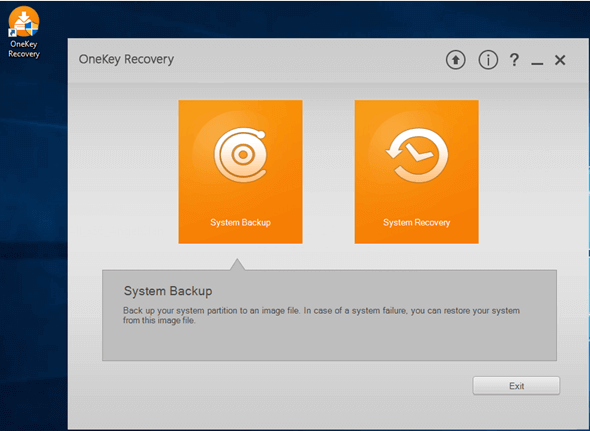 If you can't find it on the home screen, click Start Menu and type"Lenovo Onekey Recovery".
Step2. Click the System Backup option. There are two steps in the instruction panel.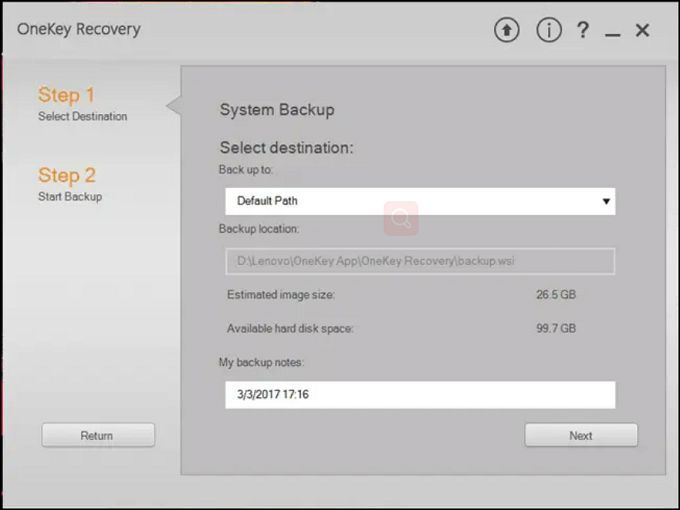 Step3. Select backup destination. A default location already is given, but you can store it in some other place by choosing from the drop-down list, including internal hard disk and external hard disk.
Step4. Once the location is selected, you can rename the backup file. Then click the "Next" button below.
Step5. Start Backup. Check the detail and click the "Start"button to initiate the backup process if there are no problems.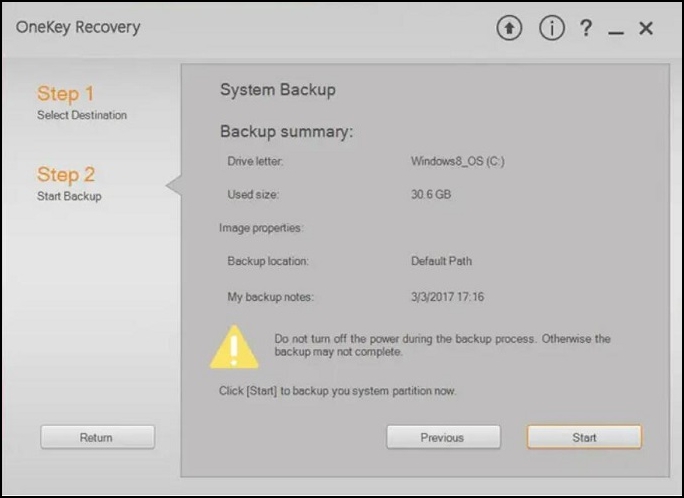 Tips: If you don't have the OneKey Recovery on your Lenovo PC, it may not be preinstalled or uninstalled. You can download Lenovo Recovery from the Lenovo offical website and then follow the steps again.
Which Is Better Backup Software for Lenovo PCs or Laptops?
Lenovo OneKey Recovery has some disadvantages as well as some restrictions. If you can't find the entrance, you need to downland with complex installation procedures, except that it will occupy the space of your computer. There must be a recovery partition hidden in the computer, and it mainly contains the system image. When you start OneKey recovery, the system image will work, and the system that you backed up before will restore from the hidden partition to drive C. Taken all together, you can choose the trustworthy free disk cloning software windows 10 that we highly recommend is EaseUS Todo Backup. 
FAQs:
1.What is the Lenovo recovery key?
It is a backup and recovery tool preinstalled in Lenovo computer, such as, Ideapad 110, and used to factory reset your system within one click. What you need to do is to press the F11 key after restarting and you will go to the hidden recovery partition
2.How do I install Lenovo recovery media?
Run the Creator tool, and finish the download and creation using the tool
Type your Lenovo ID and password, then click the Sign-in button
Select your Digital Download order
Select the download location and continue the downloading process
After all recovery files have been downloaded, insert the USB key
Remove the key from the computer
Was this page helpful? Your supoport is truly important to us!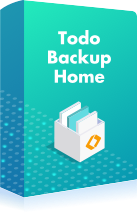 EaseUS Todo Backup
EaseUS Todo Backup is a dependable and professional data backup solution capable of backing up files, folders, drives, APP data and creating a system image. It also makes it easy to clone HDD/SSD, transfer the system to different hardware, and create bootable WinPE bootable disks.
Updated by

Jean is recognized as one of the most professional writers in EaseUS. She has kept improving her writing skills over the past 10 years and helped millions of her readers solve their tech problems on PC, Mac, and iOS devices. …

Read full bio