Key Takeaways:
Use the third-party software (EaseUS Todo Backup Free), Backup and Restore, and File History to set up Windows 10 backup.
If you have a lot of irreplicable files to protect and the system is not stable anymore, you should consider getting a backup plan. This article shows how to set up Windows backup in an automatic way with free backup software and two Windows built-in tools.
Page Content:
#1. How to Set Up a Backup on Windows 10 with Free Backup Software
#2. How to Setup Windows 10 Backup via Backup and Restore (Windows 7)
#3. Automatically Backup Files to an External Hard Drive by File History
Need to Set Up Windows Backup?
There are many important reasons to back up a Windows computer. Maybe the most important reason is that backups protect you from data loss. If your computer crashes or a virus hits it, you could lose all of your important files unless you have a backup.
Backups can also help you recover from accidental file deletions. Even if you don't think you need a backup right now, creating one is a good idea. That way, if something does happen to your computer, you'll be glad you have a backup to fall back on.
Backup to Windows 11/10 to USB/External Hard Drive: Choose Backup Options
Backup "Everything" is a big challenge for your hard drive space, and you'll spend more time waiting for the backup to complete. To save time and leave more room for a USB or external hard drive, we recommend you sift what you want in the backup plan and pick the matching tools.
Backup Windows system and all data: EaseUS Todo Backup, Backup, and Restore (Windows 7)
Backup specific Windows folder: File History
Choose multiple backup modes: EaseUS Todo Backup
Full backup, incremental backup, and differential backup. (Read more: incremental backup vs. differential backup)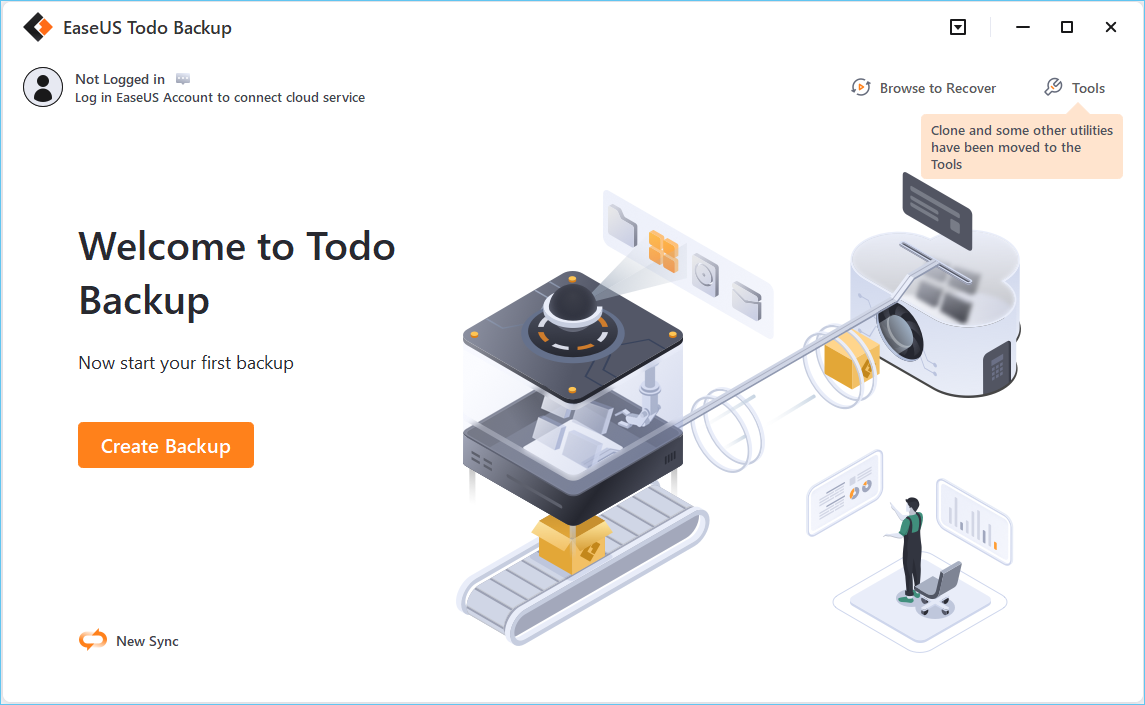 How to Set Up Windows Backup (Automatic Backup)
#1. How to Set Up a Backup on Windows 10 with Free Backup Software
EaseUS Todo Backup is a free backup software for those who want to set up an automatic backup of their data. With EaseUS Todo Backup, you can schedule your backups to run automatically, ensuring your data is always protected.
?A perfect balance of automatic protection and manual control. -
techradar.com
Step 1. For the first time you use EaseUS Todo Backup to back up files, click Create backup on the home screen and then mouse click the big question mark to select backup contents.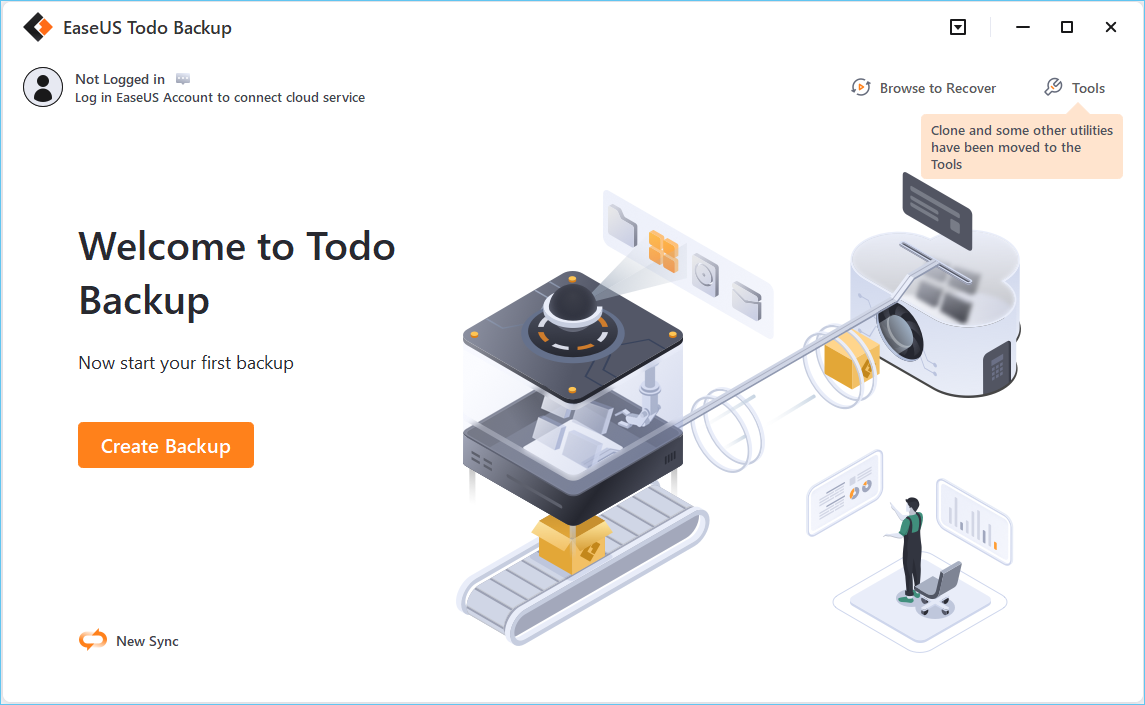 Step 2. Since you're going to back up files and folders on your computer, go on with the "File" backup mode, where you can select pictures, videos, documents and all other types of files to back up.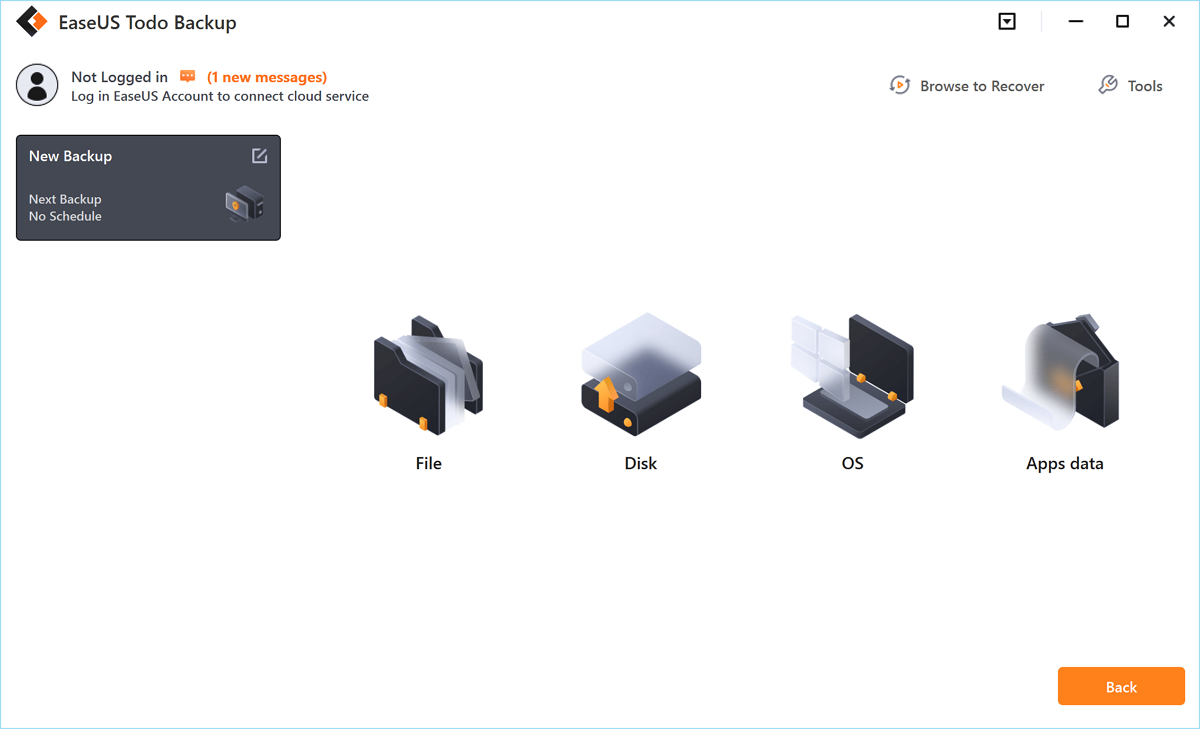 Step 3. Follow the paths to locate the files, folders or directories you want to back up, select them all and click "OK".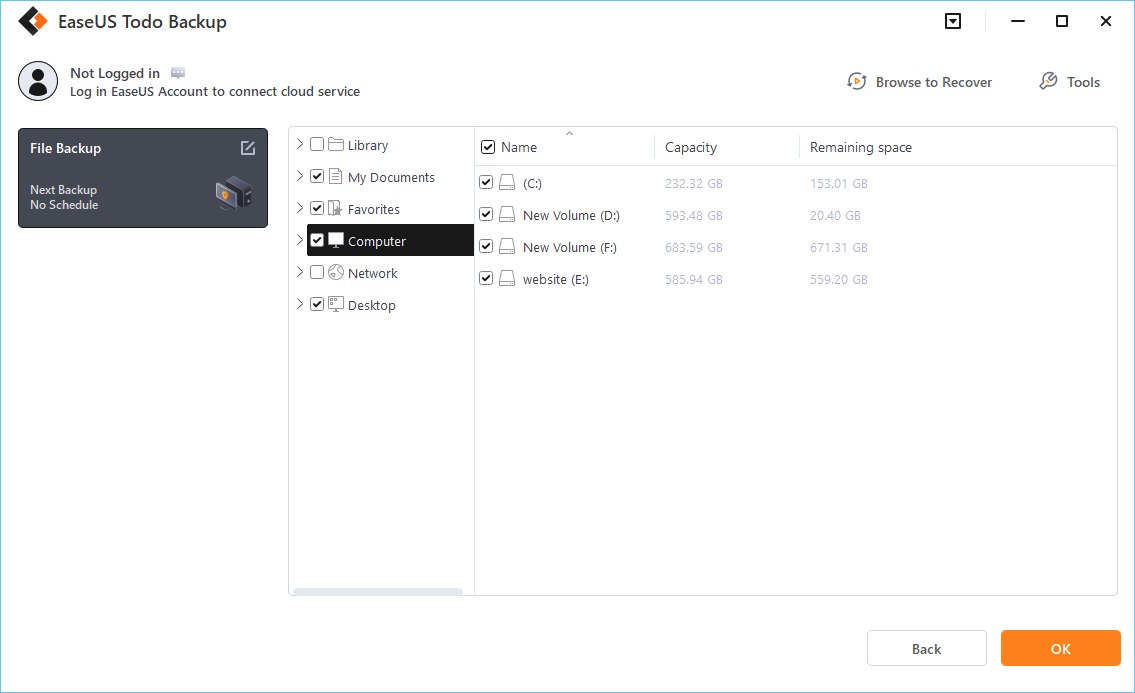 Step 4. Now you need to select a backup location to save and retain the backup.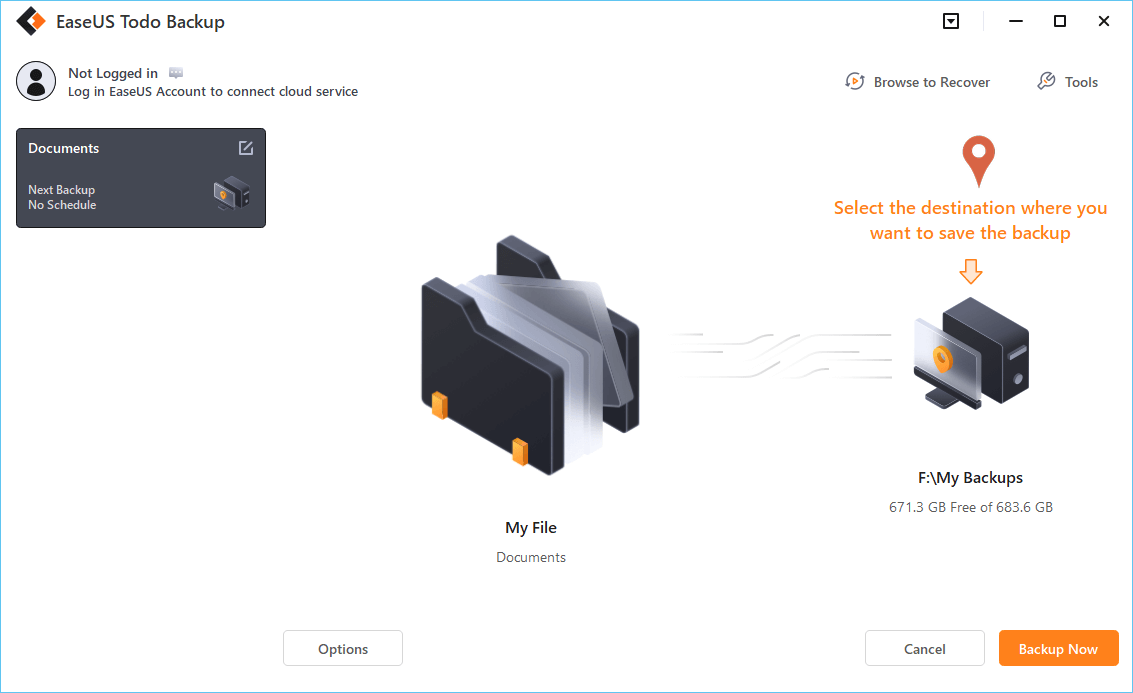 Step 5. EaseUS Todo Backup allows users to save the backup files to every device that is handy for you, like a local hard drive, external USB drive, SD card, network drive, or a NAS drive, plus a cloud drive of the EaseUS brand. We personally recommend users to choose the cloud drive prior to a physical drive to save important backups due to the greater accessibility, flexibility and safety.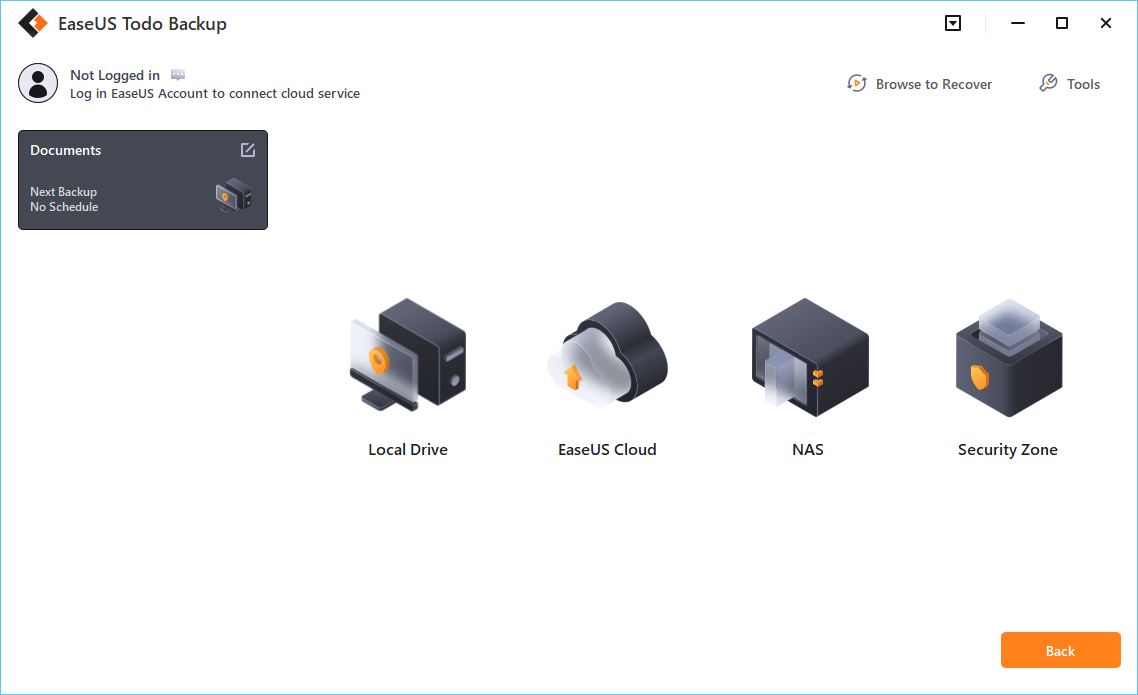 To be able to access to EaseUS cloud, all you need is an email registration and login.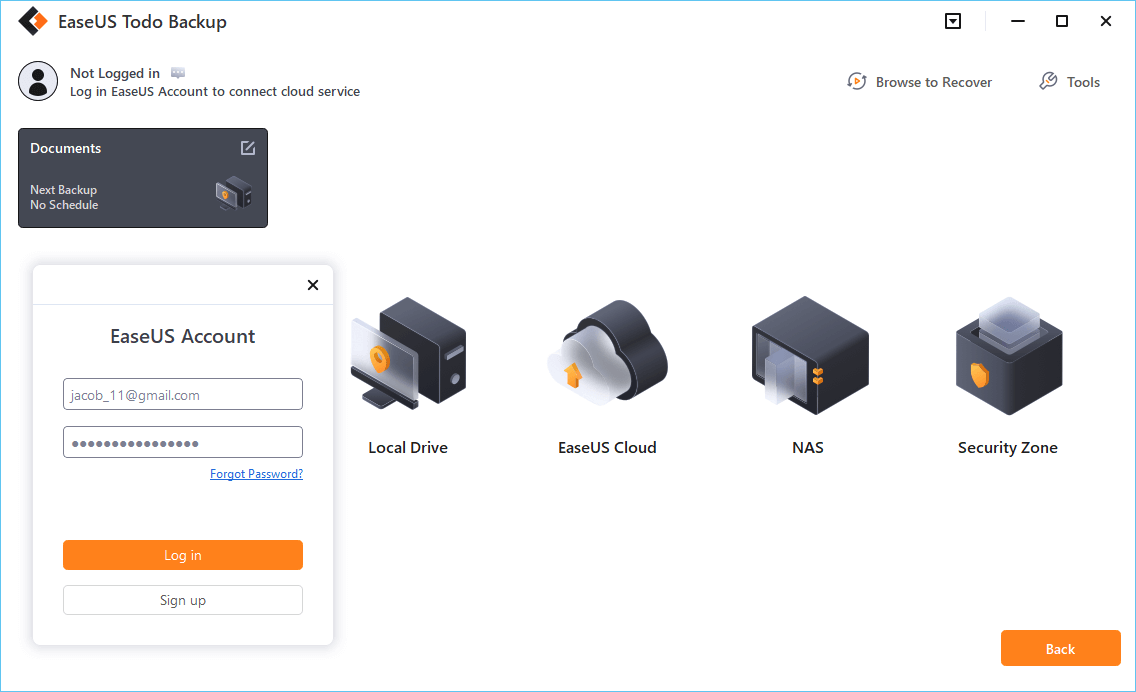 Step 6. If you're interested in an automatic and intelligent backup schedule for the next file backup task, go on with the "Options" setting. There you can encrypt a confidential file backup, compress the backup image size, or customize a backup scheme to tell the software in what time to start the next backup. 
Customize an advanced and automatic backup task here: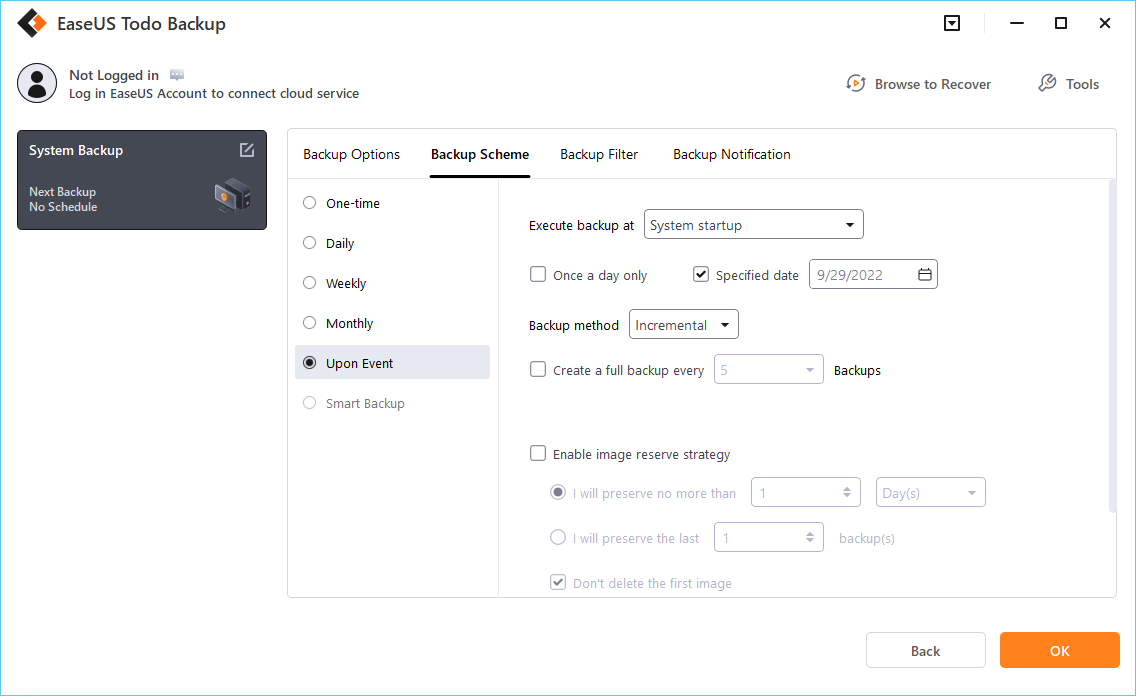 Step 7. Click "Backup Now" to start the file backup process. Your completed backup files are visible on the left area in a card style.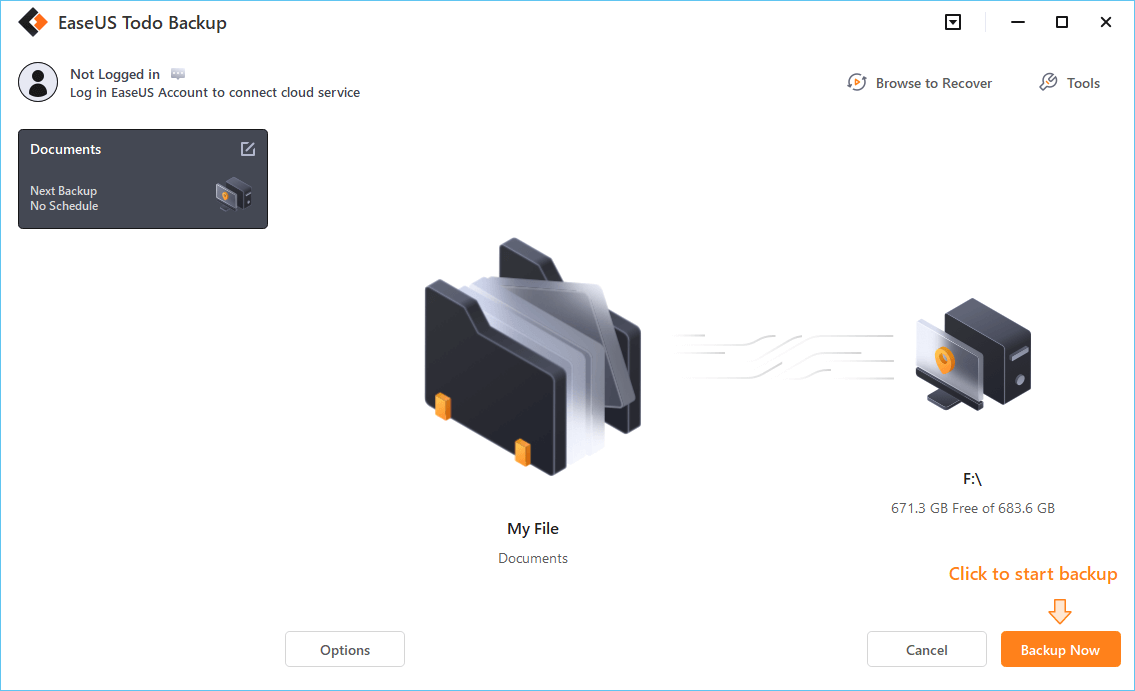 In addition, EaseUS Todo Backup offers a wide range of features, making it a versatile tool for all your backup needs. For example, you can use EaseUS Todo Backup to create system image Windows 10 for another computer, which can be used to restore your system in the event of a catastrophic failure. You can also use EaseUS Todo Backup to clone drives and migrate data to new devices. EaseUS Todo Backup is an essential tool for anyone who wants to protect their data.
#2. How to Setup Windows 10 Backup via Backup and Restore (Windows 7)
Backup and Restore Windows 7 is a convenient tool that can help you automatically back up your files and settings.
How to automatically backup files to an external hard drive windows 10:
Step 1. Go to the Start Menu, type in, open "Control Panel" into the search box, and then click on the "Backup and Restore" link.
Step 2. You can click the "Set up backup" link to start.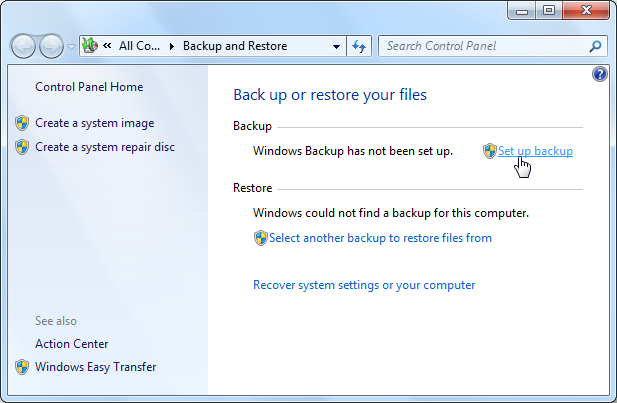 The first thing you'll need to do is choose the Windows backup location. You can save it to an external hard drive or a network location.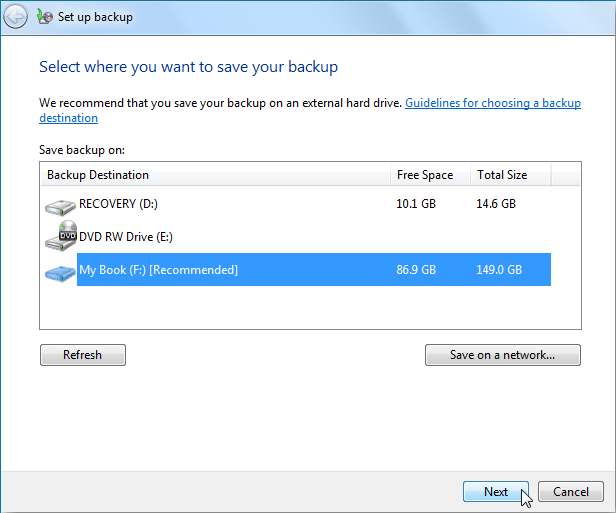 Step 3. Once you've selected your backup destination, you'll need to choose what types of files you want to include in your backup. After that, you must schedule when you want your backup to occur and click "Save Settings and Run Backup."
Your backup will now be automatically created according to your schedule.
Once the backup is complete, you can restore your files by opening the Backup and Restore Center and clicking on "Restore my files."
#3. Automatically Backup Files to an External Hard Drive by File History
File History is a backup feature that first debuted in Windows 8 and carried over to Windows 10. File History automatically creates backups of your files on a schedule, making it a simple and effective way to create a backup of your most important data. File History has some limitations - it only backs up files stored in specific locations and doesn't support backing up entire drives - but for many users, it will be more than sufficient. File History is an option worth considering if you're looking for a quick and easy way to create backups of your most important files.
Here's how to set up File History:
1. Open the Start menu and go to Control Panel> File History.
2. Click the Select Drive link from the left side.
3. Select the drive you want File History to use for backups and click the OK button. File history will now save copies of your files to that drive regularly.
Final Verdict
Backing up your data is an essential part of maintaining your computer. If you don't have a backup, you risk losing critical files if something goes wrong with your computer. Windows includes a built-in backup tool that can be used to create backups of your data. This tutorial shows how to set up Windows backup on your computer.
Setup Windows Automatic Backup FAQs
1. How do I setup a backup in windows 10/11?
Use Backup and Restore:
Open Control Panel, and click on Backup and Restore (Windows 7). Click "Create a system image". And choose the location you want the backup to be stored.
Click "Next". Select the drive you want to backup and click "Backup Now" to start.
2. How do I set up auto backup on my computer?
Download and run EaseUS Todo Backup. Set up your schedule backup (Daily, weekly, or monthly).
3. Does Windows Backup save all files?
Yes, Windows Backup and Restore will save all data on your desktop, libraries, and default folders.
Was this page helpful? Your supoport is truly important to us!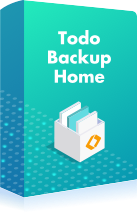 EaseUS Todo Backup
EaseUS Todo Backup is a dependable and professional data backup solution capable of backing up files, folders, drives, APP data and creating a system image. It also makes it easy to clone HDD/SSD, transfer the system to different hardware, and create bootable WinPE bootable disks.
Updated by

Jean is recognized as one of the most professional writers in EaseUS. She has kept improving her writing skills over the past 10 years and helped millions of her readers solve their tech problems on PC, Mac, and iOS devices. …

Read full bio

Written by

Tracy became a member of the EaseUS content team in 2013. Being a technical writer for over 10 years, she is enthusiastic about sharing tips to assist readers in resolving complex issues in disk management, file transfer, PC & Mac performance optimization, etc., like an expert.…

Read full bio