Problems: Windows 10 Black Screen of Death
"Windows 10 15063 has frozen. I had the problem where I could sign into the computer but then got the black screen with just a cursor."
"Help me, please. When I turn on my Windows 10 laptop using my password, it's open but a black screen. Only the mouse is what I can see. What should I do?"
"I encountered a black screen of death by upgrading my HP pavilion 17 to Windows 10 15063 a while ago. Tried restarting without closing it down properly because I can't. This usually put it into repair mode after several times but of course, it is not working. Just goes back to a blank screen... Can anyone help?"
You might be one of the victims who saw Windows 10 PC, laptop, tablets freezing on a blank or black screen. Windows 10 blue screen of death or black screen of death (BSOD) is a common issue happening when you reboot your computer after upgrading Windows 7 or Windows 8.1 to Windows 10 or Windows 10 15063. For specifically, if you're facing black screen problems in Windows 10, there are two different scenarios. The first is that you can log in to your computer and don't get any display, and the other is when you can't even sign in to the computer and see a black screen.
Altogether we give three options to solve Windows 10 15063 blank and black screen issue in such a scenario, so choose the most proper method that works the best for you.
Solution 1. Black Screen After Signing into Windows 10 PC with No Display
1. Press Ctrl+Alt+Del so as to open the Task Manager. Click on File > Run new task, and type explorer.exe and hit Enter. See if this method fixes your problem.
2. Remove all external devices and reboot. Sometimes, peripherals are causing the problem. Make sure not using the problematic hardware device again.
3. Boot computer to Safe Mode. Press Windows key + C and select Settings > Change PC settings > Update and recovery > Windows Update. Select View details and Check for updates. Under Optional, install updates.
Solution 2. Black Screen Without Being Able to Sign in
You can't boot or sign in the computer because of black screen problem in Windows 10 15063, most of the time, it could be a driver issue the projection could be automatically set to a different device such as the second monitor or a TV.
In this case, you will need Windows 10 installation media. On a working computer, download and burn the Installation media to USB or DVD. Connect the media to problem computer, turn it off and boot using the installation media.
When asked, select Repair This Computer.
You will get a Select an option screen with options to continue to Windows 10 15063, shut down computer and Troubleshoot computer.
Select Troubleshoot computer > Advanced Options > Startup Settings > Restart.
When the computer reboots, you will get some options.
Press F5 or scroll to Safe Mode with Networking and press Enter to enter Safe Mode.
After which, you may choose to check the Default Display, uninstall the device driver for Display and Auto-install or isolate device causing problem.
Solution 3. Create Bootable Disk so as to Access Windows 10 Computer Stuck at Black Screen
What a horrible experience if your Windows 10 15063machine suddenly stuck at black screen of death! On the computer with a totally black background, it should be really helpful if with a bootable USB or CD/DVD-Recorder, which allows you to access to the computer in a normal state again without the effort of reinstalling Windows operating system.
You can create a bootable disk all by yourself by using EaseUS Todo Backup, which provides bootable disk function based on WinPE to restore system in case of system disaster.
Steps to create EaseUS Todo Backup Bootable disk:
1. Launch EaseUS Todo Backup and go to Tools on the right corner. Then click Create Emergency Disk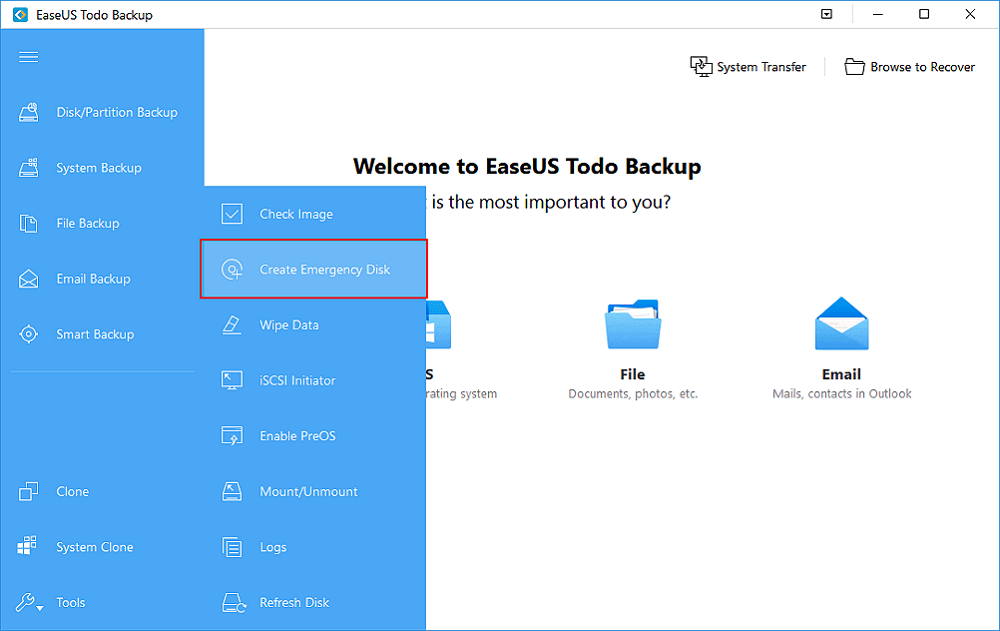 2. Choose WinPE Based bootable disk and there are three boot disk location for your choice - USB/CD/DVD/Create ISO files.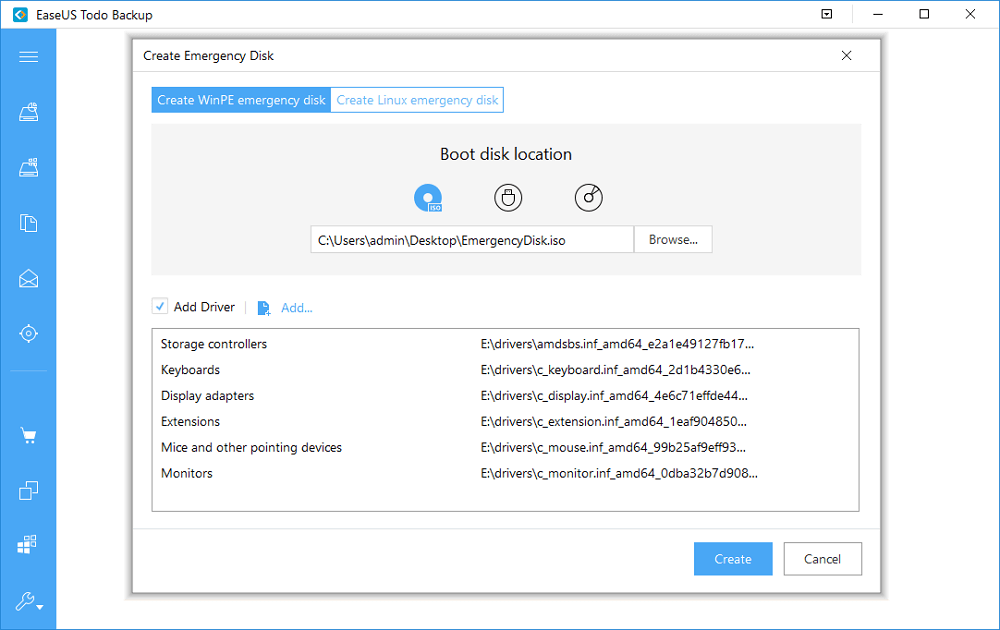 3. Click Proceed and create the EaseUS Todo Backup Boot Disk which would help you to restore system and important data when the OS can not boot