Problems: Windows 10 Black Screen of Death
"Windows 10 has frozen. I had the problem where I could sign into the computer but then got the black screen with just a cursor."
"Help me, please. When I turn on my Windows 10 laptop using my password, it's open but a black screen. Only the mouse is what I can see. What should I do?"
"I encountered a black screen of death by upgrading my HP pavilion 17 to Windows 10 a while ago. Tried restarting without closing it down properly because I can't. This usually put it into repair mode after several times but of course, it is not working. Just goes back to a blank screen... Can anyone help?"
You might be one of the victims who saw Windows 10 PC, laptop, tablets freezing on a blank or black screen. Windows 10 blue screen of death or black screen of death (BSOD) is a common issue happening when you reboot your computer after upgrading Windows 7 or Windows 8.1 to Windows 10 or Windows 10. For specifically, if you're facing black screen problems in Windows 10, there are two different scenarios. The first is that you can log in to your computer and don't get any display, and the other is when you can't even sign in to the computer and see a black screen.
Altogether we give three options to solve Windows 10 blank and black screen issue in such a scenario, so choose the most proper method that works the best for you.
Solution 1. Black Screen After Signing into Windows 10 PC with No Display
1. Press Ctrl+Alt+Del keys to open the "Task Manager". Click on "File" > "Run new task", and type explorer.exe and hit Enter. See if this method fixes your problem.
2. Remove all external devices and reboot. Sometimes, peripherals are causing the problem. Make sure not using the problematic hardware device again.
3. Boot computer to the Safe Mode. Press Windows + C keys and select "Settings" > "Change PC settings" > "Update and recovery" > "Windows Update".
4. Select "View details" and "Check for updates". Under "Optional", select "install updates".
Solution 2. Black Screen Without Being Able to Sign in
You can't boot or sign in the computer because of black screen problem in Windows 10, most of the time, it could be a driver issue the projection could be automatically set to a different device such as the second monitor or a TV.
In this case, you will need a Windows 10 installation media. On a working computer, download and burn the Installation media to USB or DVD. Connect the media to problem computer, turn it off and boot using the installation media.
When asked, select "Repair This Computer".
You will get a "Select an option" screen with options to continue to Windows 10, shut down the computer and Troubleshoot computer.
Select "Troubleshoot computer" > "Advanced Options" > "Startup Settings" > "Restart".
When the computer reboots, you will get some options.
Press F5 or scroll to the Safe Mode with Networking and press Enter to enter Safe Mode.
After which, you may choose to check the Default Display, uninstall the device driver for Display and Auto-install or isolate device causing problem.
Solution 3. Create Bootable Disk so as to Access Windows 10 Computer Stuck at Black Screen
What a horrible experience if your Windows 10 machine suddenly stuck at black screen of death! On the computer with a totally black background, it should be really helpful if with a bootable USB or CD/DVD-Recorder, which allows you to access to the computer in a normal state again without the effort of reinstalling Windows operating system.
You can create a bootable disk on a healthy computer all by yourself by using EaseUS Todo Backup, which provides bootable disk function based on WinPE to restore the system backup to a new computer which has black screen error.
Steps to create EaseUS Todo Backup Bootable disk:
EaseUS Todo Backup supports boot disk types of a USB drive, CD/DVD disc, and an ISO file.
EaseUS Todo Backup emergency disk lets you restore your computer from one backup when Windows becomes unable to boot normally, with which you can restore operating system and files without booting into Windows.
Step 1. Prepare an empty USB or CD/DVD drive. (Remember to empty or clear your USB or CD drive. If you saved data on it, move them to another safe location.)
Step 2. Connect USB/CD/DVD to your Windows PC.
Step 3. Run EaseUS Todo Backup and click "Create Emergency Disk" in "Tools" on the left pane.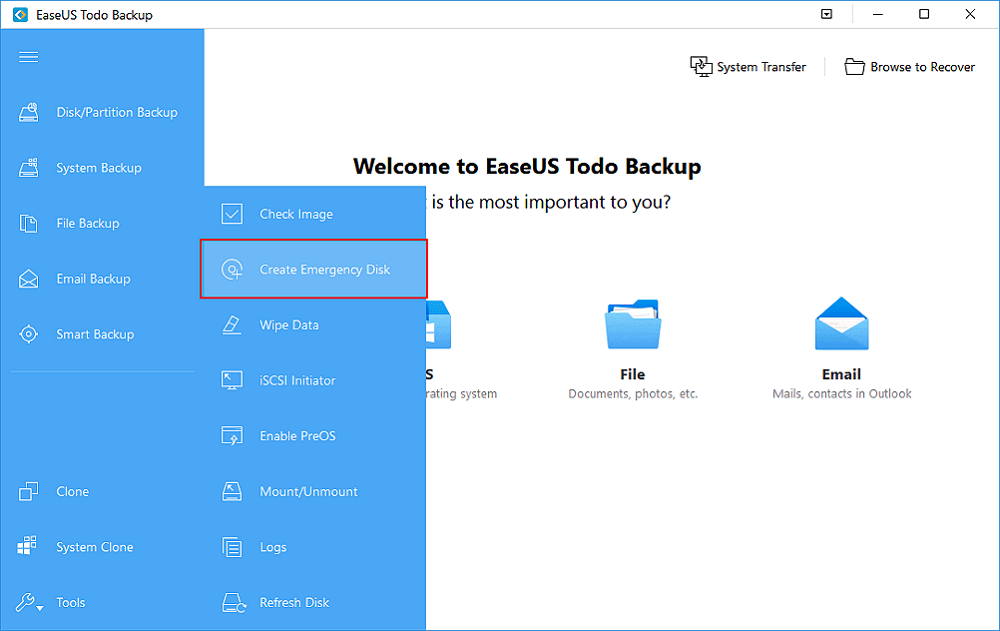 Step 4. Choose "USB" or "CD/DVD" as the disk location for creating to WinPE disk so as to boot up the computer when the Operating System fails to boot or computer dies.
Step 5. Click "Proceed" to start creating the WinPE disk to your USB or CD now.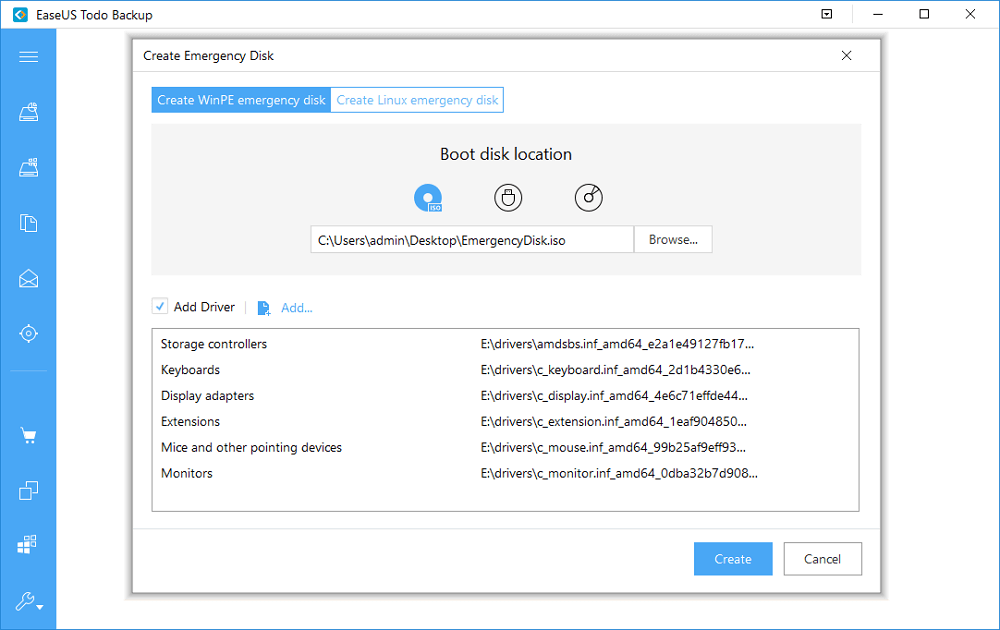 100% of people found this article helpful.
Frequently Asked Questions
Why choose EaseUS Todo Backup?

"The easiest way to protect your data and system files." —techradar

"EaseUS Todo Backup Free is one of the most popular free data backup applications available. This software offers a myriad of features and is extremely user-friendly. It provides a full system backup, meaning you can back up your entire operating system." —TopTenReviews

"EaseUS ToDo Backup Home is a great backup program, well suited to the home and SMB space." —PCWorld
What is the difference between Clone and Backup? In what cases should I use Clone?

Clone will copy one disk to another or one partition to another (unallocated space is also supported). Usually, this option is used to upgrade the current disk by creating an identical copy. Backup will generate a .PBD image file containing the selected files or system that can be restored from the .PBD image if needed.
What is the difference between System Backup and Disk Backup?

System Backup will auto-select the system boot related partition(s) as the backup source to make sure the system image can be restored properly. Disk/Partition Backup will allow you to manually select a whole disk or speficy a certain partition as the backup source. You will get the same backup result as System Backup if you manually select the system and boot partitions with the Disk/Partition Backup option.
As a computer newbie, what features should I use to protect my computer?

You can use System Backup to back up the system and boot partitions, use Disk/Partition backup to back up the data partition and add plans to run an automatic backup. If you use the computer frequently or have software that may cause boot failure of the computer, we would suggest you back up the computer every 1 to 2 days. For other situations, you can backup the computer once a week. In addition, you can schedule File Backup to back up the files which are changed frequently.
What kind of storage service should I use to save my backup images?

EaseUS Todo Backup can save backup images to internal disks, external disks, network drives, or free cloud(Google Drive, Dropbox, and OneDrive) and CD/DVD. It is suggested to save the images to the internal/external/network drives to save time as those kinds of disks have a better read-write speed. It is suggested NOT to save the image on the source disk, because once the disk is damaged, all the files on the disk will become unavailable and you will be unable to restore the image.
As a company network administrator, what features should I use to protect our internal computers?

It is recommended that you use the SQL Backup feature to back up your company's SQL server and Exchange Backup feature to back up the Exchange server. In addition, you can execute System Backup to back up the system and boot partitions on every computer and set a plan to execute the backup once a day or twice a week to ensure that the computer can be restored timely when it has boot issues. File Backup feature can be used to back up important user data. If there are a large quantity of computers, you can purchase EaseUS Backup Center to manage the backups on the client computers centrally.
Related Articles
Jean / 2017-11-28

Brithny / 2017-11-09
About EaseUS Todo Backup
Be it a file, system, partition, or disk, EaseUS Todo Backup will help you back up or clone the item and provide you with multiple backup plans.