Updated by
Larissa
on Jan 09, 2023
EaseUS Todo Backup: Back up data to NAS, Cloud
NAS and cloud are two prevailing data storage solutions. EaseUS Todo Backup allows you to back Windows 11/10/8/7 data to both NAS and cloud (DropBox, GoogleDrive, OneDrive, and EaseUS Cloud), internal & external hard drives, and security zone with simple yet powerful steps. With it, you can set a file/folder/disk/partition/system as easily as 1-2-3:
Select the data or file you need to backup;
Choose the backup location where you want to save the copy;
Click "Backup Now" to start the backup process.
PAGE CONTENT:
Backing up your Windows 7 operating system and important files to a Network Attached Storage (NAS) device is an effective way to ensure no data loss. In this blog post, we'll guide you through the process of backing up your system to a NAS, outlining all of the steps you should take and offering troubleshooting advice if needed. You will soon be able to rest assured that your windows system and key files are safe in case of any unexpected issues! So don't wait - read on for more information on how to back up Windows 7 when using a NAS device.
An Overview of NAS & Benefits of Backing Up Data to NAS
The Network Attached Storage abbreviation NAS is a storage system that can be accessed and shared by multiple computers over a network. With NAS, you can get access to the data faster and easier. It allows you to store and back up your data remotely, which benefits users with multiple computers within their network. There are many different types of NAS to choose from. Some of the most popular models include Synology, QNAP, and Western Digital My Cloud.
Backing up your data to a NAS provides several key benefits, such as:
Flexible Storage Area – With a NAS, you can easily expand the storage capacity of your system depending on how much you need it. You can also access your data remotely with the help of a NAS.
High Security – With a NAS, you can ensure that your data is always safe and secure against malicious activities or cyberattacks.
Cost Effective – Compared to other forms of storage solutions, NAS devices are more cost-effective since they don't require any additional hardware for setup.
Centralized Data Storage Location - NAS provides a centralized location for all your data, making it easy to access from anywhere. You don't need to worry about data loss if you lose a laptop.
2 Easy Ways to Back Up Windows 7 to a NAS with Stepwise Guide
Since you know the benefits of saving data to a NAS, you must be wondering how to do it with steps. Backing up your important files and system data from Windows 7 to a NAS is easier than you think! Here are two ways how you can back up windows 7. The first way is to use a professional backup tool, EaseUS Todo Backup, and the other way is to use the Windows built-in Backup and Restore feature.
 Tip

Remember to connect the NAS to your Windows 7 computer correctly before backing up.
Method 1. Backup Windows 7 to a NAS with EaseUS Todo Backup (Recommended)
Tag: Easy to use, quick backup speed, scheduled backup
If you want to find the easiest and fastest solution to back up Windows 7 to NAS, EaseUS Todo Backup is your best option. It works on Windows systems and supports backup Windows 10 to NAS, including Synology, QNAP, and other types. Besides these, it allows you to easily save hard drives, cloud service, and security zone data.
Another excellent point of EaseUS Todo Backup is that it has a scheduled backup feature. It enables you to back up data on your Windows 7 PC on a regular base.
With a simple operation interface, you can back up your Windows 7 data to a NAS without difficulty. Here is how you can do this with EaseUS Todo Backup:
Step 1. To start backup, click the Select backup contents.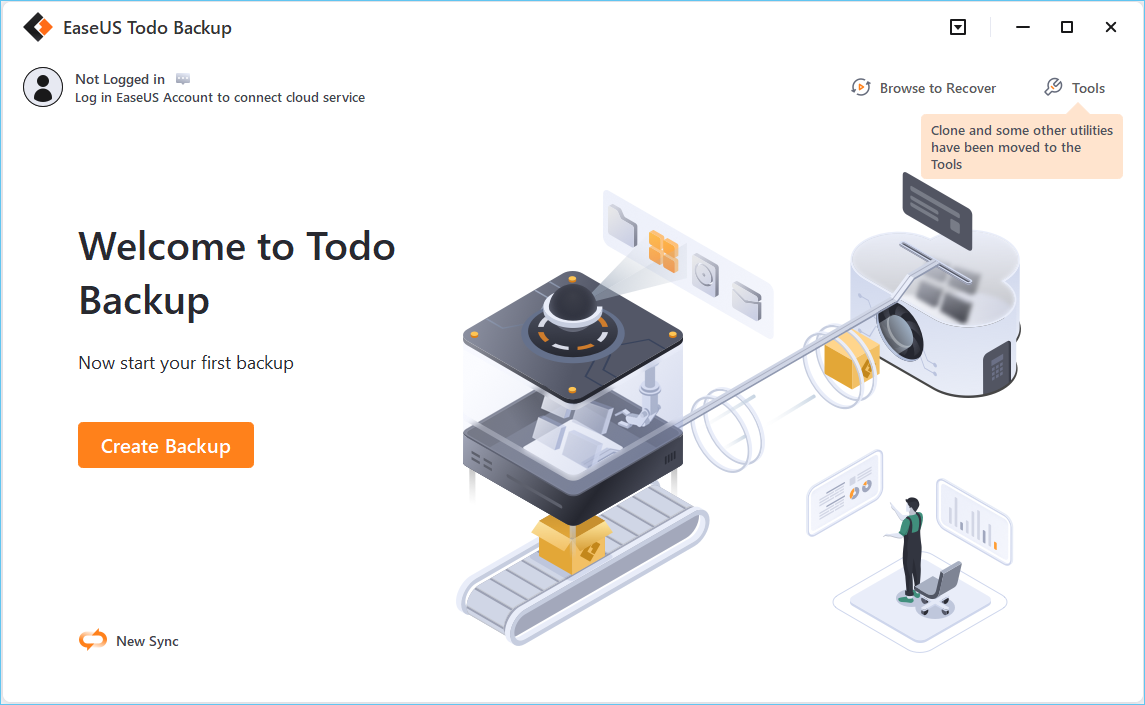 Step 2. There are four data backup categories: File, Disk, OS, and Mail.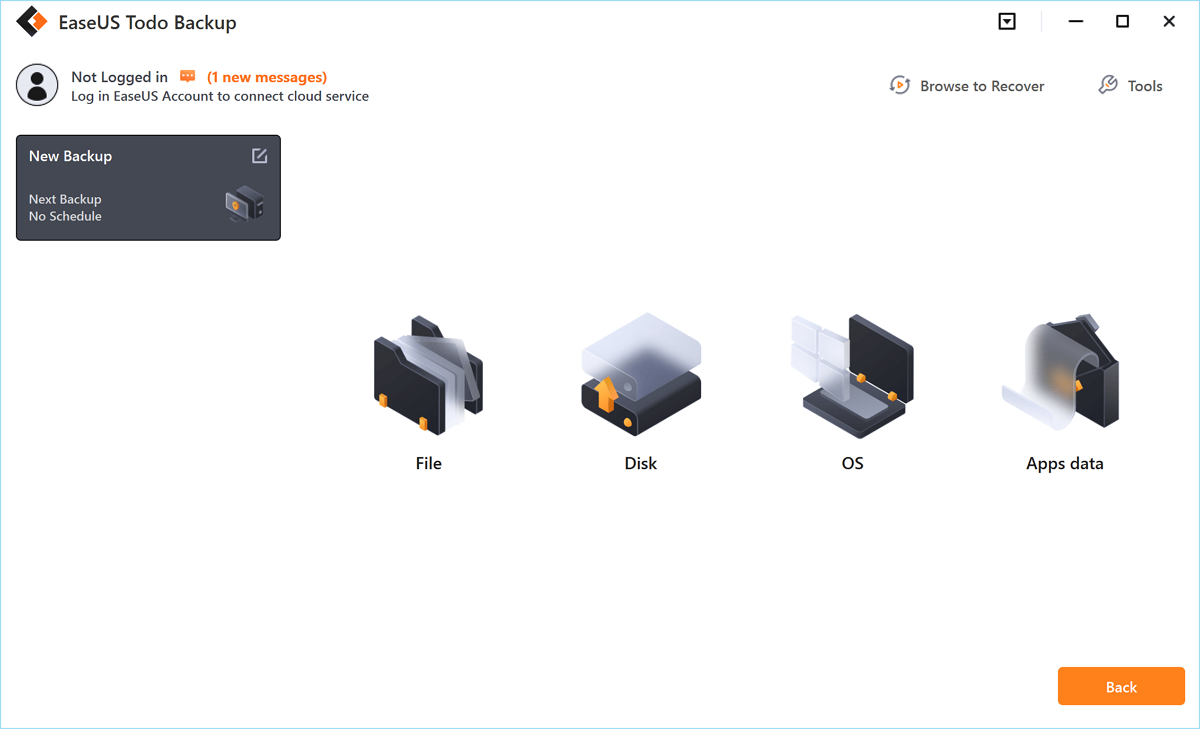 Step 3. On the left-hand side, you'll see a list of local and network files. Selecting the files to be backed up by expanding the directory.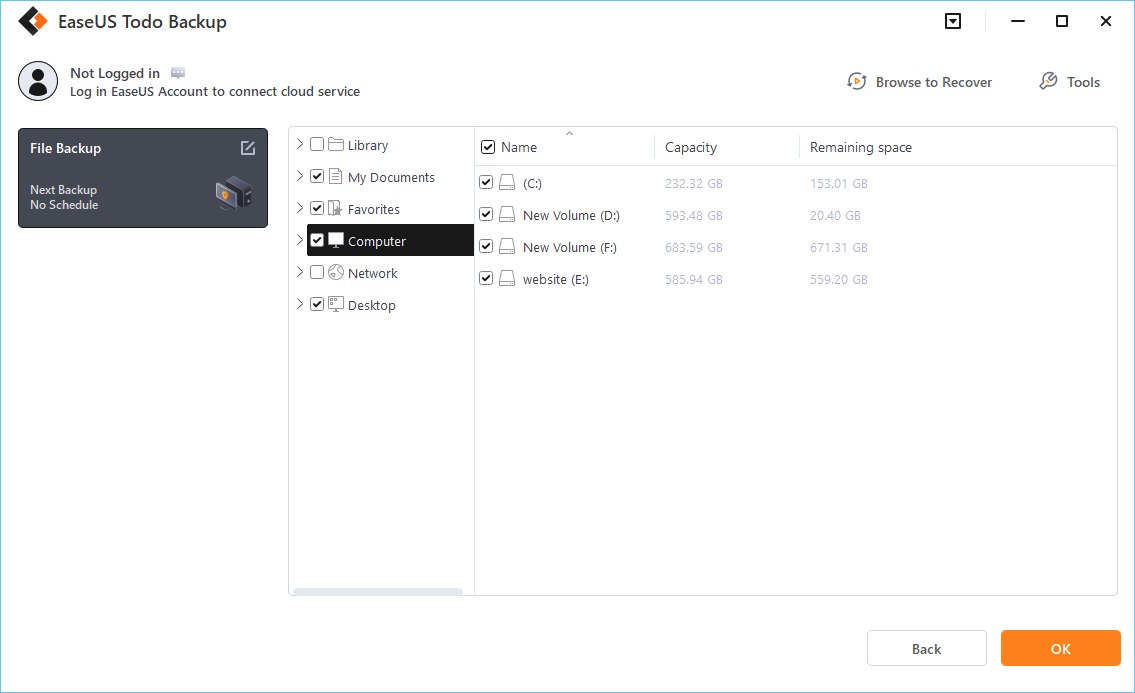 Step 4. Follow the instructions on the screen and pick the location where you wish to store the backup.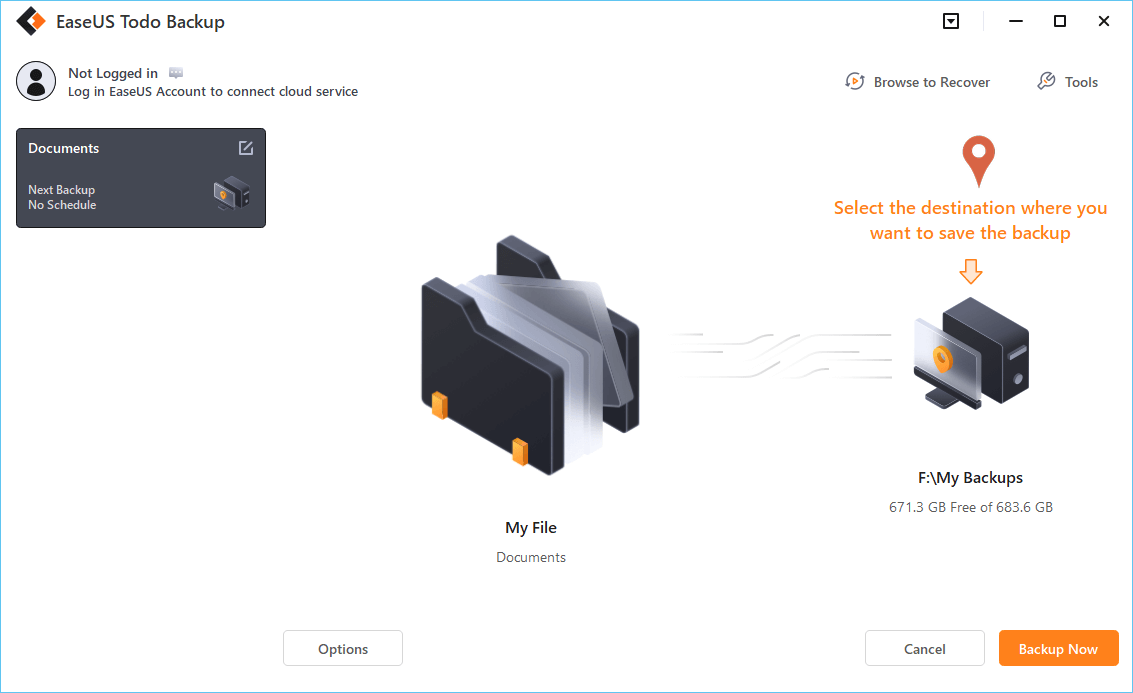 In Backup Options, click Options to encrypt the backup with a password, specify the backup schedule, and choose whether or not to start the backup at a certain event in Backup Scheme. There are a variety of customizable features available for you to explore, and you may tailor the backup operation to meet your specific requirements.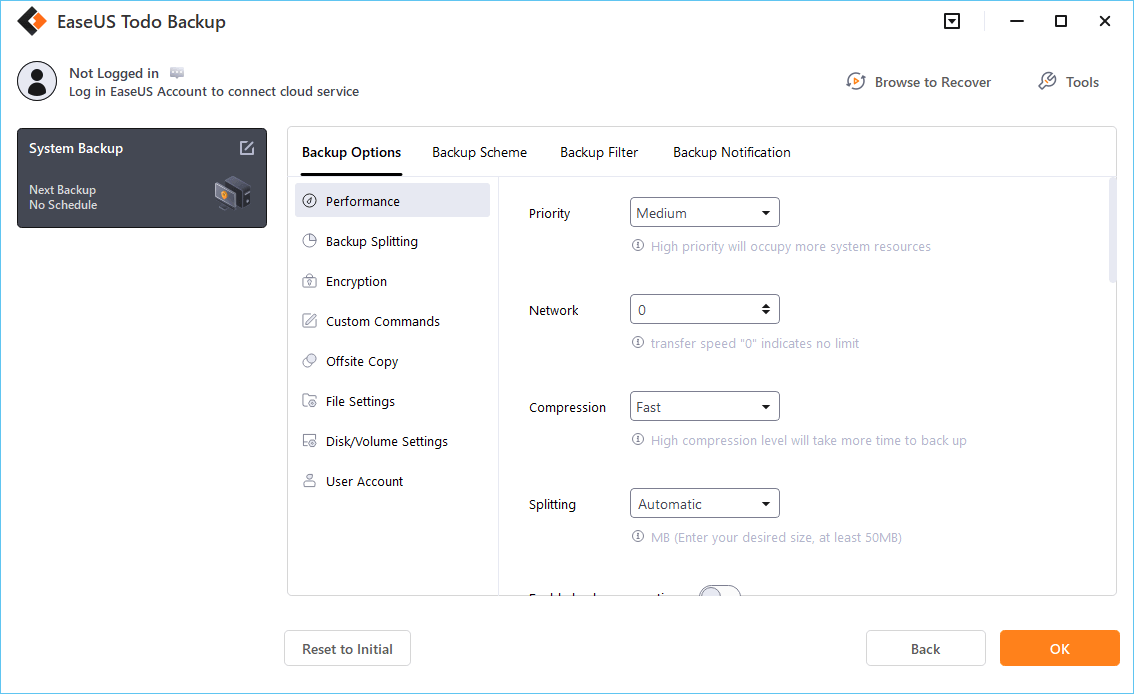 Step 5. Backups can be stored on a local disk, in EaseUS's cloud service, or on a network attached storage device (NAS).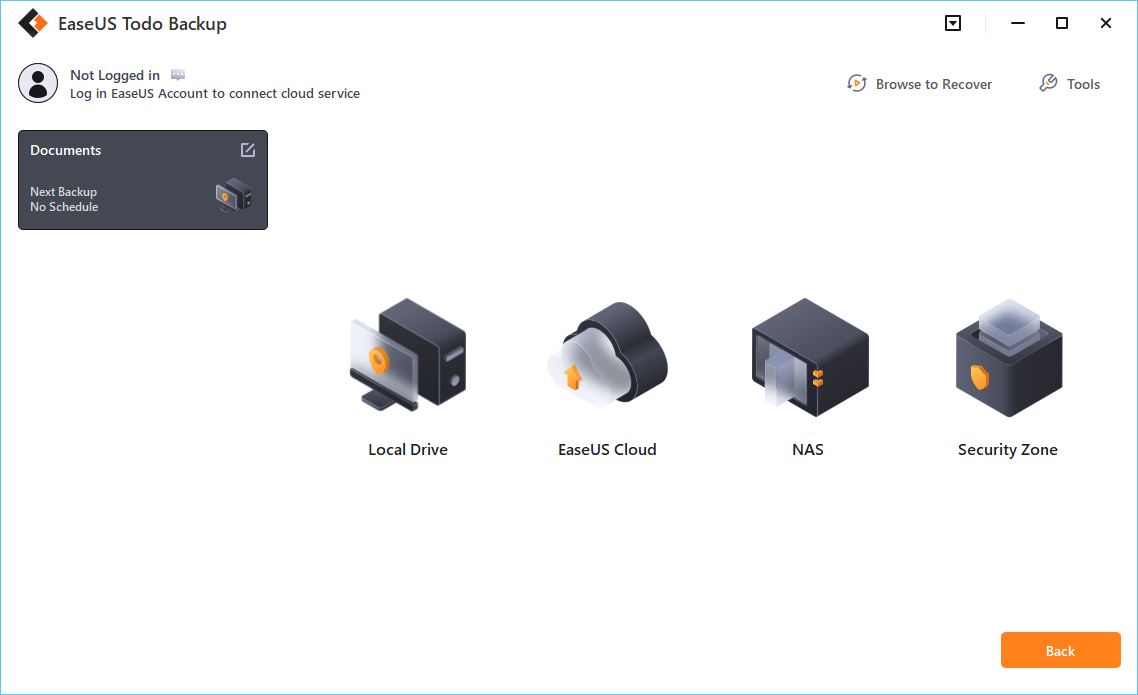 Step 6. EaseUS Todo Backup allows customers to back up data to a third-party cloud drive or the company's own cloud storage.
If you wish to back up your data to a third-party cloud drive, select Local Drive, scroll down to add Cloud Device and enter your account information.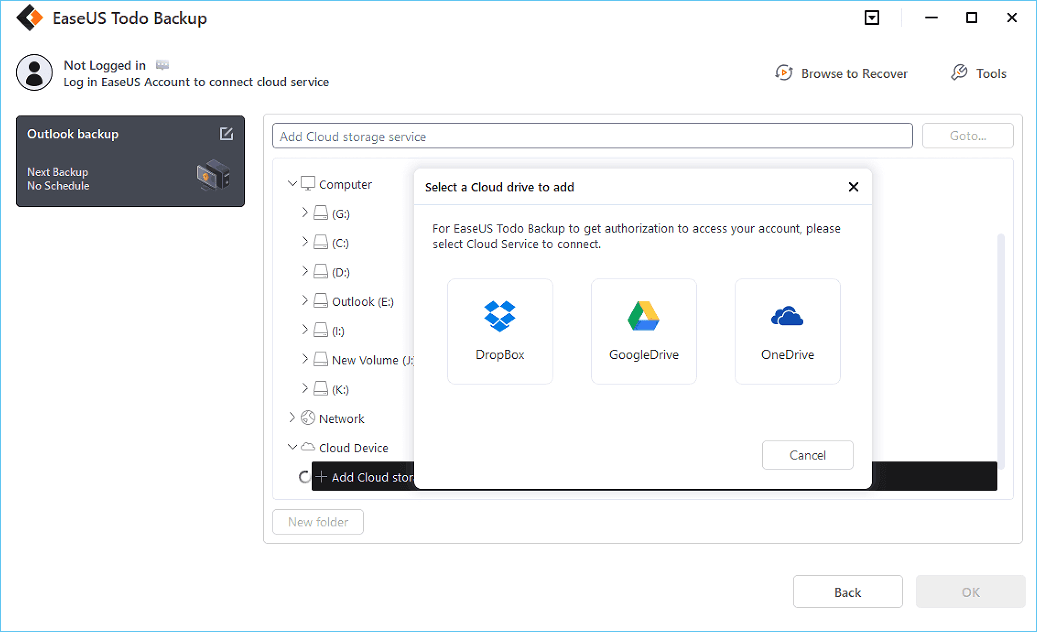 You may also use EaseUS's own cloud storage service. Click EaseUS Cloud, create an account using your EaseUS Account, then log in to your account.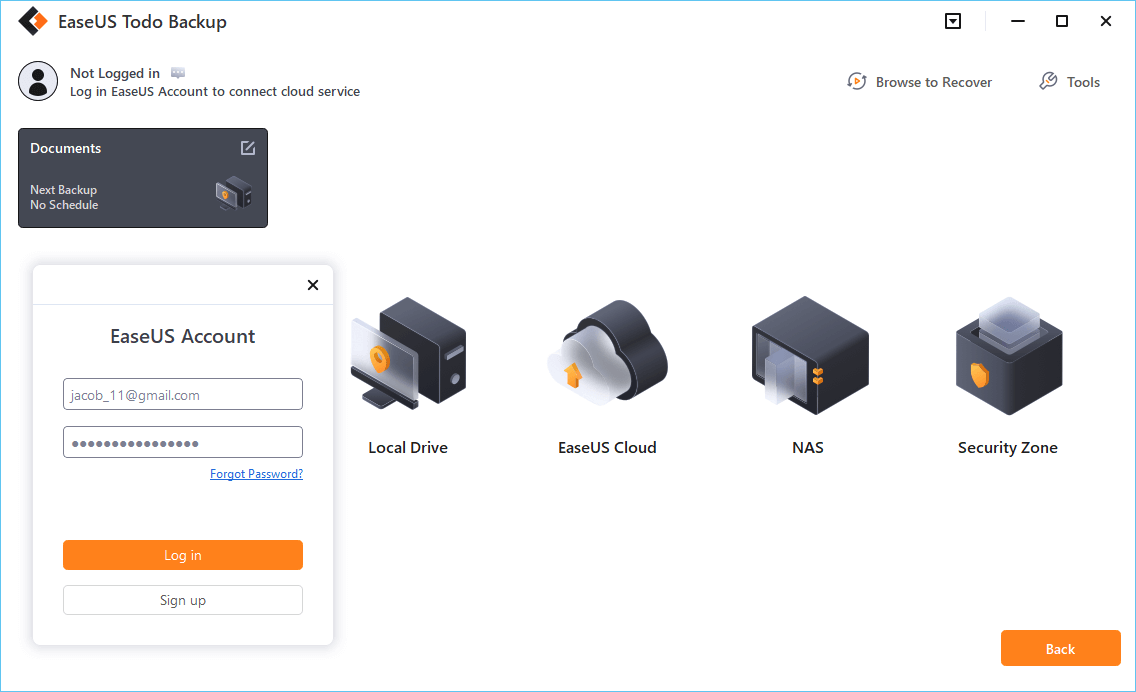 Step 7. To begin a backup, choose Backup Now. It will appear in the shape of a card on the left-hand panel when the backup process has been successfully finished. To handle the backup job in more detail, right-click on it.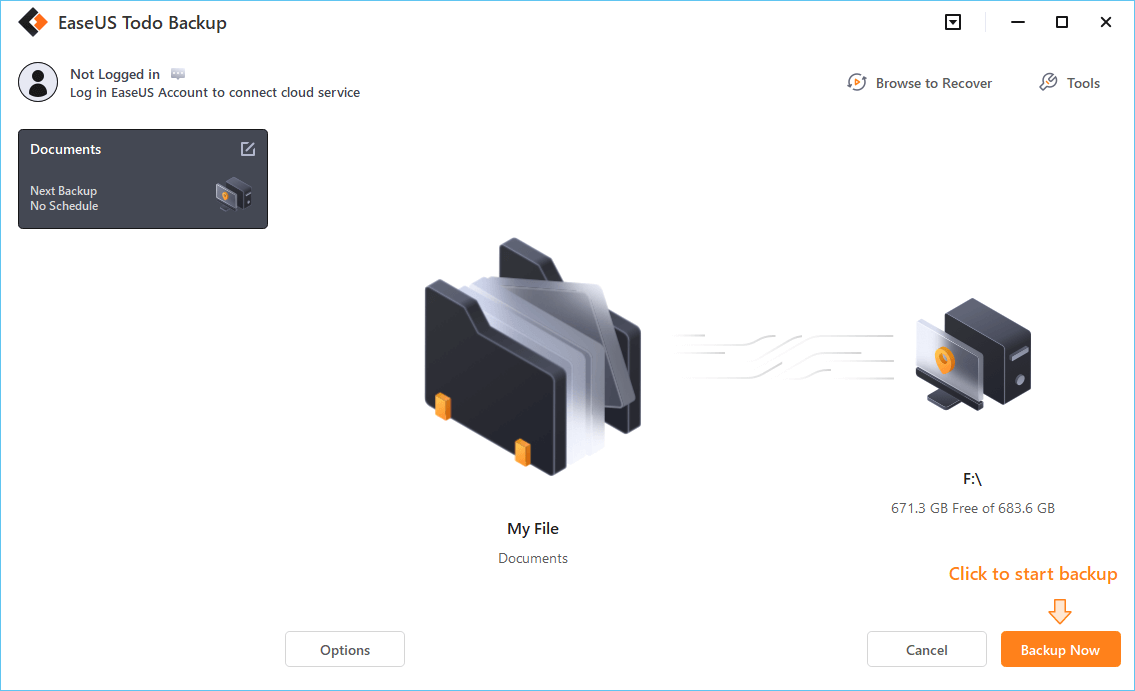 Method 2. Backup Windows 7 to a NAS with Backup and Restore
Tag: Windows built-in feature, back up only system and files
Windows 7 Backup and Restore is a built-in utility that you can use to back up data to network locations, including NAS. It can be used to back up only the system and specific folders and create a system image.
Although You don't need to install third-party software using Backup and Restore, you may encounter various problems while backing up, such as Windows 7 backup stuck at 97%, backup stuck on reading data, etc. After clarifying its strengths and weaknesses, you can decide which method to use.
Follow the steps below to back up Windows 7 to NAS.
Step 1. Open Backup and Restore with the following path on your Windows 7 computer: Control Panel - System Maintenance. Or, you can enter "Backup and Restore" in the search bar to find it.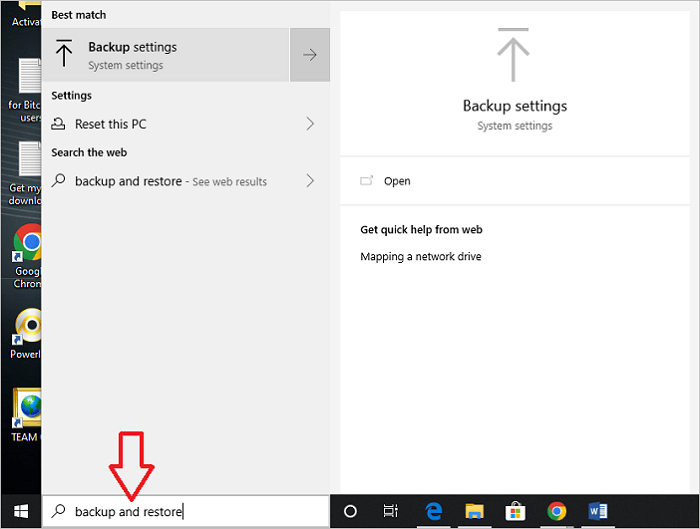 Step 2. Click "Create a system image" on the left panel.

Step 3. In the "Where do you want to save the backup" window, select "On a network location", then browse to choose the NAS as your target location. You will be required to enter the Username and Password of the Nac device. After finishing, click OK to continue.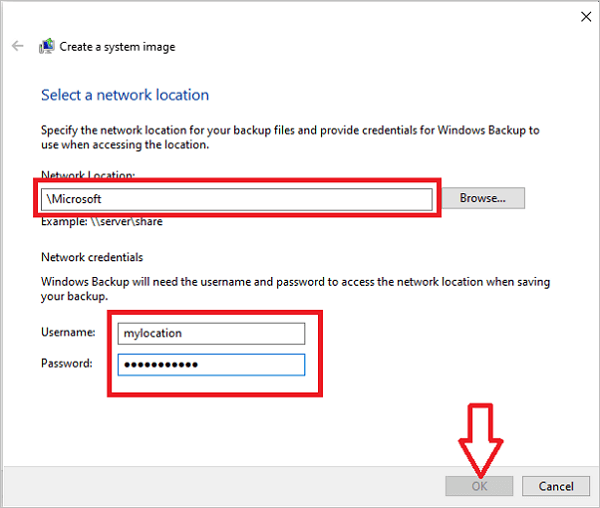 Step 4. Then it will ask you to choose which drive you want to include in the backup. After selecting, click Next.
Step 5. Click "Start backup" after confirming the backup source and target are correct.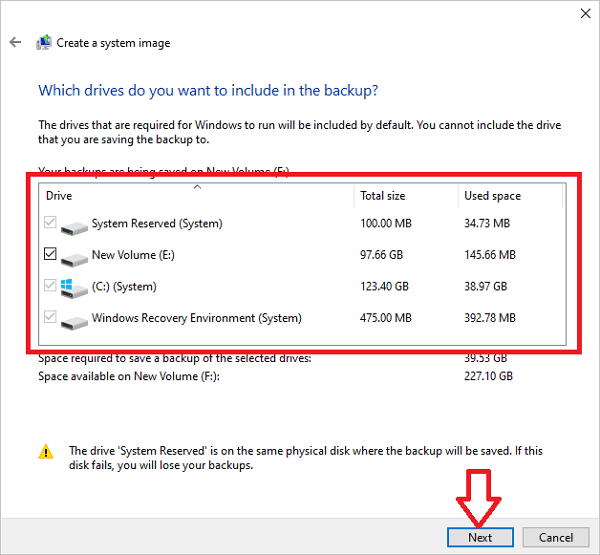 When the backup finishes, you'll get a Windows 7 backup stored on your NAS device.
The Bottom Line
Backing up Windows 7 to a NAS is an excellent way to protect your data from loss or damage. You can back up your files with EaseUS Todo Backup in minutes or use the Windows built-in Backup and Restore feature if you have enough time and patience.
We highly recommend EaseUS Todo Backup if you want a fast and reliable backup solution for your Windows 7 PC. It can save time, effort, and money. In addition, it also provides many other useful features such as disk clone, system restore, file/folder backup, etc., which all make backing up data on Windows 7 much easier. With EaseUS Todo Backup, you no longer need to worry about data loss or damage. We hope this tutorial helps!
FAQ on How to Backup Windows 7 to a NAS
How do I back up my entire Windows 7 computer?
You can create a system image to back up the entire Windows 7 computer. The system image will contain all data on your Windows 7 computer, including the operating system, programs, and settings.
Can Windows backup to NAS?
Yes, of course. Windows has a built-in Backup and Restore feature. It supports saving your Windows system and files to a network location, like NAS. Or, you can use the third-party software EaseUS Todo Backup to save Windows backup to NAS.
Can I back up Windows 7 to a flash drive?
Yes, saving Windows 7 backup to a flash drive is feasible with almost all backup tools, including EaseUS Todo Backup and Windows built-in Backup and Restore. A Windows backup on a flash drive makes your Windows 7 system portable, and you can restore it to any compatible PC when needed.

Updated by Larissa
Larissa has rich experience in writing technical articles. After joining EaseUS, she frantically learned about data recovery, disk partitioning, data backup, and other related knowledge. Now she is able to master the relevant content proficiently and write effective step-by-step guides on computer issues.
Taking everything into consideration, we can say that EaseUS Todo Backup Home can offer you a little extra sense of security with a set of advanced tools. The interface provides quick adaptation, every process guiding you all the way through so you don't get stuck or further damage your system rather than keeping it safe.

 Read More

EaseUS Todo Backup Free lets you create backups of your important files or your entire computer through its streamlined interface. Just choose the backup type you'd like to get started, and let the program do the reset.

 Read More

EaseUS includes all the features I expect from backup software like versioning, incremental backups, and scheduling. For more advanced users, EaseUS allows you to install a pre-boot environment onto your hard drive so you can use it to restore files without burning a CD or putting it on an external USB drive.

 Read More

EaseUS Todo Backup
Smart backup tool for your files and entire computer in Windows 10/8/7.
Install Windows on Multiple Computers at Once? No Problem!
Learn how to install Windows 11/10/7 and special programs/software on a batch of computers. Use 10 minutes to do the 10 hours work without making a single mistake!
Get Free Solution!