To ghost Windows Server 2016 means to back up the system and hard drive data etc on Windows Server 2016, which will greatly help you avoid unexpected Windows server system crash error or data loss issues. So how to backup or ghost Windows Server 2016 system and data? Here below we'll offer you two effective methods for Windows Server 2016 backup and recovery now.
Method 1. Free backup Windows Server 2016 with Server backup software
Why would we recommend you to try Server backup software? Professional Server back software will make it simple and easy for you to backup important server system and data. Here we'd recommend you try EaseUS Todo Backup Advanced Server which defends Windows Server, Exchange Server, SQL Server from disaster and keeps business always running well. Will it be expensive?
It can be free! You can free download this professional Server backup software and free backup any Server system or hard drive data etc for free within 30 days. Follow below simple steps to directly ghost your Windows Server 2016 now:
1. Launch EaseUS Todo Backup Advanced Server and click NEW TASK;
2. Select backup task - Disk/Volume > This PC/Disk or File/Mail/ExchangeDB/Exchange Mail etc (select system, data or files that you want to backup) and choose Destination with Plan Name & Description;
Then click Proceed to let the program do the backup jobs for you.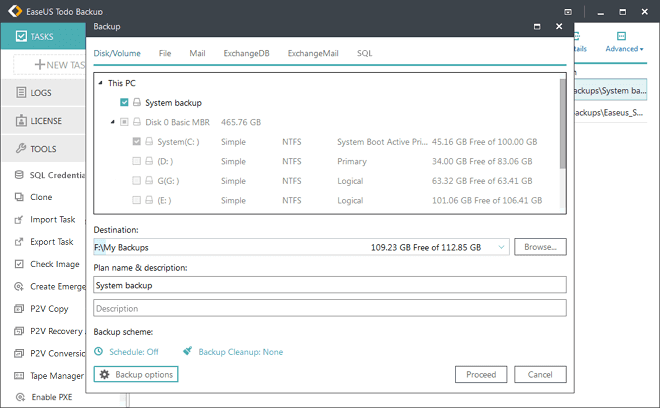 Yes, this is it. And you may even free restore backups within the 30 trial days.
If you are looking for an easy way to backup Windows Server system and data, EaseUS Todo Backup Advanced Server shall be your best choice.
Method 2. Backup Windows Server 2016 with built-in backup tool
Windows Server 2016 is comprehensive with Windows 10 with a built-in backup tool named Windows Server Backup. In order to use it, you may need to install this backup tool on your Server machine in advance and the process is quite complex. Here below you may follow to install and do some preparation jobs for Windows Server 2016 backup and recovery tool in advance:
Install and open backup and recovery tool;
Open an elevated Windows PowerShell window;
Add Windows Server Backup cmdlet snap-in to Windows PowerShell;
So now you can apply this Windows Server built-in backup and recovery tool to free backup Windows Server 2016 by following below steps:
1. Click Start > Administrative Tools > Windows Server Backup;
2. From the Actions pane of the snap-in default page, under Windows Server Backup, click Backup Once. This opens the Backup Once Wizard.
3. On the Backup Options page, click Different options >Next;
4. On the Select Backup Configuration page, click Custom >Next;
5. On the Select Items for Backup page, click Add Items;
In Select Items, select the check boxes for the items that you want to back up. (If the volumes selected are not formatted as NTFS, you will receive a message.) To back up just certain folders or files, expand the folder tree and select the items that you want to include. Click OK.
6. On the Specify Destination Type page, click Local drives > Next;
7. On the Select Backup Destination page, select the volume from the drop-down list that you want to use to store the backup. (You should confirm that there is enough free space on the volume.)
8. On the Confirmation page, review the details, and then click Backup. The wizard prepares the backup set and checks the volume.
9. On the Backup Progress page, you can view the status of the backup