"Oh no, the hard disk crashed, all data is gone, what do I do now?"
I hope all pc users can avoid this disaster, but people keep suffering from this sort of problems. To ghost an image of a hard drive on your Windows Server 2003 and secure your data is essential.
Qualifications of hard drive backup
Go straight to disk management on your Windows Server 2003. See how many disks have you got? You can backup all of them as long as they are less than 32. Figure out the total space you need to backup, and make sure it's less than 2 TB. And then check your file system for each partition, you won't need to worry if your file systems are FAT12, FAT16, FAT32, and NTFS. The third step is to confirm your disk type, IDE, EIDE, SATA, ESATA, ATA, SCSI, iSCSI, USB 1.1/2.0 and firewire disk are all supported. If the hard drives of your Server 2003 fit all these requirements, you can download a Server backup software to ghost your Server hard disks.
How many ways to ghost Server 2003 hard drives?
Sector by sector backup VS normal backup
You can choose sector by sector backup to ghost your hard drives. But I have to mention you that this option might cost you a relatively long period of time especially when the total space of your hard drive is really large. The sector-by-sector option will backup all sectors including blank sectors on your selected drive to an image. As a result, the image will be almost the same size of the disk being imaged.
While normal backup is on file level and backup hard drive to an image with data compression, the whole process will cost less time than sector by sector backup.
Your Server 2003 may continually add the new registry of applications and other sorts of files and folders. It's unpractical to backup them manually every day. Here you can set a schedule to backup your computer automatically. You can choose "Later", "Daily", "Weekly", "Monthly" and "Upon event" to set different schedule to backup your hard drives. Every time when the backup plan implements, there will be an email to notify you.
Windows Server 2003 hard drive ghost software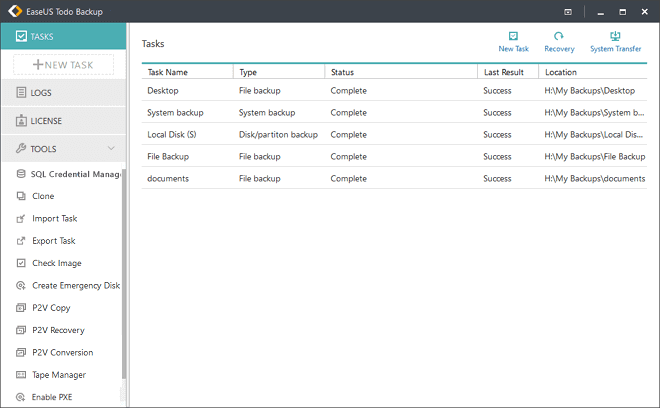 EaseUS Todo Backup Server is an expert backup and recovery software for Servers. Besides Windows Server 2003, Server 2008, 2000 and other non-server operating systems are also being well supported. Its ability to ghost server system state is very important if you want to get a functional system in the event of a crash. This function wins widely praise among server users.
After backing up the hard drive to image, you can also use this software to restore the image to anywhere you want. Besides a local computer, if you want to restore Windows Server 2003 system to different computers, choose System Transfer which can save you from reinstalling.