"Still no system backups at all? Make one right here."
Overview
The ideal system backup software undertakes a task for a whole-system backup, including everything on a Windows installation hard disk(s) or partition.
When backing up your data, you might choose to do a selective backup - just back up your data and settings and skip everything that can be reinstalled later from a CD. If you go this route, you probably have only a few hundred megabytes of this type of information to back up and it will save your space.
Most people will not notice the importance of backing up data until it is too late, especially for system backup. If your system crashed and then you will realize that you really need a reliable system backup program after suffering a great pain from sacrificing your precious weekends or dating time to reinstall your operating system. After having a deep understanding of the importance of system backup, how can we achieve the aim?
EaseUS Todo Backup
Just copying all the files of your system partition to another manually cannot ensure you to boot the system if the computer crashed. Choosing suitable system backup software is just as important as choosing the right job. Backing up your system will not bother you anymore with this piece of free backup software - EaseUS Todo Backup. It is neither difficult nor time-consuming.
EaseUS Todo Backup is the most reliable yet absolutely free system backup software that supports an automatic backup of the entire system partition, boot partition, user files and program files. This system disk/partition backup software is going to save your time and efforts from reinstalling your operating system in case of a future system failure or crash.
Easy Guide (Illustrated by Product Screenshots)
Following are a step-by-step instruction about how to backup your entire operating system with EaseUS system backup software.
Step 1. Run EaseUS Todo Backup and choose "System Backup" to backup the current operating system on your computer.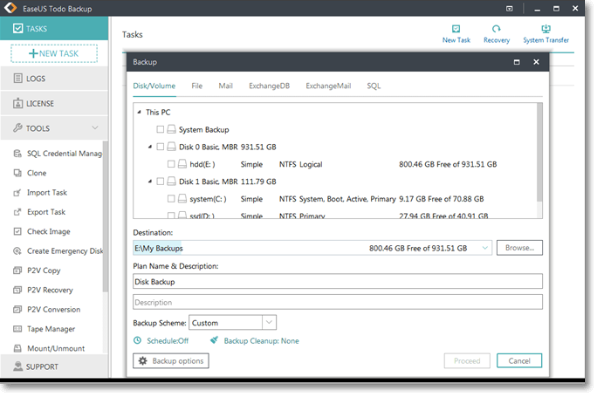 Step 2. On the "System Backup" window, there are several options for you to backup OS intelligently.
Select a backup location - Click "Browse" to choose your own backup storage device.
Add a plan name and description - it's necessary when there are many similar backups in the same location.
Schedule - Click "Schedule" and you can set an auto OS backup task by daily, weekly...or upon an event.
Image-reserve strategy - manage your increasing OS backups in an organized way.
Backup options - to create an OS backup without taking too much disk space, enable OS backup encryption, etc.
Step 3. Click "Proceed" after making all necessary settings.
To maximally save disk space while the number of system backup image files growing too fast, it's significant to do an incremental backup for Windows 10/8.1/8/7 after the first full backup.