Looking for server image backup software?
Are you feeling frustrated b the time-consuming recovery in case of server failure and planning to make a backup for your server for a fast recovery and operation of your server? Are you looking for one server image backup software for your Windows Server like the case below:
"I am Looking for a Server Image backup software for my server, is there any reliable software available for Windows 2008/2003 Server and Windows 7/Vista/XP/8 OS? I'm running a Windows 2003 Server and the NTBACKUP seems to be broken beyond repair. I was hoping to find a replacement in a form of software. I have no enough budget as of right now, to be more precise I can't get any more money out of my boss on server needs."
Now, the answer is yes, EaseUS Todo Backup, server image backup software to backup your system state, partition or hard disk, will provide comprehensive protection for your Windows Server 2016/2012/2003/2008.
Why to backup Windows Server?
It is generally known that making a backup image of server system state or full server beforehand allows you to go back to business and minimize downtime whenever accidents comes to your Windows Server.
True, due to the unreliability and instability of computers, you never know what will happen to your computer and to the critical data on it. Have you ever thought about something on your Windows Servers gone would never come back, especially when they are concerned with critical documents or mission? And how much business would you lose if these servers went down? However, things will be different if you have a backup for it, you just need to put the image back and everything will be right back quickly.
How to backup Windows Server with server backup software?
A key component to any disaster recovery plan is making a image backup for your Windows Server with image backup software like EaseUS Todo Backup, which will provide you two solutions to protect your server and ensure that business critical data is always protected and efficiently restored in seconds: create an exact image file of your server partitions or disk or clone the whole disk for backup or data transfer.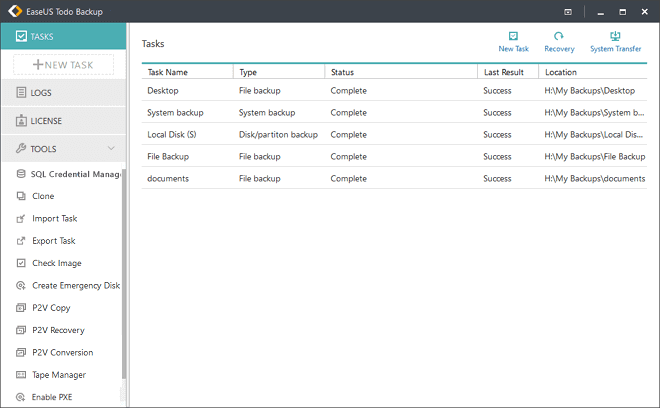 Why not download this server image backup software now, and follow the step-by-step instructions to create an image file of your Windows Server backup.