Backup and recovery for Exchange Server 2010 is the expert topic in IT if someone who got into IT and needs to manage Exchange Server database is not a backup and recovery expert, I think he will feel tortured to do his work. Exchange 2010 has so many backup and recovery concepts that Exchange Server administrators need to understand such as VSS, Active/Passive Databases, Recovery Databases, Database Portability, Dial Tone Portability, Log Truncation, Circular Logging. Free download expert Exchange backup software can solve all the problems.
Microsoft Exchange Server
Microsoft Exchange provides businesses with email, calendar, and contacts on the PC, phone & web, so employees can stay connected and in sync. Multi-layered, anti-spam filtering with continuous updates helps guard against spam and phishing threats. A variety of storage options allows you to give users bigger and more reliable mailboxes. What's New in Exchange 2010? Microsoft Exchange Server 2010 brings a new and rich set of technologies, features, and services to the Exchange Server product line. New features such as incremental deployment, mailbox database copies, and database availability groups work with other features such as shadow redundancy and transport dumpster to provide a new, unified platform for high availability and site resilience.
Exchange 2010 integrates high availability into the core architecture of Exchange to enable customers of all sizes and in all segments to economically deploy a messaging continuity service in their organization.
Free backup solution for Exchange 2010 using Windows Server Backup
This procedure can only be performed locally on a computer running Exchange 2010 on the Windows Server 2008 or Windows Server 2008 R2 operating system. And the Windows Server Backup feature must be installed on the local computer. If a server hosting the data being backed up is a member of a database availability group (DAG) and hosts both active and passive database copies, you must disable the Microsoft Exchange Replication service VSS writer. If the Microsoft Exchange Replication service VSS writer is enabled, the backup operation will fail. For detailed steps, see Using Windows Server Backup to back up and restore Exchange data.
Start Windows Server Backup.
In the Actions pane, click Backup Once. The Backup Once wizard appears.
On the Backup options page, select the Full server (recommended) to back up all volumes on the server, and then click Next.
On the Select backup configuration page, select the type of backup that you want, and then click Next
 Notice:

By default, volumes that contain operating system components or applications are included in the backup and can't be excluded.
On the Specify destination type page, select the location where you want to store the backup, and then click Next. If the Remote shared folder is selected, the Specify remote folder page appears. Specify a UNC path for the backup files, and then do one of the following to configure access control settings.
On the Specify advanced options page, select VSS full backup, and then click Next.
On the Confirmation page, review the backup settings, and then click Backup.
On the Backup progress page, you can view the status and progress of the backup operation.
Click Close when the backup operation has completed.
Exchange backup software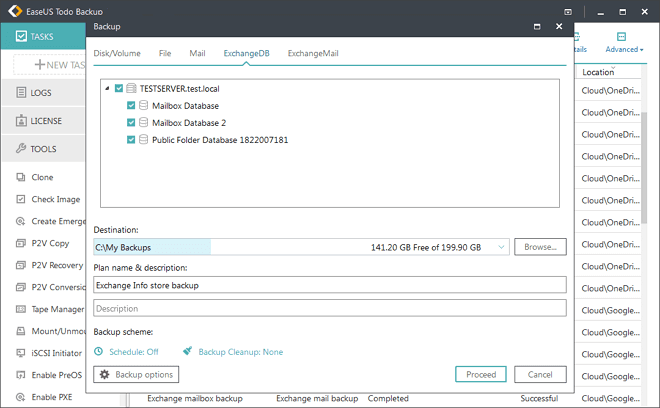 Backup software for Exchange Servers: EaseUS Todo Backup Advanced Server is the best backup software for Microsoft Exchange Server and SQL Server. It supports Exchange 2013 backup, Exchange 2010 backup, Exchange 2003 backup and Exchange 2007 backup, backup and restore Exchange Server in Storage Group Level, you can run full backup, incremental backup, differential backup and schedule backup to perform live, online Exchange Server Backup while your Exchange Server is running, it would not interrupt your Server work. Support fast restore of MS Exchange backup to restore Exchange Server to the original location.