Why need to backup Windows system and data
No matter how well you protect your PC and how much you care your system, you still cannot guarantee it is safe and never come across virus or spyware attack. Therefore, backup software is a "must have" software for computer users to protect the data. You should bear in your mind that no matter how busy you are, you need to make a backup. Otherwise, when problems happen, you'll have to find a data recovery software to get your data back before the data is overwritten. To prevent such a problem, what can you do? Do you have any ideas about how to backup Windows 7 64 bit system and data? Any free backup software that can help to backup Windows 7 64 bit system? How? And how to protect other Windows systems and data?
Backup is essential no matter you are using 32 bit or 64 bit. We all know we should back up our data but few of us actually do. About 60% computer users have experienced some form of hard drive failure. Digital photos, music, email, financial statements, and other personal files on our computers are priceless and often irreplaceable. Hard drive failure, laptop theft, either hackers or viruses can erase your valuable data in a flash. So, to avoid the data loss and system reinstallation tragedy, backing up your hard drive and system now with free backup software for both 32 bit and 64 bit is quite necessary.
Find free backup software to backup Windows 7 64 bit system
What's the difference between 32 bit and 64 bit Windows system? The 64-bit version of Windows handles large amounts of random access memory (RAM) more effectively than a 32-bit system. As the 64 bit PCs and Servers become more powerful and popular, many software applications are devoted to supporting 64-bit operating system as most software applications are designed for 32-bit version Windows operating system, but they usually can run in the 64-bit operating system, running in a "virtual 32-bit machine".
EaseUS Todo Backup Free works with mainstream operating systems including Windows10/8.1/ 8, Windows XP (32 and 64 bit), Windows Vista and Windows 7 (32 and 64 bit). It enables 64-bit users to backup system, backup disk/partitions to image and restore them from the backup image or clone the entire hard drive to another. And it is totally free to backup Windows 7 64 bit system within 30 days.
Free backup Windows 7 64 bit system with EaseUS Todo Backup
EaseUS Todo Backup prevents users from reinstalling the Windows operating system, applications and moving files over to the new hard drive from scratch, and supporting full backup, incremental backup, schedule backup.
EaseUS Todo Backup is a perfect Windows 7 bit 64 backup software with easy-to-use & the user-friendly interface. And you can free download this software and follow the wizard to complete system backing operation without any interruption now.
Step 1. Launch EaseUS Windows 7 backup software and then choose the "System Backup" option.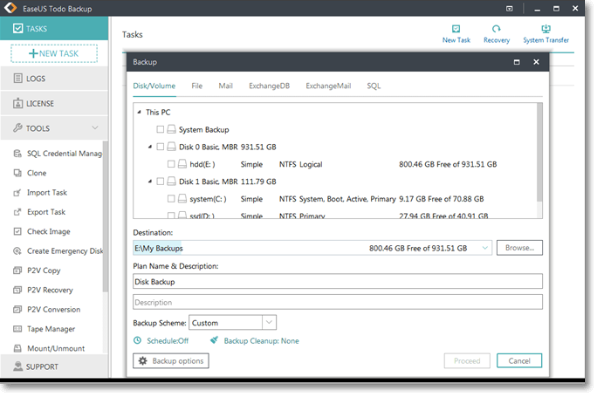 Step 2. The software will then automatically recognize your operating system. And what you need to do here is to perfect the Destination, Plan name, and Description.
Note:
Destination - Click the folder icon to modify your backup destination.
Plan name and Description - An accurate plan name and appropriate description can help you find the needed image file easily.
You'd better create the backup file to an external storage device or in some other drives. If not, there may be a risk of the backup file getting corrupted or destroyed.
Step 3. Click "Proceed" to start Windows 7 system backup.