Is there any way to fix "Your PC needs to be repaired" error?
My Windows 10 laptop couldn't be loaded and now only display a blue screen with error message says:
Recovery
Your PC needs to be repaired.
"The operating system couldn't be loaded because a critical system driver is missing or contains errors. File: \windows\System32\drivers\tcpip.sys Error code: 0x0000017"
You'll need to use recovery tools. If you don't have any installation media (like a disc or USB device), contact your PC administrator or PC/device manufacturer.
Is there any efficient way to fix this error? Please help!
Reasons and solutions for "Your PC needs to be repaired" error
Recently many users have encountered "Your PC needs to be repaired" error in Windows 10/8 /7. It usually happens when a critical system file is missing or corrupted, when the Boot Configuration file BCD is corrupted or missing some required information or when you are upgrading to a higher version of Windows. And for different reasons, users can receive different error codes like 0x0000098, 0xc000000f, 0xc0000034, 0xc0000225, 0xc000014C, etc.
When facing such a situation, you have two choices to fix "Your PC needs to be repaired" error: use the recovery tools on your installation media like DVD or USB to repair and recover your Windows installation or factory reset your PC. Obviously the former one would be best. So it is important for you to create a Windows repair disc beforehand. Here you can do it using EaseUS Windows backup software with simple steps.
Create Windows system repair disk to fix "Your PC needs to be repaired" error
Step 1. Plug-in your USB drive, CD or DVD, run EaseUS backup software, and click Tools.
Step 2. Select Create WinPE emergency disk and select the destination USB drive CD or DVD in the new window.
Step 3. Click Proceed and wait for the software to create the Windows 10 bootable disk.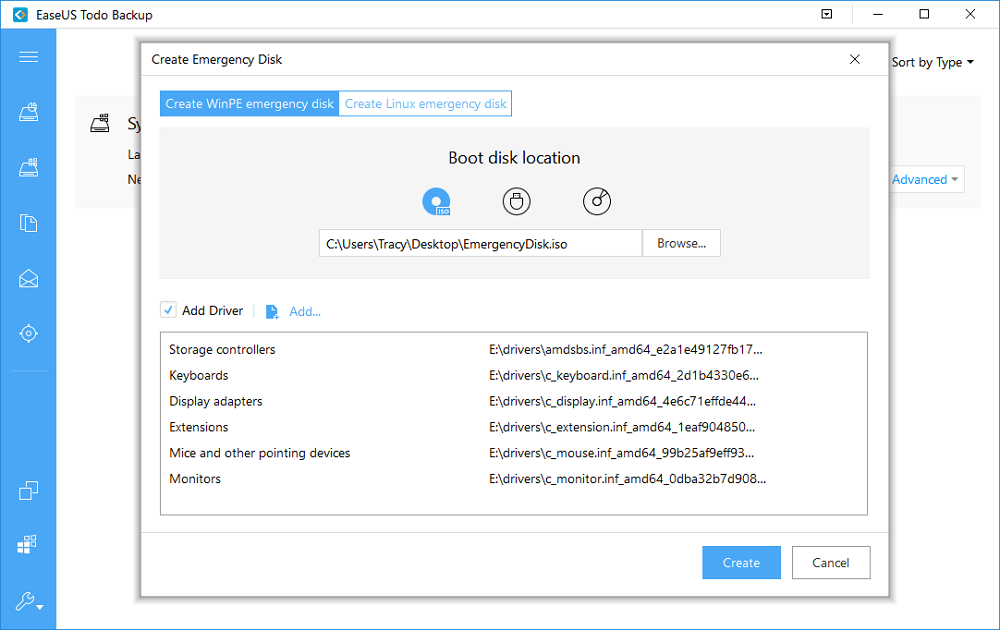 As long as you have a Windows system repair disk, you can quickly and easily restore your system whenever "Your PC needs to be repaired" error happens. Otherwise, you have the last option - to factory reset your PC.