Why do we recommend R-Drive Image alternative?
After reading several R-Drive Image reviews, we arrived a conclusion that R-Drive Image is extremely powerful software for hard drive imaging, cloning, virtualization and mounting, and it also lets you save settings for tasks and reuse them every time you run that task in the future.
But one point is noticeable that frightens quite a large group of people who show interest in the program. What is it? The user experience.
To be frank, R-Drive Image offers an outstanding backup plan that takes effect when disasters come unexpectedly, and its disk-imaging supports to image from a failed hard drive because it can skip bad sectors and keeps going until finished. And the truth is that it's ideal for expert users. 9 out of 10 average users are prevented from utilizing the full features of the excellent disk imaging software due to the interface is not as modern and intuitive as other programs.
What's the perfect R-Drive Image alternative for home & office users?
From the perspective of the basic backup/imaging functions and the advanced settings for an ongoing task, EaseUS Todo Backup is competent to be an incomparable R-Drive Image alternative. Three aspects can explain.
1. Ease of use
EaseUS free backup software has several versions, which are designed for specific purposes for different customer groups. For home and office users, it has a free version and home version, and the interface looks alike. Modern, simple and wizard-based guide.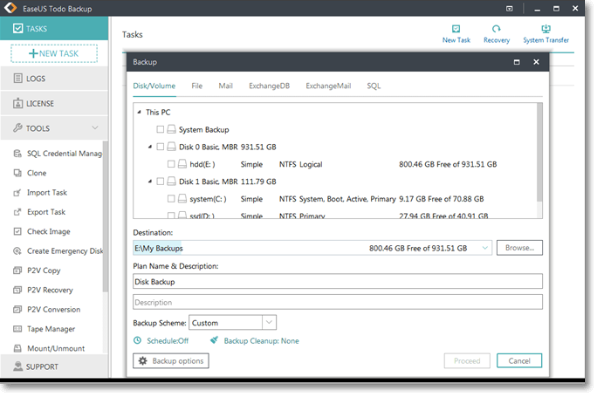 2. Overall features
In general, the free backup software offers 2 types of functions, which are the backup and clone.
For backup, users can freely create backups for disk/partition, files, system, mail, etc.
For clone, it's for disk upgrade, data duplication, system transfer without reinstalling, etc.
3. Advanced settings
It supports differential backup and incremental backup that saves great storage space.
Set a schedule for the backup image for one-time backup, daily, weekly, monthly, upon an event or a specified time interval.
Compress and encrypt the back image for an enhanced protection.
Sector by sector clone supports to clone hard drive with bad sectors uninterruptedly.
...More useful settings are waiting for you to explore.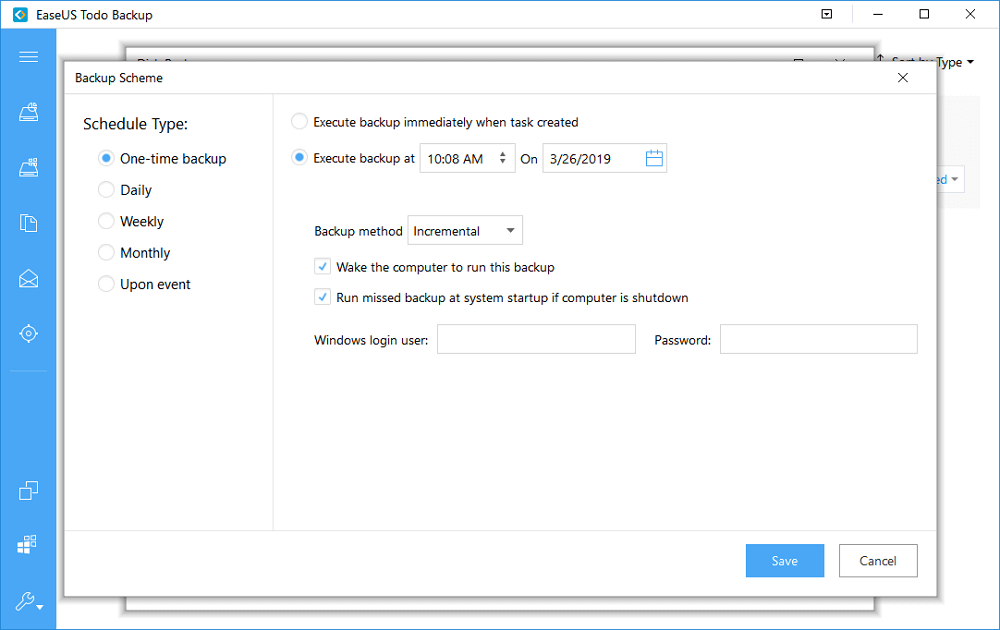 How to use R-Drive Image alternative for disk imaging, backup or clone?
With so much explanation of fantastic features in EaseUS Todo Backup, the most competent R-Drive Image alternative software, it's time to download it for free. You'll feel amazed and like it soon after a second. Here's a general guidance.
Step 1. On the main window of EaseUS Todo Backup, select any backup option that works the best for you. If you're trying to use the clone feature, make sure that both the source disk and destination disk are correctly connected to the computer.
Step 2. Edit the backup information and select a backup location.
Step 3. Complete the advanced settings.