Why do you need to create a system repair disc in Windows 10?
A system repair disc contains Windows system recovery tools that can help you recover Windows from a system problem or restore your computer from a system image or restore point. Creating a system repair disc in Windows 10 is helpful for you to repair Windows and boot your computer if a serious error occurs. Here we list some common cases:
Errors happened during Windows 10 Updates
By default, Windows 10 installs new Windows Updates automatically. It will require you to reinstall your system if a bad update happens to break your Windows installation in some way.
System problems caused by other reasons
Except for Windows 10 Updates, there are a couple of other reasons that can cause the system crash or system failure. Then you need to rebuild your system and make the computer work properly.
If you encountered one of the above situations and cannot start Windows, you might be out of luck in repairing your PC. So we strongly recommend you to create a system repair disc in Windows 10 before getting into trouble. On this page, we will introduce you how to do it with ease step by step.
Create a Windows 10 repair disc with EaseUS backup software
To create a Windows 10 repair disc, EaseUS backup software is your best choice. The program is a safe, efficient and easy-to-use backup utility designed for the system, file, Outlook backup, disk imaging, disk clone, etc. It can help you create a system repair disc in Windows 10 so that you can easily and quickly recover your Windows installation and boot your computer when something bad happens. It just takes simple steps.
Step 1. Plug-in your CD or DVD, run EaseUS backup software and click Tools.
Step 2. Select Create WinPE emergency disk and select the destination CD or DVD in the new window.
Step 3. Click Proceed and wait for the software to create the EaseUS Todo Backup bootable disc.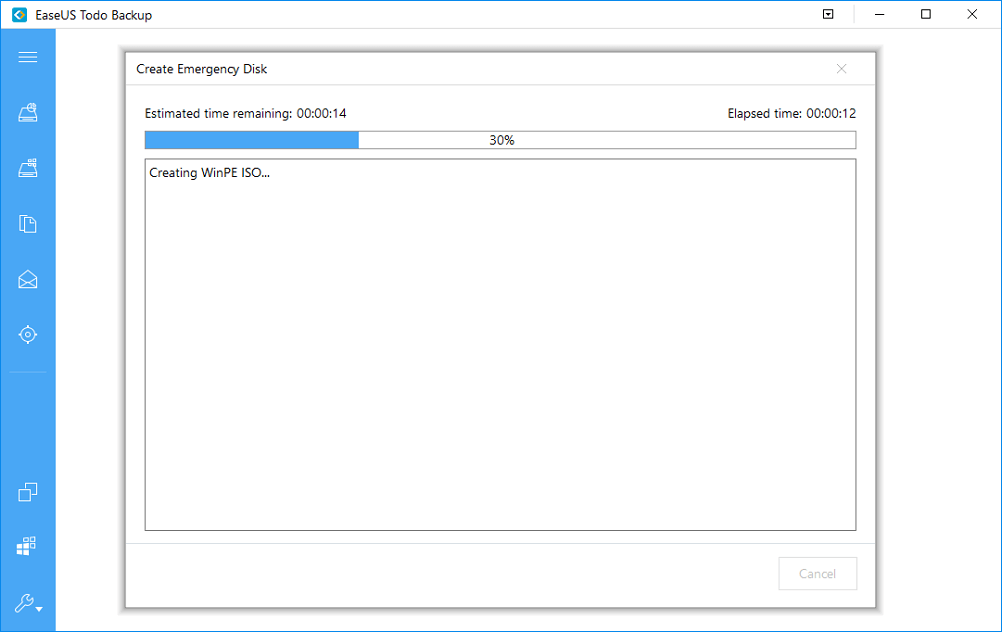 Create a repair disc using Windows 10 built-in system image backup utility
If you don't like to use a third-party backup software, you can also try Windows 10 built-in system image backup utility to create a Windows 10 system repair disc. Here is how to do it:
1 – Right-click on the Start button, then click Control Panel.
2 – Click System and Security.
3 – Click File History.
4 – Click the System Image Backup link that's located in the lower left-hand corner of the window.
5 – Click Create a system repair disc. Follow the prompts that follow to create the disc.
Both of the two methods are easy and available for you to create a Windows 10 repair disc. Try it to protect your system and computer from unexpected disaster now!