How to Clone Server Hard Drive on Windows Server 2019/2016/2012
Updated by
Daisy
on Aug 11, 2021
Reading Duration: 3-5 minutes.
Applies to: Upgrade and clone Windows Server 2019/2016/2012/2008/2003 hard drive to new HDD/SSD.
Do you want to upgrade or replace your old and small Windows Server 2012/2008 hard drive with a newer and larger one for better performance? Don't worry if you don't know how to do so. We'll show you how to clone a Server hard drive to a new HDD/SSD on this page.
By following this tutorial, you'll successfully upgrade your Windows Server hard drive, transferring the Windows Server system and all the data from one hard drive to another safely.
How to Clone Windows Server Hard Drive
When it comes to upgrading a hard disk, migrating data to a new disk, an ordinary Windows user may come up with the idea of using "Copy" + "Paste" for help. However, these jobs cannot simply "copy" and "paste" the Windows Server system and data to another new disk. The Server system won't be able to boot properly by doing so.
Is there an efficient way that can help to upgrade Windows Server hard drive? Yes. Cloning Server hard drive is an efficient way to transfer data and system in Windows Server 2016, 2012, 2008, 2003. To do so, you'll need reliable Server cloning software for help.
Download Windows Server Cloning Software
Here, reliable Windows Server cloning software - EaseUS Todo Backup Enterprise with its disk cloning feature makes the disk cloning process easy for all levels of Windows Server users.
You can download it here and apply it to clone and upgrade the hard disk to a new HDD/SSD with the following guide now:
After downloading and installing this software on your Server computer, let's start cloning your hard disk now.
#1. Preparation - Make Old and New Hard Disk Ready
With EaseUS Todo Backup installed on your Windows Server computer, you still have one more thing to do. It is to get both your old and new hard disks ready.
#1. Clear Useless Files on Old Drive
It's important that you delete junk files, and remove useless large files from your old disk. That will help you save a lot of useful space and speed up the cloning process.
To do so, you can choose to identify and delete those useless files manually. Or, you can turn to a reliable file cleaner tool like EaseUS CleanGenius for help.
Step 1. DOWNLOAD and install EaseUS Partition Master Suite for free and launch it on your Windows PC.
On the suite, hover your mouse on "PC Cleaner", click the Download icon to install and launch EaseUS CleanGenius.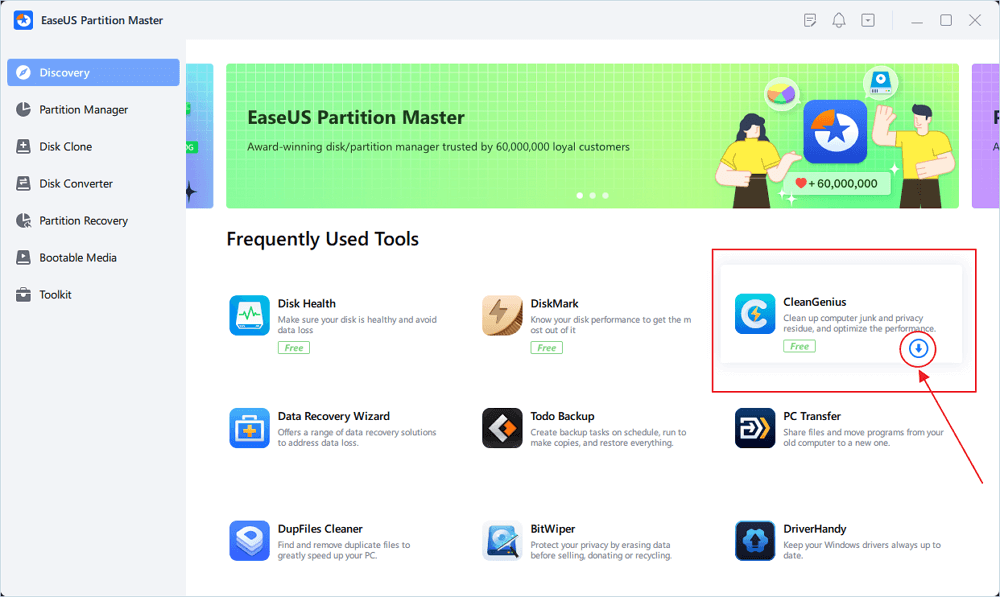 Step 2. On EaseUS CleanGenius, select "Cleanup" on the main screen, and click "Scan" to start scanning.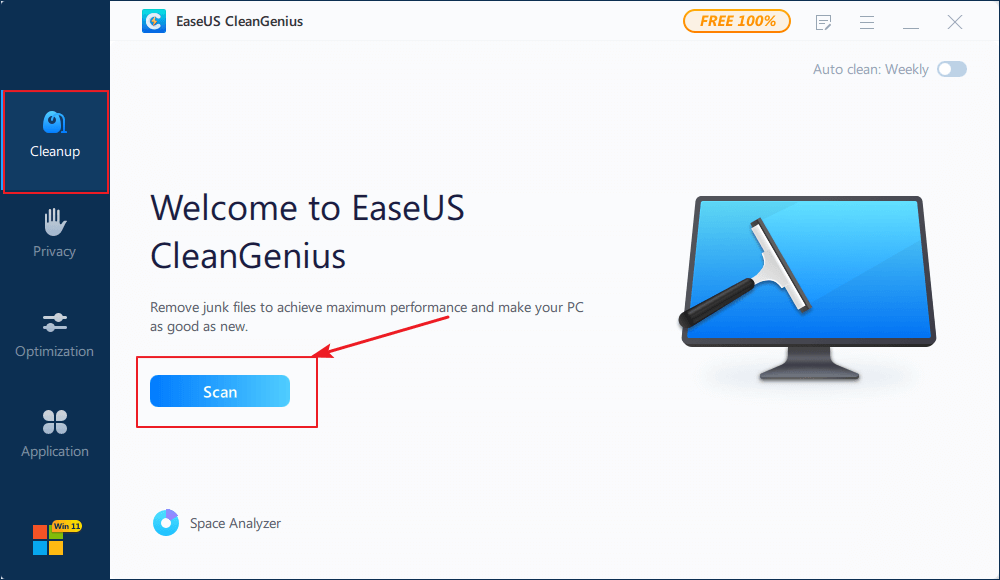 Step 3. When the scanning process completes, select useless large files and click "Clean" to clean large files.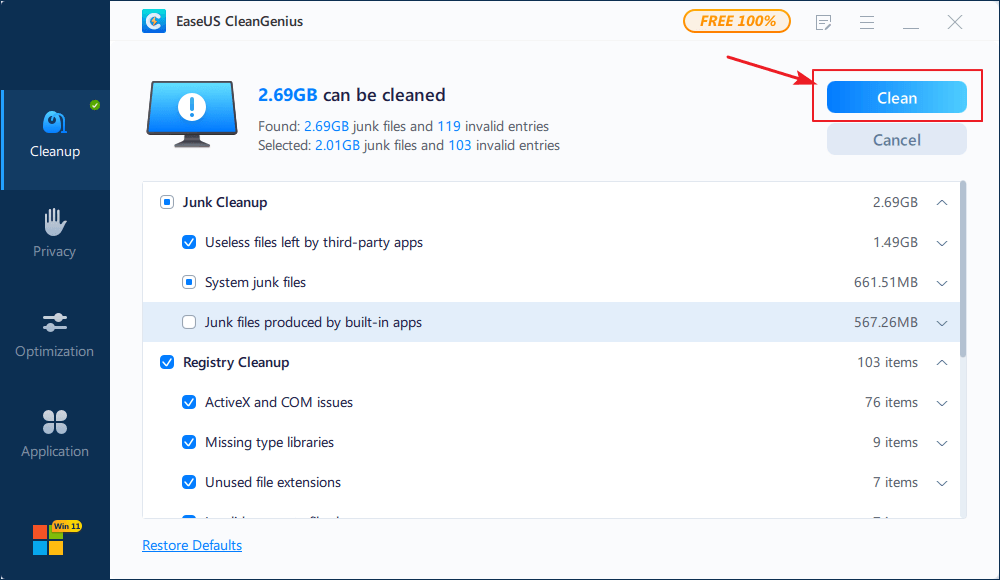 Step 4. When EaseUS CleanGenius completes cleaning the files you choose, click "Done" to finish the process.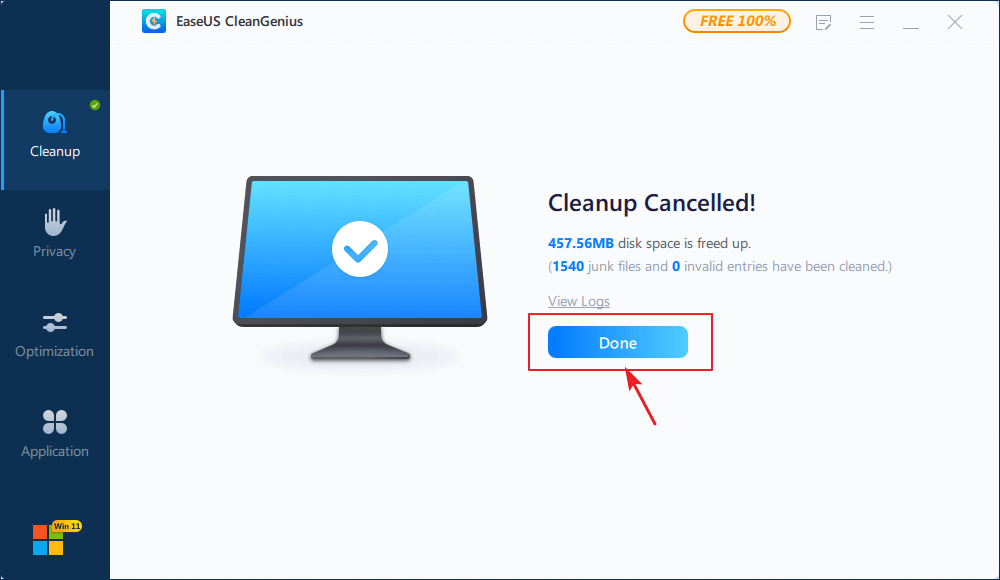 #2. Install and Initialize New HDD/SSD
Remember to purchase an equal or even bigger HDD/SSD for the disk cloning. If the new hard disk has a smaller storage capacity, you'll lose data or the disk cloning process may fail.
Now, you can install the new hard drive correctly to your computer and follow the steps to initialize it:
Step 1. Shut down Windows Server PC and install the new HDD or SSD correctly.
Plug the new hard drive into your computer motherboard via the SATA cable and power cable.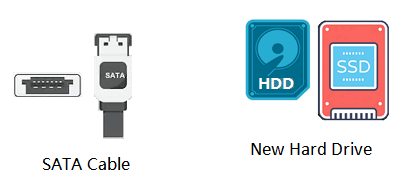 Step 2. Press Windows + R keys, type diskmgmt.msc, and click "OK".
Step 3. Enter Disk Management, right-click the new hard drive or SSD, and select "Initialize Disk".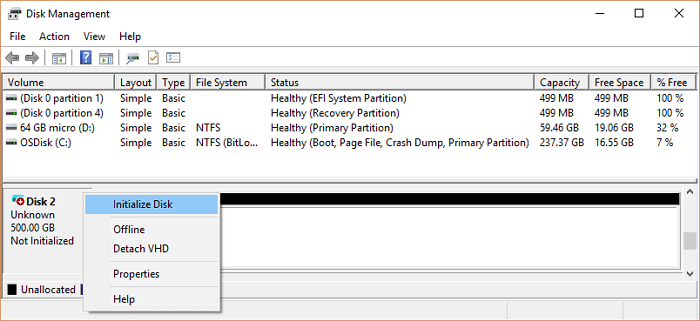 Step 4. Set the disk as the same partition style as the old source disk - MBR or GPT. Click "OK" to confirm.
#2. Clone Windows Server Hard Drive with Server Clone Software
You can now use EaseUS Server cloning software to clone the Windows Server system, installed applications, and all data on the old disk to another hard drive or SSD now. It can help users do these operations in the least time and with the simplest steps. 
Tutorial: Upgrade and Clone Windows Server 2019/2016/2012/2008/2003 Hard Drive
Step 1. Launch EaseUS Server cloning software and click "Clone". Choose the source and destination disk.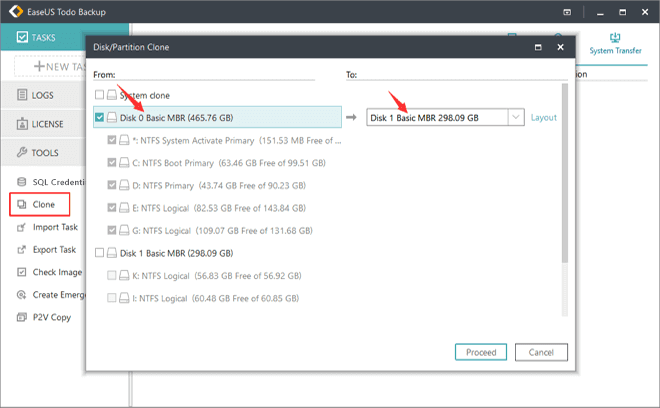 Step 2. If the new disk is SSD, tick "Optimize for SSD".
You can click "Layout" to check the new disk map (which wil be the same as the source disk). Click "OK" to confirm.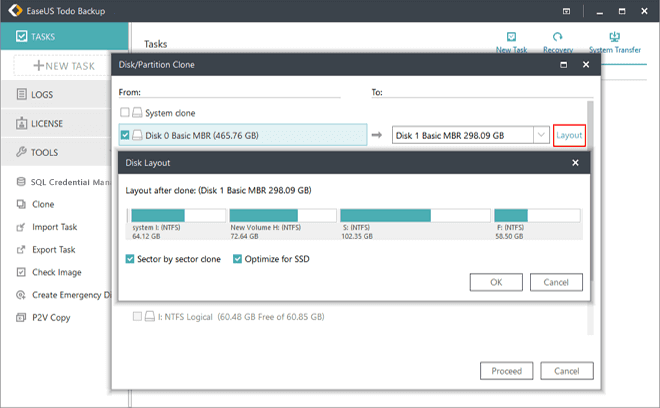 Step 3. Click "Proceed" to execute the Server hard drive cloning operation.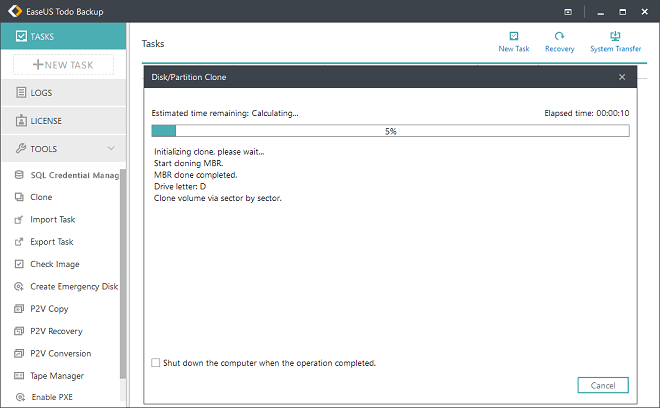 #3. Set Cloned Hard Drive Bootable after Cloning
Note that if you cloned a Windows Server system drive, it's important to set up the cloned drive after the operation. Here is how to set up your new HDD or SSD as the boot drive on the Windows Server computer:
Step 1. Restart the Server PC and press F2/F12/Del to enter BIOS.
Step 2. Go to the Boot section, set the Server computer to boot from the new hard drive.
Step 3. Save the changes, exit BIOS, restart PC.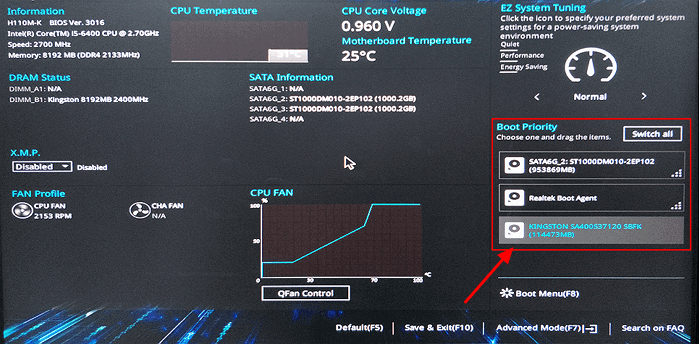 After this, your computer will boot up Windows Server on the new hard drive. All you need is to wait for the process to complete.
Conclusion
On this page, we introduced reliable Server cloning software - EaseUS Todo Backup to help you upgrade and clone a Windows Server hard drive.
 To do so, you need to download reliable Server cloning software and get old/new disks ready first.
Then, you can clone Windows Server 2019/2016/2012 hard drive.
Last, when the cloning process completes, remember to set up the new disk as the boot drive in Windows Server BIOS.
See, this is the whole process of cloning a Windows Server hard drive to a new HDD/SSD without data loss nor boot issue. If you have further questions about cloning hard drive or EaseUS cloning software, check out the answers below.
People Also Ask About Cloning Server Hard Drive
1. What to do or how to deal with the old disk after cloning the Server hard drive?
Some of you may have the same question on how to deal with the old drive after cloning the disk to a new one. Here are two common ways that you can try:
1. Clean the hard drive and use it as a second data drive.
2. Clean the drive and sell it.
So how to thoroughly clean a hard drive? You can wipe a hard drive with a reliable disk management tool like EaseUS Partition Master for help.
2. What else can EaseUS Server cloning software do?
Besides disk cloning on Windows Server 2019/2016/2012/2008/2003, etc., you can also apply EaseUS Todo Backup to execute other operations on Server computers, including:
Backup Server system partition
Backup MS SQL Server, MS Exchange Server
Backup and recover files
Apart from the basic backing up features, you may also use this software to backup the Windows Server system and recover to dissimilar hardware.
3. Does cloning a hard drive copy the OS?
As you know that cloning is an operation that copies everything from the target drive to another hard drive, making everything on the new disk exactly the same as the old one.
Therefore, if you cloned a system hard disk, the answer is yes. The cloning process will copy your OS to the new disk. 
Daisy is the Senior editor of the writing team for EaseUS. She has been working in EaseUS for over ten years, starting from a technical writer to a team leader of the content group. As a professional author for over 10 years, she writes a lot to help people overcome their tech troubles.

Author Jean has been writing tech articles since she was graduated from university. She has been part of the EaseUS team for over 5 years. Her special focuses are data recovery, disk partitioning, data space optimization, data backup and Mac OS. By the way, she's an aviation fan!
Taking everything into consideration, we can say that EaseUS Todo Backup Home can offer you a little extra sense of security with a set of advanced tools. The interface provides quick adaptation, every process guiding you all the way through so you don't get stuck or further damage your system rather than keeping it safe.

 Read More

EaseUS Todo Backup Free lets you create backups of your important files or your entire computer through its streamlined interface. Just choose the backup type you'd like to get started, and let the program do the reset.

 Read More

EaseUS includes all the features I expect from backup software like versioning, incremental backups, and scheduling. For more advanced users, EaseUS allows you to install a pre-boot environment onto your hard drive so you can use it to restore files without burning a CD or putting it on an external USB drive.

 Read More

EaseUS Todo Backup
Smart backup tool for your files and entire computer in Windows 10/8/7.
Install Windows on Multiple Computers at Once? No Problem!
Learn how to install Windows 11/10/7 and special programs/software on a batch of computers. Use 10 minutes to do the 10 hours work without making a single mistake!
Get Free Solution!