Why Need to Backup Windows 10 to an External Hard Drive
Why is it necessary to create Windows 10 backup images? What is this for? Due to careless operation, virus attack like Bad Rabbit, or other reasons, it can be very easy to lose important data on computer or storage devices now. And you are highly recommended to auto backup your computer to external hard drive windows 10 right now.
An external hard drive is easy to use, portable and increasingly cheap. You just need to plug it into the computer using USB port when you need to back up and pull out when all the operation is done. Really convenient and easy to use.
What's more, once the backup is done and the external hard drive is disconnected, your data is not affected by your computer. It is an efficient way to protect data security. So follow the guide below to know how to backup Windows 10 to an external hard drive automatically.
How to Auto Backup Windows 10 to an External Hard Drive
EaseUS Windows backup software is a professional backup utility that you can use to backup windows 10 to an external hard drive. It can make a copy of the system/boot files and applications to your external hard drive with simple steps. So you can rescue your system and data easily and quickly when your system crashes due to viruses, hardware failure or human error.
Step 1. Empty the external hard drive for Windows OS backup
1. First of all, your external hard drive should be as equal to or even bigger than your system drive size.
2. Please empty or move the saved data in the external hard drive to avoid data overwritten error.
Step 2. Connect the external hard drive and run EaseUS Todo Backup
1. Connect the external hard drive to your PC.
2. Launch and Run EaseUS Todo Backup on your computer.
Step 3. Backup Operating System to external hard drive
1. Click the icon at the left top corner and select "System Backup" on the left tool pane.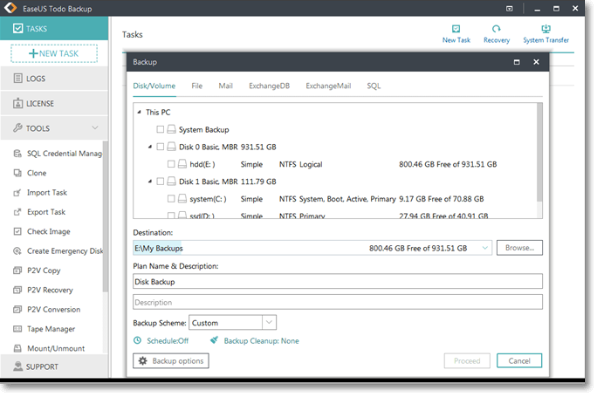 2. Select Windows OS to backup and specify the external hard drive as your backup destination.
If you need to create an automatic backup plan for backing up your OS, try below tips:
Click "Schedule: Off" > Select OS backup type - "Upon Event" (to backup OS every time when you plug your external hard drive in) > "Save" all changes.
EaseUS Todo Backup will automatically backup your Operating System after the first full backup when you plug your drive into your PC.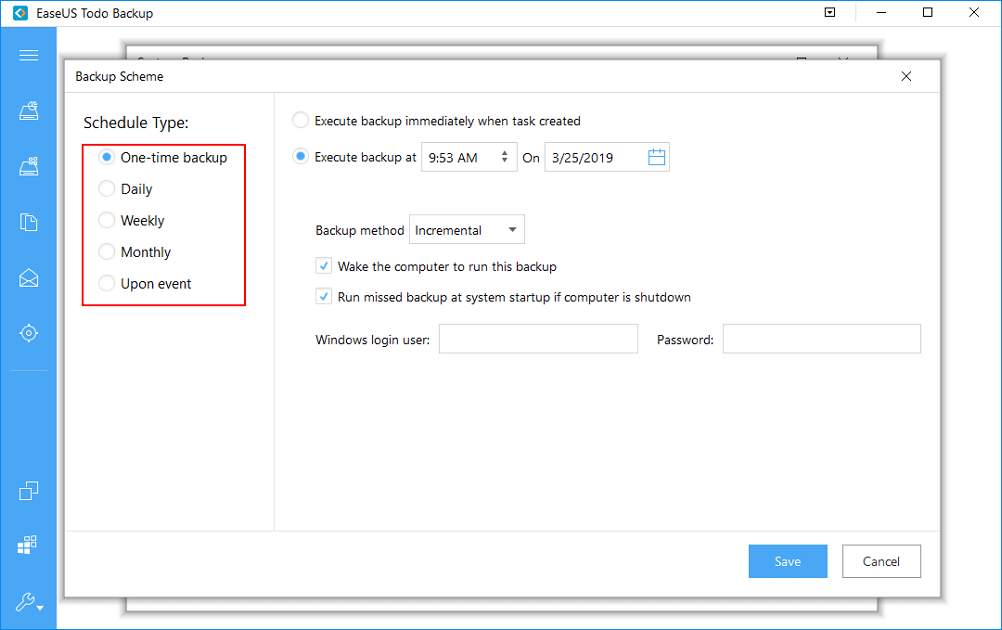 3. Click "Proceed" to start backing up your OS to the external hard drive now.