Better Alternative for Windows 10 File History
"I am using Windows 10 File History to backup Windows 10 computer. Every time it runs, a folder "$OF" is created and there is scarcely any web news as to why this is created and to what purpose it serves. Seriously, I don't like File History working in this way. What's worse, I set up backup to D drive, the data drive, and it was supposed to back up all the files and folders under D. Strange enough, it only copies the folder D:\...photos and ignores the other 50Gb in other folders under D:\. Is there a third-party program that will backup Windows 10 files and settings better than Windows 10 File History?"
Windows 10's File History, as the name suggests, is an easy way to get started with backing up your personal files along with settings. You must hook up an external hard drive to Windows 10 and then in the Settings app click the "+" next to Add a drive, that's where you save the backup image; by default, Windows 10's File History will copy all the folders in your User Folder, no matter you allow it or not, the "automatic backup" feature of User Folder will soon lead your backup external drive redundant.
Many people find the restrictions in using the built-in Windows 10 backup and recovery feature, calling for a better alternative among many third-party backup plans. For example, a more intelligent and flexible one, which is capable of backing up all types of files in the computer, or backup network shared files, or the backup image can be compressed to a smaller size, or besides an external hard drive, we can backup data to NAS place, even backup data to cloud.
To sum up, we find you the best Windows 10 File History alternative that helps with a foolproof Windows 10 system files, personal files, hard drive files and settings backup and recovery solution - EaseUS Todo Backup, free backup software for Windows 10.
How to Backup Windows 10 Files and Settings with EaseUS Todo Backup
No backup software can ever be completely straightforward, reliable, flexible as EaseUS Todo Backup. Download free the backup software and install on your Windows 10 computer, now starts the backup program and let's see how simple it is to use, and what it does to make a steaming Windows 10 files and setting back up.
1. Backup Files and settings
Launch EaseUS Todo Backup, you're then clearly presented the backup options: Disk/partition Backup, File Backup, System Backup, Smart Backup... Click "File Backup", then select files to backup via "User-defined" or "File type".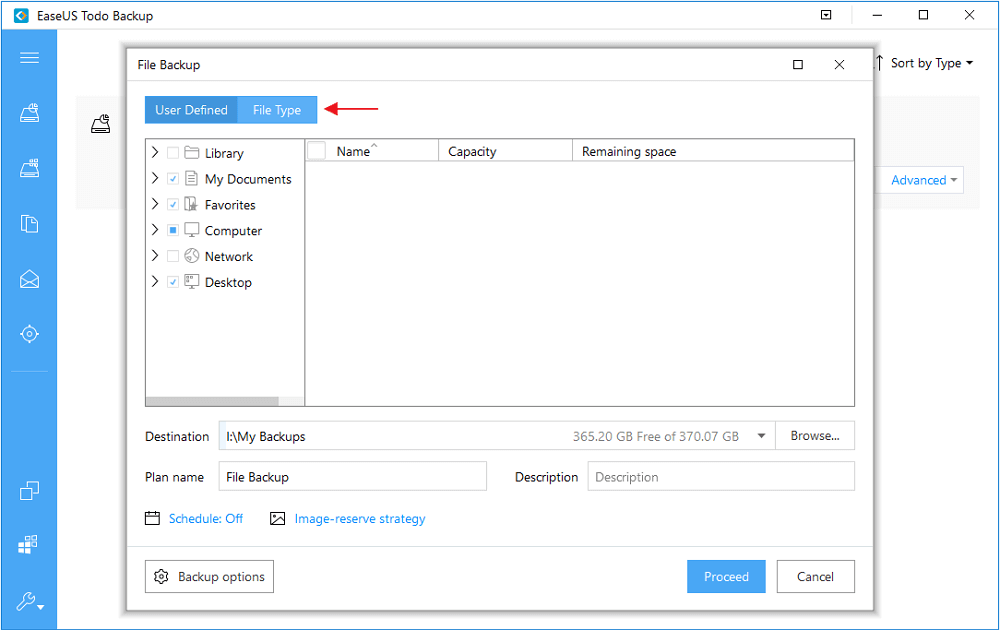 By default, you select files via User defined, which allows you to choose any files and folders; also, you can select files via File type, by which you choose backup based on file types - Document files, E-mail, Financial files, Music files, Picture files, and Video files, etc.
2. Backup locations
When choosing the backup destination, you have multiple choices. Any removable hard drive or portable storage media is supported by EaseUS Todo Backup, you can even backup files to the network, NAS device or the most popular Cloud service OneDrive, Dropbox and Google Drive if you have an account.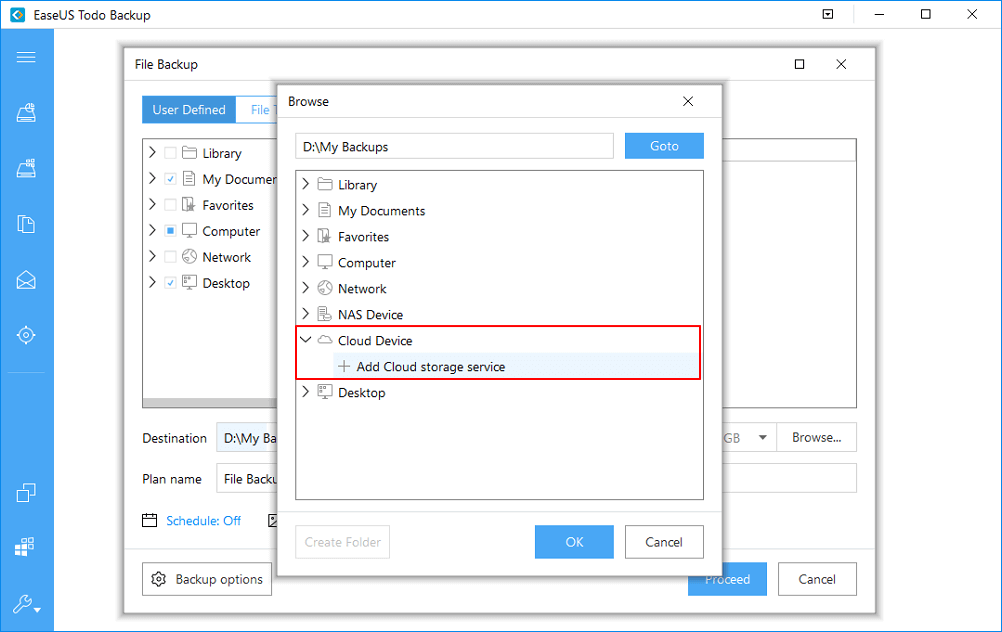 3. Backup Customization
Some advanced parameters you can set during a backup process, which you can find the button at lower left corner in the step of choosing destination paths in the backup wizard, like compression, password protection, splitting, priority, Email notification, commands, offsite copy, and speed. Following we mainly teach you how to compress backup image that you created for Windows 10 files and settings.
Click "Backup options" and select Compression. You can select the different compression level for a backup archive:
None - data will be copied without any compression, which may significantly increase the backup file size.
Normal - recommended data compression level.
Medium - takes more time to create a compressed backup image file.
High - takes a long time to create a backup but the generated image file may be much smaller than other levels.
Note: The size of the generated image file may not significantly decrease even though the High compression level is selected. That is because some kinds of files are essentially compressed, such as .jpg, .pdf or .mp3.