What is the Difference between Backup and Copy Procedures?
Backup
During the backup procedure, an archive file is created which contains an exact image of a partition or a complete disk. All files and folders as well as all information about the partition structure are stored in this archive.
The archive files are ordinary files which could be stored among other files; e.g. another partition, USB-drive, network share, CD DVD.
A restore could be done directly in Windows (for non-system partitions only). It is also possible to restore only single files which are stored inside this archive.
Advantages of the backup procedure to archive files:
Backup and restore complete partitions or hard drives
Restore single files or folders
Space-saving backup due to archive compression and leaving out free space
Easy to handle
Greatest flexibility
Copy
Copy operations are divided into copy partition and copy hard disk tasks.
During partition copy procedure a new complete identical partition will be created on destination media.
During hard disk copy procedure, all partition structure of source disk will be recreated on the destination disk and all data from source drive will be copied to the destination drive. After this operation, the destination drive becomes as close to a duplicate of the source drive as possible. Note that during copy procedure all data on destination drive will be overwritten in case if it is not empty.
The copy procedure is commonly used for migration to new hard disks or for duplication whole PC systems.
Advantages of the copy procedure:
Quick and easy migration of hard disks
Fast duplication of whole partitions
Direct access to the copied files and folders
Perfect for easy duplication of systems
Affordable backup and copy software
To download a program providing both backup function and copy function can save a lot of work. EaseUS Todo Backup, backup and copy software, gains extensive popularity for its ease of use and full functions.
EaseUS Todo Backup provides file backup and disk/partition backup.
File backup: when you want to backup only certain amount of file or file folder through several partitions or disks, you can choose file backup.
Disk/partition backup: when you plan to backup whole partition or disk, you can choose disk/partition backup. This kind of backup is often used to the backup system.
Here is the guide on how to perform a disk/partion backup with it:
Step 1. Launch EaseUS Todo Backup and then choose backup mode "Disk/Partition Backup".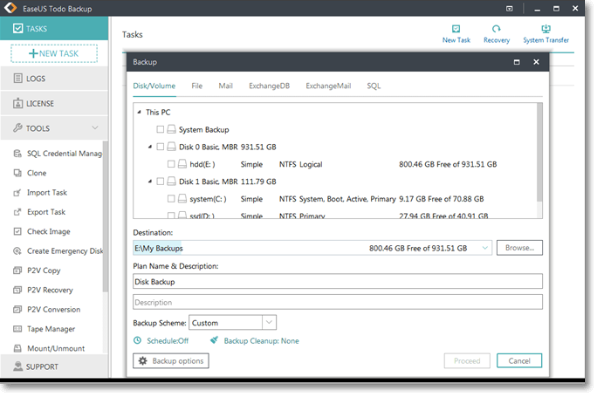 Step 2. Select the backup destination, or it will choose the most suitable location by default.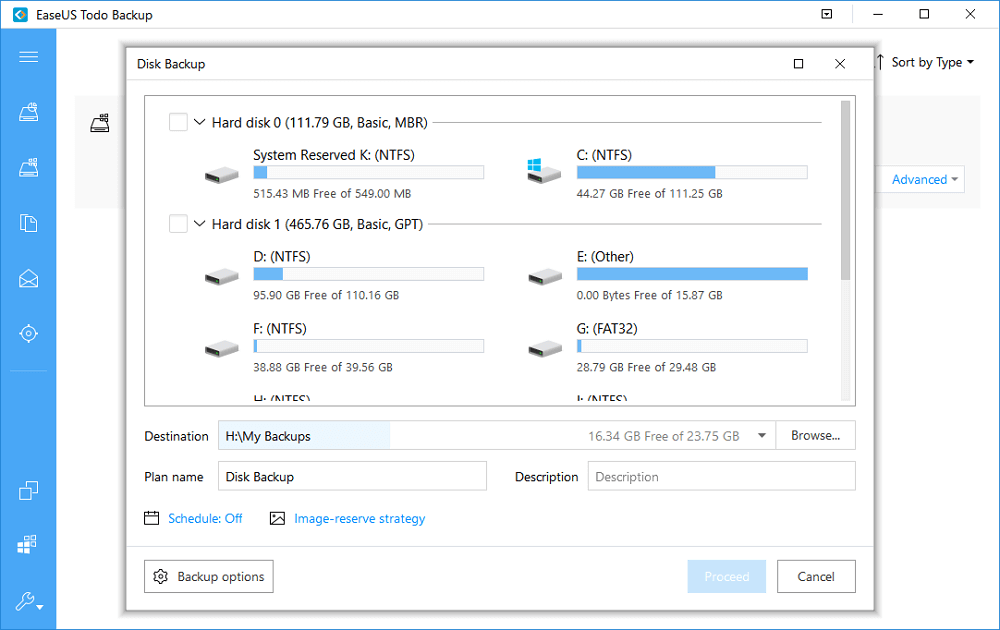 step3. Click "Proceed" to complete the whole process.
When you do a backup, you can set schedule for your backup task, or you can manage your backup images by setting image preserve days. Incremental backup for both file backup and disk/partition backup is often used to do the constant backup.
EaseUS Todo Backup provides disk/partition clone function to copy data.
It's often used to upgrade hard disk or transfer system to new hard disk. If you choose to clone your disk or partition, you have to prepare a new disk or partition to save the data you copied. Otherwise, you have to choose a disk or partition to be overwrote.
 Notice:

When you clone disk, you can only choose a disk as your destination; when you clone partition, you can only choose a partition as your destination. While you can save backup image file (no matter you backup file/file folder or disk/partition) to any disk or partition as long as there is sufficient space.
Related operating steps: