In this article, we will tell you the top 3 best free backup tools working with a restore tool, they are:
With the evolution of technology, security alerts and data breaches have become more common.
Besides cyber-attacks, you can also lose your data due to hard drive failure, system crashes, and viruses, but no worries!
This blog guides you on how you can protect your valuable asset from all these problems and secure your data using a backup tool with a restore tool.
Backup Tools with A Restore Tool: What Is It?
You might wonder what it means to backup a tool with a restore tool. It's pretty simple and easy to understand.
 A backup tool is a valuable computer restore software specially designed to restore your computer from system crashes, disasters, hard disk failures, malware, or any other malicious activity
The backup tool copies the original data on your device to the desired location and secures it. You can access it anytime and retrieve it whenever you want.
A backup tool is a restore tool that helps you restore your data from your computer to another computer or device.
Top 3 Best Backup Tools with A Restore Tool
You can restore your important files, folders, and external hard drives in different versions of Windows using these top three best backup tools:
1. EaseUS Todo Backup
Several third-party all-in-one back-ups and restore software are integrated with multiple solutions available on the internet. But EaseUS Todo Backup offers something unique to its users. Let's check it out.
EaseUS Todo Backup is backup software, providing reliable backup services with 13 years of experience. It is one of the top-rated and affordable backup tools that provides robust data protection with advanced backup and disk imaging and instantly restores everything anytime.
EaseUS Todo Backup supports many useful features, such as daily/weekly/monthly schedule backup and incremental backup and differential backup.
EaseUS Todo Backup offers valuable services for home, Mac, and business users. It primarily provides free data backup and restoring software to back up the system, files, disk, and partitions for home users.
Besides these features, it is a professional backup software to backup your important files and folders, archive, disk cloning, and folder sync in MACOS.
EaseUS Todo Backup offers unmatched enterprise services:
Business data protection.
Reduce downtime on your Workstation, Windows Server, MS SQL, and exchange database.
What's more fascinating for enterprises and businesses? You can create high-margin services for service providers and MSP with EaseUS Todo Backup. With 13 years of experience and 20,000,000 users, EaseUS Todo Backup is offering a high level of data security with free 250GB of cloud storage now!
There are detailed steps to back up your data, you can follow them:
Step 1. Click the "Select backup contents" button to start backup.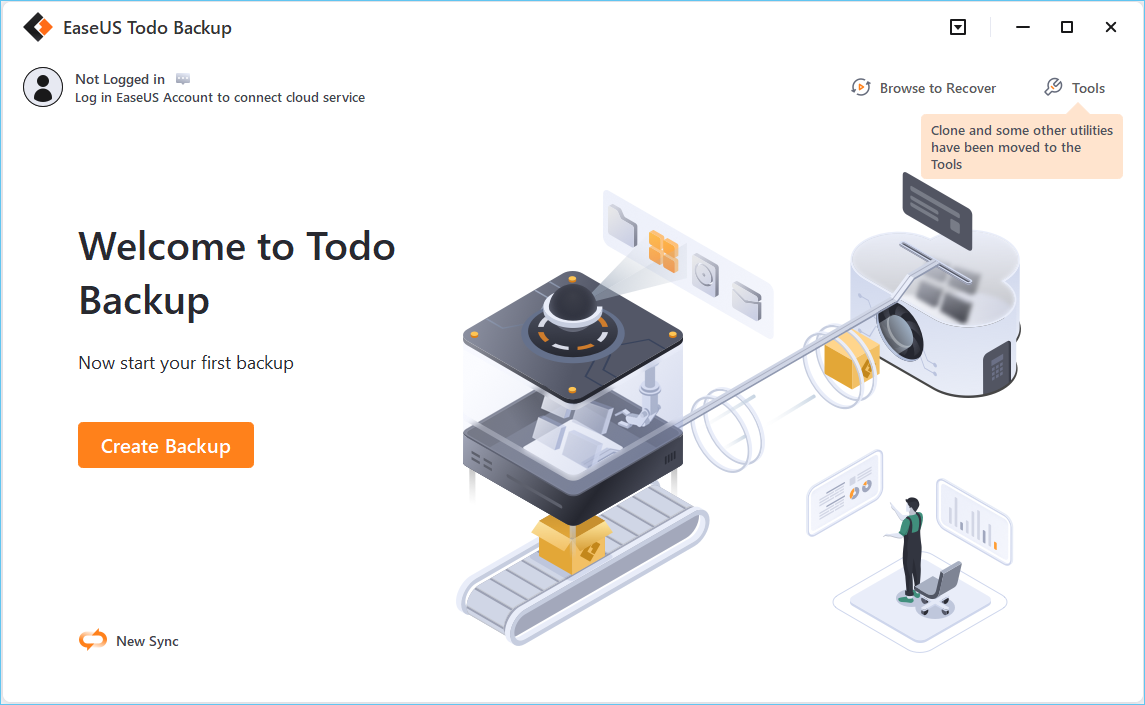 Step 2. There are four data backup categories, File, Disk, OS, and Mail, click File.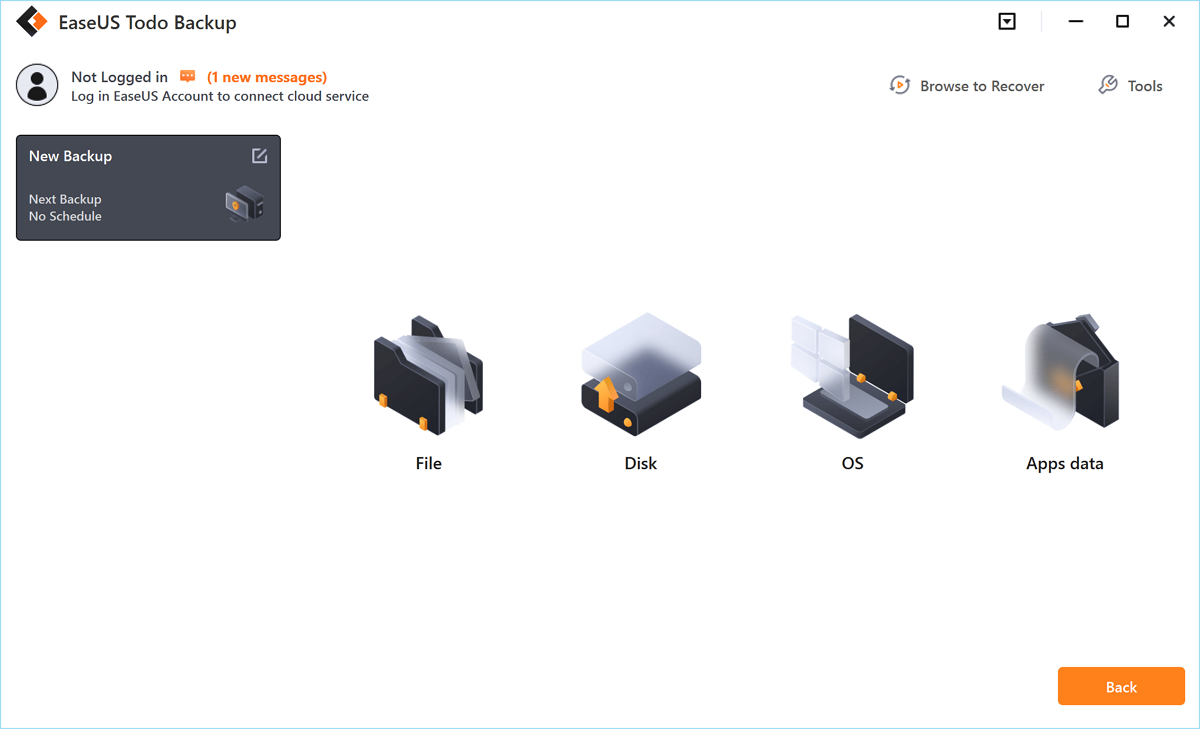 Step 3. Both local and network files will be listed on the left. You can expand the directory to select the files to be backed up.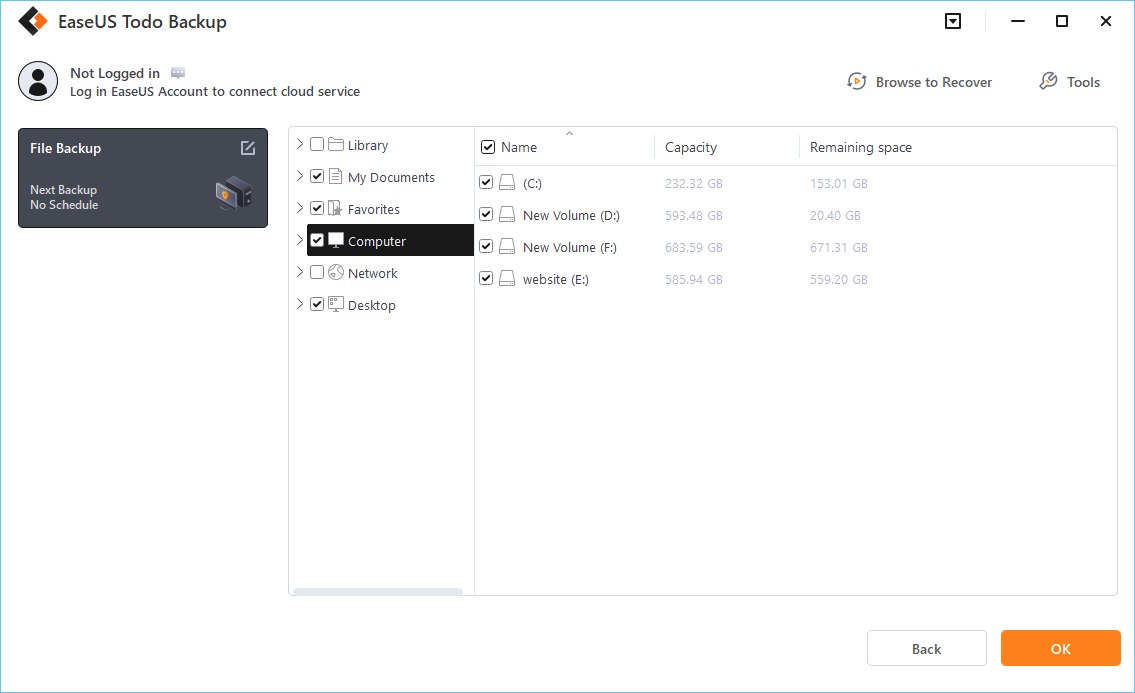 Step 4. Follow the on-screen guide, select the destination where you want to save the backup.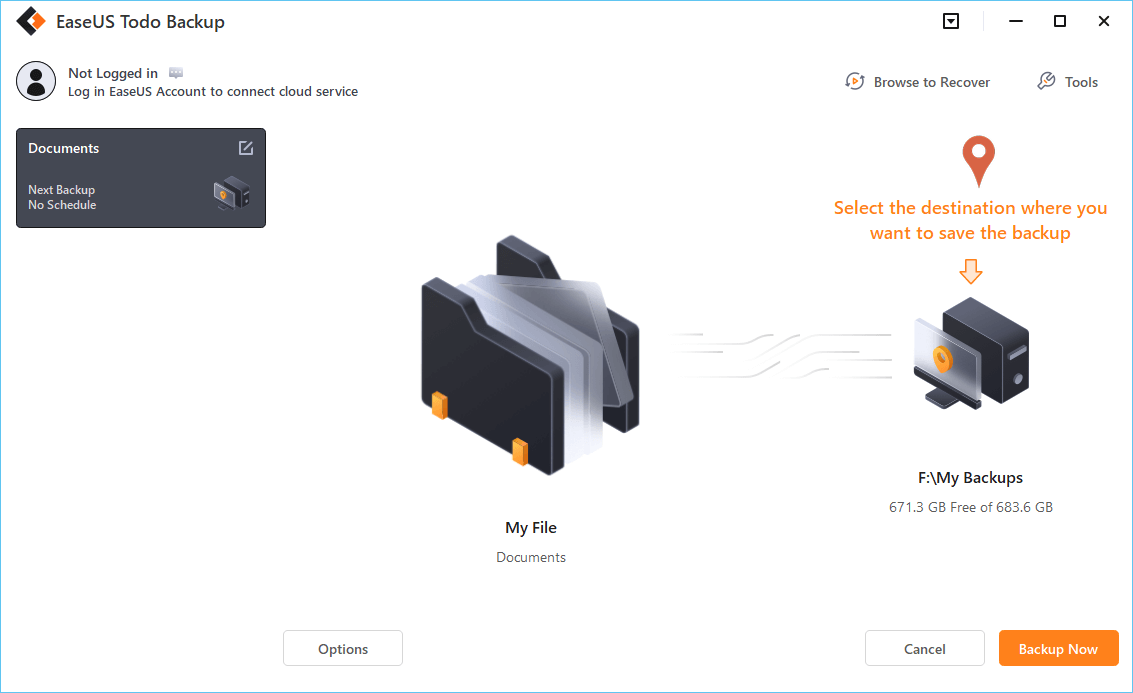 Click "Options" to encrypt the backup with password in "Backup Options", set the backup schedule and choose to start back up at certain event in "Backup Scheme". There are also many other options you can explore, customize the backup task according to your need.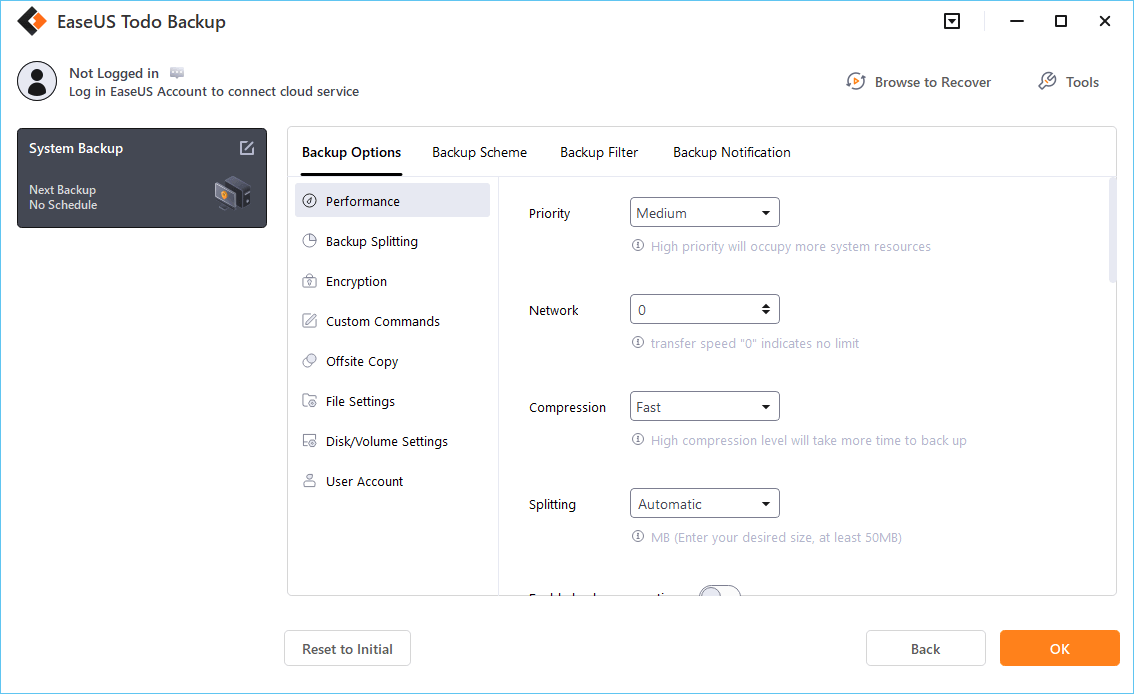 Step 5. You can store the backup to local drive, EaseUS's cloud service, and NAS.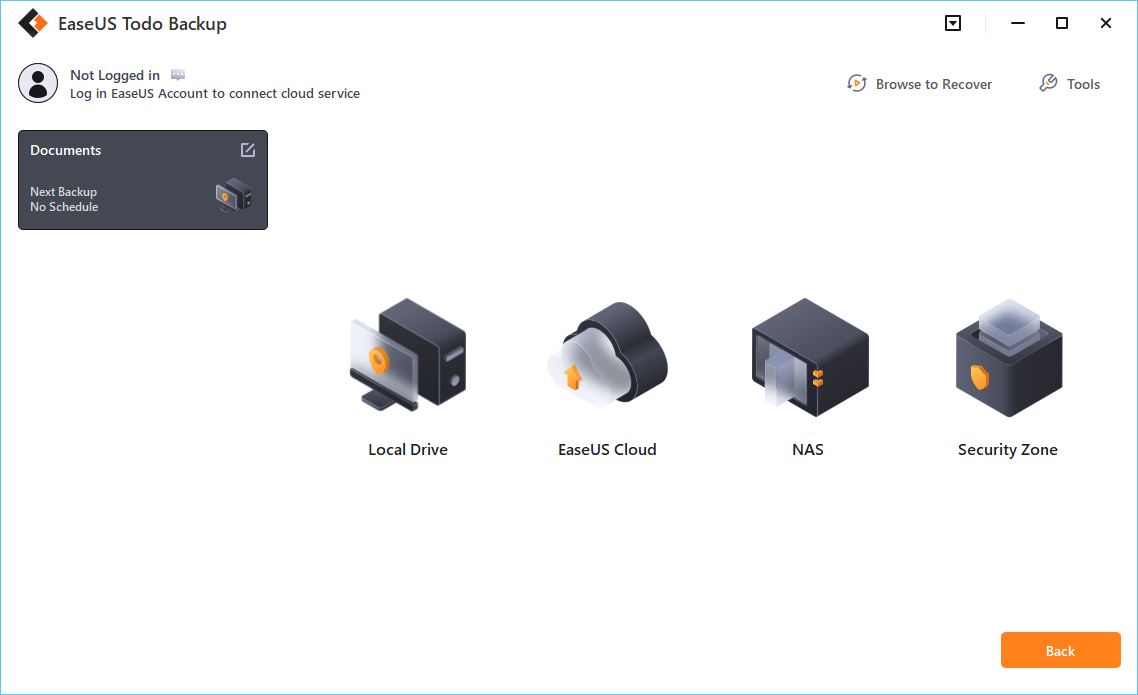 Step 6. EaseUS Todo Backup enables users to back up data to both third-party cloud drive and its own cloud drive.
If you want to back up data to third-party cloud drive, choose Local Drive, scroll down to add Cloud Device, add and login your account.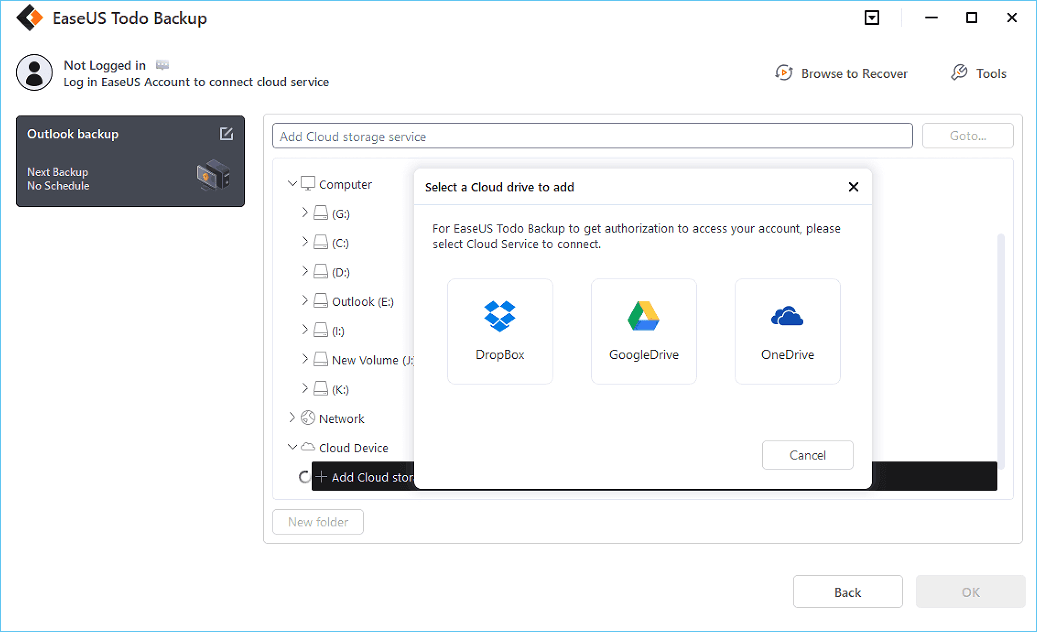 You can also choose EaseUS's own cloud drive. Click EaseUS Cloud, sign up with your EaseUS Account and log in.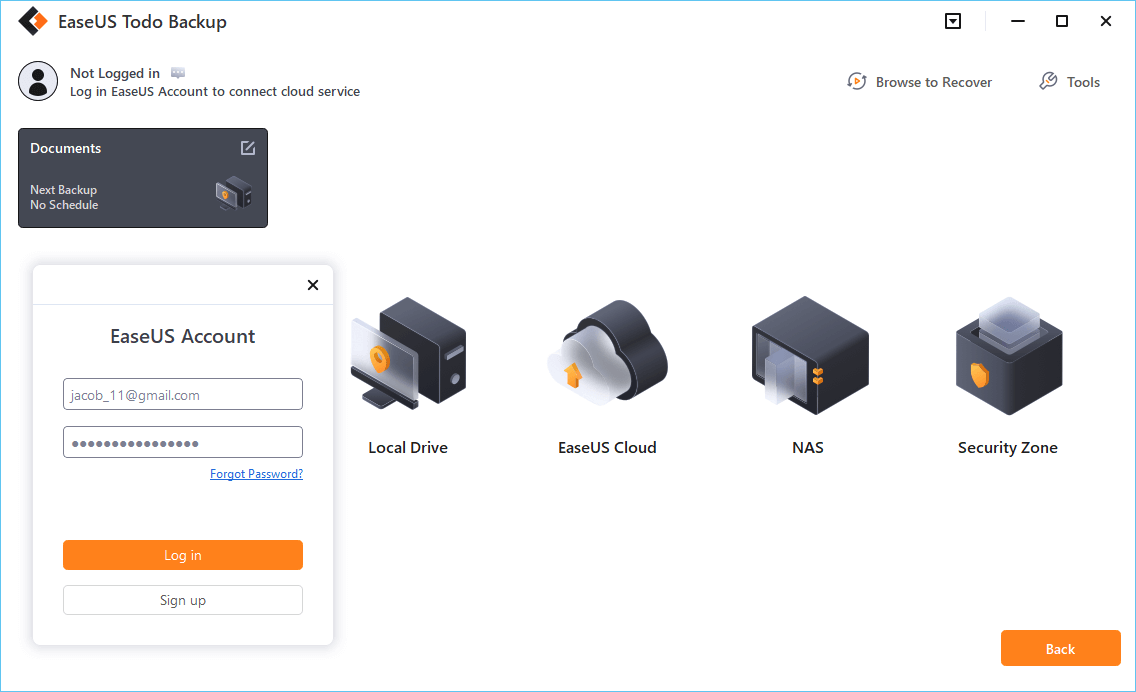 Step 7. Click "Backup Now" to start backup. After the backup task is completed, it will be displayed in the form of a card on the left side of the panel. Right-click the backup task to further manage it.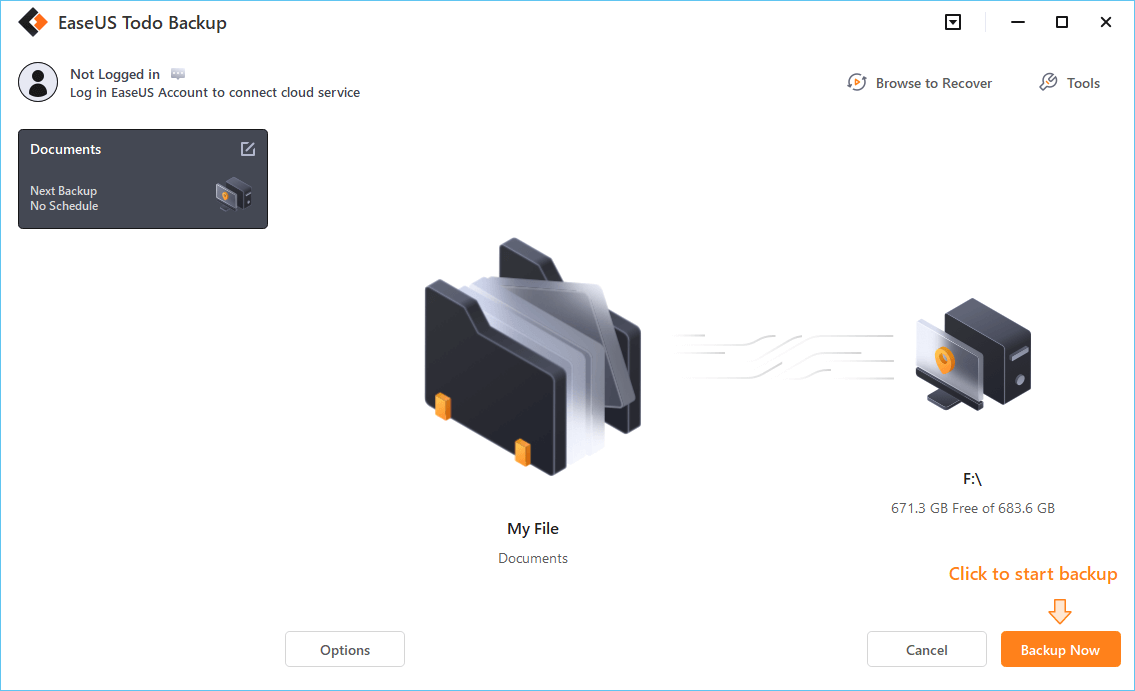 2. Windows File History
File History Windows 10 is one of the fastest ways to back up important folders and files.
File History regularly backups your files, folders, documents, music, desktop files, pictures, video, and your drive (Google Drive or OneDrive) files available offline on your system.
File History also provides you with a complete history of your files. You can easily and quickly restore original files, even if they are deleted or corrupted.
So what are you waiting for? Let's restore your files with Windows File History. Follow the instructions below:
Step 1. Go to the search bar on your computer screen.
Step 2. Type Restore your File with Files history in the search bar.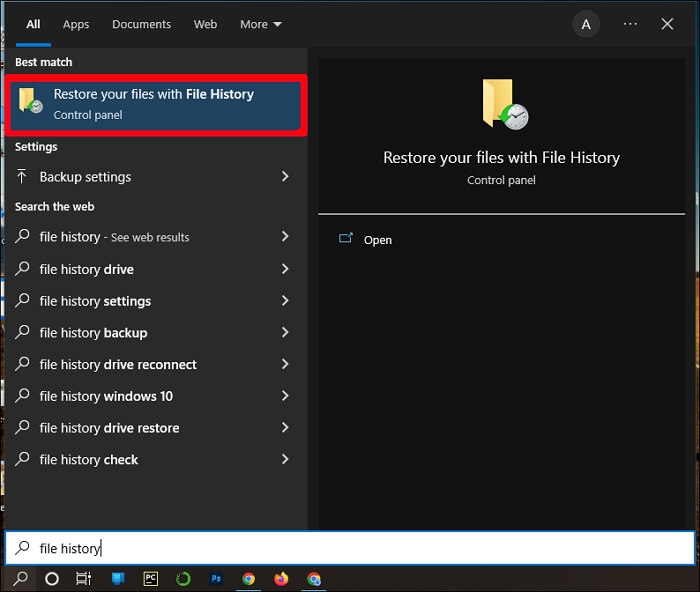 Step 3. Click "Restore your File with File History".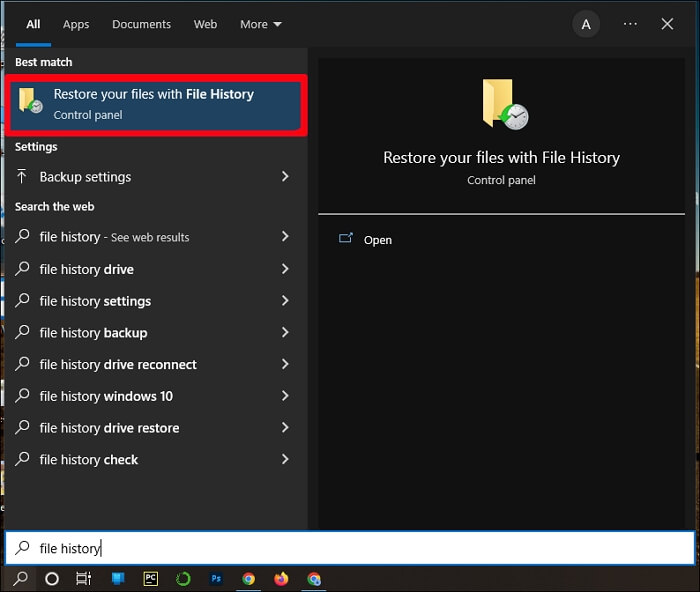 Step 4. Now type the file name you want to restore and scroll up and down to locate it.
Step 5. Choose the File you want to restore to its original location and select the restore button.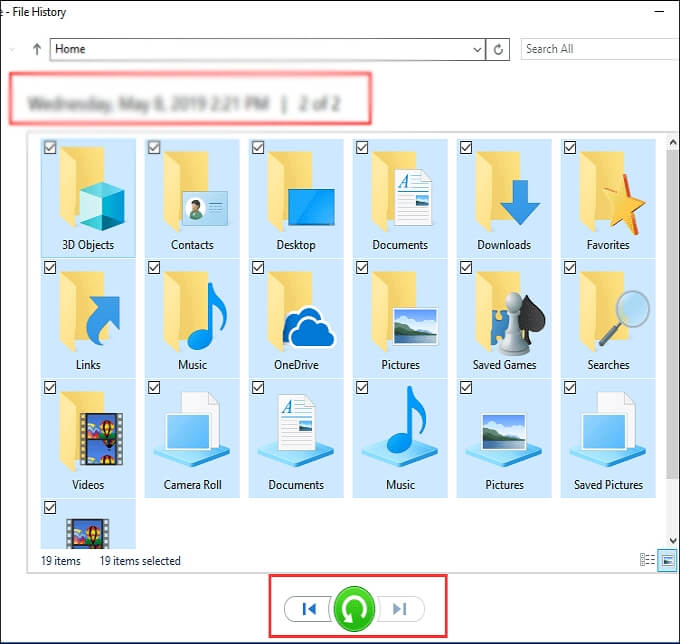 If you want to backup your important files to another location rather than the original location, then right-click on the restore button.
Now click "Restore To" option and choose a new location to restore your files to that desired location.
3. Windows Backup and Restore (Windows 7)
Don't have a backup tool to meet all your data backup needs?
Chill out! You can use your computer's backup features to restore your important files to an external storage device, such as an SD card, USB drive, or external hard drive.
If your computer has Windows 7, then follow these steps to backup your files from it to another device.
Step 1. Go to the Control Panel, click "System and Security", and then click "Backup and Restore".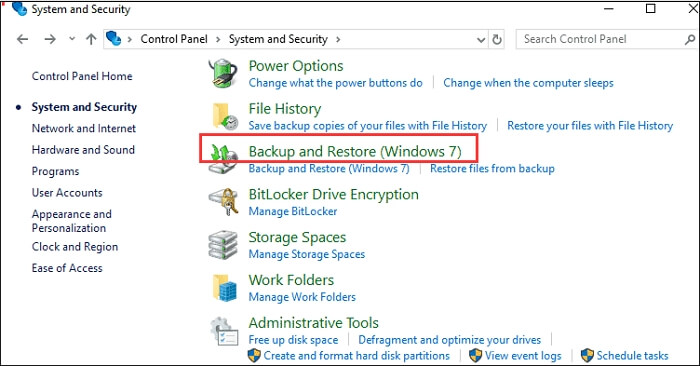 Step 2. Choose Set up backup.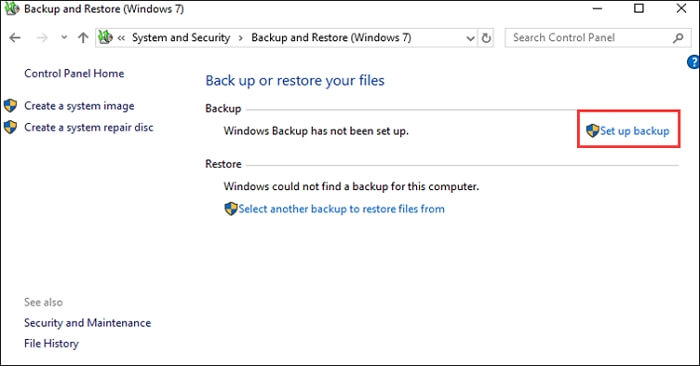 Step 3. Connect your external storage device with your Windows 7 and click "Refresh".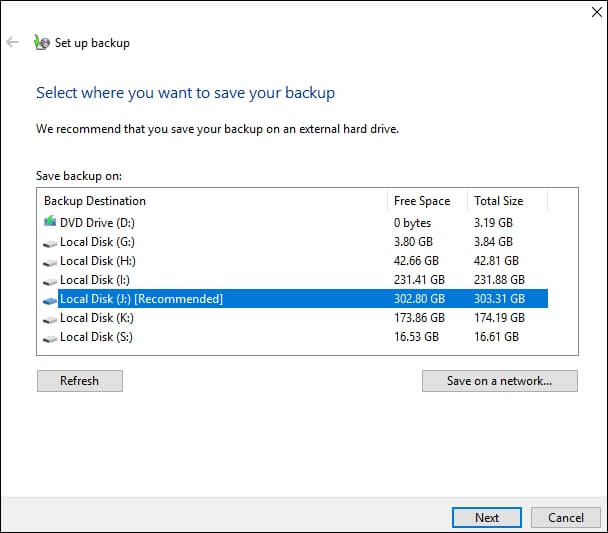 Step 4. Go to the backup destination, select the external storage device you are using, and then choose "Next".
Step 5. Select Let me Choose and then click "Next".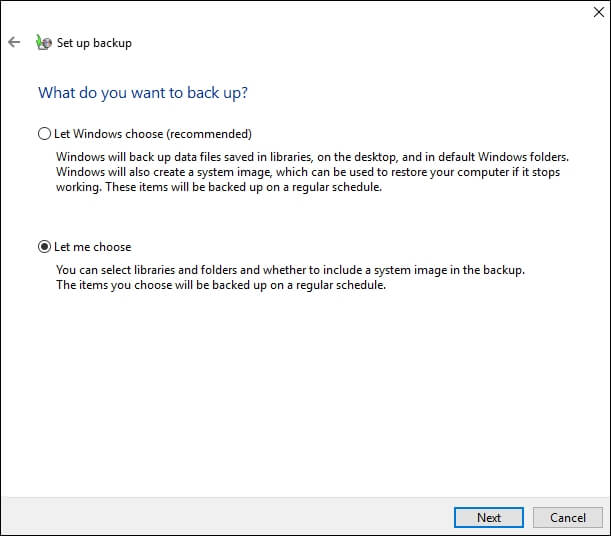 Step 6. This feature in Windows 7 automatically backups all your files, Documents, Music, Pictures, and Videos. But if you want to backup more files, you can restore them by expanding the location under your system and selecting them to backup.
Step 7. Now uncheck the Include a system image of drives checkbox, then click "Next".
Step 8. Click "Change schedule".
Step 9. Uncheck the Run backup on a schedule checkbox, and then select OK.
Step 10. Go to Save settings and backup to start backing up your additional files to the external storage device.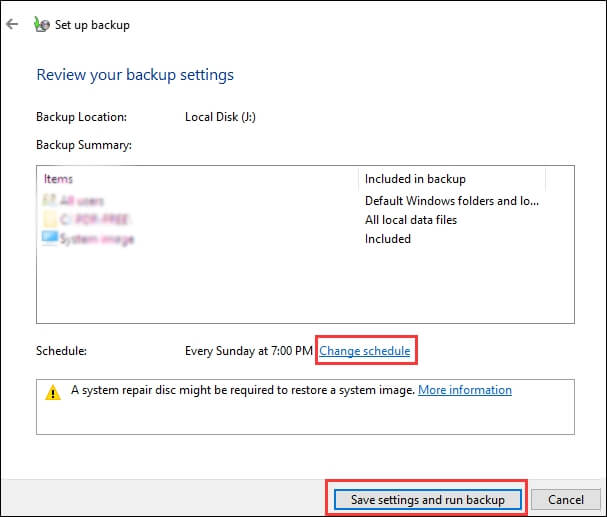 Step 11. Carefully remove the drive to avoid data loss.
Step 12. Click "Eject" before disconnecting the drive from your PC to remove the external storage device easily.
Tips for Advanced Backup and Recovery on a PC/Laptop
Different backup software provides different functionality. Therefore always choose the right recovery tool tailored to your needs.
Here are a few useful suggestions that will help you with advanced backup and recovery of your valuable asset on your computer or laptop.
1. Full, Differential, and Incremental Backup
There are three types of backup: full, incremental, and differential backup. A full backup is the most reliable option for advanced backup and recovery of your data because it backs up everything in your system. If you already backup your data once, then go for differential or incremental backup because differential and incremental backup restore changes in systems files after the last backup.
In this way, although you will get the original file, you will not miss any updates in that file too.
2. Keep Backups Onsite and Offsite
It isn't effortless to choose between onsite and offsite backup because both have a lot of benefits for users.
You should have an onsite and offsite backup for high-level protection of your valuable data from fires, viruses, damages, natural disasters, and other unforeseen events.
3. Set the Backup Schedule
Setting a backup schedule will help you to manage your data better and quickly recover it. You can set daily, weekly and monthly backups scheduled at your convenience.
4. Compress Large Backup Images
Large files take more time than small files to restore. Compressing large files such as images will make the recovery process fast.
5. Encrypt Confidential Backup Data
Sometimes you might need to backup confidential data. It is strongly recommended to encrypt it first. Encrypting confidential data will secure your data.
FAQs about Backup Tools Work with a Restore Tool
If you still have any problems with backup tools work with a restore tool, you can find the questions and answers below:
1. Which tool is used to perform backup and restore?
You can use the Windows file history tool, EaseUS Todo Backup, Acronis, Avast, Backblaze, and several other tools to backup and restore data.
2. How do I restore my backup folder?
You can use Windows File History backup to restore your backup folder. For this, go to Settings, select Update Security, and then click backup. Now click the more options link. Go to the bottom of the File History window and click Restore files from a current backup. Windows will display your backup folders immediately.
3. Can you name a backup tools list?
EaseUS Todo Backup
CloudBerry
Acronis True Image
Bacula
Veeam
Carbonite
Backblaze
Avast
Acronis

Jean has been writing tech articles since she was graduated from university. She has been part of the EaseUS team for over 5 years. Her special focuses are data recovery, disk partitioning, data space optimization, data backup and Mac OS. By the way, she's an aviation fan!
Taking everything into consideration, we can say that EaseUS Todo Backup Home can offer you a little extra sense of security with a set of advanced tools. The interface provides quick adaptation, every process guiding you all the way through so you don't get stuck or further damage your system rather than keeping it safe.

 Read More

EaseUS Todo Backup Free lets you create backups of your important files or your entire computer through its streamlined interface. Just choose the backup type you'd like to get started, and let the program do the reset.

 Read More

EaseUS includes all the features I expect from backup software like versioning, incremental backups, and scheduling. For more advanced users, EaseUS allows you to install a pre-boot environment onto your hard drive so you can use it to restore files without burning a CD or putting it on an external USB drive.

 Read More

EaseUS Todo Backup
Smart backup tool for your files and entire computer in Windows 10/8/7.
Install Windows on Multiple Computers at Once? No Problem!
Learn how to install Windows 11/10/7 and special programs/software on a batch of computers. Use 10 minutes to do the 10 hours work without making a single mistake!
Get Free Solution!