Key elements of backup strategy
Whether it's a short term or long term solution, and for home or office use -- here are 6 key elements you can use to formulate your own backup strategy:
Most (but not all) backup solutions on the market offer an automated scheduling mechanism. Depending on how often you use your PC, scheduling a periodical backup is a great way to provide peace of mind and ensure longevity of data.
Deciding on the best media type for your backups should be dependent upon how much data you wish to backup, how often your backups are scheduled, and the shelf life of the medium.
For simple file-by-file backups, you may backup your data to a USB memory drive. The USB drive is not only ultra portable [smaller than a pen and easily fits into my pants pocket] -- it's also rewritable, relatively fast, virtually indestructible, has a shelf life of 100+ years, and is perfect for retaining small to medium sized files.
When it comes time to backup your entire hard drive, you may choose to use an external CD-RW writer. CD-RW media is a perfect solution for large data backup because each disk is rewriteable and holds 700MB of information. Besides, this media is relatively inexpensive and the media type is expendable.
Before backing up any data, it is absolutely critical to ensure that the integrity of the data is valid; otherwise, all your backups will be in vein! If you're backing up data on the hard drive, scan the drive for file system errors; it is also equally important to scan for viruses and Spyware using anti-virus and anti-Spyware software.
A rotating backup scheme can also work well for any backup medium that is external, portable, rewriteable [preferably], and financially feasible (example: DVD-RW, DVD-RAM, ZIP disks, and Jaz disks).
Even though the data is backed up, what guarantee is there that you can restore the data when disaster hits? All too often, most folks don't ask themselves this question before it's too late -- resulting in loss of data, time, and money.
Aside from physically restoring the data back to the hard drive, the best way to ensure the 'restorability' of your data is to use a backup solution that has bit-level verification. In essence, the software first backs up the data and then automatically performs a mock 'test restore' on your backup medium to ensure that every bit and byte of your data has been copied has rock-solid integrity.
Once the backup is complete and data integrity has been checked, store your backup in an atmosphere friendly place -- safe from fire, water, or direct sunlight exposure (hint: almost medium is best kept in a cool, dry, dark room). For ultimate backup protection, you should also keep one set of rotating backups off-site (example: one set of backups at home, one set at the office).
Backup software provides safe backup methods
EaseUS Todo Backup is an advanced data backup & disaster recovery software for both home users and business users. Its backup methods are safe and easy to use which win widespread responses.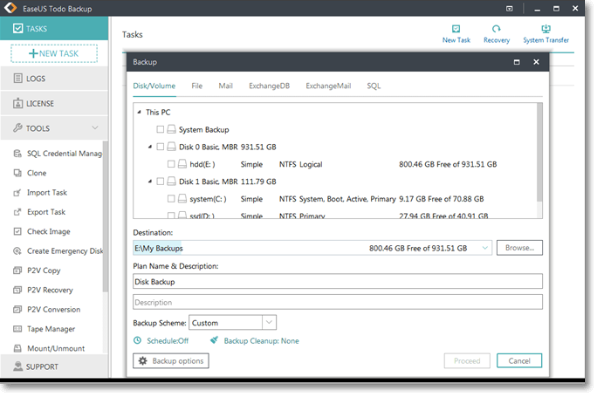 This software can backup single file, file folders through the whole computer to image, and can backup system with disk/partition backup. No matter what you backup, you can both do the following options.
When you perform a backup, you can set schedule for your backup task, then the software will do frequent backup for you automatically, which will provide constant protection for your data.
To ensure you can restore from the backed-up image file successfully, EaseUS Todo Backup provides you check image function to help you check the integrity of image file of backed up partitions/disk/files/folders, show you whether you are able to perform a successful restore of your system partition or hard drive or files or not, let you make a correct backup again in time if any errors occurring to your image file.
EaseUS Todo Backup can backup data to CD-R/RW DVD-R/RW DVD+R/RW DVD+R DL, and support IDE, EIDE, SATA, ESATA, ATA, SCSI, iSCSI, USB disk, and Firewire disk. Also, you can split the backup image file to store them into different storage device according to your personal needs.
Backup strategy with backup software