PAGE CONTENT:
What is RAID 5
Why should you back up RAID 5
How to back up RAID 5 drive
OverviewWhat Is RAID 5
RAID 5, known as Redundant Array of Independent Disks, consists of block-level data striping with distributed parity. RAID 5 stripes data across multiple disks and distributes parity information among these disks. ( The latter requires all disks but one to be present to operate.) With this setup, RAID 5 can be reconstructed and continue to function if one of the drives fails.
Compared to other RAID levels, RAID 5 has the following features:
Advantages:
Best cost/performance for transaction-oriented networks
Very high performance & excellent data protecting capacity
Supports multiple simultaneous reads and writes
Supports to optimize and satisfy large, sequential requests
Disadvantages:
Write performance is slower than RAID 0 or RAID 1
The process of recovering data may take a long time
Minimal Drive numbers: 3
For you to understand RAID 5 better, the table below shows a RAID 5 setup:
DRIVE 1
DRIVE 2
DRIVE 3
A1
A2
Ap
B1
B

p

B2
Cp
C1
C2
ReasonsWhy Should You Back up RAID 5 Drive
As mentioned above, when any of the disks in the RAID 5 array fails, you can simply replace the problematic drive and restore the data. However, if another of the other disks fails during the recovering process, your data will lose forever, which hints the need to back up your RAID 5 drive. Besides, many computer users have the experience of data loss problems due to system crash, hardware conflict, bad ram, hard disk drives overload, viruses attack, software conflict, etc. Given that, it's really necessary for you to back up your RAID drive.
 Notice:

Some users build a single RAID 5 virtual disk, install an operating system, and then save all data on it. Under this situation, you'll be more likely to encounter data loss problem. A typical RAID configuration is that one RAID 1 for the operating system, one RAID 5 for storing data. No matter which configuration you use, you are highly recommended to backup RAID 5 disk for that all valuable data were saved there, so you won't meet any problems on this RAID and cause data loss. EaseUS Todo Backup can backup your valuable files with ease. It supports to backup RAID 5, image RAID 5 disk or partitions, compress, protect passwords, split image file, etc.
GuideHow to Back up RAID 5
To avoid the pain of losing important data, you need to use the RAID backup software, EaseUS Todo Backup, to make a copy of your RAID 5 drive. In addition to RAID 5, you can also apply it to back up other RAID levels. Briefly speaking, with this tool, you can:
Back up Outlook email/file/system
Back up disks/partitions
Back up Windows Server
...
Equipe your computer with this amazing tool, then follow the next part to back up RAID 5 to single drive.
Step 1: Create a new task
Run EaseUS Todo Backup and click NEW TASK in the main interface.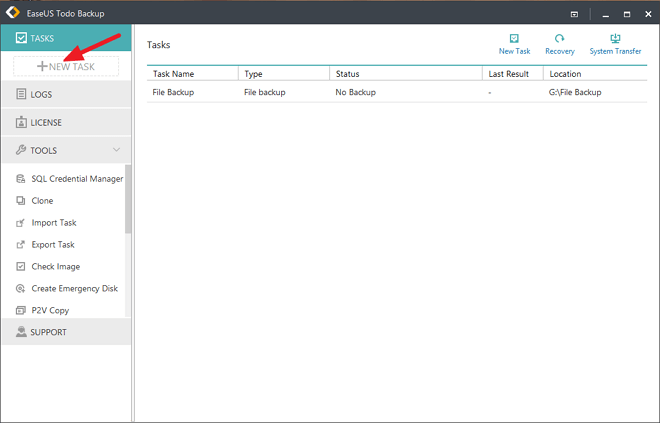 Step 2: Choose the RAID 5 drive(s)
Select the RAID 5 drive/drives. (You may need to back up one disk or multiple disks, depending on how you have configured RAID 5)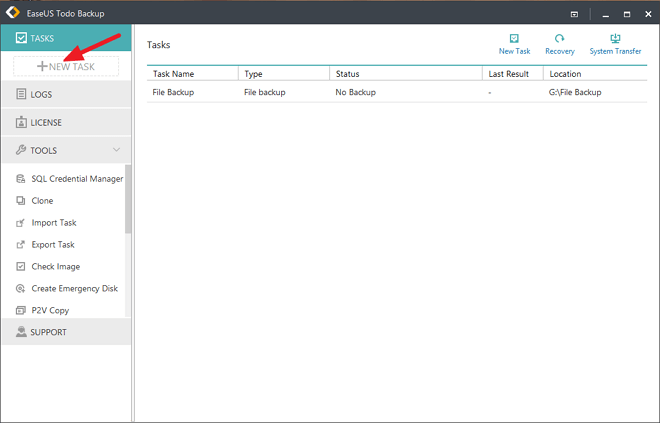 Step 3: Set the destination
Click Browse in the window to choose the location you want to back up RAID 5 drive(s) to, which could be the local disk, computer under the same LAN, NAS device, and tape device. After that, tap Proceed to start the process. Whether you select one or multiple disks, EaseUS Todo Backup will back up your RAID 5 to single drive.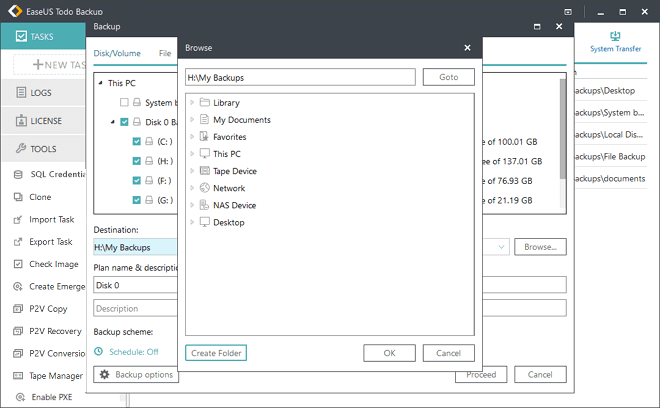 Other than backing up your RAID 5 drive, you can also use this tool to clone RAID, which is equally necessary to avoid data loss.