Why backup to DVD
Financial records. Tax information. Email correspondence. Documents from work or school. Digital photos. It's all on your computer, and you can't afford to lose it if something bad happens. To choose stable and easy-to-use backup software is very important and you can back up the file to different media.
Backup to DVD has become increasingly common due to mature technology and cheap DVD burners, this is why the backup to DVD method is so popular (and with the release of Blu-ray discs, which basically have the same physical dimensions as standard DVDs and CDs, backing up to DVD will become one of the most used backup methods).
Know more about backup DVD
If you plan to do a backup to DVD, please consider our recommendations:
- Do not use the same DVD to store consecutive backup versions. It's better to use different DVD media for each backup version (change the DVD media at each backup run). Use a set of DVDs and rotate them periodically (e.g.: take 7 DVD media, one for each weekday; start with the first DVD again every 7 days). The reason for this is that in case the burn process fails, you still have the previous backup version on a different disc.
- Rewritable DVD media can only be burned a limited number of times. When strange errors happen, first consider whether if the DVD might be overburned (worn out) or not.
- Always test the DVD backed up data after burning.
How to backup to DVD/CD
In this article, we will introduce a backup software - EaseUS Todo Backup. This backup to DVD software supports Windows 10/8.1/8/7/vista/XP. What's more, you also can store image files to the network also for the consideration of the security of backup files. Just try EaseUS Todo Backup, you will find more features needed by your PC.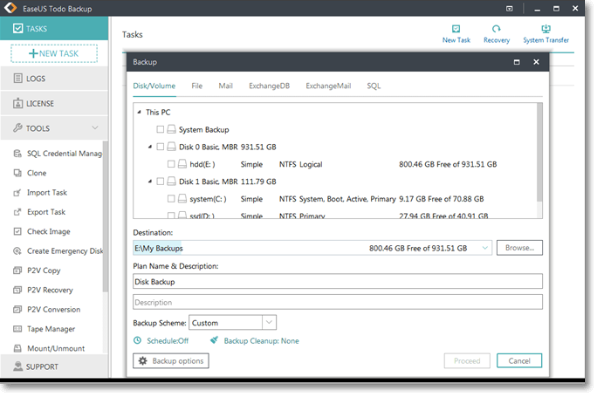 EaseUS Todo Backup contains an internal burning engine and it will backup file, folder, hard disk or partition to DVD/CD automatically.
Feature Summary
In addition to backup to DVD/CD, EaseUS Todo Backup can backup system partition to quickly get the system up and running in the event of a system crash or hardware failure, and backup single file or folder. It allows you to backup, and restore disk or partition, file, or folder, after viruses attack, unstable software download, hard drive failure, etc. Meanwhile, EaseUS Todo Backup is especially useful if you want to transfer your system to another PC of dissimilar configuration.