Why do you need to back up the computer to an external drive or a flash drive
Have you ever accidentally delete a file or lose a bunch of your data after a system crash, disk formatting, virus attack or some other accidents? Usually, people never think data loss will happen to them until it actually does. To avoid such an unexpected disaster, it is important for you to regularly make a copy of your computer. It allows you to backup system, applications, settings and personal data such as photos, videos, music files, etc, and then you can rebuild your system and restore your data when you need.
Then a problem comes out. Where will you backup your computer to, an online file-hosting service, internal disk or external hard drive? Backup computer to an online file-hosting service requires a broadband connection that has enough upstream bandwidth. But as a matter of fact, many people don't have sufficient upstream bandwidth. Backup computer to internal disk will obviously take up some space and even slow down the computer. And the backup file might be corrupted or get lost and not available when something bad happens to the computer. For all of these reasons, we think the best choice is to back up the computer to the external drive.
Backup PC to external hard drive or flash drive using Windows 10 built-in backup feature
1. Connect your external hard drive which has enough free space on your computer.
2. Go to the Start Menu, type "backup" in the search box, and hit Backup and Restore.
3. Click the "Set Up Backup" button. Pick the external drive you plugged in and hit Next. Windows' default settings are probably fine, so you can just hit Next and the next screen too.
4. On the last screen, hit "Save Settings and Run Backup". Windows will make its first backup of your drive, during which you don't want to turn off your computer. After that, it'll make regular backups in the background as you work—you don't need to deal with it again.
Backup computer to external devices using EaseUS Windows PC backup software
If you don't like the above method and want to find an easier solution, we recommend you to backup PC to an external hard drive in Windows 10/8/7 using a third-party backup tool. Here you can try EaseUS Windows backup software. The program can help you backup all the content of your computer including system, files, hard disk partition, Outlook, etc to the external hard drive in just simple clicks.
Note: Please check out whether you are fully prepared to backup disk to your external hard disk:
One. The storage space on your external hard drive should be equal to or even bigger than the disk that you want to backup.
Two. The external hard drive should be empty. If you have saved data on it, please move those data to another location in advance to avoid data loss.
1. Connect the external hard drive to your PC/laptop.
2. Launch and EaseUS Todo Backup and click "Disk/Partition Backup" at the left pane.
Click the icon at the left top corner, and you'll see the backup options on the pane.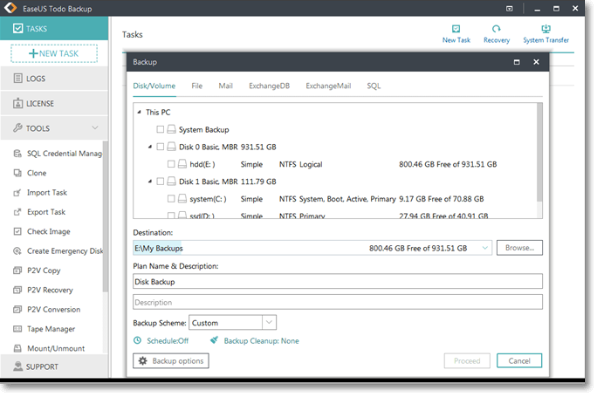 3. Choose the hard disk that you want to backup as the source disk.
And select the external hard drive as the destination disk to save the backup image of your selected disk.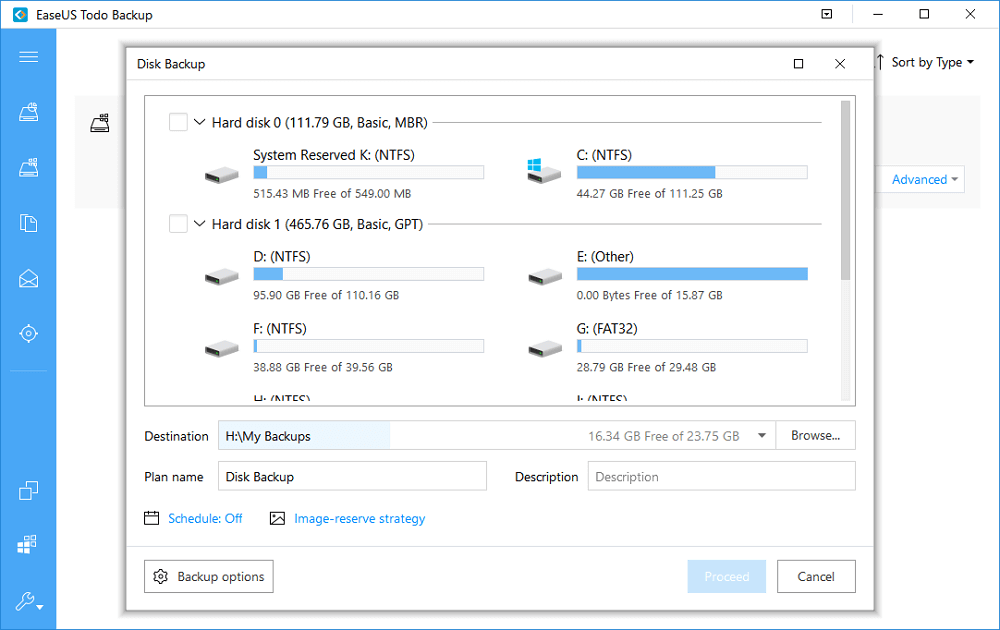 4. Click "Proceed" to start backing up your selected disk.
Wait for the process complete and then you can unplug or disconnect your external hard drive.
And all the data will appear on the external hard drive with a compressed form by taking small space.