When talking about backing up and restoring Windows 7 system, people will first think of the tool built-in Windows. Windows 7 backup has the potential to be awesome. It provides significant backup improvement and builds on Windows Vista's Backup and Restore Center. It is bundled free with the OS and uses the volume shadow copy service to let you back up files that are in use. Windows 7 also has "Create System Image" feature, which makes a full disk image of your hard drive. In the event of a hard disk failure, you can install a new hard drive, and then restore the image to it. So you can run the system in a very short time without full reinstalling of Windows 7.
Is it possible to restore Windows 7 system backup to a different hardware?
But Windows 7 backup is not as flexible as other image software out there and also has some limitations in functions. If you want to backup and restore Windows 7 to different hardware (different model or hardware configuration), the tools built-in Windows 7 maybe cannot meet your need.
Some of you may experience this situation. You buy a new computer, and you still want to use the Windows 7 Operating System installed the old one. However, the new computer has a totally different configuration with the old one. Is it possible to restore Windows 7 system backup to a different hardware? Can we find an easy and effective way? Here, let's discuss and find a solution to help us restore our Windows 7 backup to dissimilar hardware - EaseUS Todo Backup
Restore Windows 7 backup to dissimilar hardware with EaseUS Todo Backup
EaseUS Todo Backup Workstation is the good way to help us to restore our Windows 7 system to a new computer with different hardware with its System Transfer function.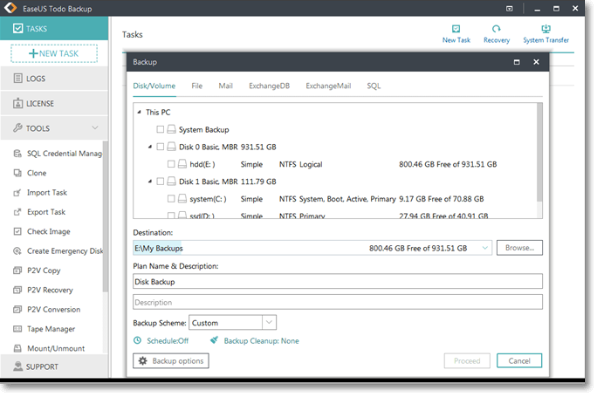 Note: This feature is only accessible under WinPE recovery environment.