Also Applies To: Outlook 2010, Outlook 2013, Outlook 2019, and Outlook Express
About Outlook 2016
Debuting inside Windows 10, Windows Outlook 2016 really gives fans a big shock with a brand new mail and calendar experience across Office 365. Outlook 2016 desktop gets improved with better cloud file support, deeper search and even a darker theme for those working on brighter monitors. Attaching files to email messages also gets simplified due to the presence of recently used items in the attach file dialogue. Other amazing features such as new support for groups and OAuth also surprised us. Since things are getting easier and simpler with Outlook 2016, it also becomes more important to back up Outlook 2016 files with awareness. Indeed, things will be simpler and fabulous if we automatically can back up Outlook 2016 files.
How to Back Up Outlook 2016 Automatically
In earlier Outlook versions, there is Personal Folders Backup Add-in that enables you to finish the task of Outlook backup. However, the backup add-in only works with the 32-bit version of Outlook 2010. Due to the technical changes in later Outlook versions, Personal Folder Backup Add-in isn't available in Outlook 2013 and later anymore, including Outlook 2016.
Then how to make an auto backup in Outlook 2013/2016/2019 happen? The answer is to use the powerful file backup software - EaseUS Todo Backup. The backup features will help you back up your Outlook, be it the PST file or a category like contacts, calendar, Inbox, and more.
Therefore, there are mainly two ways to complete automatic Outlook backup:
Method 1. Auto back up Outlook with Personal Folder Backup Add-in
If you are using the 32-bit version of Outlook 2010, use the backup add-in to back up your Outlook automatically. Personal Folder Backup tool is used as an official Microsoft Outlook backup tool for all Outlook users on their computers. This tool offers free solutions for users to backup important mail files with few clicks. Download Personal Folder Backup add-in and install it on your computer, follow the next steps:
Step 1. Start Outlook 2010, on the "File" menu, click "Backup" > Click "Options".
Step 2. Select the PST files that you want to back up.
Step 3. To auto back up Outlook 2010 files, you need to set "AutoSave" in Outlook. You can also use the backup reminder to remind you to backup files per day or days.
You should know that Personal Folder Backup can only back up PST files. And you have to leave big space for storing those backup files.
Method 2. Auto back up Outlook 2016 with EaseUS Todo Backup
If you are using Outlook 2013/2016/2019 or you want to selectively back up the Outlook data, like contacts or calendar, you should try the backup and recovery software - EaseUS Todo Backup instead. EaseUS Todo Backup is professional in backing up important data automatically with its schedule backup feature. This software supports to back up whatever you need including files, disks, emails, even systems with compressed files. You can also apply this tool to create a recovery partition or set a backup plan for auto backup Outlook 2016 with ease. Whether you want to back up the PST automatically in Outlook or back up Outlook contacts, emails, or calendar only, you can get things done with this backup utility.
Option 1. Automatically Back Up Outlook PST File
The PST file is the Outlook data file that contains all the Outlook accounts, emails, archives, contacts, calendars, inboxes, and more. When you back up a PST, you back up everything within an account. To make backups of the file, you first need to know the location of it. Outlook Data Files (.pst) created by using Outlook 2013 or Outlook 2016 are typically saved on your computer in the Documents\Outlook Files folder. You can also find the PST file using the way below:
Step 1. Click "File" in Outlook.
Step 2. Go to "Account Settings" > "Account Settings".
Step 3. On the "Data Files" tab, click an entry, and click "Open Folder Location".
Afterward, you will be able to specify the file location during the backup process.
To automatically back up Outlook PST file with EaseUS Todo Backup:
Step 1. Open EaseUS Todo Backup and select "File Backup".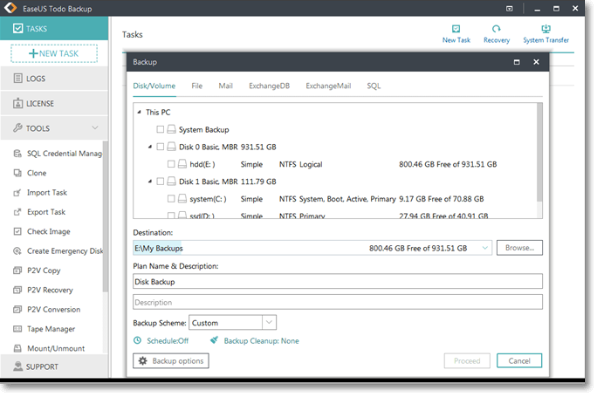 Step 2. Select the files to backup and select the backup destination.
You can choose specific files that you want to back up by browsing the left pane and click "Browse" to select a destination for saving the file backup.
You'd better create the backup file in some other storage media or in some other drive in case of getting the backup file corrupted or destroyed.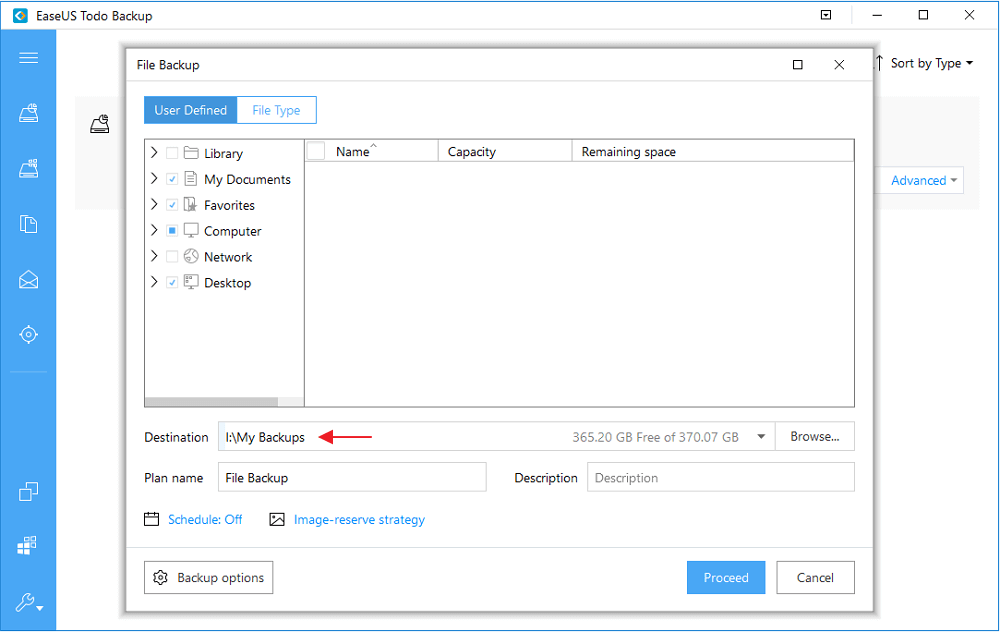 Step 3. Create a backup plan to automatically back up selected files.
1. Click "Schedule: off" to create a flexible and automatic backup plan.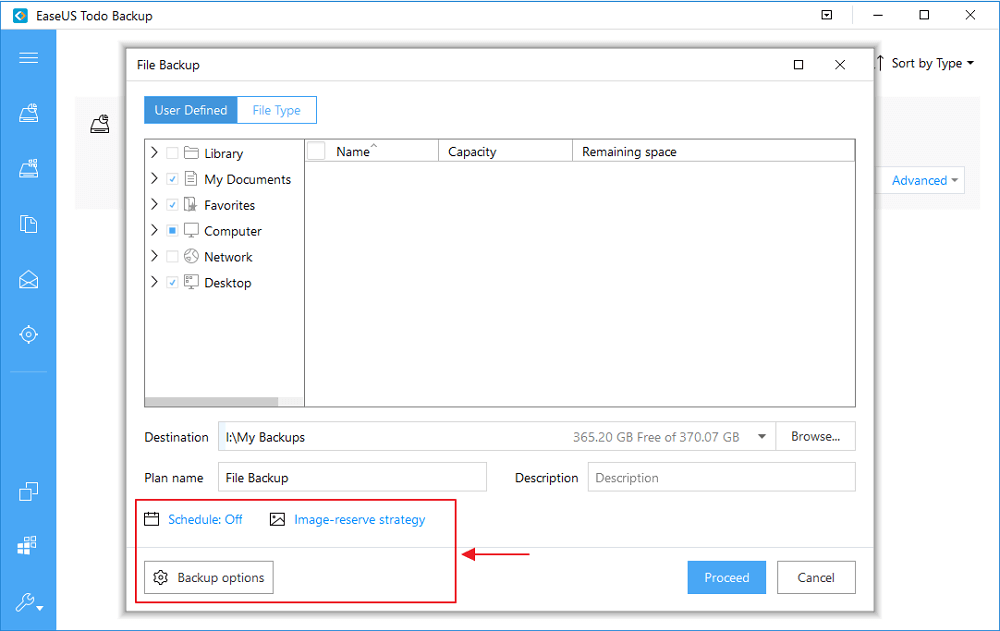 2. Set the automatic backup schedule by day, by week or by month and click "Save" to keep the changes.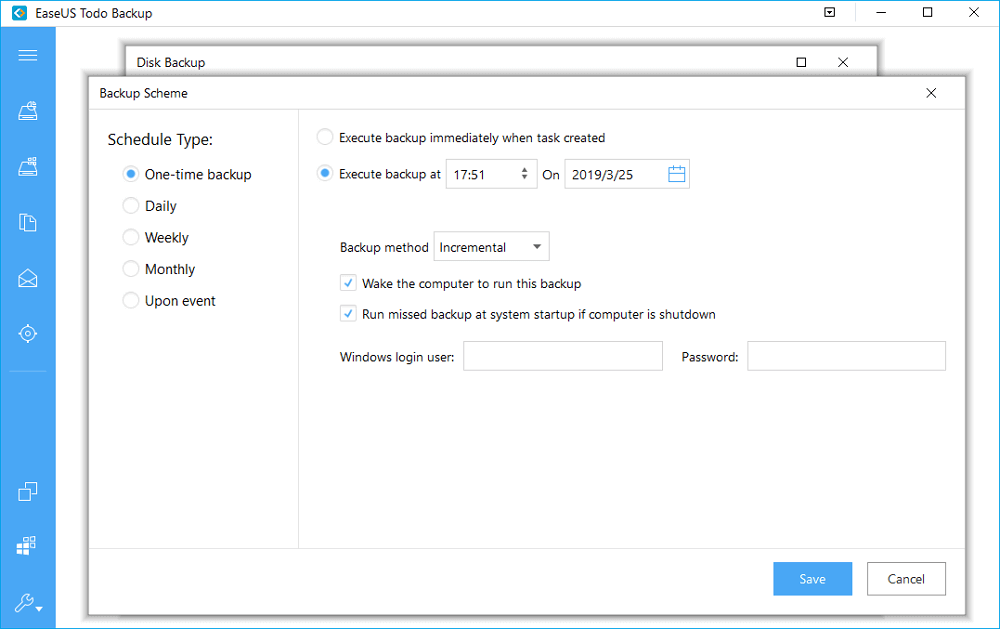 If you can also click "Backup options" at the left bottom to set more advanced parameters for the plan.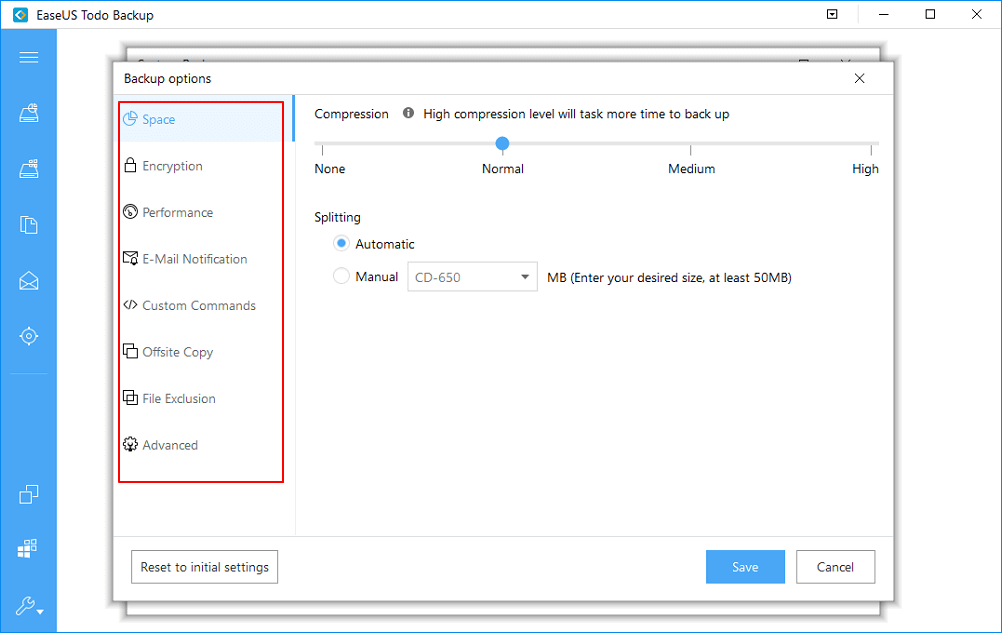 And the Image-reserve strategy will help you to keep the backup image as per image retention rule.
Step 4. Click "Proceed" to execute your operation.
Option 2. Back Up Outlook Contacts/Calendar Automatically
You may prefer to back up some of the files inside your Outlook account instead of all the content. You can get your needs met with the email backup feature in EaseUS Todo Backup. Similarly, schedule the auto backup of Outlook contacts, calendars, and more according to your needs.
Step 1: Run Outlook backup software - EaseUS Todo Backup
Launch and run EaseUS Todo Backup and click the icon at the left top corner, then expand the left pane and select "Email Backup".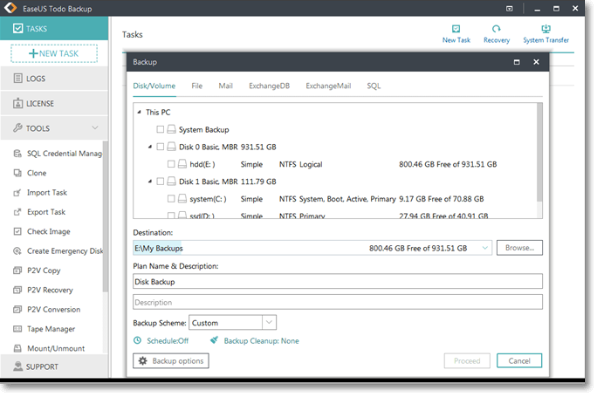 Step 2: Connect to Outlook, select Outlook emails and backup destination
Enter your Outlook password and select the email files that you want to back up.
Specify a location - hard drive or external hard drive as the destination to save the backup image.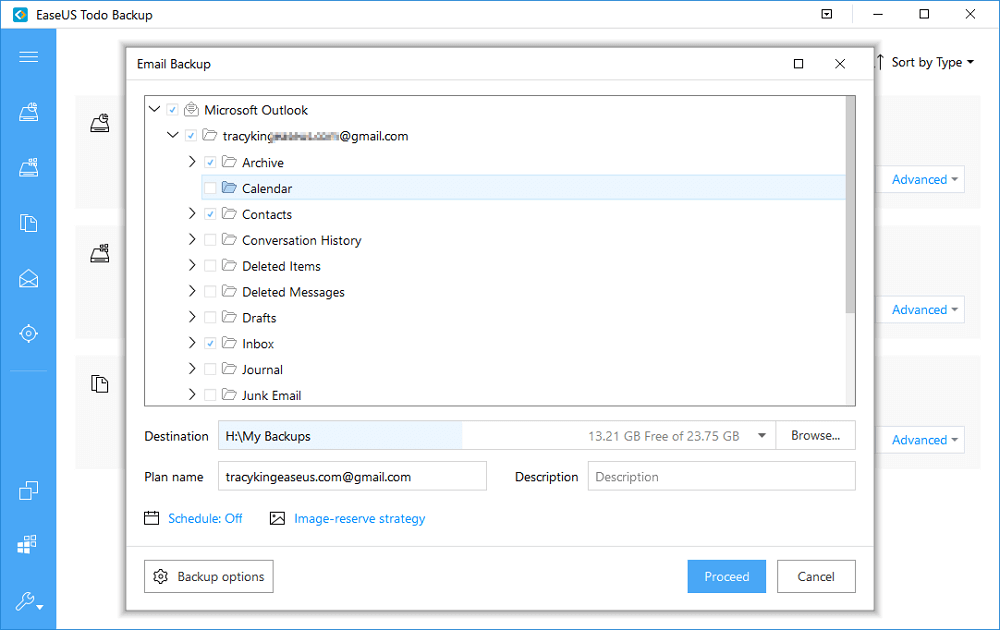 Step 3: Start the backup process
Click "Proceed" to start backing up your email files now.
FAQs Related to Outlook Auto Backup
Here are some of the most concerned issues related to the auto backup of Outlook.
"How do I automatically back up my Outlook PST file?"
As mentioned above, you can use the backup add-in to back up Outlook PST automatically if you are using Outlook 2010. For later Outlook versions, you can use a professional backup program like EaseUS Todo Backup to achieve your goal of auto backup Outlook PST.
"Does Outlook back up contacts automatically?"
You need to set the auto backup to let Outlook back up contacts automatically. If you use the backup add-in, you can only back up contacts automatically by backing up the PST file. If you want to back up contacts solely, use EaseUS Todo Backup instead.
"Does File History back up Outlook?"
File History is a built-in feature in Windows 8 and later that is used to back up the selected folder automatically to another drive. You can add the Outlook folder to the backup folders via the Backup setting in Windows.
Here are the detailed steps to back up Outlook via File History.
Step 1. Type backup settings in the search bar and choose "Backup settings" from the result.
Step 2. If you haven't turned on File History yet, you should click "Add a drive" to choose the drive you want to back up the Outlook files to.
Step 3. Then click "More options". Under "Back up these folders", click "Add a folder" to choose the folder that contains your Outlook PST file.
Step 4. Set the backup interval under "Back up my files". Then Windows will automatically back up Outlook to the selected partition.
Although using File History is a workable way, there are disadvantages you can't ignore and that's why it is not recommended. The File History backup may slow down your computer performance. And another obvious shortcoming of using File History is that the longest interval is a day and most users don't want to perform the auto backup so frequently. If you prefer a more flexible setting, try EaseUS backup utility.
The Bottom Line
The suitable way to back up Outlook PST varies according to the Outlook version you use. The Outlook built-in backup add-in is only available with 32-bit of Outlook 2013. While EaseUS Todo Backup is compatible with most of the Outlook versions, including the latest Outlook 2019. Besides, the backup utility also make it possible to back up a single category from Outlook instead of the whole PST, which both the backup add-in and file history don't support. Apply the way best suited to your needs.
100% of people found this article helpful.
Frequently Asked Questions
Why choose EaseUS Todo Backup?

"The easiest way to protect your data and system files." —techradar

"EaseUS Todo Backup Free is one of the most popular free data backup applications available. This software offers a myriad of features and is extremely user-friendly. It provides a full system backup, meaning you can back up your entire operating system." —TopTenReviews

"EaseUS ToDo Backup Home is a great backup program, well suited to the home and SMB space." —PCWorld
What is the difference between Clone and Backup? In what cases should I use Clone?

Clone will copy one disk to another or one partition to another (unallocated space is also supported). Usually, this option is used to upgrade the current disk by creating an identical copy. Backup will generate a .PBD image file containing the selected files or system that can be restored from the .PBD image if needed.
What is the difference between System Backup and Disk Backup?

System Backup will auto-select the system boot related partition(s) as the backup source to make sure the system image can be restored properly. Disk/Partition Backup will allow you to manually select a whole disk or speficy a certain partition as the backup source. You will get the same backup result as System Backup if you manually select the system and boot partitions with the Disk/Partition Backup option.
As a computer newbie, what features should I use to protect my computer?

You can use System Backup to back up the system and boot partitions, use Disk/Partition backup to back up the data partition and add plans to run an automatic backup. If you use the computer frequently or have software that may cause boot failure of the computer, we would suggest you back up the computer every 1 to 2 days. For other situations, you can backup the computer once a week. In addition, you can schedule File Backup to back up the files which are changed frequently.
What kind of storage service should I use to save my backup images?

EaseUS Todo Backup can save backup images to internal disks, external disks, network drives, or free cloud(Google Drive, Dropbox, and OneDrive) and CD/DVD. It is suggested to save the images to the internal/external/network drives to save time as those kinds of disks have a better read-write speed. It is suggested NOT to save the image on the source disk, because once the disk is damaged, all the files on the disk will become unavailable and you will be unable to restore the image.
As a company network administrator, what features should I use to protect our internal computers?

It is recommended that you use the SQL Backup feature to back up your company's SQL server and Exchange Backup feature to back up the Exchange server. In addition, you can execute System Backup to back up the system and boot partitions on every computer and set a plan to execute the backup once a day or twice a week to ensure that the computer can be restored timely when it has boot issues. File Backup feature can be used to back up important user data. If there are a large quantity of computers, you can purchase EaseUS Backup Center to manage the backups on the client computers centrally.
About EaseUS Todo Backup
Be it a file, system, partition, or disk, EaseUS Todo Backup will help you back up or clone the item and provide you with multiple backup plans.