Debuting inside Windows 10, the latest Windows Outlook 2016 really gives fans a big shock with a brand new mail and calendar experience across Office 365. Outlook 2016 desktop gets improved with better cloud file support, deeper search and even a darker theme for those working on brighter monitors.
And to attach files to email messages also gets simplified due to the presence of recently used items in the attach file dialogue. Other more amazing features such as new support for groups and OAuth also surprised us. Since things are getting easier and simpler with Outlook 2016, it also becomes more important to backup Outlook 2016 files with awareness. Indeed, things will be simpler and fabulous if we can backup Outlook 2016 files automatically. How? Any recommends that can help or do you know any backup and restore software which works to auto backup Outlook 2016?
Two Recommended Methods to Auto Backup Outlook 2016
As you search online, you may find that the highly recommended methods to backup Outlook files automatically are to use Personal Folders Backup Add-in or backup software. So what are the exact steps?
1. Auto backup Outlook 2016 with Personal Folder Backup Add-in
Personal Folder Backup tool is used as official Microsoft Outlook backup tool for all Outlook users on their computer. This tool offers free ways for users to backup important mail files with few clicks. Download Personal Folder Backup add-in and install it on your computer, follow next steps:
Start Outlook 2016, on the File menu, click Backup > Click Options and select the PST files that you want to backup.
To auto backup Outlook 2016 files, you set "Auto Save" in Outlook. You can also use the backup reminder to remind you to backup files per day or days. However, Personal Folder Backup can only back up PST files. And you have to leave big space for storing those backup files. This is not really that great. So any other simpler method to auto backup Outlook 2016?
2. Auto backup Outlook 2016 with EaseUS Todo Backup
EaseUS Todo Backup is professional in backing up important data automatically with its scheme backup feature. This software supports to backup whatever you need including files, disks, even systems with compressed files. You can also apply this tool to create recovery partition or set backup plan for auto backup Outlook 2016 with ease.
Step 1. Download and launch EaseUS Todo Backup. Choose Mail Backup.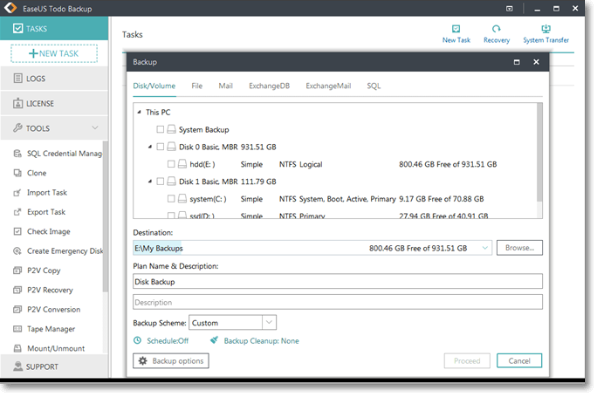 Step 2. Choose the files that you need to backup and select destination to store backup Outlook files.
At the left button, click "Schedule" and choose to backup Outlook 2016 files by day, week or even month automatically.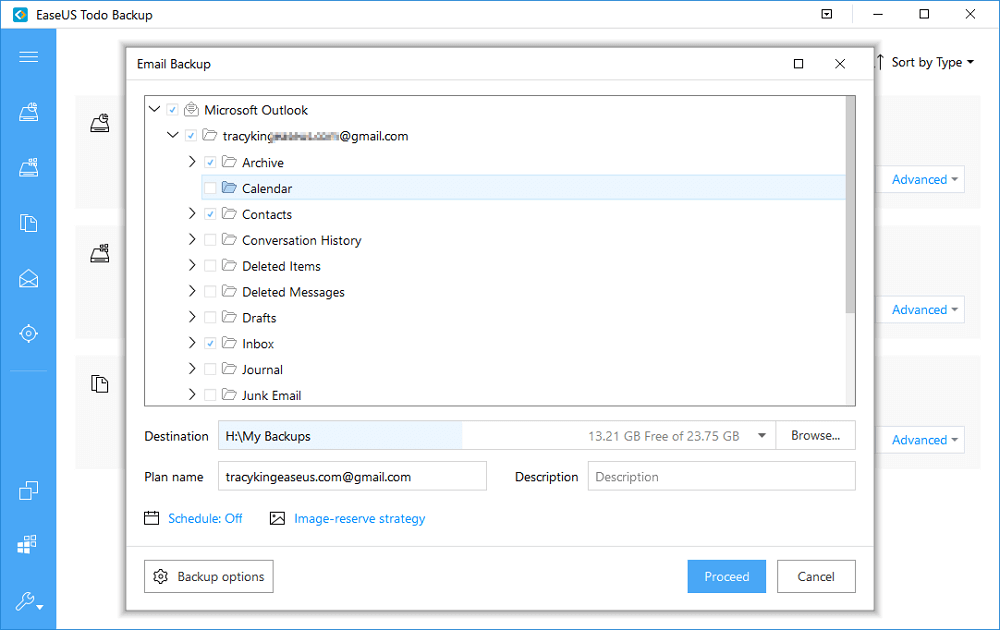 Click Save to keep all settings. Then you can auto backup Outlook 2016 without any extra jobs with the help of EaseUS Todo Backup.