Auto Backup Outlook 2016 with Ease
Updated by
Jean
on May 07, 2022
Also Applies To: Outlook 2010, Outlook 2013, Outlook 2019, and Outlook Express
About Outlook 2016
Debuting inside Windows 10, Windows Outlook 2016 really gives fans a big shock with a brand new mail and calendar experience across Office 365. Outlook 2016 desktop gets improved with better cloud file support, deeper search and even a darker theme for those working on brighter monitors. Attaching files to email messages also gets simplified due to the presence of recently used items in the attach file dialogue. Other amazing features such as new support for groups and OAuth also surprised us. Since things are getting easier and simpler with Outlook 2016, it also becomes more important to back up Outlook 2016 files with awareness. Indeed, things will be simpler and fabulous if we automatically can back up Outlook 2016 files.
How to Back Up Outlook 2016 Automatically
In earlier Outlook versions, there is Personal Folders Backup Add-in that enables you to finish the task of Outlook backup. However, the backup add-in only works with the 32-bit version of Outlook 2010. Due to the technical changes in later Outlook versions, Personal Folder Backup Add-in isn't available in Outlook 2013 and later anymore, including Outlook 2016.
Then how to make an auto backup in Outlook 2013/2016/2019 happen? The answer is to use the powerful file backup software - EaseUS Todo Backup. The backup features will help you back up your Outlook, be it the PST file or a category like contacts, calendar, Inbox, and more.
Therefore, there are mainly two ways to complete automatic Outlook backup:
Method 1. Auto back up Outlook with Personal Folder Backup Add-in
If you are using the 32-bit version of Outlook 2010, use the backup add-in to back up your Outlook automatically. Personal Folder Backup tool is used as an official Microsoft Outlook backup tool for all Outlook users on their computers. This tool offers free solutions for users to backup important mail files with few clicks. Download Personal Folder Backup add-in and install it on your computer, follow the next steps:
Step 1. Start Outlook 2010, on the "File" menu, click "Backup" > Click "Options".
Step 2. Select the PST files that you want to back up.
Step 3. To auto back up Outlook 2010 files, you need to set "AutoSave" in Outlook. You can also use the backup reminder to remind you to backup files per day or days.
You should know that Personal Folder Backup can only back up PST files. And you have to leave big space for storing those backup files. 
Method 2. Auto back up Outlook 2016 with EaseUS Todo Backup
If you are using Outlook 2013/2016/2019 or you want to selectively back up the Outlook data, like contacts or calendar, you should try the backup and recovery software - EaseUS Todo Backup instead. EaseUS Todo Backup is professional in backing up important data automatically with its schedule backup feature. This software supports to back up whatever you need including files, disks, emails, even systems with compressed files. You can also apply this tool to create a recovery partition or set a backup plan for auto backup Outlook 2016 with ease. Whether you want to back up the PST automatically in Outlook or back up Outlook contacts, emails, or calendar only, you can get things done with this backup utility.
Option 1. Automatically Back Up Outlook PST File
The PST file is the Outlook data file that contains all the Outlook accounts, emails, archives, contacts, calendars, inboxes, and more. When you back up a PST, you back up everything within an account. To make backups of the file, you first need to know the location of it. Outlook Data Files (.pst) created by using Outlook 2013 or Outlook 2016 are typically saved on your computer in the Documents\Outlook Files folder. You can also find the PST file using the way below:
Step 1. Click "File" in Outlook.
Step 2. Go to "Account Settings" > "Account Settings".
Step 3. On the "Data Files" tab, click an entry, and click "Open Folder Location".
Afterward, you will be able to specify the file location during the backup process.
To automatically back up Outlook PST file with EaseUS Todo Backup:
Step 1. Click "Select backup contents" to initiate a backup.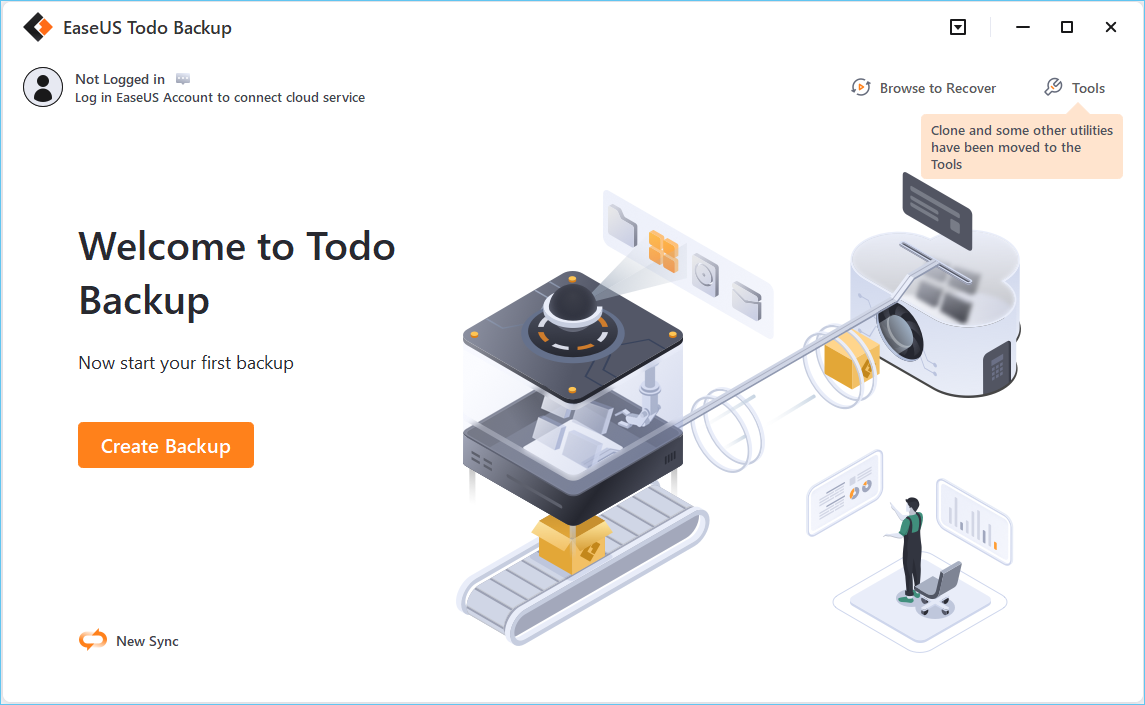 Step 2. There are four data backup categories, File, Disk, OS, and Mail, click File.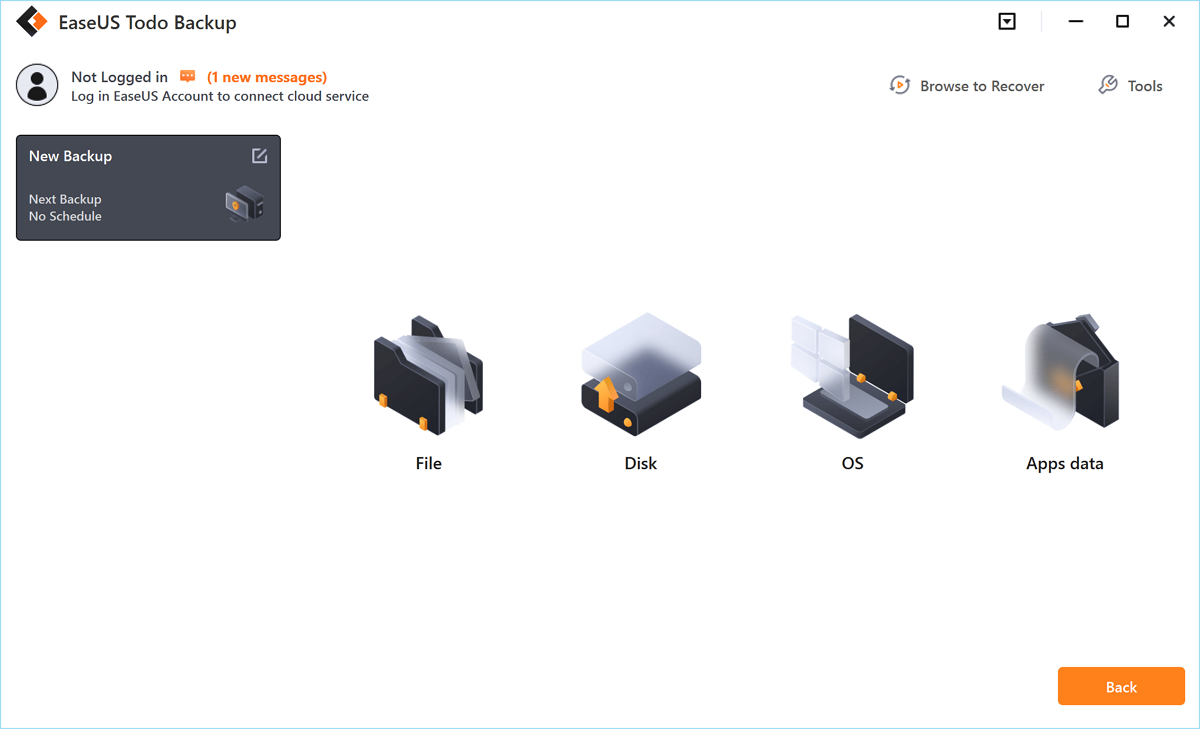 Step 3. Local and network files will be displayed on the left side. You may extend the directory to choose which files to back up.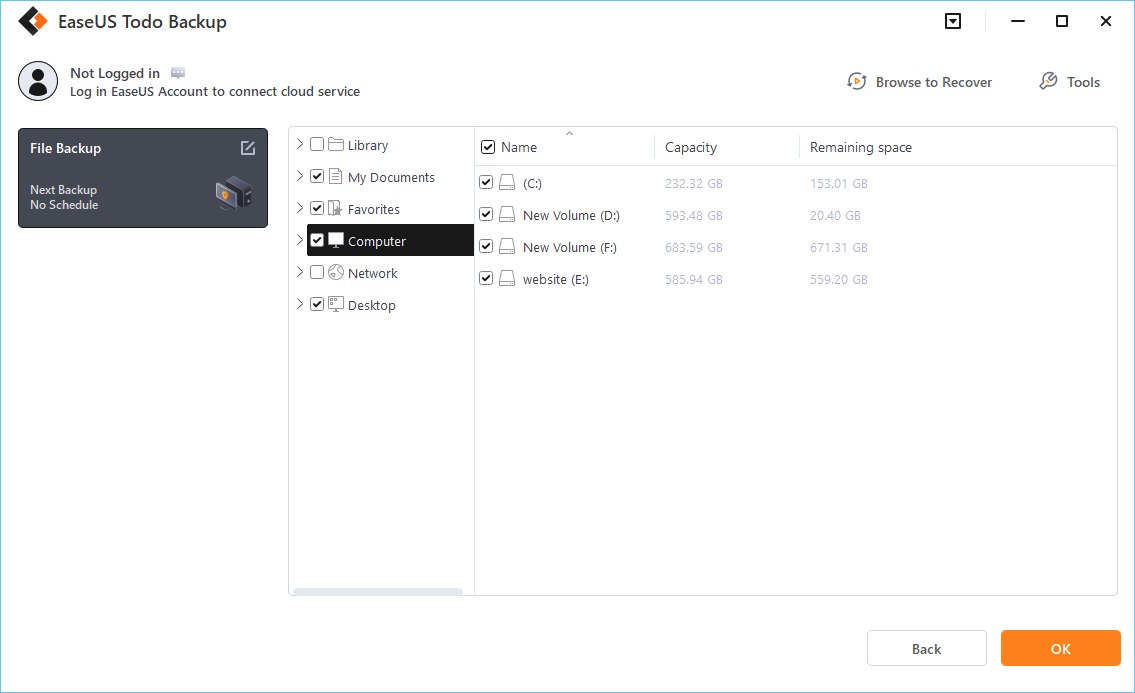 Step 4. Select the location where you want to store the backup by following the on-screen instructions.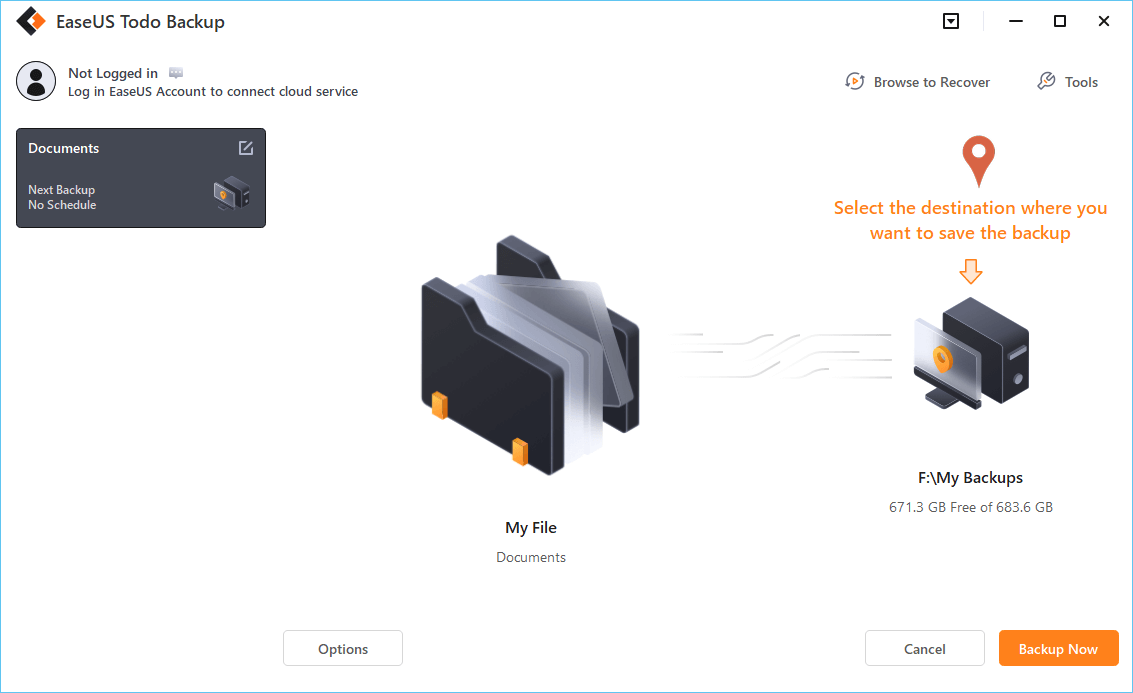 Click "Options" to encrypt the backup with a password in "Backup Options," and to setup a backup schedule and choose to initiate a backup at a certain event in "Backup Scheme." There are a variety of other customization options available for the backup process.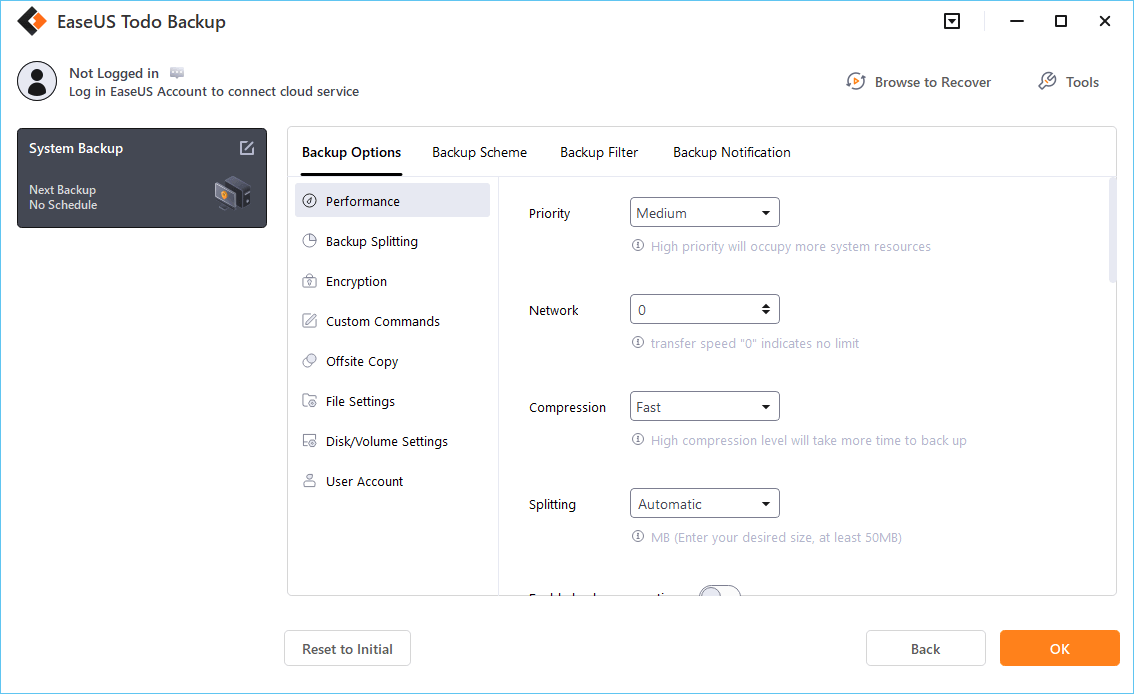 Step 5. You may save the backup to a local disk, EaseUS' online service, or a NAS.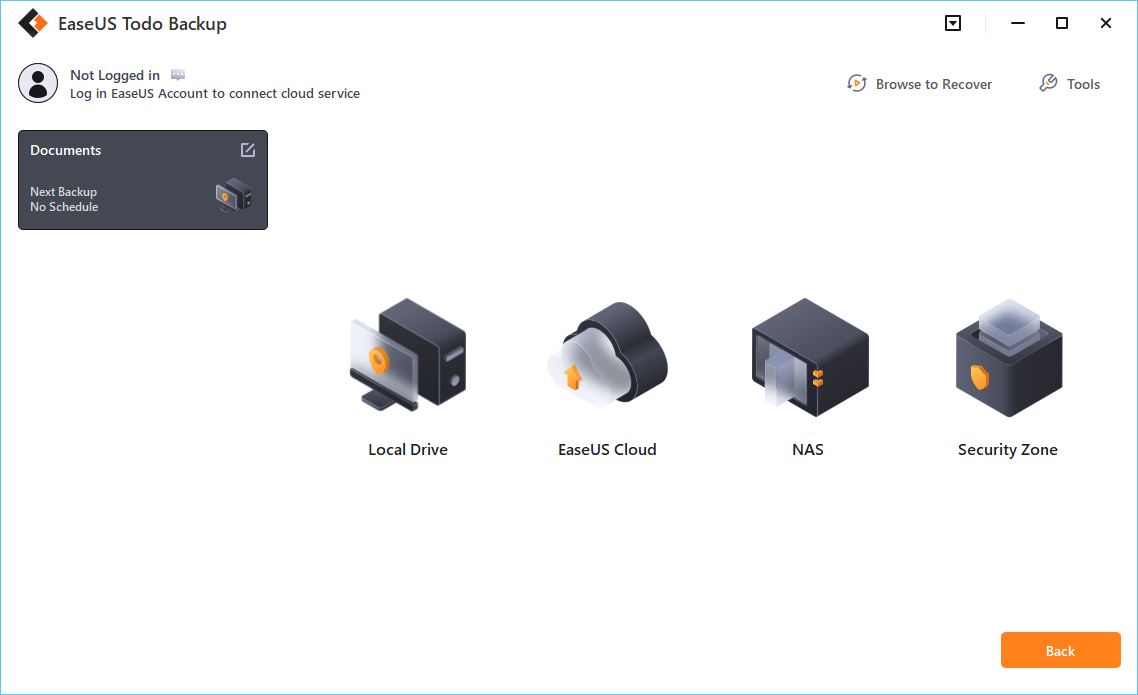 Step 6. EaseUS Todo Backup enables customers to back up data to a third-party cloud drive and its own cloud drive.
If you want to back up data to a third-party cloud drive, choose Local Drive, scroll down to add Cloud Device, add your account, and then log in.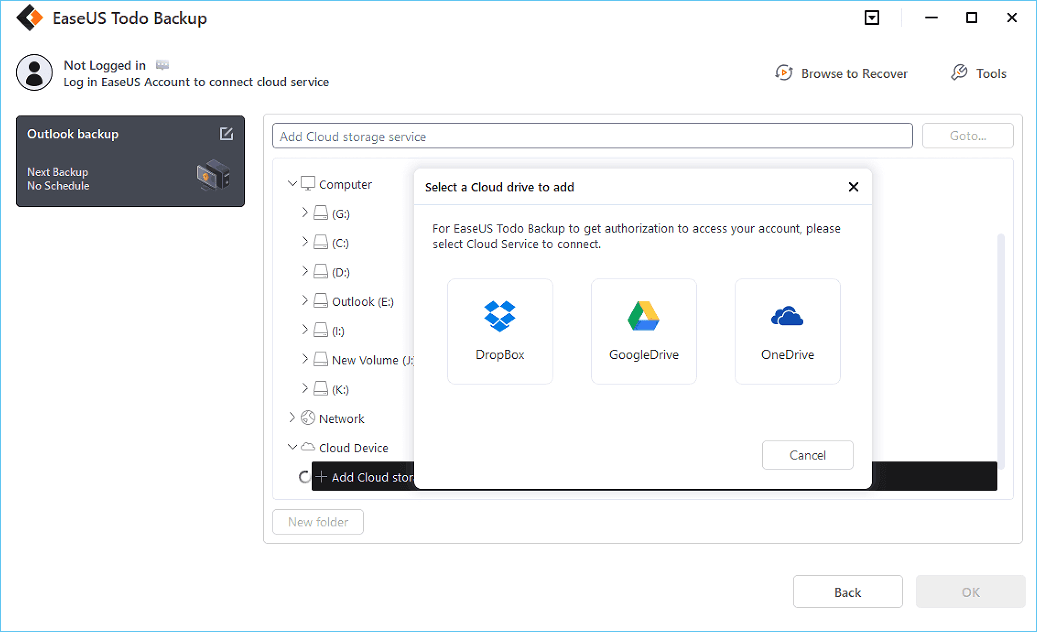 You can also save backups to EaseUS's cloud storage service. Sign up for an EaseUS Account and log in after clicking EaseUS Cloud.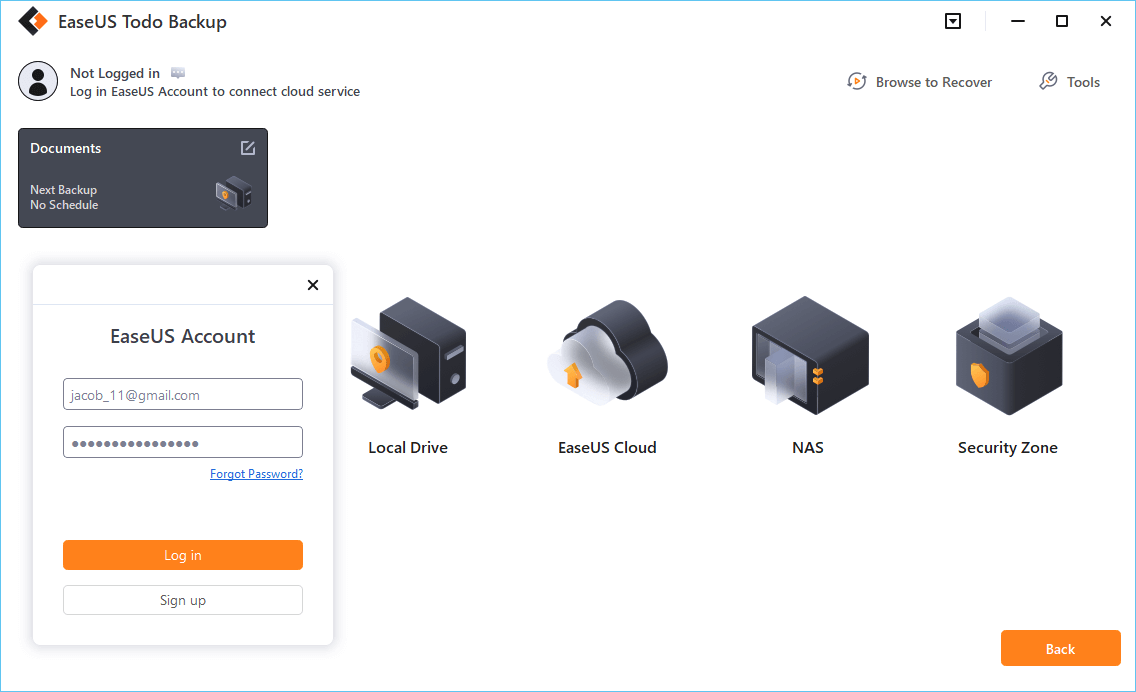 Step 7. To begin backup, click "Backup Now" Once the backup process has been finished, it will be shown as a card on the panel's left side. To further manage a backup job, right-click it.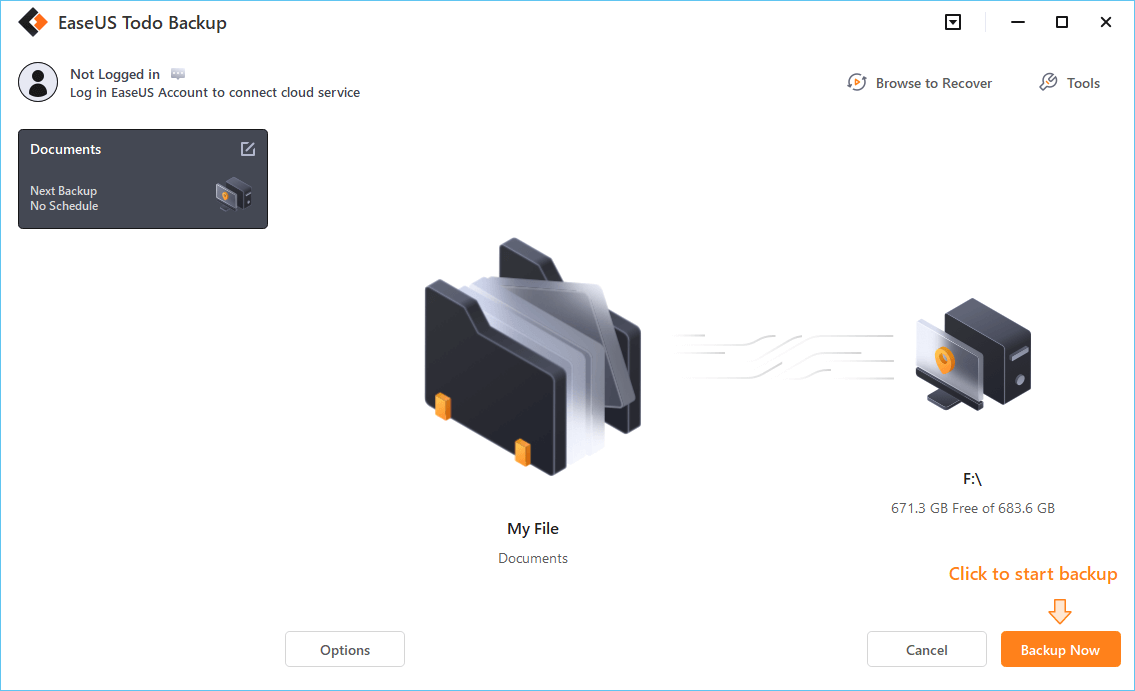 Option 2. Back Up Outlook Contacts/Calendar Automatically
You may prefer to back up some of the files inside your Outlook account instead of all the content. You can get your needs met with the email backup feature in EaseUS Todo Backup. Similarly, schedule the auto backup of Outlook contacts, calendars, and more according to your needs.
Step 1. Launch EaseUS Todo Backup on your computer, and click Create Backup on the home screen and then hit the big question mark to select backup contents.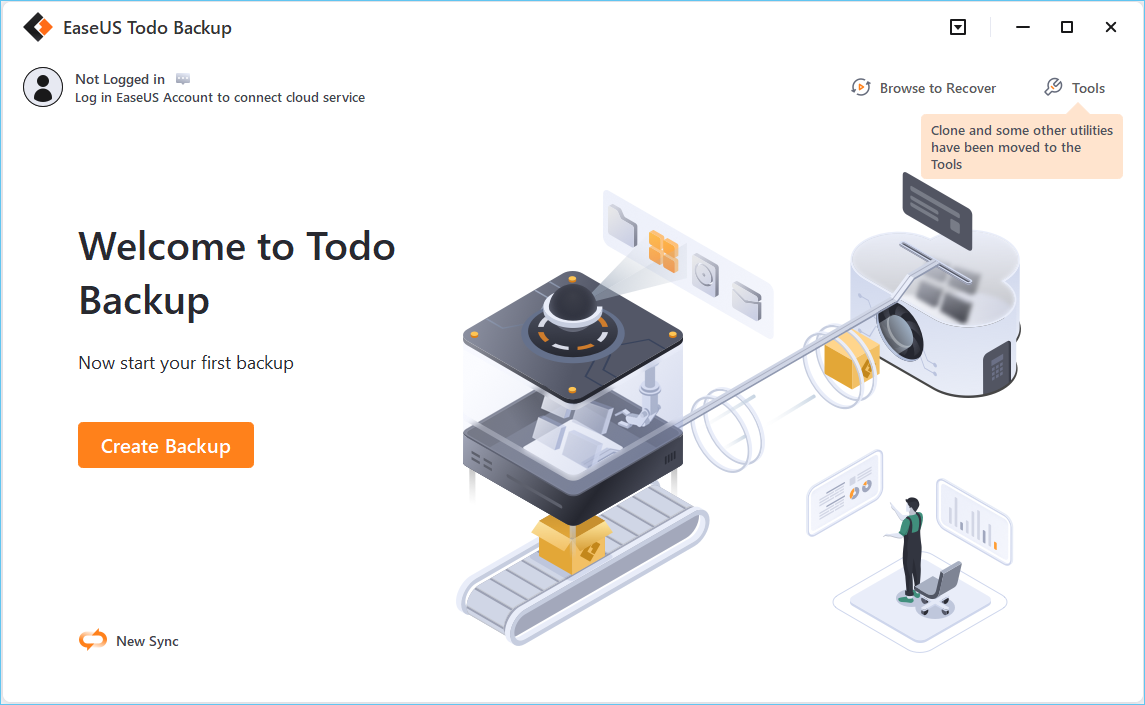 Step 2. To back up Outlook mailbox, click "Mail" to begin the backup task.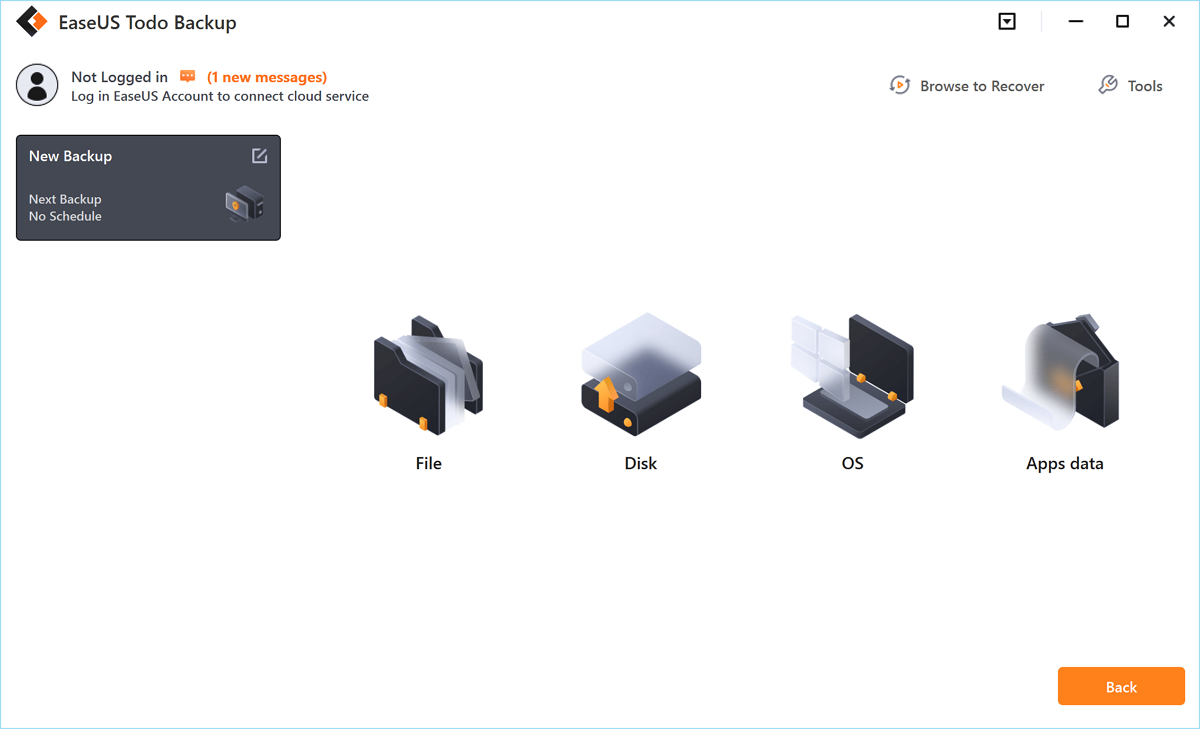 Step 3. Your Microsoft Outlook database folder will appear. Select the mailbox addresses you want to make a backup of the mails, contacts or calendars and click "OK".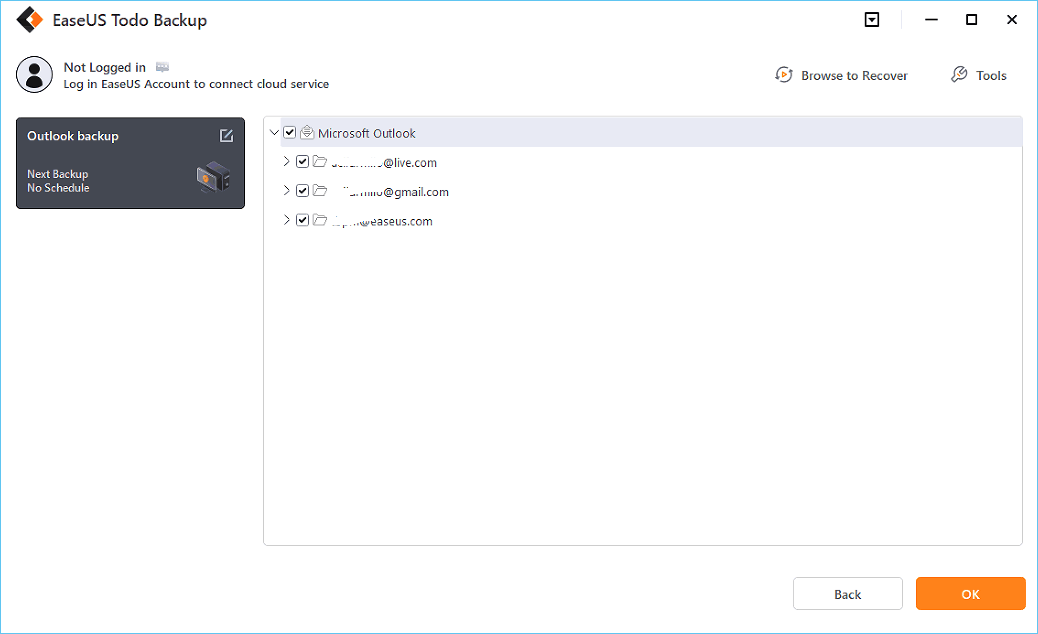 Step 4. Next, you'll need to choose a location to save the Outlook backup by clicking the illustrated area.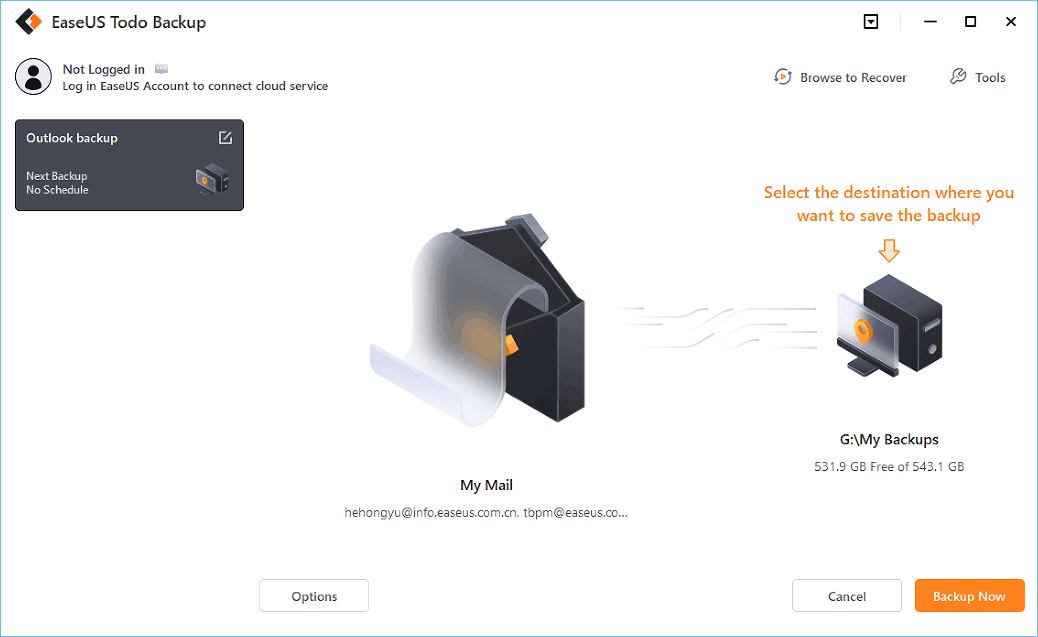 Step 5. The backup location can be another local drive on your computer, an external hard drive, network, cloud or NAS. Generally, we recommend you use an external physical drive or cloud to preserve the backup files.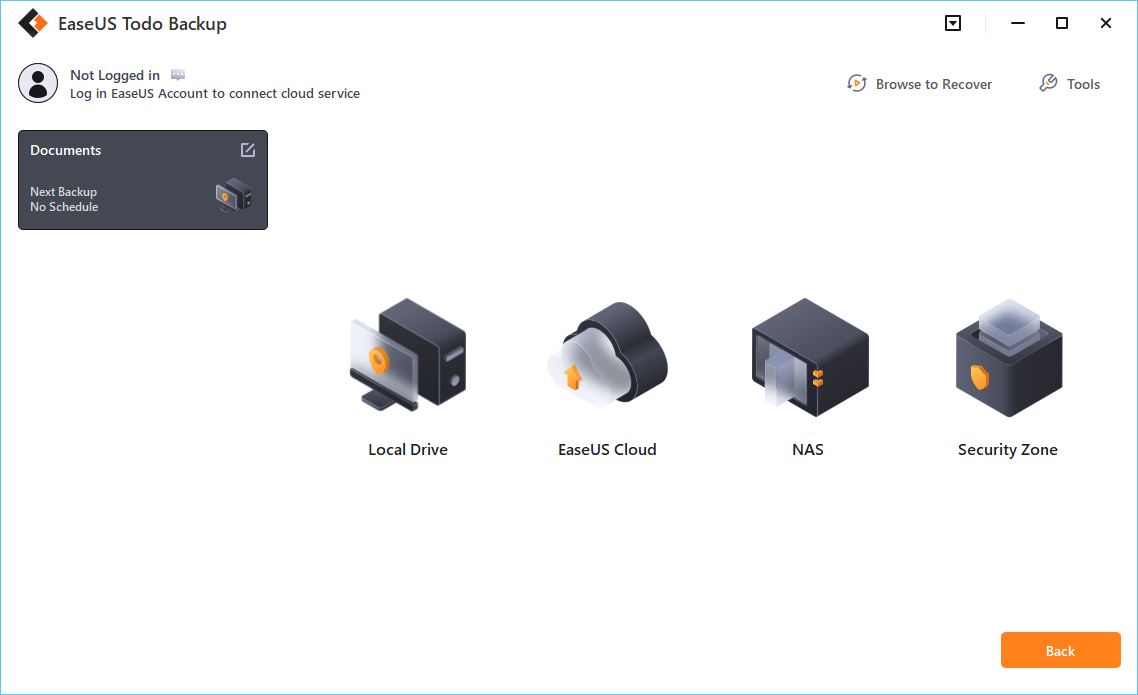 Step 6. Cusomiztion settings like setting an automatic backup schedule in daily, weekly, monthly, or upon an event, and making a differential and incremental backup are available in the Options button if you're interested. Click "Backup Now", and the Outlook backup process will begin. The completed backup task will display on the left side in a card style.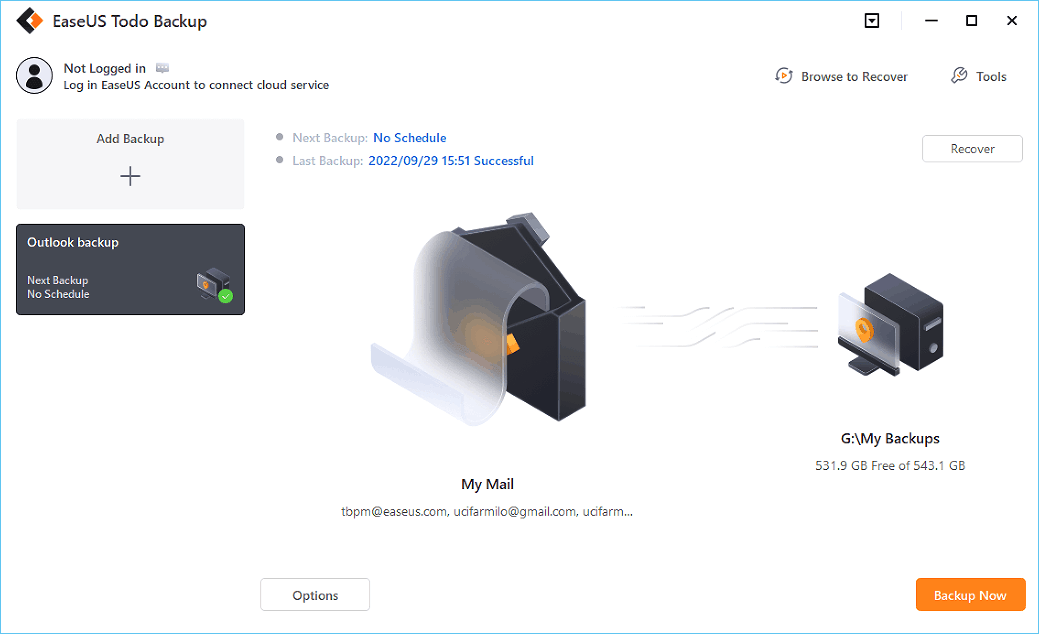 FAQs Related to Outlook Auto Backup
Here are some of the most concerned issues related to the auto backup of Outlook.
"How do I automatically back up my Outlook PST file?"
As mentioned above, you can use the backup add-in to back up Outlook PST automatically if you are using Outlook 2010. For later Outlook versions, you can use a professional backup program like EaseUS Todo Backup to achieve your goal of auto backup Outlook PST.
"Does Outlook back up contacts automatically?"
You need to set the auto backup to let Outlook back up contacts automatically. If you use the backup add-in, you can only back up contacts automatically by backing up the PST file. If you want to back up contacts solely, use EaseUS Todo Backup instead.
"Does File History back up Outlook?"
File History is a built-in feature in Windows 8 and later that is used to back up the selected folder automatically to another drive. You can add the Outlook folder to the backup folders via the Backup setting in Windows.
Here are the detailed steps to back up Outlook via File History.
Step 1. Type backup settings in the search bar and choose "Backup settings" from the result.
Step 2. If you haven't turned on File History yet, you should click "Add a drive" to choose the drive you want to back up the Outlook files to.
Step 3. Then click "More options". Under "Back up these folders", click "Add a folder" to choose the folder that contains your Outlook PST file.
Step 4. Set the backup interval under "Back up my files". Then Windows will automatically back up Outlook to the selected partition.
Although using File History is a workable way, there are disadvantages you can't ignore and that's why it is not recommended. The File History backup may slow down your computer performance. And another obvious shortcoming of using File History is that the longest interval is a day and most users don't want to perform the auto backup so frequently. If you prefer a more flexible setting, try EaseUS backup utility.
The Bottom Line
The suitable way to back up Outlook PST varies according to the Outlook version you use. The Outlook built-in backup add-in is only available with 32-bit of Outlook 2013. While EaseUS Todo Backup is compatible with most of the Outlook versions, including the latest Outlook 2019. Besides, the backup utility also make it possible to back up a single category from Outlook instead of the whole PST, which both the backup add-in and file history don't support. Apply the way best suited to your needs.

Author Jean has been writing tech articles since she was graduated from university. She has been part of the EaseUS team for over 5 years. Her special focuses are data recovery, disk partitioning, data space optimization, data backup and Mac OS. By the way, she's an aviation fan!
Taking everything into consideration, we can say that EaseUS Todo Backup Home can offer you a little extra sense of security with a set of advanced tools. The interface provides quick adaptation, every process guiding you all the way through so you don't get stuck or further damage your system rather than keeping it safe.

 Read More

EaseUS Todo Backup Free lets you create backups of your important files or your entire computer through its streamlined interface. Just choose the backup type you'd like to get started, and let the program do the reset.

 Read More

EaseUS includes all the features I expect from backup software like versioning, incremental backups, and scheduling. For more advanced users, EaseUS allows you to install a pre-boot environment onto your hard drive so you can use it to restore files without burning a CD or putting it on an external USB drive.

 Read More

EaseUS Todo Backup
Smart backup tool for your files and entire computer in Windows 10/8/7.
Install Windows on Multiple Computers at Once? No Problem!
Learn how to install Windows 11/10/7 and special programs/software on a batch of computers. Use 10 minutes to do the 10 hours work without making a single mistake!
Get Free Solution!