What is 64 bit system?
The terms 32-bit and 64-bit refer to the way a computer's processor (also called a CPU) to handle information. The 64-bit versions of Windows can utilize more memory than 32-bit versions of Windows. This helps minimize the time spent swapping processes in and out of memory by storing more of those processes in Random access memory (RAM) rather than on the hard disk. This, in turn, can increase overall program performance.
The trend of 64 bit system
The 64 bits system is an advanced technology compared to 32 bits systems. Although most computer users still use 32 bit system at present, 64 bit Systems will replace it in the near future.
At the end of 2008, 25% of Vista users in United States use 64 bit System. 64 bits system becomes more and more popular because it is easy to upgrade to 4GB memory. According to related report, Windows are inclined to be 64 bit version in the future. No matter this is true or not, it indicates that 64 bit will become the mainstream in the future.
As many software are designed for 32 bits system, they could not completely compatible with the 64 bits systems. Have you ever racked your brain to look for safe and easy to use 64 bit system backup software? This article will introduce you professioanl system backup software which helps you backup and restore your 64 bit system partition to avoid system failure and crash.
How to backup 64 bit system with backup software?
When backing up your data, you might choose to do a selective backup - just back up your data and settings and skip everything that can be reinstalled later from a CD. If you go this route, you probably have only a few hundred megabytes of this type of information to back up and it will save your space.
Backing up your system will not bother you any more with the 64 bit system backup software - EaseUS Todo Backup. It is neither difficult nor time-consuming. As system backup software, EaseUS Todo Backup provides computer users to backup & restore image and hard disk clone. It can back up your whole PC, including the operating system plus your data, applications, photos, videos, office documents, settings and everything.
With this 64 bit system backup software, users can do one-click system backup or clone system disk. Users can choose a suitable way to back up the system.
Download EaseUS Todo Backup to have a try.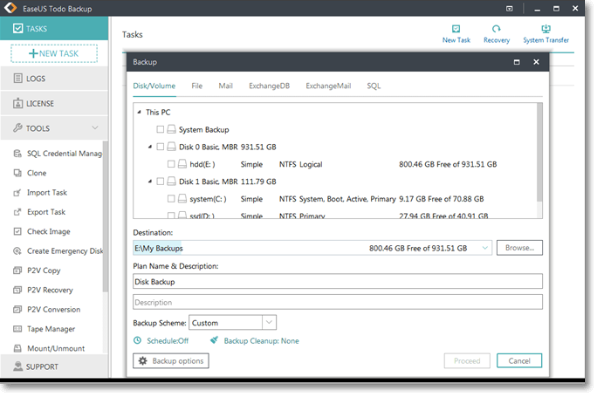 Tip: If you want to backup the system again after you make some major change to your system, you can do incremental system backup or differential backup which only backup changed files, saving lots of disk space and backup time.