Work from Home Equipment Checklist: What Do You Really Need To Work From Home
"What equipment do I need to work at home during the coronavirus outbreak? At this rate, we might all be working from home for a very long time! Can someone with experience give me work from home equipment checklist? I want to have everything at once so that I can work as efficiently as I do at the office."
More and more people are working from home, and work at home has been greatly promoted by the current global coronavirus epidemic. If you can balance work and life, that's pretty great - you can do the job you love and have complete control over your working hours while still getting the same salary. But working from home has a lot of implications, such as a home office, child care, the right equipment, excellent communication skills, dedication, focus, and other factors.
Here, we'll address a problem about what equipment you really need to work from home. If you've been wondering about the work from home equipment checklist and what kind of tools and gadgets you need to work remotely, reading this article and you will know well.
Work from Home Equipment Checklist
We list the must-have work from home equipment below. But your company may have additional requirements. Be sure you fully understand your company's work from the home policy before buying the equipment you need.
1. The Must-Have Computer
The most important piece of equipment you'll need is a computer. And the best thing is that your home computer and your company's computer have the same operating system and all the data and office software you need. So you can get into work quickly at home. However, if we usually work in the office, the computer at home rarely has anything related to the company. Then, how to carry OS and data home and set up your home PC?
To duplicate your office and set up a home PC, making everything the same as you were in the company, you can do it in two steps: the first is to bring your computer OS and data home, and the second is setting and organizing your home PC.
Step 1. How to copy OS and data from office to home
Nowadays, a portable operating system is not unusual for average users to quickly set up a computer quickly. EaseUS Todo Backup provides you with the "Create Windows Portable USB" feature that enables you to clone and copy your Office computer operating system and data home, running on your home computer without any boot issue.  
USB requirements:
1. Check how much disk space is used for the system C drive. Let's assume 40GB. Then prepare a qualified USB drive, of which the disk capacity must be larger than 40GB.
2. Do you use an empty new USB drive or an old one? Make sure that all the important data has been safely transferred because the system clone will overwrite data on it completely.
3. Correctly connect the USB drive to your machine and make sure that Windows has detected it and assigned a drive letter to it.
Follow the overall process to create a portable Windows USB drive and boot from it:
Step 1. Launch EaseUS Todo Backup. Expand the Tools menu and click "System Clone".
Step 2. On the "System clone" window, the software will choose the system partition and boot partition by default. Just Choose the USB drive as the destination disk. Click on "Advanced options" and then "Create a portable windows USB Drive". Click "OK" and then "Next".
Step 3. You can preview or adjust the disk layout on the destination drive. If there is no problem, click "Proceed" and the software will start immediately cloning the default system partitions of your desktop/laptop to the USB drive. After the cloning process is over, you can safely plug the USB drive out.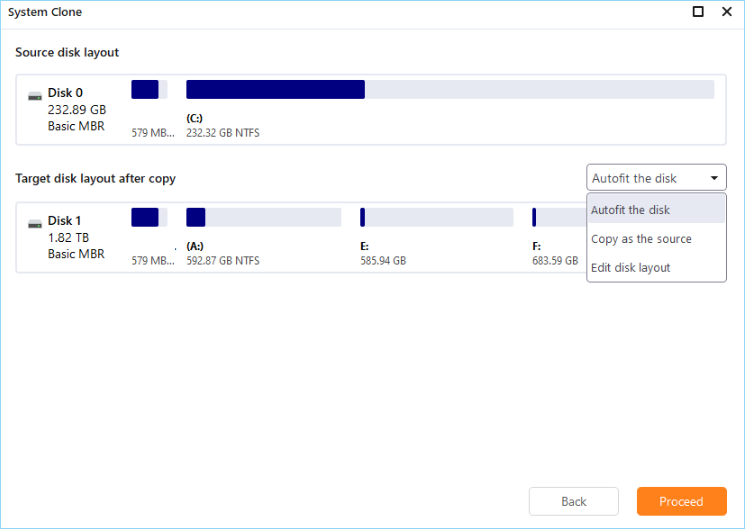 Step 4. Boot from the USB drive.
Connect your portable USB to the computer
Restart the computer and press "Del" to enter BIOS
Set the PC to boot from the portable USB by changing the boot order in BIOS under the "Boot" tab
Save changes and you'll see your system booting up from the USB drive
Not just the system, EaseUS Todo Backup also supports file backup, disk/partition backup, and backup storage, which means that you can store your backups anywhere, hard drive, an external device, tape, FTP server, network share, NAS, CD/DVD, or OneDrive, Google Drive, and Dropbox.
Step 2. Set up and manage home PC
With the above method, you can make your home computer have the same system as the company computer. However, we often still face a problem, that is, the computer in the home is relatively old, the configuration is relatively low, and the operating state is not as good as the company's computers, which greatly affects the work efficiency. If you don't want your computer to run slowly due to a small system partition, or there are too many junk files on your computer taking up a lot of space, you can let EaseUS Partition Master Free help you, a versatile hard disk drive management software.
You can use this software to you will need to extend the system C drive, resize/move partitions, optimize the SSD performance, create/format/delete partitions, manage dynamic volume, clean up junk files, and more. You can use this software to help you improve the performance of your home computer and ensure that you can work as efficiently in the office.
The following steps show you how to extend the C drive on your Windows computer with EaseUS Partition Master.
Step 1: Free up unallocated space for C drive.
If there is no unallocated space on the system disk, right-click on a partition next to the C: drive and select "Resize/Move".
Drag left panel of the partition to shrink and leave unallocated space behind the system C: drive and click "OK".
Step 2: Increase C drive space.
1. Right-click on C: drive and select "Resize/Move".
2. Drag the system partition end into unallocated space so to add space to C: drive.
Step 3: Keep all changes to extend C: drive.
Click the "Execute Operation" and click "Apply" to keep all changes so to extend the system C: drive.
2.Other Tools You Need to Work from Home
Peripherals such as USB hub, wireless keyboard & mouse, an external webcam, and more
High-speed internet access
Network router
Landline phone and separate phone
A printer and scanner
Desk and chair
Uninterruptible power supply (UPS)
Backup drive or personal server, such as external hard drive, flash drive, pen drive, etc..
Required software
File cabinet
These are some of the most common home office essentials. Prepared with this equipment, you can work from home effectively. There will certainly be other items you need in your home office, depending on the type of work. You can increase your office supplies according to your actual needs.
Bonus Tips: Speed Up the Return to Work
If you want to end your home office, how to resume work at high speed, how can you quickly migrate the data and programs from the home office back to the office? 
EaseUS Todo Backup offers the continuous data backup solution to image the increased and changing data of home office to local or cloud storage space and instantly restore essential data to the office computer with no obstacle.
If you back up your files to local devices, for example, a USB flash drive, an external hard drive, a pen drive, when you go back to work, you can restore your files in one click. If you use the copy and paste method, you may wait to wait a long time, from tens of minutes to hours, if your file is very large.
While if you upload the backup to One drive, Google Drive, or Dropbox, after going back to work in the office, directly open the application, log in to your account, and access your files.

Roxanne is one of the main contributors to EaseUS and has created multiple posts on digital devices like PCs, Mobile phones, tablets, Mac, etc. She loves to share ideas with people of the same interest.

Cedric Grantham is one of the senior editors of EaseUS who lives and works in Chengdu, China. He mainly writes articles about data recovery tutorials on PC and Mac and how-to tips for partition management. He always keeps an eye on new releases and likes various electronic products.
Taking everything into consideration, we can say that EaseUS Todo Backup Home can offer you a little extra sense of security with a set of advanced tools. The interface provides quick adaptation, every process guiding you all the way through so you don't get stuck or further damage your system rather than keeping it safe.

 Read More

EaseUS Todo Backup Free lets you create backups of your important files or your entire computer through its streamlined interface. Just choose the backup type you'd like to get started, and let the program do the reset.

 Read More

EaseUS includes all the features I expect from backup software like versioning, incremental backups, and scheduling. For more advanced users, EaseUS allows you to install a pre-boot environment onto your hard drive so you can use it to restore files without burning a CD or putting it on an external USB drive.

 Read More

EaseUS Todo Backup
Smart backup tool for your files and entire computer in Windows 10/8/7.
Install Windows on Multiple Computers at Once? No Problem!
Learn how to install Windows 11/10/7 and special programs/software on a batch of computers. Use 10 minutes to do the 10 hours work without making a single mistake!
Get Free Solution!