COVID-19 Safely and Effectively Work from Home Backup and Recovery Plan
Updated by
Jean
on May 07, 2022
"What is the best backup method if I work from home? I found many backup plans on the Internet, and it's hard for me to make a decision."
The global coronavirus disease (COVID-19) finally broke out. Factories are shut down, restaurants are closed, classes are suspended, but companies have to survive. The most guaranteed way to stay unaffected and keep business continuity is to live at home, study at home, work at home and play at home.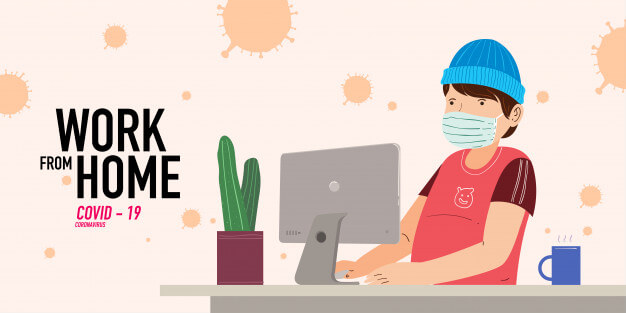 | Workable Solutions | Step-by-step Troubleshooting |
| --- | --- |
| Fix 1. Create A Portable Windows 10/8/7 |  Launch EaseUS Todo Backup; Expand the Tools menu and click "System Clone"...Full steps |
| Fix 2. Create An Incremental Backup | Click the "Select backup contents" button to start back up; There are fou...Full steps |
| Fix 3. Clone Hard Drive | Launch EaseUS Todo Backup and click "Clone"; Select a source disk/partition you...Full steps |
A Portable OS Is One of The Remote Work Must-Haves
For global employees, most of whom are starting to work remotely for the first time. They need to prepare for a while to set up a cozy home office to keep productive. For example, some essentials include a computer or a separate mobile, a copy of business-critical data, a collaboration app, the Office suite, and a communicating system. Of course, how to work from home effectively and efficiently is of great concern to both employees and employers. Here, you may have heard of the most recommended working from home tips and strategies. 
Use original company toolbox, including OS
Build a working computer that runs smooth and fast
Install a web conferencing app like Zoom to receive meeting calls
Keep every working material intact and prepare for moving to the company office
Sounds impossible to work with the original company operating system and installed software? Not at all. With EaseUS Todo Backup, the reputable third-party backup and recovery software on the market, you can easily carry the OS home, without reinstalling a Windows operating system from scratch, which is likely to exceed your capability to do so.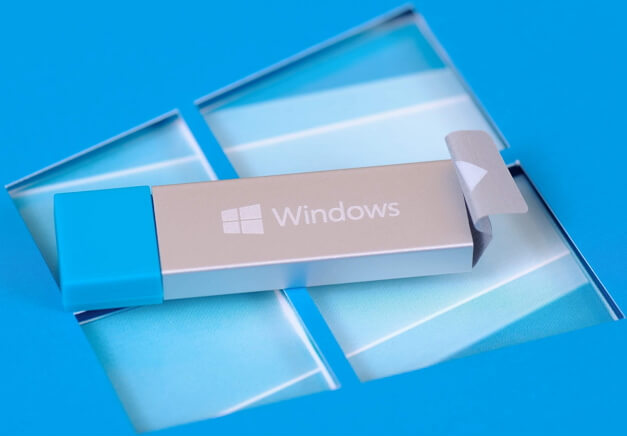 Guide: How to Create A Portable Windows 10/8/7
To create a portable Windows 10/8/7 operating system means that you put Windows on a USB flash drive. By creating a portable copy of Windows in the office and then booting to that USB drive on your home computer, you will work with your familiar OS environment, applications, preferences, and password. Everything is small and light to fit in your pocket. Now download EaseUS Windows backup software and follow the steps to create a portable Windows OS on your own.
USB requirements:
1. Check how much disk space is used for the system C drive. Let's assume 40GB. Then prepare a qualified USB drive, of which the disk capacity must be larger than 40GB.
2. Do you use an empty new USB drive or an old one? Make sure that all the important data has been safely transferred because the system clone will overwrite data on it completely.
3. Correctly connect the USB drive to your machine and make sure that Windows has detected it and assigned a drive letter to it.
Follow the overall process to create a portable Windows USB drive and boot from it:
Step 1. Launch EaseUS Todo Backup. Expand the Tools menu and click "System Clone".
Step 2. On the "System clone" window, the software will choose the system partition and boot partition by default. Just Choose the USB drive as the destination disk. Click on "Advanced options" and then "Create a portable windows USB Drive". Click "OK" and then "Next".
Step 3. You can preview or adjust the disk layout on the destination drive. If there is no problem, click "Proceed" and the software will start immediately cloning the default system partitions of your desktop/laptop to the USB drive. After the cloning process is over, you can safely plug the USB drive out.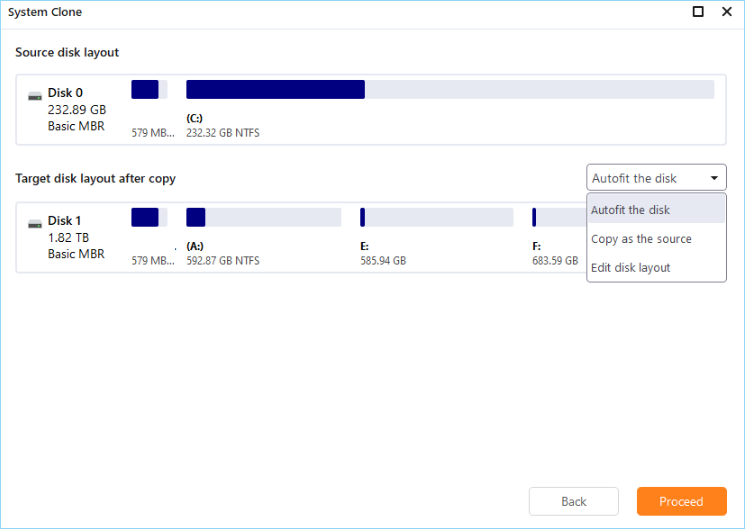 Step 4. Boot from the USB drive.
Connect your portable USB to the computer
Restart the computer and press "Del" to enter BIOS
Set the PC to boot from the portable USB by changing the boot order in BIOS under the "Boot" tab
Save changes and you'll see your system booting up from the USB drive
Data Backup Is The Other Remote Work Must-Haves
Working with the original computer OS and applications would greatly save your time from reinstalling many essentials and getting accustomed to the new computer configuration, which improves work efficiency to some degree. After setting up a computer you're familiar with, you must take measures to fully protect all your working-from-home materials, including confidential business data, emails, documents, contracts, client information, and some extremely large files that are going to take quite a long time to transfer from your home computer to the company's.
Throughout the days of working at home, you can use EaseUS Todo Backup to set up an automatic backup schedule and let it intelligently back up your computer data.
Benefits of Creating Backups with EaseUS Todo Backup
Multiple backup options available: disk/partition backup, file backup, system backup, and email backup.
Smart backup enabled: a default backup plan that takes effect every half an hour. 
Customize a backup schedule: one-time backup, daily, weekly, monthly, or upon an event.
Efficient backup plans: full backup, differential backup, and incremental backup.
Remote backup plans: save your backup copy to Cloud services, including OneDrive, GoogleDrive, and DropBox.
Image-reserve strategy: backup as many as you like but takes less disk space than the backup image should be.
Enable backup encryption: use confidential passwords to secure the backup files you created.
Guide: How to Create An Incremental Backup
By viewing full backup vs differential backup vs incremental backup, the last incremental backup plan is featured with the fastest backup speed but the least disk space occupation. Considering the fact that your home computer is usually with small SSD or not so large HDD, the incremental backup plan suits you the best. Since incremental backup is supposed to back up only files that have changed, you'll first need to create a full backup and then start the incremental backup plan.
Step 1. To start backup, click the Select backup contents.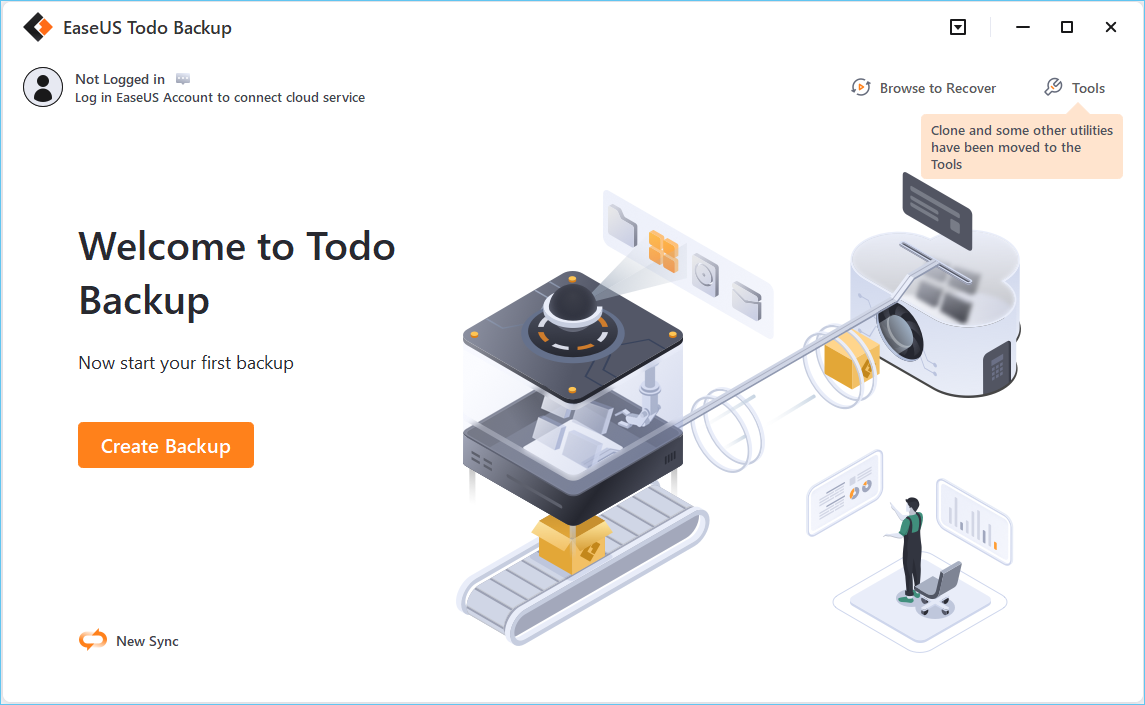 Step 2. There are four data backup categories: File, Disk, OS, and Mail.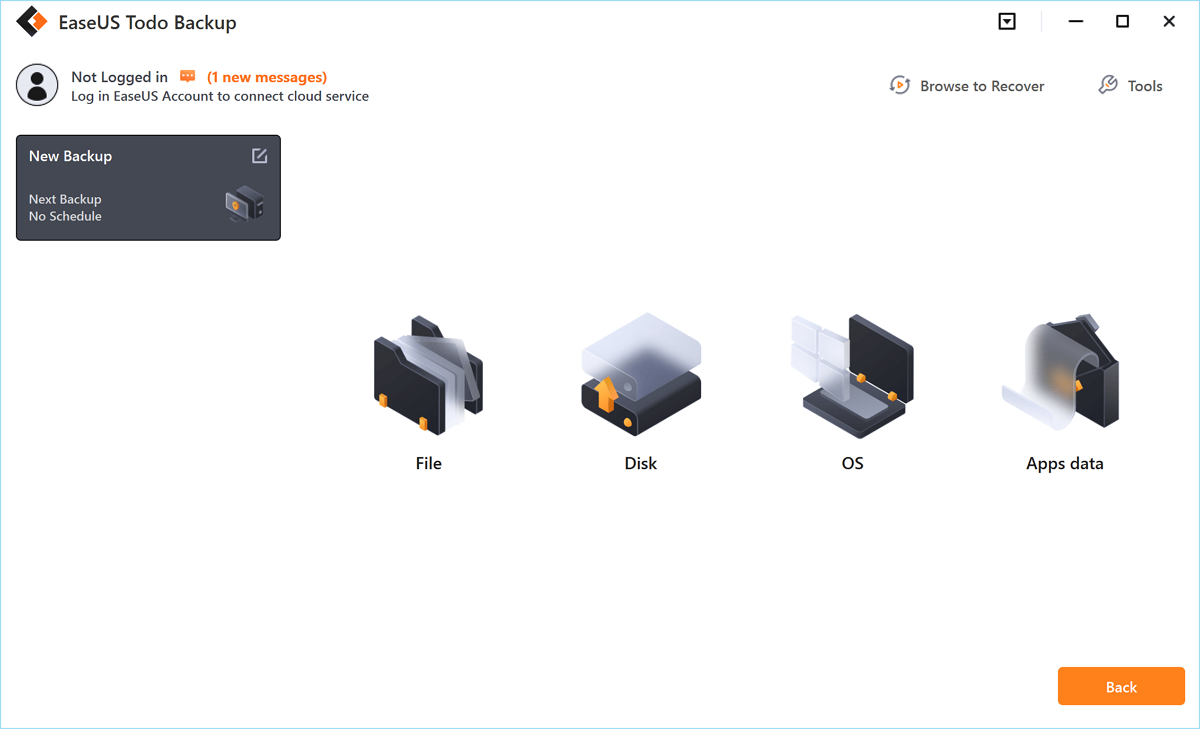 Step 3. On the left-hand side, you'll see a list of local and network files. Selecting the files to be backed up by expanding the directory.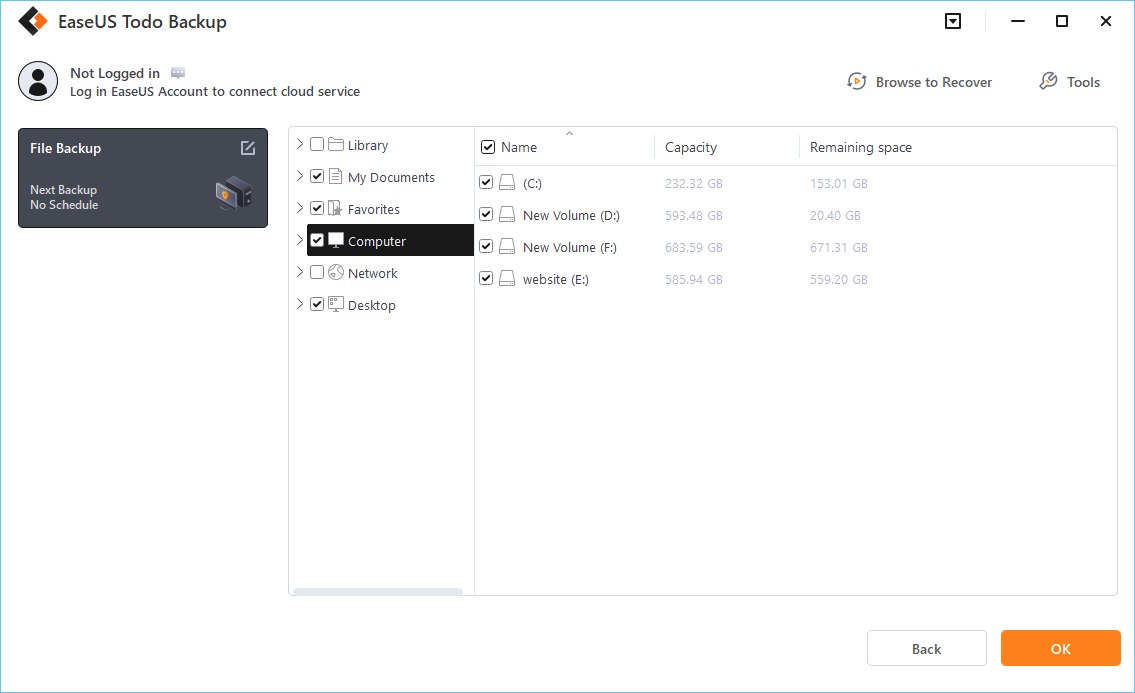 Step 4. Follow the instructions on the screen and pick the location where you wish to store the backup.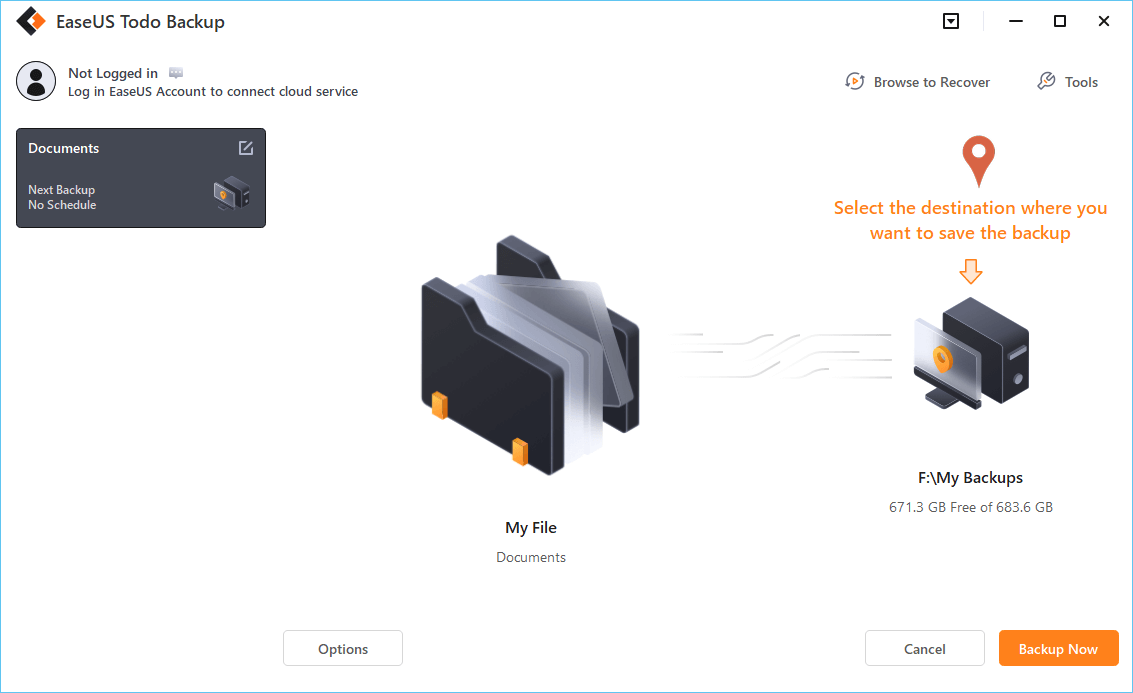 In Backup Options, click Options to encrypt the backup with a password, specify the backup schedule, and choose whether or not to start the backup at a certain event in Backup Scheme. There are a variety of customizable features available for you to explore, and you may tailor the backup operation to meet your specific requirements.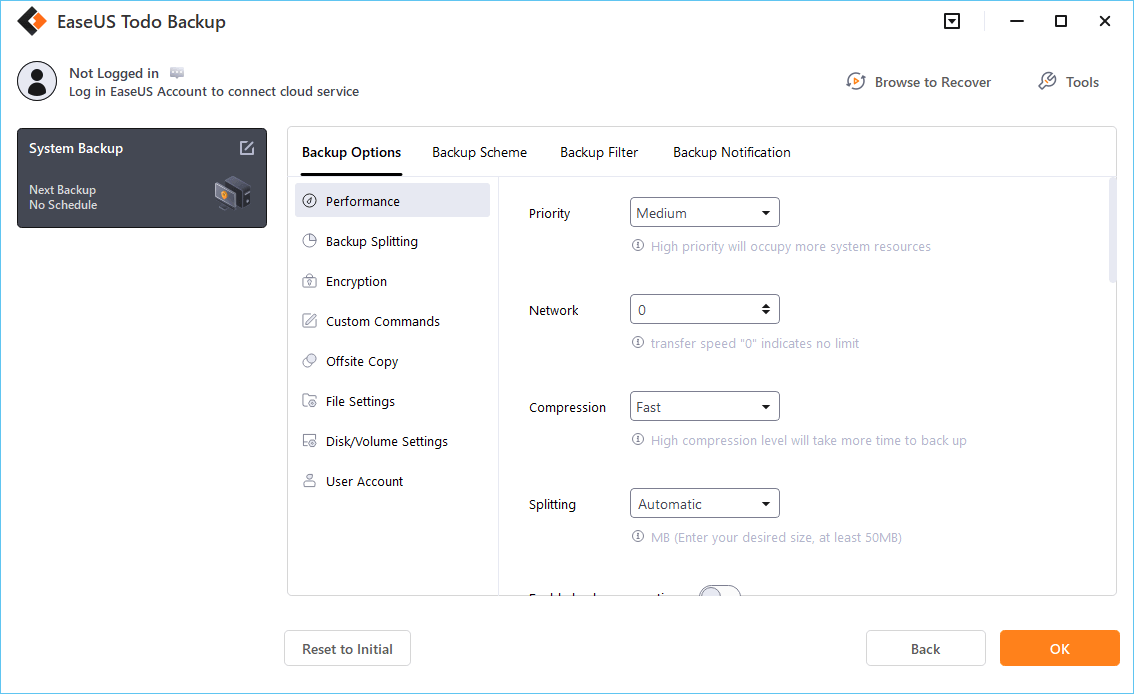 Step 5. Backups can be stored on a local disk, in EaseUS's cloud service, or on a network attached storage device (NAS).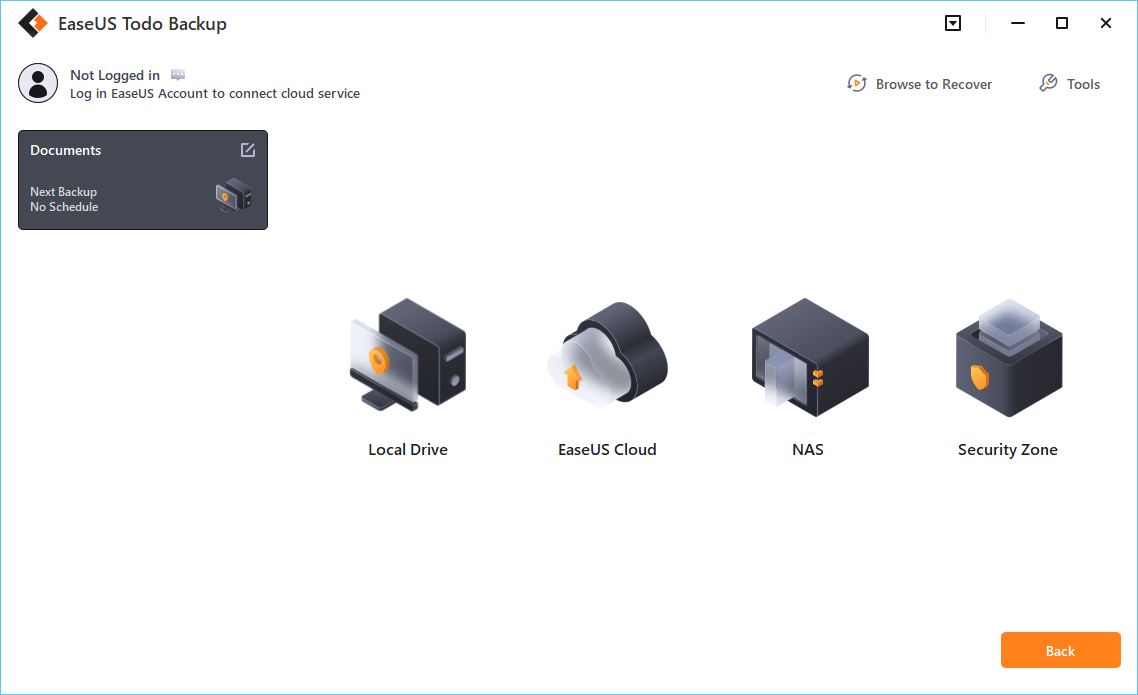 Step 6. EaseUS Todo Backup allows customers to back up data to a third-party cloud drive or the company's own cloud storage.
If you wish to back up your data to a third-party cloud drive, select Local Drive, scroll down to add Cloud Device and enter your account information.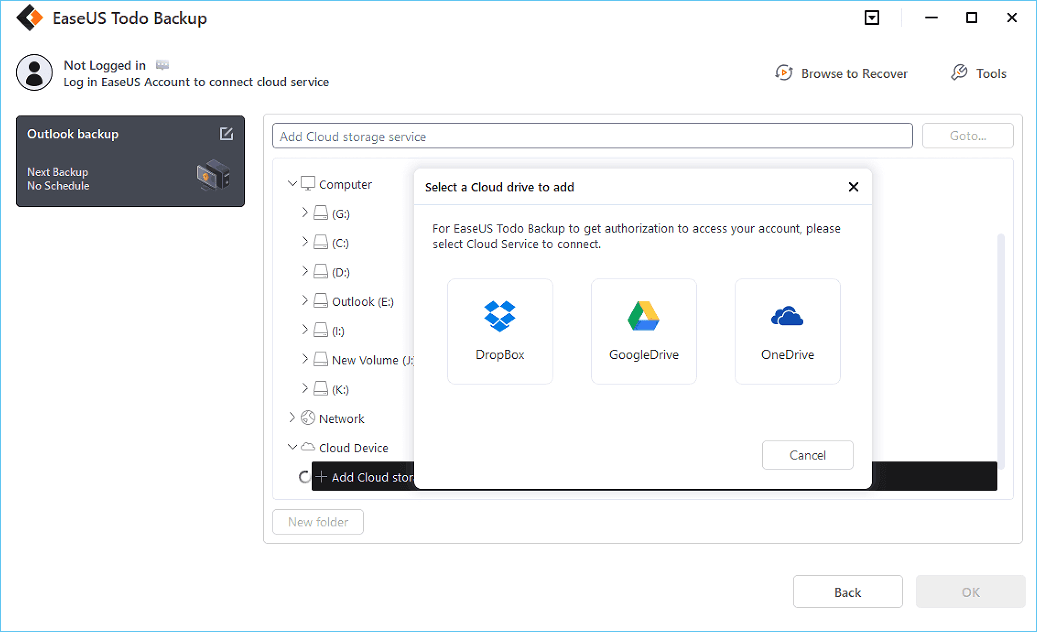 You may also use EaseUS's own cloud storage service. Click EaseUS Cloud, create an account using your EaseUS Account, then log in to your account.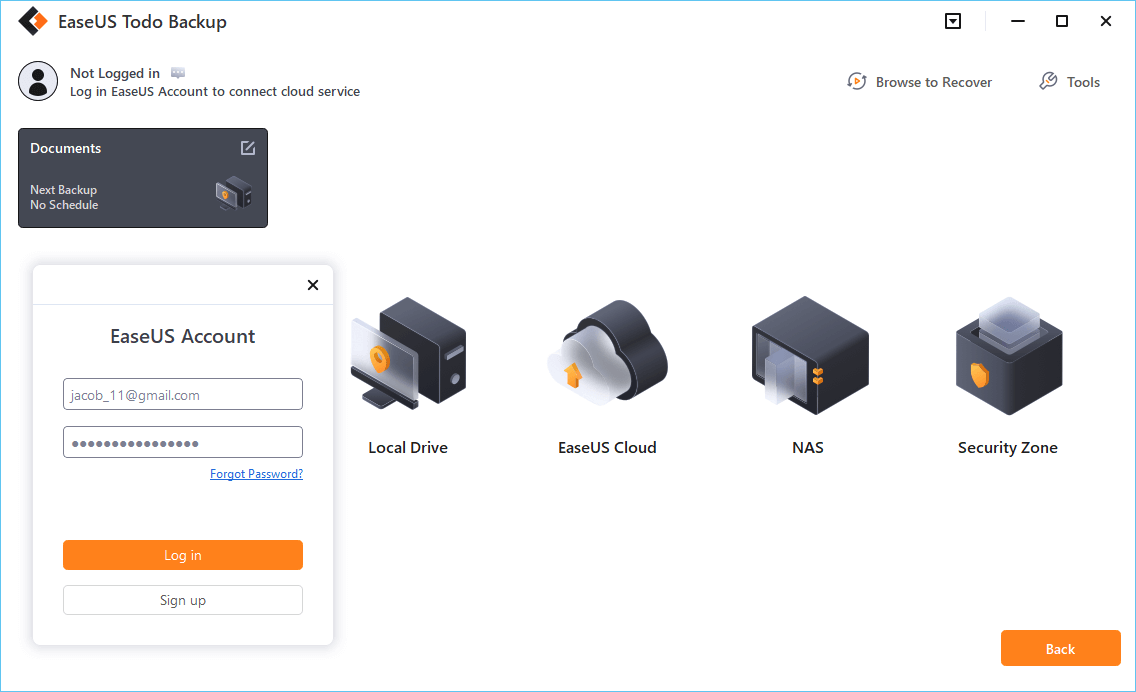 Step 7. To begin a backup, choose Backup Now. It will appear in the shape of a card on the left-hand panel when the backup process has been successfully finished. To handle the backup job in more detail, right-click on it.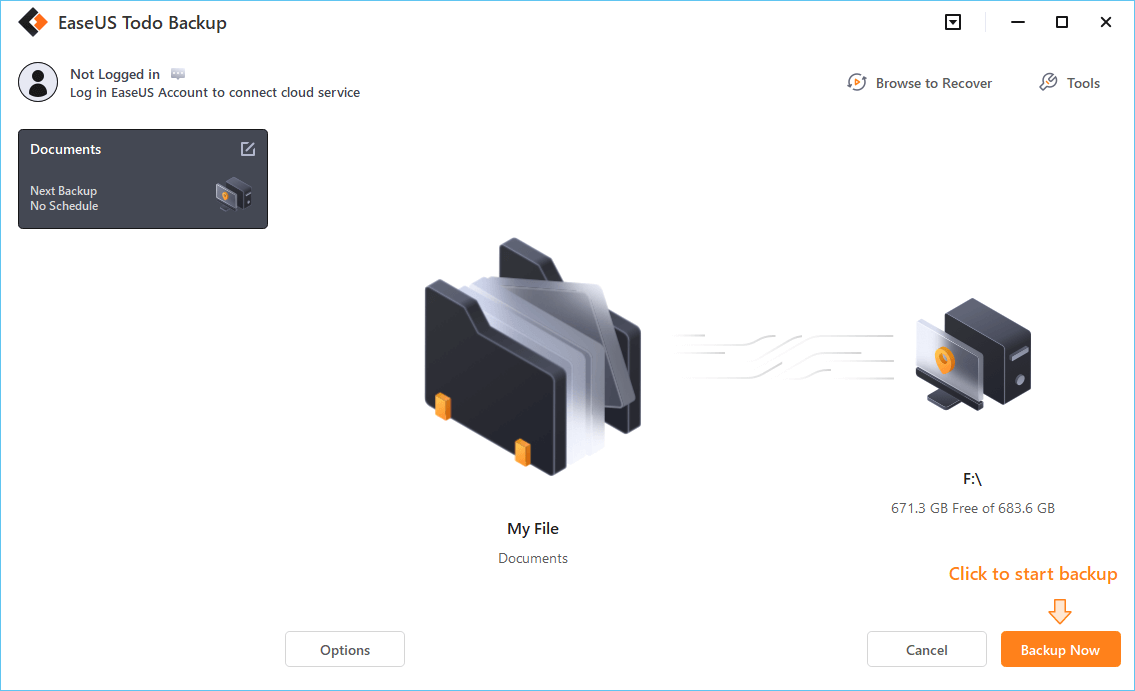 When you return to the company someday, you don't have to copy everything from home and take time to transfer it to the office computer. Use the one-click "Recovery" to restore all the backup. It costs EaseUS Todo Backup like a minute for a full recovery.
How to Upgrade Hard Drive Easily at Home
How long has your laptop been used? Is it able to support your work smoothly at home? Don't have extra money to buy a new computer? Is it too old or too small? Why not take a close look at your computer hard drive?
The work-from-home policy puts quite a large group of employees into a dilemma because they don't have an appropriately configured computer at hand. All they have is an over 5-year-old laptop that currently runs like a turtle. Believe me, it's not the time to give up the computer right now. Try some of the computer optimization tips here, and you may build up a brand new computer by yourself.
Though not 100% effective, following the tips to clean up and rearrange the disk space on your computer hard drive usually speeds up the computer a little. In addition, you can consider spending some money on a new hard drive. As long as your operating system is stable enough, you can try to clone the old hard drive along with the operating system, programs, and settings to a new hard drive that will apparently improve the computer performance.
Besides the rich-featured backup and recovery plans, EaseUS Todo Backup also has a highlighted disk cloning feature that allows you to replace an old, small, or failed hard drive, and transfer OS from HDD to SSD as easily as you imagine. By cloning, you can set up an identical new hard drive as the original one and instantly put it into use.
Guide: How to Clone Hard Drive With EaseUS Todo Backup
If the original hard disk contains the system partition, please tick the "Shut down the computer when the operation completed" option. The software will shut down automatically the computer when the clone is completed.
Remove either the source disk or destination disk from the computer so that the computer can boot normally when the source disk contains boot partition.
If you want to boot from the destination disk, we recommend you change the boot order in BIOS.
If the computer fails to boot from the destination disk after the clone, we suggest you clone the source disk to another disk with the same HDD interface.
If you choose to clone a hidden partition, the cloned one will be unhidden.
The large hard drive can be cloned to a small hard drive as long as the capacity of the destination hard drive is equal to or larger than the used space of the original hard drive.
Step 1. Launch EaseUS Todo Backup and click "Tools" at the top right corner, you can see clone and other utilities.
Step 2. Choose the source disk or partition as well as the target disk. (Make sure the space of the target disk is larger than that of the source disk or partition.)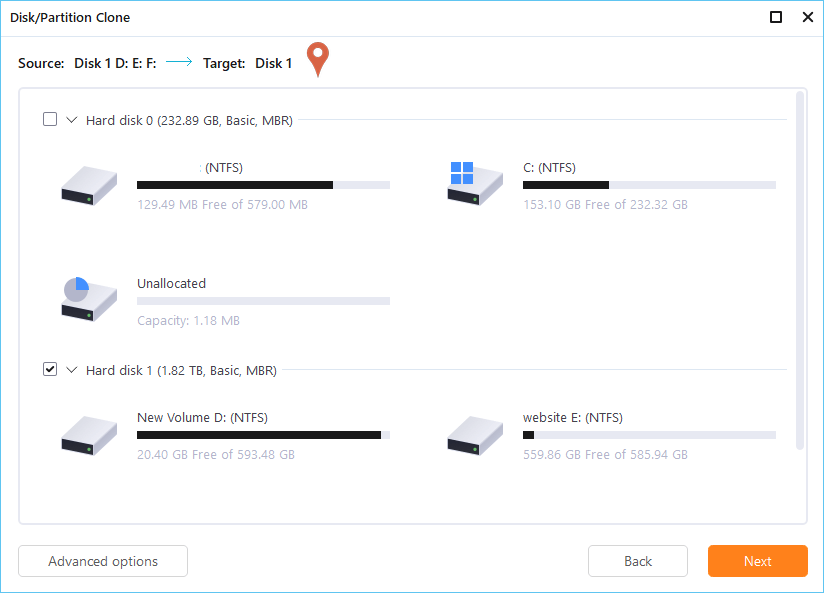 Step 3. The clone would permanently wipe out all data on the target disk/partition. If you have backup your data in advance, just click "Continue."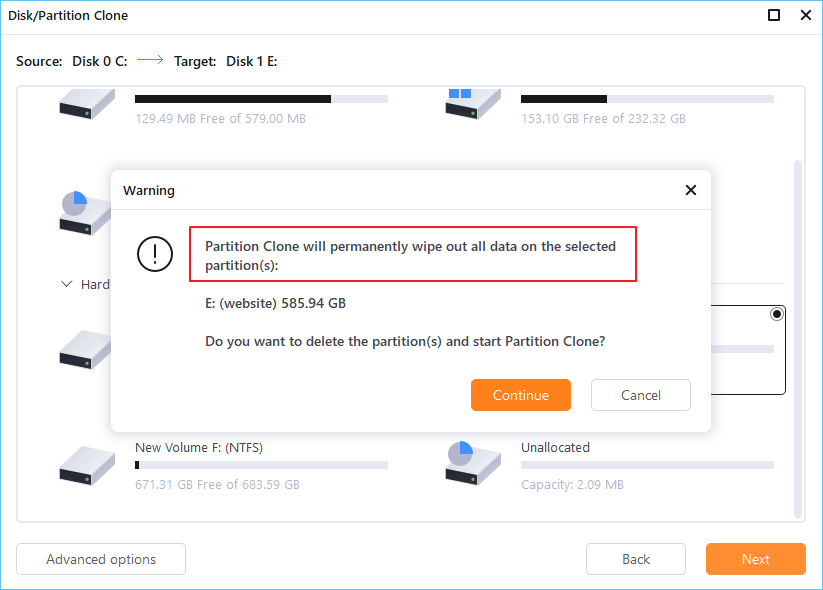 Step 4. Click "Proceed" to start cloning.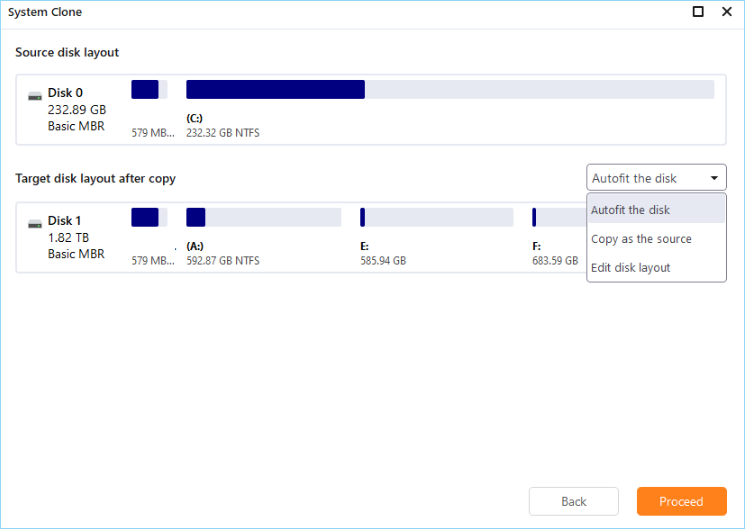 It's Time to Implement The Backup and Recovery Plan for Working from Home
It seems that the epidemic COVID-19 will last for some days. Let's be positive and unit together to fight the outbreak. Safely stay at home, and productively work from home.
EaseUS backup and recovery plans will ensure a smooth transition from working in the company to remotely working from home. If everyone starts to implement the data protection and disaster recovery plan, our business will undoubtedly survive the rough year.

Author Jean has been writing tech articles since she was graduated from university. She has been part of the EaseUS team for over 5 years. Her special focuses are data recovery, disk partitioning, data space optimization, data backup and Mac OS. By the way, she's an aviation fan!
Taking everything into consideration, we can say that EaseUS Todo Backup Home can offer you a little extra sense of security with a set of advanced tools. The interface provides quick adaptation, every process guiding you all the way through so you don't get stuck or further damage your system rather than keeping it safe.

 Read More

EaseUS Todo Backup Free lets you create backups of your important files or your entire computer through its streamlined interface. Just choose the backup type you'd like to get started, and let the program do the reset.

 Read More

EaseUS includes all the features I expect from backup software like versioning, incremental backups, and scheduling. For more advanced users, EaseUS allows you to install a pre-boot environment onto your hard drive so you can use it to restore files without burning a CD or putting it on an external USB drive.

 Read More

EaseUS Todo Backup
Smart backup tool for your files and entire computer in Windows 10/8/7.
Install Windows on Multiple Computers at Once? No Problem!
Learn how to install Windows 11/10/7 and special programs/software on a batch of computers. Use 10 minutes to do the 10 hours work without making a single mistake!
Get Free Solution!