How Do I Create and Use Windows Restore Point in Windows 10/8/7 [Beginners' Guide]
Updated by
Gemma
on Feb 18, 2022
This page mainly tells that is Windows Restore Point, why do you need it, and show you how to create and use the Windows Restore Point in Windows 10/8/7. 
If you are looking for a reliable way to protect your OS and computer from OS update failure or computer crash error, creating a Windows Restore Point is the best solution. Let's start!
Workable Solutions
Step-by-step Troubleshooting
1. Create a Restore Point
Press Windows + S keys, type create a restore...Full steps

2. Restore Computer to Earlier Date

 Press Windows + S keys, type control panel in...Full steps

3. Backup with Backup Software

1. Back Up Windows 10 OS...Full steps

2. Restore Windows 10 To An Earlier Date via...Full steps
What Is Windows Restore Point?
Briefly, a Windows Restore Point is a backup image of Windows OS, configuration, and settings. It helps to restore Windows OS to an earlier date when the restore point was created. Windows Restore Point is also called System Restore Point. 
More details about Windows Restore Point:
Windows Restore Point Content
Backup Frequency
Supported Windows OS

Snapshot of Windows OS, system files
Installed software
Hardware drivers
Installed new hardware drivers
Manual creations of restore points
Etc.

Once a day by default

Windows 10
Windows 8.1/8
Windows 7
Windows XP
Windows Vista
What Does Windows Restore Point Do:
Undo unwanted system changes - such as to revert Windows to an earlier date.
Protect OS from system crash, like Windows 10 update failure.
Restore computer from Windows 10 BSOD error, boot failure error. 
Save Windows from application crash, virus attack.
Restore applications or lost files from a previous restore point. 
So how to create a Windows Restore Point to protect the computer, installed applications? In the next part, we'll take Windows 10 as an example to show you the process of creating Windows 10 restore point on your own. 
How to Create a Restore Point in Windows 10/7
Solution Source: support.microsoft.com
https://support.microsoft.com/en-us/windows/create-a-system-restore-point-77e02e2a-3298-c869-9974-ef5658ea3be9
Step 1. Press Windows + S keys, type create a restore point in the search box. 
Click to open it in the control panel.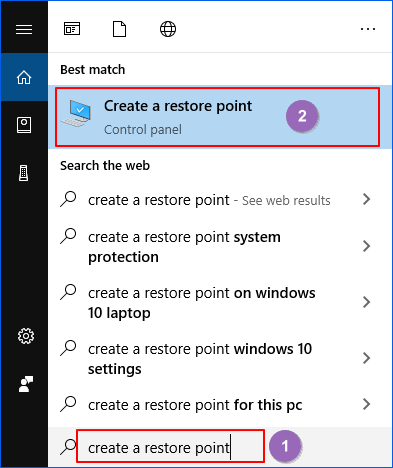 Step 2. On the System Protection tab, click "Create".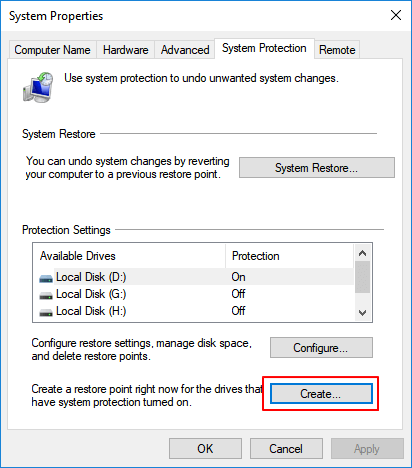 Step 3. Type a description of the restore point and click "Create".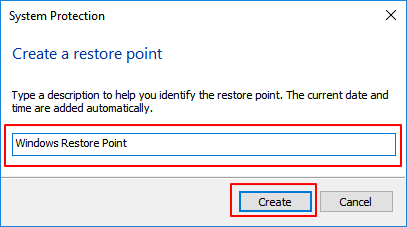 Step 4. Click "Close" when System Protection pops up a note, saying "The restore point was created successfully".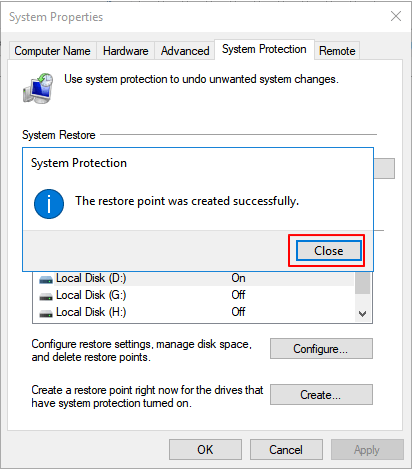 Note that the process also works to help you create a Windows Restore Point in Windows 8/8.1.
As for Windows 7, follow the tips below to create the restore point:
1. Click "Start" > "Control Panel" > "System and Security" > "System".
2. Go to the System Protection tab > click "Create".
3. Name the restore point, click "Create".
4. Click "Close" when Windows tells restore point was created successfully.
When you finish creating the restore point on your computer, you can perform a System Restore or revert Windows 10/7 to a previous date at any time. How to use it? Check the next tutorial guide. 
How Do I Restore (Windows 10) Computer to an Earlier Date
Step 1. Press Windows + S keys, type control panel in the search box, and click to open it.
Step 2. On Control Panel, click "Recovery" > "Open System Restore".
Step 3. Click "Next" on the Restore system files and settings window. 
Step 4. Select the latest or an earlier Windows restore point that you created on an earlier date, select "Scan for affected programs". 
Step 5. If you see a list of items that will be deleted if you use the selected restore point.
Back up these affected items to an external hard drive first. 
Step 6. Then, click "Close" > "Next" > "Finish".
If you selected the wrong Windows Restore Point, you can also cancel the operation, see how to do it:

How to Undo System Restore in Windows 10/8/7 
According to different Windows Operating Systems, the ways to undo System Restore are variable. And here you can follow the specific methods on your Windows OS for a guide now.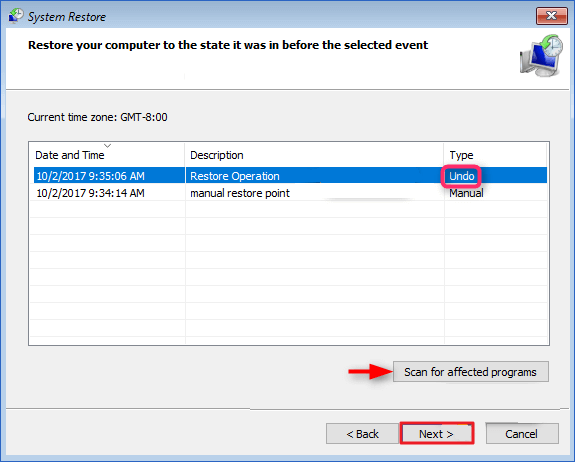 Windows Restore Point vs Windows OS Backup, Which Is Better? Pros & Cons
According to some Windows users, there is another easier solution to protect your data, applications, and even Windows system. It is to create Windows OS backup via a third-party Windows system backup software. 
So what's the difference between Windows Restore Point and Windows OS backup? Check the Pros and Cons of these two solutions:
Which Is Better
Windows Restore Point
Windows OS Backup
Pros

Free
Backup OS, applications, and desktop files.

Backup OS, applications, desktop files.
The Windows OS backup image can be saved to a non-system drive, taking up small space with a compressed image.
OS image won't disappear whether you've enabled or disabled System Restore.

Cons

All Windows restore points will be deleted once you disable System Restore.
Windows restore points takes up huge space in system C: drive.
Which is better? According to the comparison table, Windows OS backup saves the C drive space and won't be removed when you did some configuration changes to the computer. 
Reliable Windows backup software - EaseUS Todo Backup is here to help. 
Bonus Tip: How to Backup Windows (10) OS with Windows Backup Software
Step 1. On the main page, click "Select backup contents".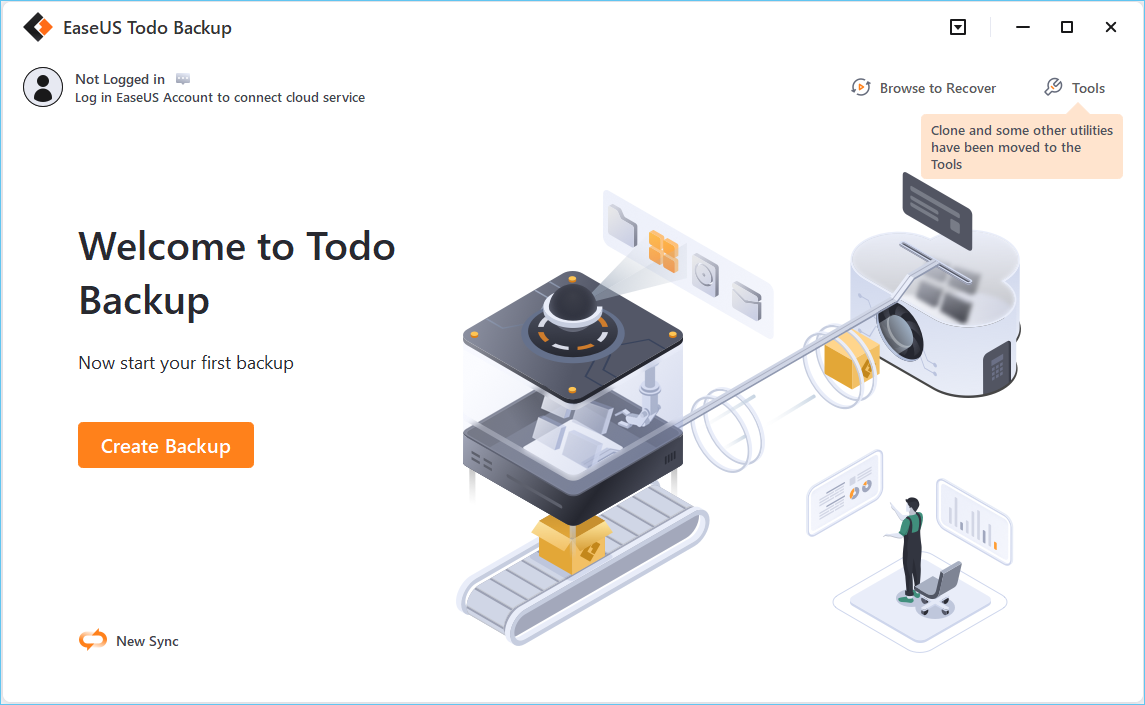 Step 2. Among the four available categories, click OS.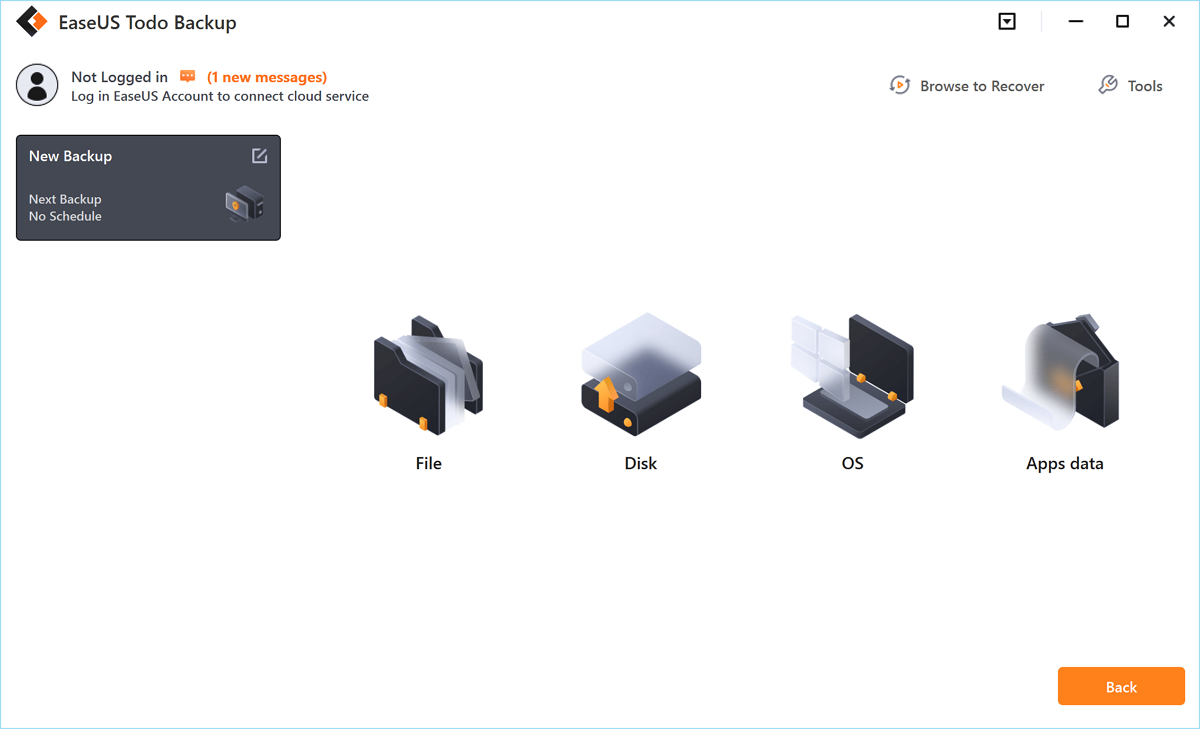 Step 3. EaseUS Todo Backup will automatically select your system partition, you only need to select the backup destination.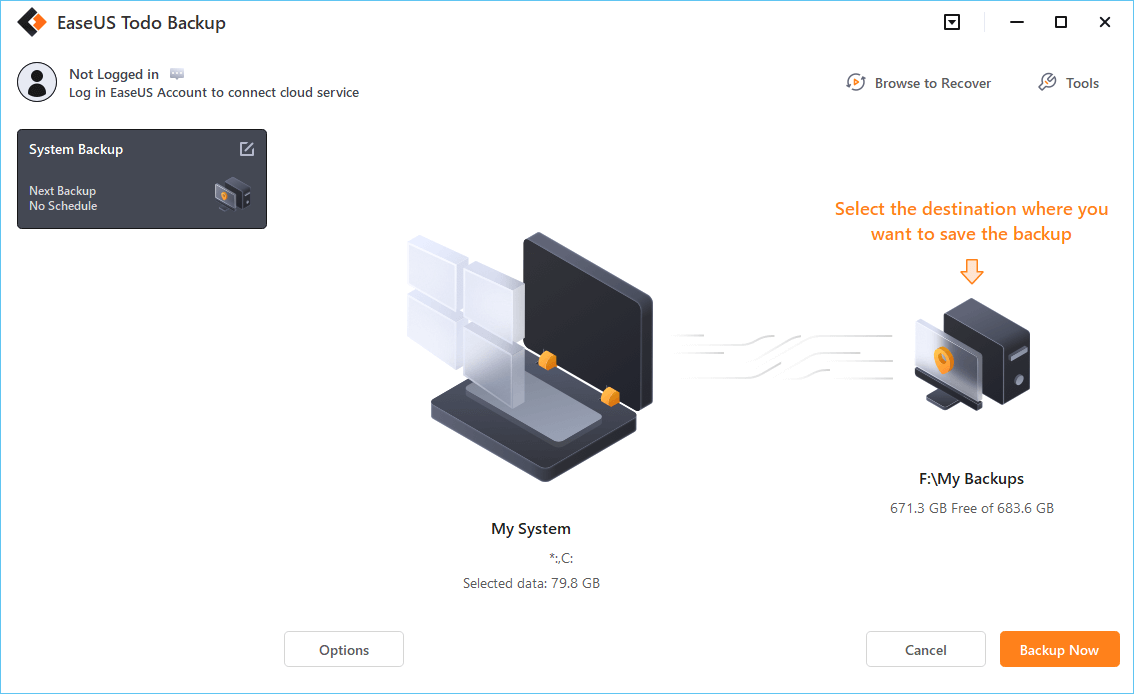 Step 4. Both Local Drive and NAS are available for you to save the backup file.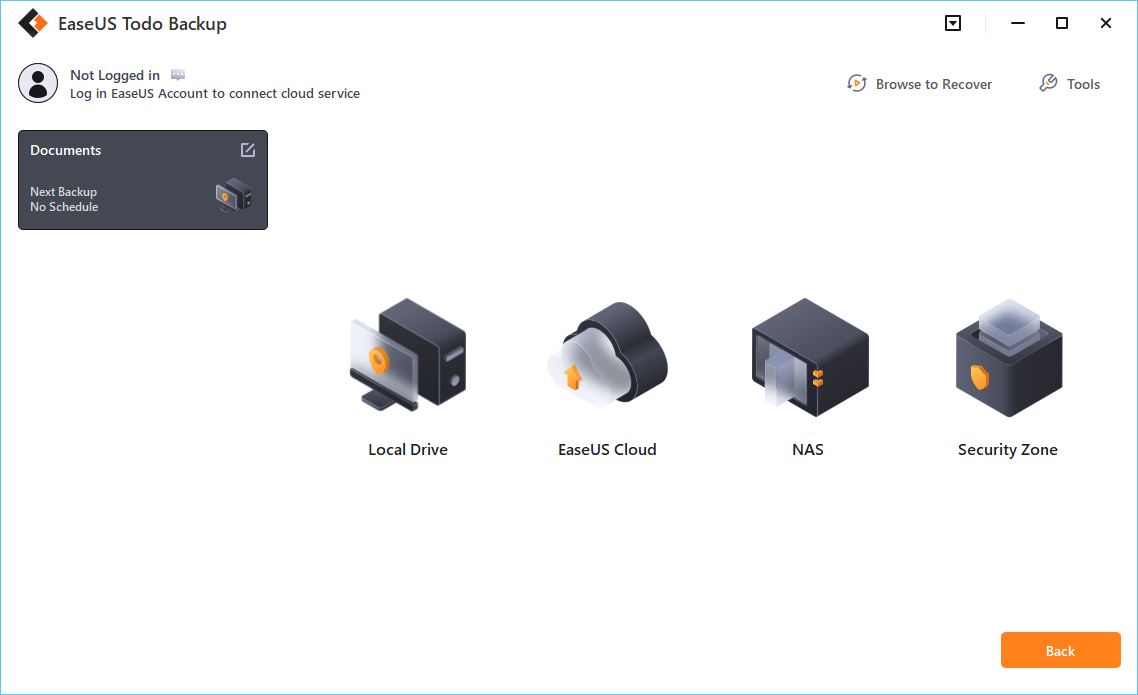 Step 5. After finishing the backup process, you can check the backup status, recover, open, or delete the backup by right-clicking the backup task on the left.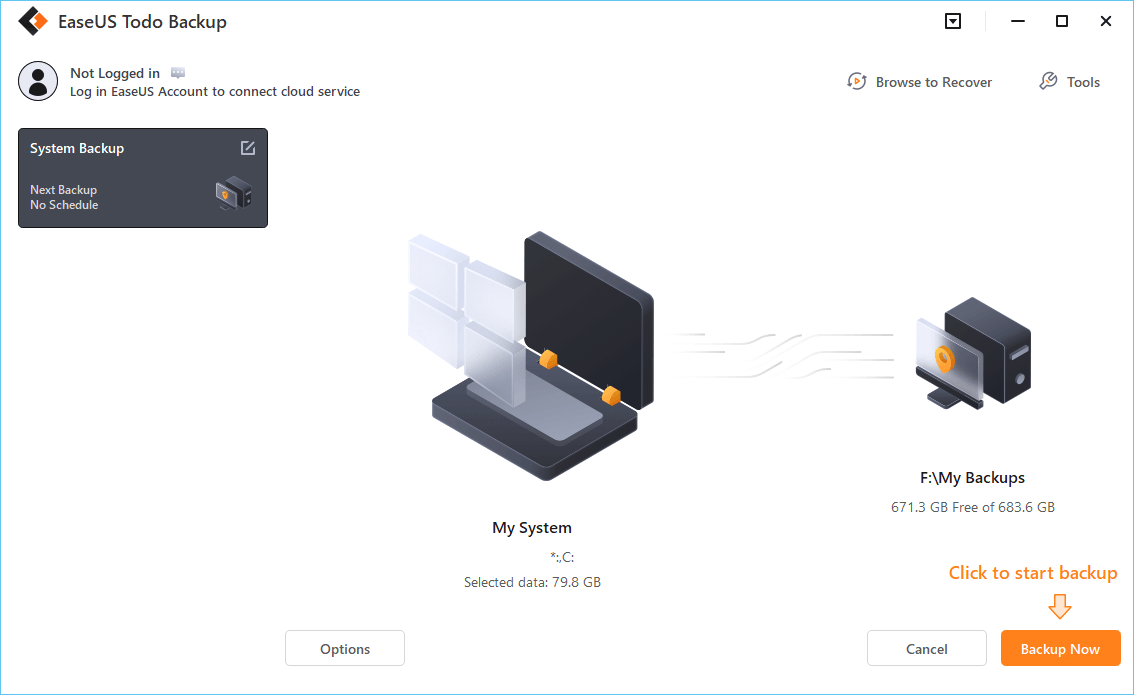 #2. Restore Windows 10 To An Earlier Date via OS Backup Image
If you need to revert Windows OS to a previous state, you can apply EaseUS Todo Backup and restore system with the OS backup image.
* To perform system recovery on a none-bootable machine, try to boot the computer through the EaseUS Todo Backup emergency disk.
Step 1. Launch EaseUS Todo Backup, click "Browse to Recover".
Step 2. Guide to your backup destination, choose the system backup file you need. (The backup file created by EaseUS Todo Backup is a pbd file.)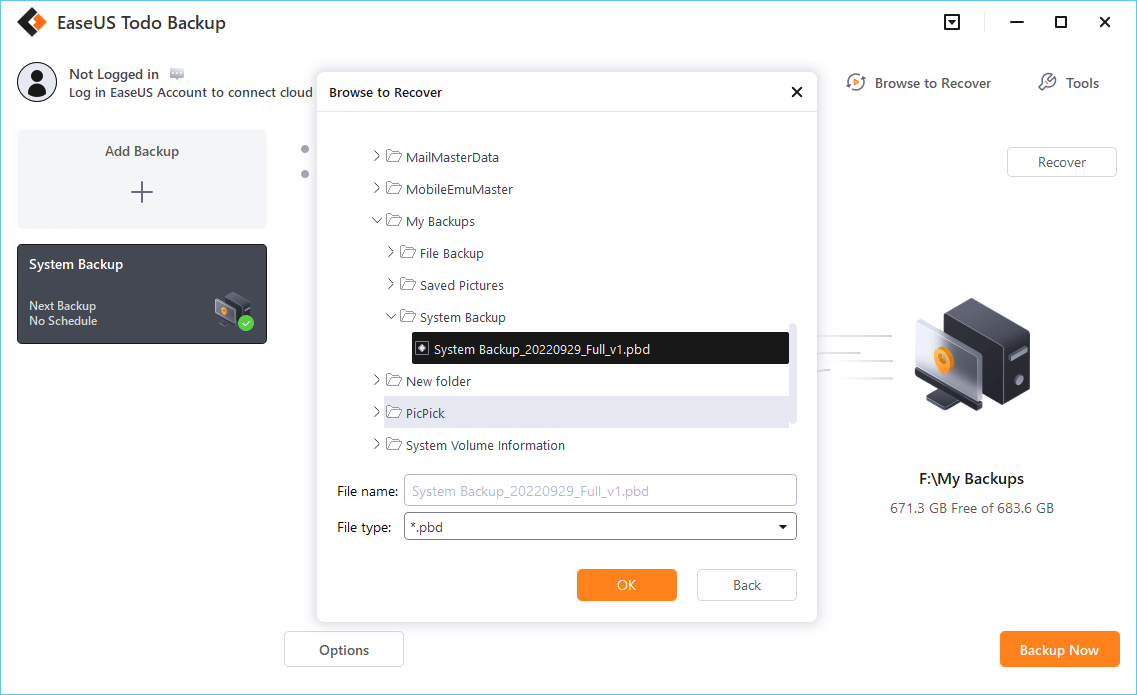 Step 3. Choose the recovery disk. Make sure that the partition style of the source disk and the recovery disk are the same.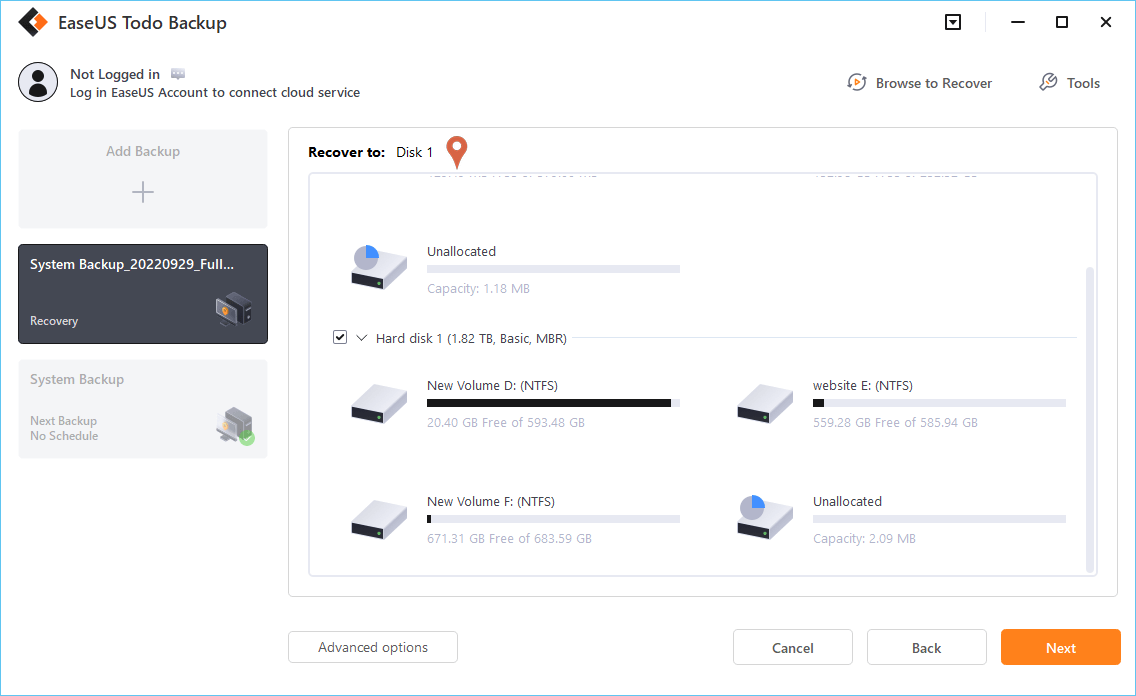 Step 4. You can customize the disk layout according to your needs. Then click "Proceed" to start system backup recovery.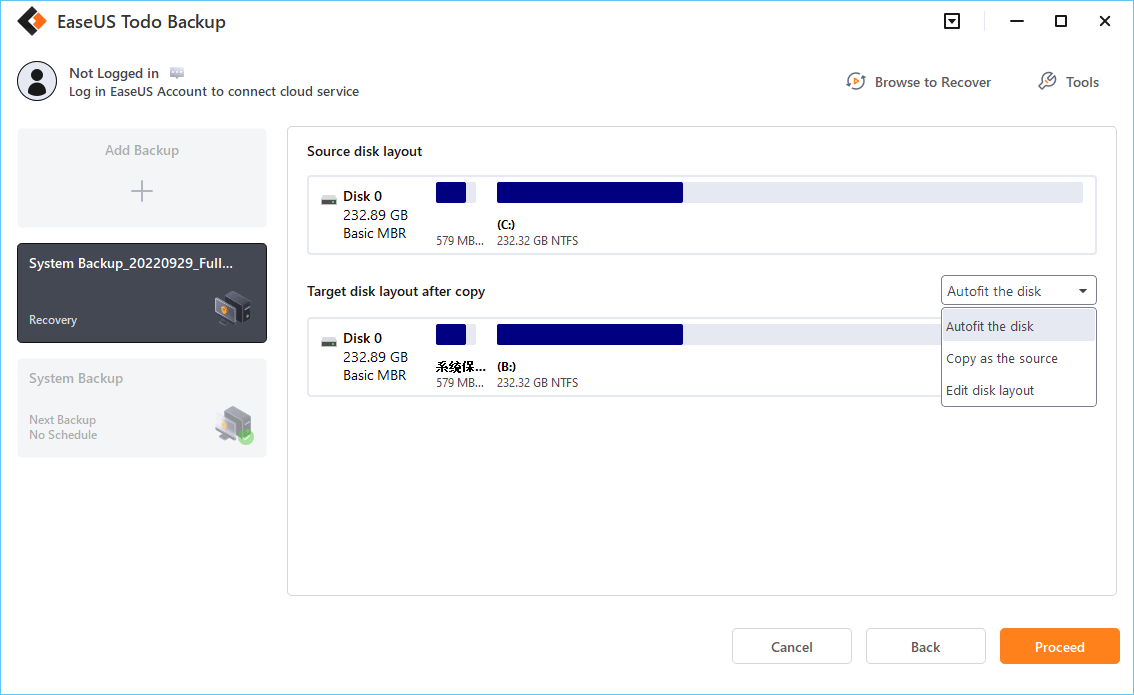 You May Also Be Interested: FAQs About Windows Restore Point
On this page, we explained that is Windows Restore Point and how to create and use it. Here we also collected some questions that are related to Windows Restore Point, and if you have the same doubts, check and find answers here.
1. How do I find an earlier restore point? [View restore points windows 10]
Press Windows + R keys, type rstrui in the Run dialog, and click "OK".
If you didn't perform System Restore, click "Next".
If you had previously done a System Restore, check "Choose a different restore point" and click "Next".
All the Windows restore points that you've created will be listed with a date and time created, description, and type information. 
2. Where does Windows 10 save the restore point? 
The physical location of the Windows 10 restore point is located in the root directly of your system drive, in the folder - System Volume Information.
To view it:
Open Control Panel > Recover > File Explorer Options > View Tab.
Uncheck "Hide protected operating system files" and click "Apply".
Open File Explorer > C: drive > System Volume Information folder will appear.
Right-click on the folder > Properties > Security > Advanced.
Click "Continue" > "Add" > Type the username that to get access rights > "OK"
Check "Full control" under Basic permissions > "OK". 
You can find the System Volume Information folder in the C drive then. 
3. Will System Restore Delete My Files? 
System Restore takes a "snapshot" of some system files and the Windows registry and saves them as Restore Points. Here is a form that lists the affected and not affected programs and files by running System Restore:
Installed Windows programs
System files
Registry settings
Windows Updates
Desktop saved files and folders
For example, if you created a folder or edit a document on your computer desktop. Then you perform a system restore, the OS and all files in the C drive will be reverted to an earlier date. So the files will be lost. For more information, follow Will System Restore Delete My Files. 
Gemma is member of EaseUS team and has been committed to creating valuable content in fields about file recovery, partition management, and data backup etc for many years. She loves to help users solve various types of computer related issues.
Written by Tracy King 
Tracy joined in EaseUS in 2013 and has been working with EaseUS content team for over 7 years. Being enthusiastic in computing and technology, she writes tech how-to articles and share technical solutions about Windows & Mac data recovery, file/system backup and recovery, partition management and iOS/Android data recovery.
Taking everything into consideration, we can say that EaseUS Todo Backup Home can offer you a little extra sense of security with a set of advanced tools. The interface provides quick adaptation, every process guiding you all the way through so you don't get stuck or further damage your system rather than keeping it safe.

 Read More

EaseUS Todo Backup Free lets you create backups of your important files or your entire computer through its streamlined interface. Just choose the backup type you'd like to get started, and let the program do the reset.

 Read More

EaseUS includes all the features I expect from backup software like versioning, incremental backups, and scheduling. For more advanced users, EaseUS allows you to install a pre-boot environment onto your hard drive so you can use it to restore files without burning a CD or putting it on an external USB drive.

 Read More

EaseUS Todo Backup
Smart backup tool for your files and entire computer in Windows 10/8/7.
Install Windows on Multiple Computers at Once? No Problem!
Learn how to install Windows 11/10/7 and special programs/software on a batch of computers. Use 10 minutes to do the 10 hours work without making a single mistake!
Get Free Solution!