Is your computer suffering from the low performance? Then follow along, as changing these settings might help you.
Windows 11 has come bearing a lot of new features, but it has its fair share of problems as well. Many users have reported constant crashes, lowered gaming performance, and an overall troublesome experience.
However, that doesn't mean it should remain that way. Mainly because you can change and tweak settings in this operating system, as any other Microsoft Windows, to make it perform better. So, which Windows 11 settings to change and achieve better performance? Let's find out.
Introduction To Windows 11 & It's Settings
Windows 11 is Microsoft's latest premier operating system for its users. Everyone who bought the final edition of Windows 10 got this as a complimentary upgrade. However, things soon began to become problematic, as a lot of people started facing problems.
Since October 2021, many people have reverted back to Windows 10. Some have even gone as far as calling it a "failure." It's not difficult to argue with such problems faced by users, as they keep on happening.
However, Microsoft soon got on the case and started fixing the bugs and troubles by sending constant, minor, and significant upgrades. So far, the problems that have occurred include:
Problems with UI, such as inconsistency in loading times
Taskbar and start menu not performing well
Bloatware and other tools that reduce performance
Heavily reduced gaming performance, even on the latest heavy-hitting hardware
Countless bugs and troubles with in-built tools and programs
Now Microsoft is still working on fixing these problems. However, it's already too late as a lot of people have already reverted to stable Windows 10 releases. But, that doesn't mean Windows 11 is beyond repair or saving.
Therefore, we'll be exploring the numerous ways you could be fixing. So, let's dive and see the seven settings you need to change in windows 11.
1. Recommended Items
Recommended settings in Windows 11 are a fresh piece of air for many. It offers a glimpse into your most accessed tools, programs, and files. However, it also makes for a very buggy start menu. Since this tool is still in its initial shape, it's recommended that you turn it off (no pun intended).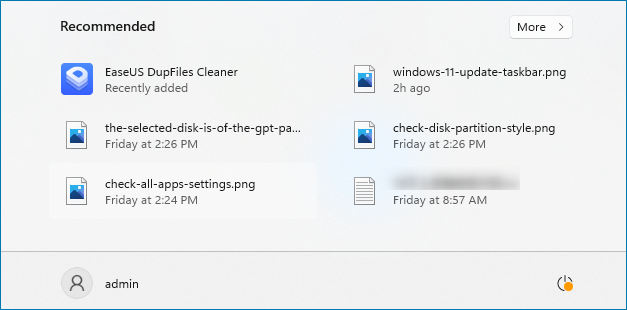 Here's how to turn it off:
Step 1. Click on the Start button and head to Settings.
Step 2. Click on Personalization in the sidebar.
Step 3. Head into the "Start" Section.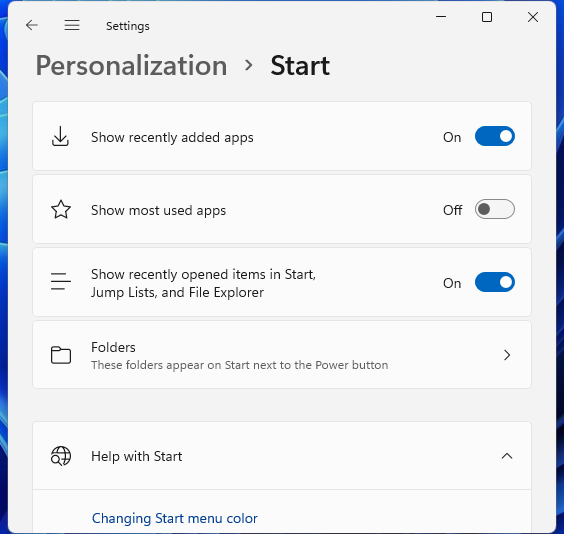 Step 4. Turn off "Show recently added apps".
Step 5. Uncheck "Show recently opened items in Start, Jump Lists, and File Explorer".
If you follow these instructions, then you will notice that your Windows performance improves significantly.
Also Read:
2. Notification and Ads
Notification and ads are two of the most annoying aspects that Microsoft has added to Windows 11. While they had the same issue in Windows 10, it just seems to be much more prominent in their latest operating system. Here's how to change that:
Step 1. Fire up Windows Settings, head to System, and click on Notifications.
Step 2. Turn off any inconvenient options.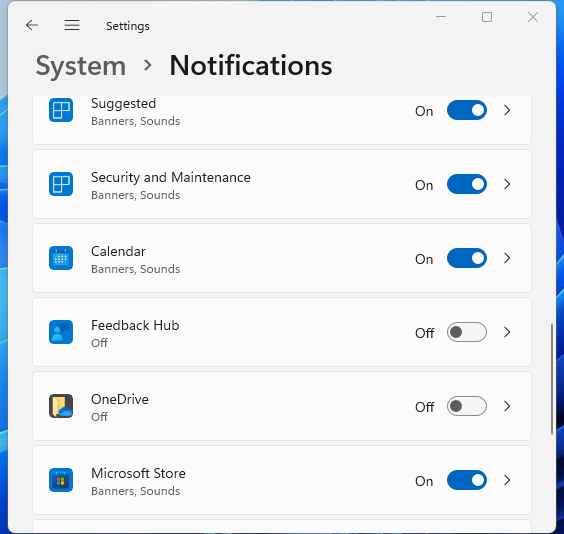 When you turn these off, your Windows will stop hogging windows memory and processor performance. As a result, you will notice a marginal increase in performance.
3. Privacy & Security
Privacy settings in Windows 11 aren't much different from their predecessor. However, you do need to ensure you keep a few key things up, such as Windows updates. So, what exactly do you need to change? Here are a few settings:
Step 1. Open up Settings from your Start menu.
Step 2. Click on Privacy & Security in the sidebar.
Step 3. Scroll down to "General".
Step 4. Turn off all the settings one after the other.
Turning off these settings will stop sending data from your computer. It will save a lot of your bandwidth and system memory.
4. App Permissions
App permissions can slow down your computer or make your internet drowsy. So, to deal with this, head to your settings once more and:
Step 1. Click on Apps in the sidebar.
Step 2. Browse the list and take note of unnecessary/unused apps.
Step 3. Turn off permissions such as Camera or Microphone.
Doing this will ensure no unnecessary app uses your extensive hardware. Therefore, it will further improve your PC's performance.
5. Block Apps
You can find various applications in the same settings section that takes up your computer's memory and internet. That's why we have to head back to settings once more:
Step 1. Open Settings, and head to Apps.
Step 2. Click on Apps & features.
Step 3. On the top, click on "Choose where to get apps".
Step 4. Change the setting to "Microsoft Store only".
While this setting will ensure that your apps don't get updated besides the Microsoft store, you still need to stop specific apps from accessing the internet. So, open the Windows Defender Firewall on your computer.
Step 5. Head to Advanced settings
Step 6. Click on Exit Rules on the left side
Step 7. Make a new rule, and pick the program you wish to stop accessing the internet
Step 8. Click on "Block connection" in the next frame
Step 9. Enter the name of the firewall rule, then click "End Up"
This will stop specific apps from accessing the internet without your permission.
6. Startup Apps
Startup applications can slow down your computer. However, you do need a few of these apps to keep running. In order to do that, you need to turn off the ones you don't need. Here's how:
Step 1. Right-click on Taskbar and click Task Manager
Step 2. Click on the app you wish to stop running at startup
Step 3. Then click on the "Disable" button in the bottom-right corner
You can additionally stop other apps from starting up by following these steps:
Step 1. Press Win+R on your keyboard.
Step 2. Type "MsConfig" in Run.
Step 3. Head to the "Services" tab.
Step 4. Click on "Hide All Microsoft Services".
Step 5. Then click on "disable all" and apply, then restart your computer.
7. Sign In With a Local Account
Creating a local account can save you from a lot of unnecessary updates and other elements. That's why you need to change this setting by default as well. Here's what you need to do:
Step 1. Open Settings
Step 2. Head to Accounts
Step 3. Click "Family & other users."
Step 4. Click on "Add account."
Step 5. Then instead of entering an email or phone number, use the "I don't have this person's sign-in information" open underneath it
Step 6. Click on Add a user without a Microsoft account
Step 7. Add username and password, then a security question
Wrap Up
All these Windows 11 settings to change can vastly improve your PC's performance. Follow each of these steps thoroughly, and make sure you make a checklist of these setting tweaks.
Updated by Gemma
Gemma is member of EaseUS team and has been committed to creating valuable content in fields about file recovery, partition management, and data backup etc for many years. She loves to help users solve various types of computer related issues.
Taking everything into consideration, we can say that EaseUS Todo Backup Home can offer you a little extra sense of security with a set of advanced tools. The interface provides quick adaptation, every process guiding you all the way through so you don't get stuck or further damage your system rather than keeping it safe.

 Read More

EaseUS Todo Backup Free lets you create backups of your important files or your entire computer through its streamlined interface. Just choose the backup type you'd like to get started, and let the program do the reset.

 Read More

EaseUS includes all the features I expect from backup software like versioning, incremental backups, and scheduling. For more advanced users, EaseUS allows you to install a pre-boot environment onto your hard drive so you can use it to restore files without burning a CD or putting it on an external USB drive.

 Read More

EaseUS Todo Backup
Smart backup tool for your files and entire computer in Windows 10/8/7.
Install Windows on Multiple Computers at Once? No Problem!
Learn how to install Windows 11/10/7 and special programs/software on a batch of computers. Use 10 minutes to do the 10 hours work without making a single mistake!
Get Free Solution!