Quick navigation to choose the best Windows 11 download plan:
| Workable Solutions | Step-by-step Troubleshooting |
| --- | --- |
| Free Download vs Free Upgrade | Make sure that your purpose is a free download instead of a free upgrade...Full steps |
| Get All Four Options | |
| Must-have Backups  | Installation of Windows always has a risk of data loss or deletion...Full steps |
With the launch of Windows 11 in October 2021, it became a hot topic in the global tech community. Windows is one of the most popular and most used operating systems globally, and this is why it has gained so much hype.
Windows 11 brought many upgrades over the predecessor, Windows 10. The most important update of Windows 11 was safety and security. Your data and passwords are more secure in Windows 11 due to its advanced security algorithm.
But, there is a problem for those using the older version of Windows. They are confused about whether they should download the free full version of Windows 11 or upgrade it for free. Both of these have pros and cons, so let's discuss them.
***Here's a collection of articles revolving around Windows 11 download and install:
Windows 11 Free Download Full Version vs. Free Upgrade
There is a vast difference between downloading the full version or upgrading to the latest one. However, it is still a subjective matter, and you can choose to go with the one that fits you well. Furthermore, if you decide to download the full version, you will have to install it from scratch, which requires an ISO file.
If you are upgrading from an older version of Windows to Windows 11, it will only install the necessary updates and keep the rest of the files. Moreover, upgrading is a considerably quick process as it does not install Windows from scratch.
On the other hand, to install Windows from scratch, there is a risk of data and settings loss, and you will have to configure everything again. But, if you upgrade from an older version to Windows 11, you won't have to lose any settings or data.
Based on the explanation of the difference between the free download full version and the free upgrade, are you sure you still want a free download? If yes, read on to get a detailed guide.
How To Get Windows 11 Free Download Full Version
***Windows 11 free download full version, namely to clean install Windows 11, is a process of erasing an old hard disk data and reconfiguring a new Windows installation. You must take a significant backup with free backup software to avoid data loss during Windows installation.
Option 1. Use Windows 11 Installation Assistant
Using Windows 11 installation assistant is one of the quickest and easiest ways to install Windows 11 on your PC. But, before you start, make sure to check the system requirements and make sure that your PC meets the minimum requirements for Windows 11.
Here is how you can start:
Log on to the Microsoft Official website for Windows 11 download. 
Scroll down to Windows 11 installation assistant and click on download now
Your PC will now download an installation file and run it after downloading.
When you select Accept and Install, your Windows 11 setup will be upgraded to Windows 11. You must be free to use your computer during the downloading and installation. 
In the end, you will be requested to restart your computer when the setup is complete. If you need more time to save all the ongoing activity, you may either restart the system right away or wait for the 30-minute countdown to expire. 
You may sign in to Windows after your computer has rebooted. After completing the final setup, you'll be placed on your new Windows 11 desktop.
Option 2. Create Windows 11 Installation Media
Another easy way to install Windows 11 is by creating an installation media. Here is how you can do it:
Download and run the media creation tool
Following that, you have three options for installing the operating system. The Installation Assistant, installation media, or a disc image are all options (ISO file). 
Right, Click Download Now after scrolling down to the Create Windows 11 Installation Media option.
You'll be prompted to approve the licensing terms and verify the languages and versions for Windows 11 throughout the initial setup. You'll then be prompted to choose between a USB device with at least 8GB of storage space and an ISO file that you may burn on a DVD. If you use a USB drive, be sure it's plugged into your computer. Then click next.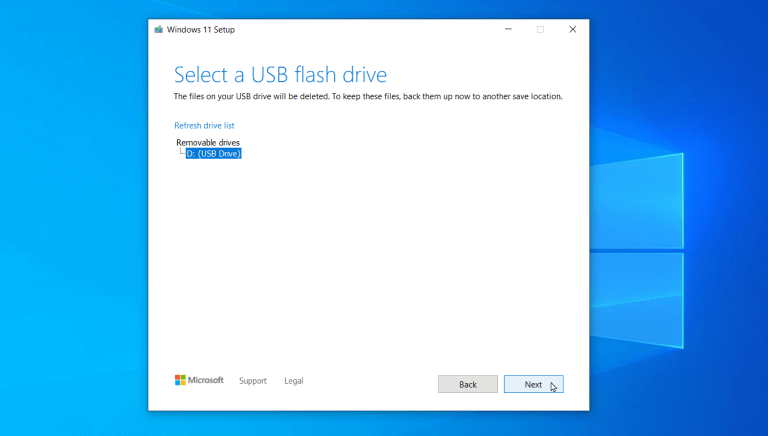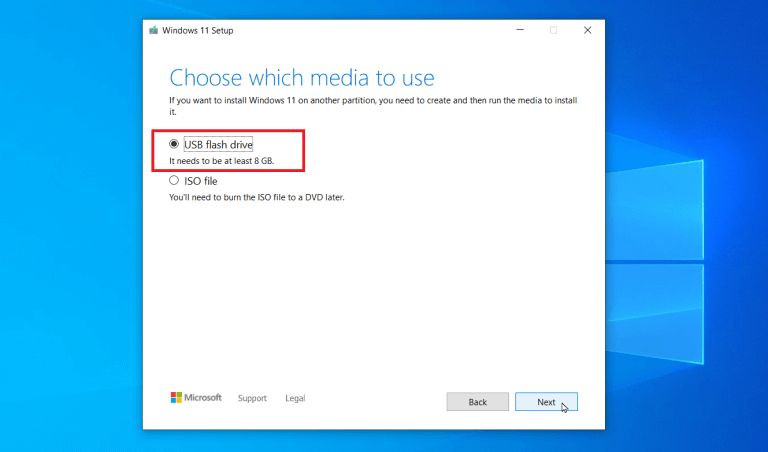 Suppose you have more than one detachable disc attached to your computer. Then click next. The application installs Windows 11 to your USB drive before creating installation discs. Click Finish after the procedure is completed.
Option 3. Download Windows 11 Disk Image
Do you like to go with DVD? Pick the ISO file button; Click Next on the page to choose which media to use. Modify the file's title to something more specific, such as Windows 11.iso, then save it to the location you want it to go to. Allow the document to be transferred to the specified folder after clicking Save.
The application will prompt you to burn the ISO file to a DVD as soon as the procedure is finished.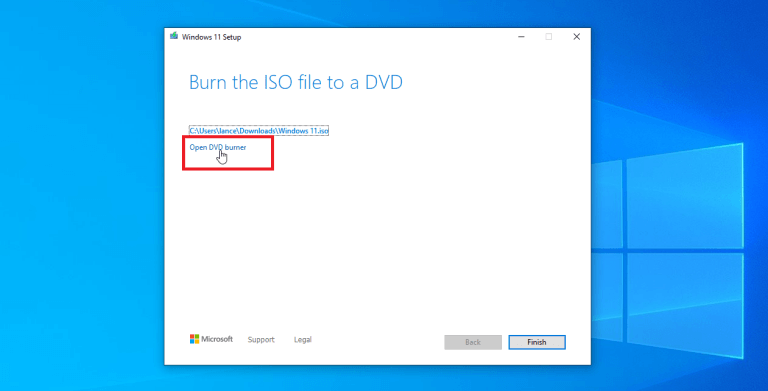 Rather than launching the built-in Disc Image Burner software, Microsoft displays a dialogue window with the filename of the downloadable file and command-line options for using the utility. Dismiss the message by clicking OK, then stop the Media Creation Tool by clicking Finish.
You may utilize the Image Burner tool like Rufus, but there's a more straightforward method. Put a writable DVD in the disc tray of your computer. Right-click on the Microsoft Windows ISO file in Windows Explorer, then pick the Burn disc image option.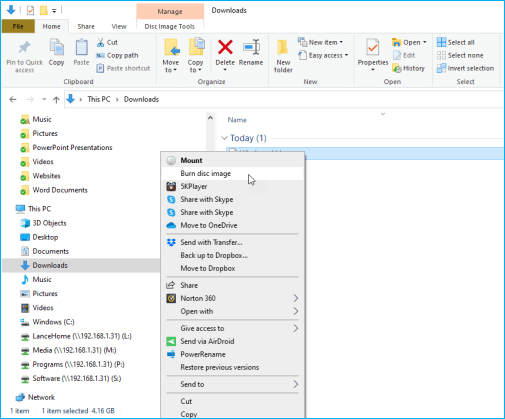 Option 4. Windows 11 Downloader Software
The easiest way to upgrade from Windows 10 to Windows 11 is using automated downloader software. EaseUS OS2GO is the best Windows downloader software of all. Using this software, you can create a portable Windows 10/11 disk or a bootable windows USB for Mac. 
Furthermore, it is a cheap option, but still,l you can have a free trial to check its capabilities and then spend your money wisely.
Step 1. Install EaseUS OS2Go on your Windows computer. Plug in a USB drive or external hard drive that is large enough.
Step 2. Choose the third tab "Windows Install Drive Creator". First choose the Windows versions you want to install, EaseUS OS2Go supports creating Windows 11/10/8.1 installation media. You could also select a local ISO file. When all set, click "Create".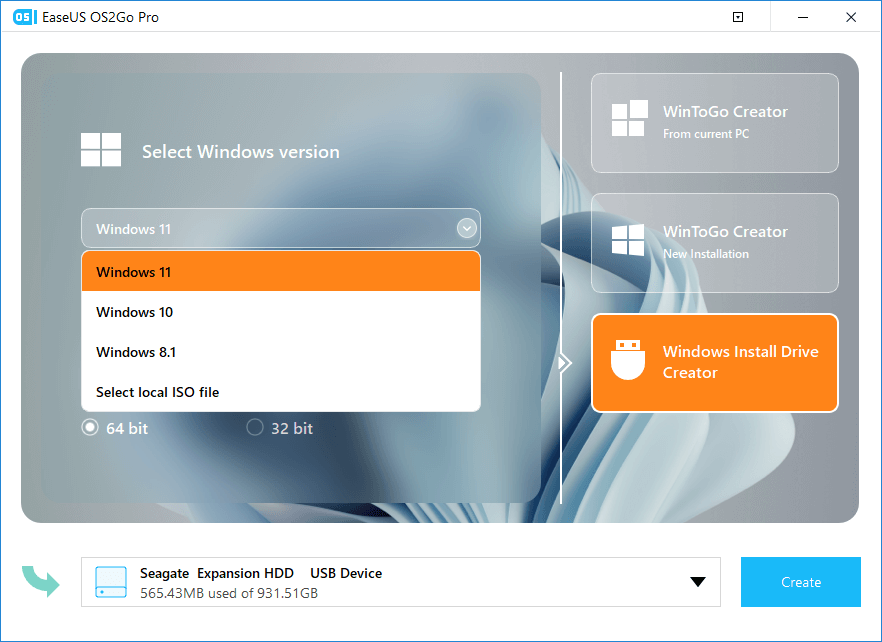 Step 3. Then you will see a safety warning message, telling you that all data on the selected disk will be deleted. Click "Continue" to proceed.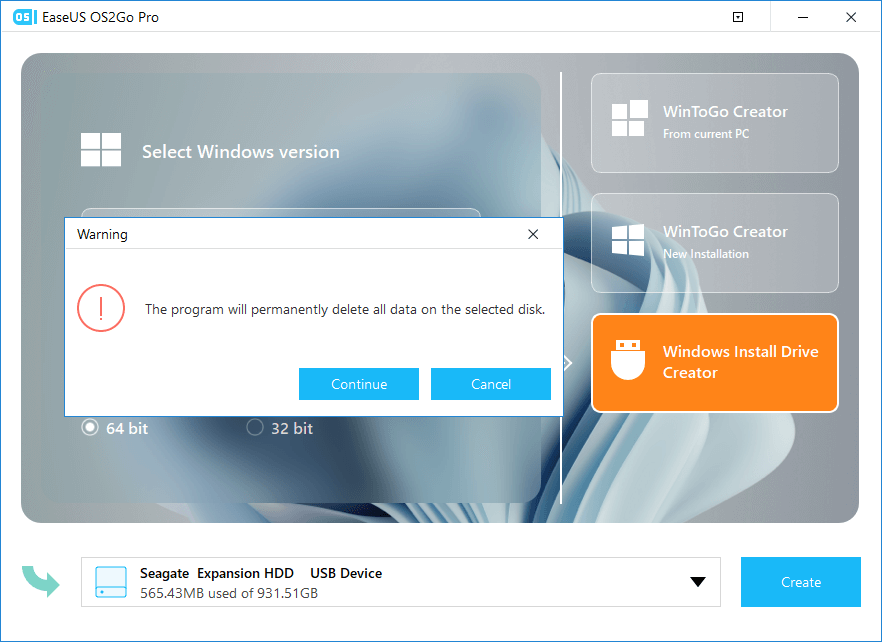 Step 4. Then EaseUS OS2Go will start to create the Windows Installation media. It usually takes a while to download a ISO file, the time it takes depend on your OS and Network condition. When the progress reaches 100%, the USB drive should be bootable now.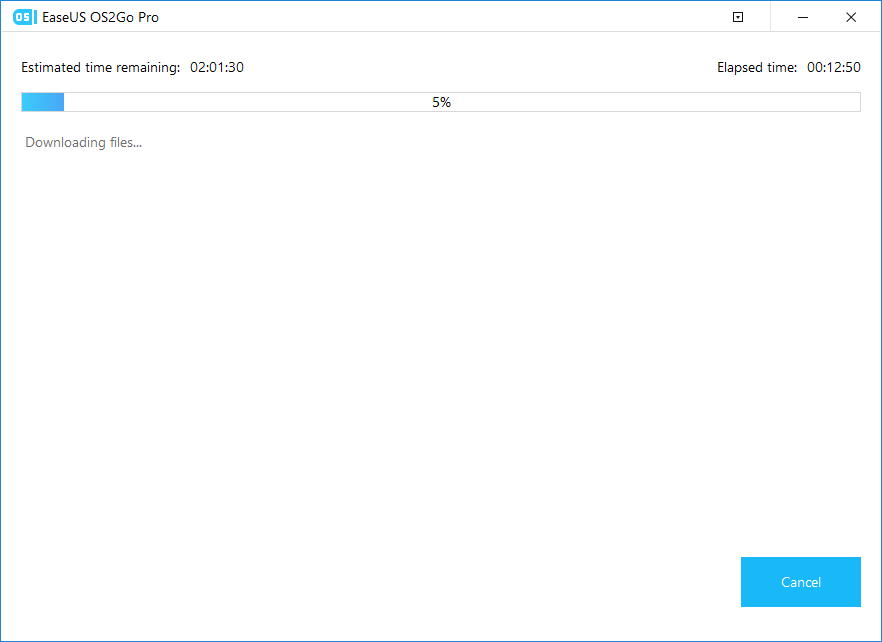 Step 5. Insert the Windows Installation media to your computer and start the installation process.
Take A Significant Backup Before Installing Windows 11
Installation of Windows always has a risk of data loss or deletion. Therefore, it is essential to backup all your necessary data beforehand and stops worrying about potential data loss. However, not all data backup software on the market are trustworthy.
EaseUS Todo backup free is the best option in such conditions, and it has huge cloud backup storage for free users. Moreover, EaseUS Todo backup free is an old player in the industry with tons of positive customer feedback. So, you should not worry about data theft either if you are backing up your data with the best free backup software.
Step 1. Open EaseUS Todo Backup and choose "Create Backup" on the home page, click "Select backup contents".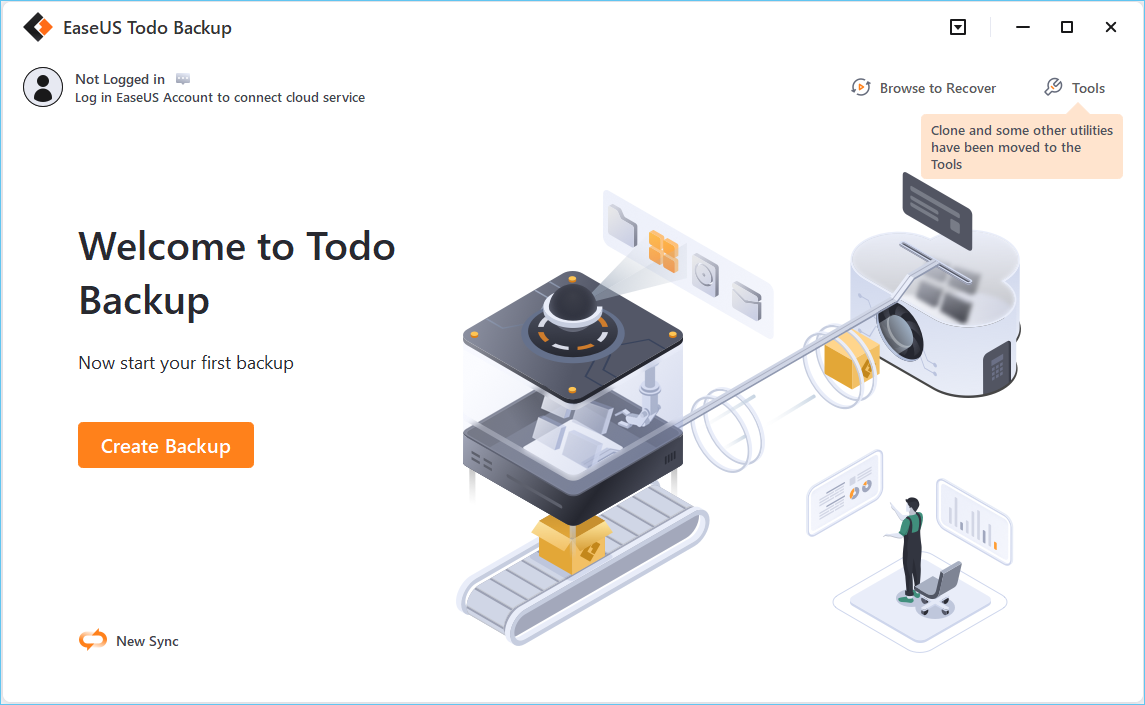 Step 2. As you want to back up your Disk, just click "Disk" to start back up.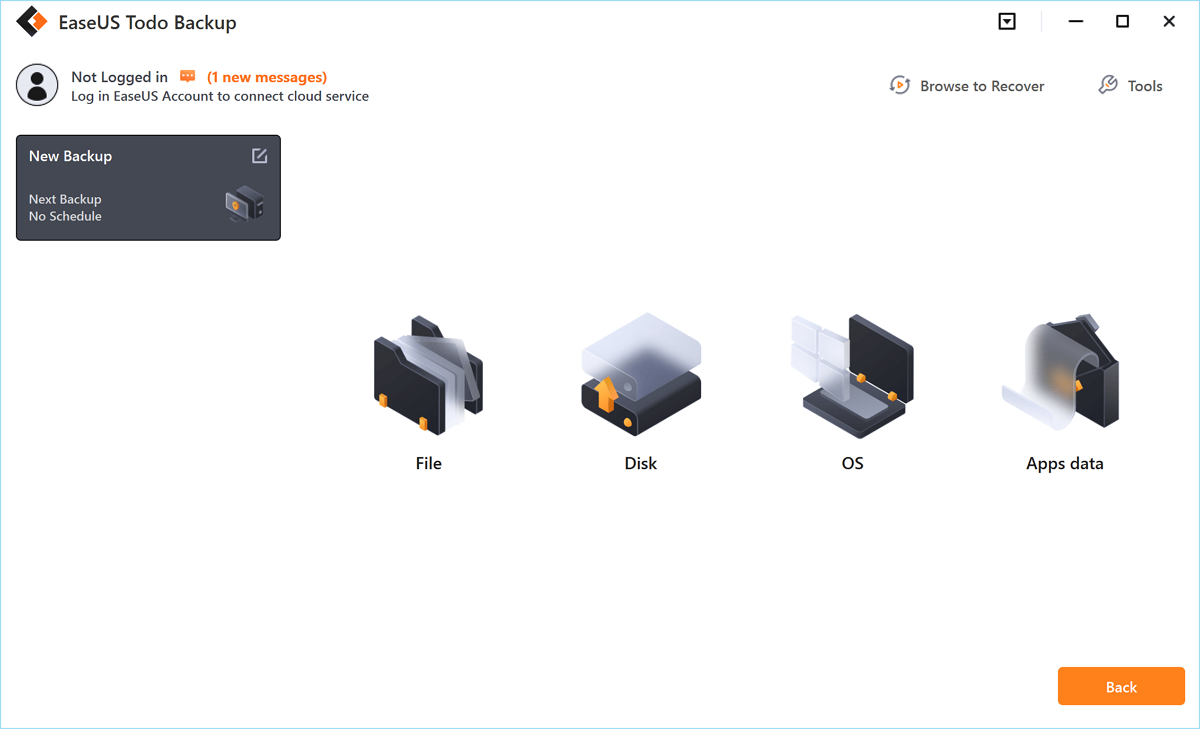 Step 3. EaseUS Todo Backup offers you options. You can choose to back up a whole disk or a certain partition as you need. And then click "OK".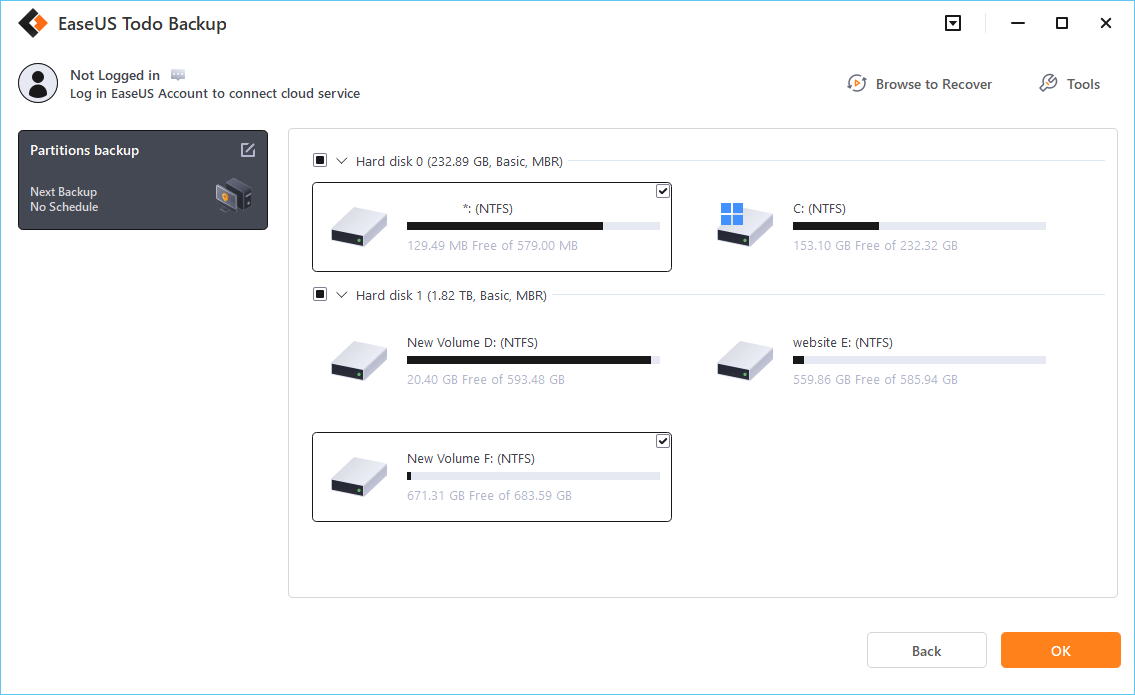 Step 4.  Select the destination where you want to save the backup. You can choose to save the disk to a local drive or to NAS.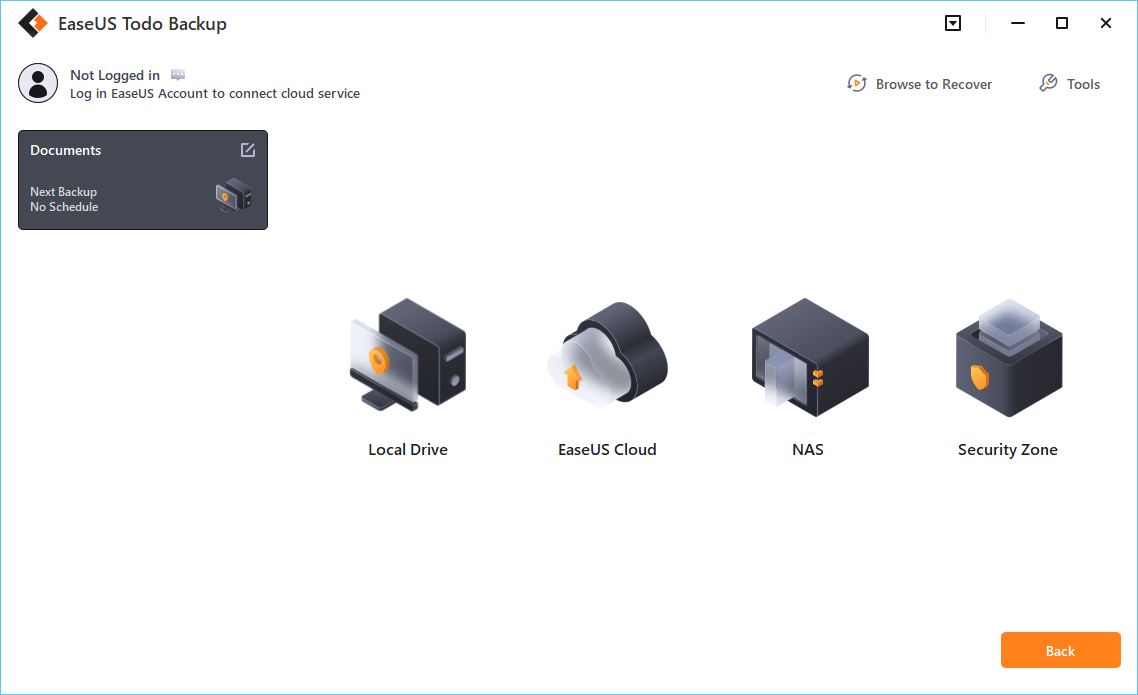 Step 5. Click "Backup Now", after the backup process is completed, you can right-click any one of the tasks to further manage your backup such as recover it, create an incremental backup, etc.
FAQ on Windows 11 Free Download Full Version
1. Can I Download Windows 11 for free full version?
No, Windows 11 is not yet available for free download. Microsoft has not announced any plans to release a new version of Windows. However, you can upgrade to Windows 11 for free if you're currently running an eligible version of Windows 10.
2. Is Windows 11 full version available?
Windows 11 operating system was released in Oct 2021 and is the latest version of Windows. You can upgrade to Win11 and try it new features.

Updated by Larissa
Larissa has rich experience in writing technical articles. After joining EaseUS, she frantically learned about data recovery, disk partitioning, data backup, and other related knowledge. Now she is able to master the relevant content proficiently and write effective step-by-step guides on computer issues.

Jean has been writing tech articles since she was graduated from university. She has been part of the EaseUS team for over 5 years. Her special focuses are data recovery, disk partitioning, data space optimization, data backup and Mac OS. By the way, she's an aviation fan!
Taking everything into consideration, we can say that EaseUS Todo Backup Home can offer you a little extra sense of security with a set of advanced tools. The interface provides quick adaptation, every process guiding you all the way through so you don't get stuck or further damage your system rather than keeping it safe.

 Read More

EaseUS Todo Backup Free lets you create backups of your important files or your entire computer through its streamlined interface. Just choose the backup type you'd like to get started, and let the program do the reset.

 Read More

EaseUS includes all the features I expect from backup software like versioning, incremental backups, and scheduling. For more advanced users, EaseUS allows you to install a pre-boot environment onto your hard drive so you can use it to restore files without burning a CD or putting it on an external USB drive.

 Read More

EaseUS Todo Backup
Smart backup tool for your files and entire computer in Windows 10/8/7.
Install Windows on Multiple Computers at Once? No Problem!
Learn how to install Windows 11/10/7 and special programs/software on a batch of computers. Use 10 minutes to do the 10 hours work without making a single mistake!
Get Free Solution!