Windows 11 File History News & Best Alternative
Updated by
Gemma
on May 07, 2022
Since the Windows operating system's next version is rapidly approaching, many people are looking forward to its new looks and functionality. At the same time, other users have already had the opportunity to test the new operating system by participating in the Microsoft Windows Insider Program.
Some of those who have tried Windows 11 have praised the fresh new experience it provides, while others have expressed dissatisfaction with the problems that it has given them. However, Windows 11 brings a built-in File History tool to backup and restore the data for its users. This article covers the backup and restore features in the Windows 11 File History – and compares it to the current Windows 10 operating system.
Comparison: Windows 11 File History vs. Windows 10 File History
In general, there aren't any significant alterations in the functionality of File History in the operating systems Windows 10 and Windows 11. In particular, Microsoft deleted File History from the Windows Settings menu, making it impossible to set up file backup operations in that location anymore. When it comes to Windows 10, you may set File History activities in both Settings and the Control Panel.
Furthermore, the methods for configuring File History in Windows 11's Control Panel are identical to those for configuring File History in Windows 10. The factor that differs is the location of File History inside the Control Panel. However, the Add a folder choice in the Windows Settings for Windows 10 File History enables users to pick files from other non-system discs. However, we could not locate a matching option in the Windows 11 File History.
Suppose you wish to safeguard additional files that are not already in one of the specific folders picked by File History by default. In that case, you must first place them in one of the particular directories specified by File History. Overall, the Win10 version of File History performs far better than the Win11 version. However, because Microsoft aims to supplant it with OneDrive, File History will not be that vital for the whole operating system.

Compare Windows 11 and Windows 10: Five Facts You Should Know
Windows 11 is robust and interactive. But should you upgrade to Windows 11 from Windows 10? Compare Windows 11 vs Windows 10 here, you can clearly figure out the difference between Windows 11 vs Windows 10 in performance, speed, gaming experience, security, and get answers to more frequently asked questions.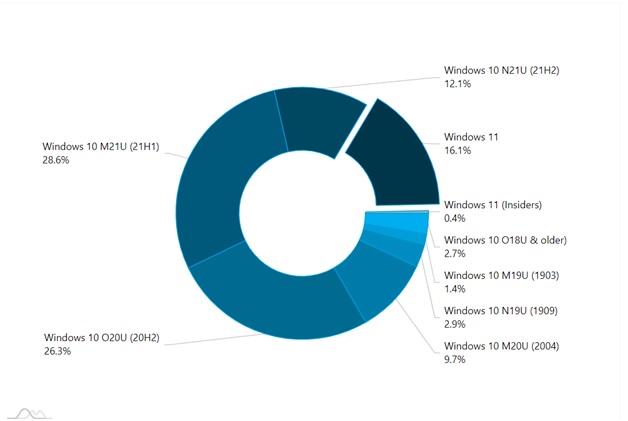 How to Backup with File History
Win11 File History is a broad term. Make a copy of the specified folders/files and save the copy to a location on a separate hard drive. So, if you wish to create a File History restore for your data on Windows 11, you must first prepare an external drive to hold the backup copy. Let us now look at how to backup files using File History on Windows 11.
Step 1: Hit the Search in the taskbar's center and type File history into the search column of the pop-up window.
Step 2: Now, choose File History. It will launch the Windows 11 Control Panel and lead you to it. Then, choose All Control Panel Items, followed by File History.
Step 3: If you are happy with the default settings in the right area, including the source files and destination choices, click Turn on to activate File History Windows 11.
Step 4 (optional): Select the Select drive tab on the left panel if you are dissatisfied with the default setup and wish to customize it. Select the disc you want to use as the file backup location in the new window.
Step 5: Choose Exclude folders to exclude directories that you do not wish to back up in the left menu. Add the items by clicking the Add button on the new screen. Don't forget to hit the Save Changes button as well.
Note: You can also activate additional crucial options for this File History Windows 11 procedure by choosing the Advanced settings link in the left panel. You may control how often Windows File History checks for file and folder changes behind Save copies of files.
How to Restore File History Backup
Restoring the data is as much important as backing up. Sometimes you lose your data due to hardware issues, change your laptop or PC, etc. In all those cases, you need to restore the data you backed up using the Windows File History tool.
However, if you don't know how you can restore using File History backup, these steps will assist you:
Step 1: Launch the Control Panel on your PC. Search File History, and click on it.
Step 2: Click Restore personal files.
Step 3: Browse through the version history of your files and folders using the Left and Right arrows until you find the backup date you want to restore. Choose the files and folders to be restored.
Step 4: To restore the files to their original place, left-click the green refresh icon.
Windows File History Alternative
As you can see, with the Windows 11 File History, there's only limited numbers of files users can back up. Which tool should users choose when they want to make a full backup of the computer? We highly recommend every user to apply the third-party backup software - EaseUS Todo Backup.
It empowers users to back up everything they want, such as disk/partition, files, or system. Another key point that users like the most is its design. It simple and clear, everyone can create a backup with EaseUS Todo Backup in only clicks and points. 
If you are interested in this software, download it from the button below, and follow the guide to see how to create a backup. Here we take system backup as an example.
Step 1. Launch EaseUS Todo Backup and choose "Create Backup" on the home page, click "Select backup contents".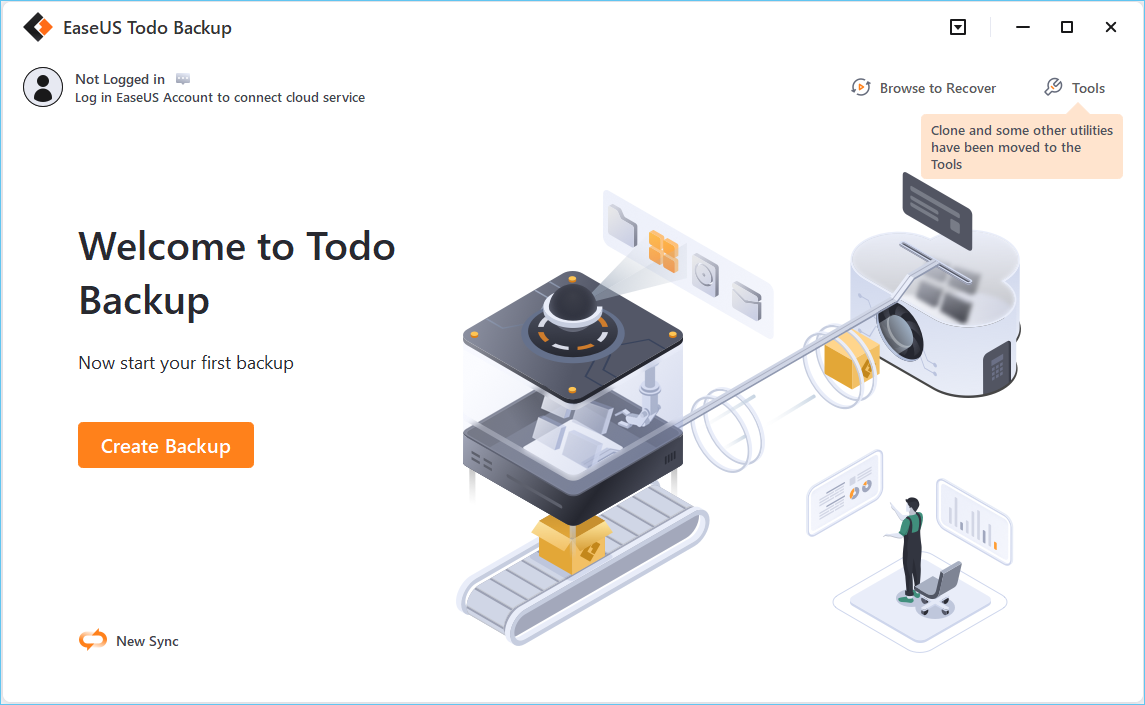 Step 2. Among the four available categories, click "OS" to start back up.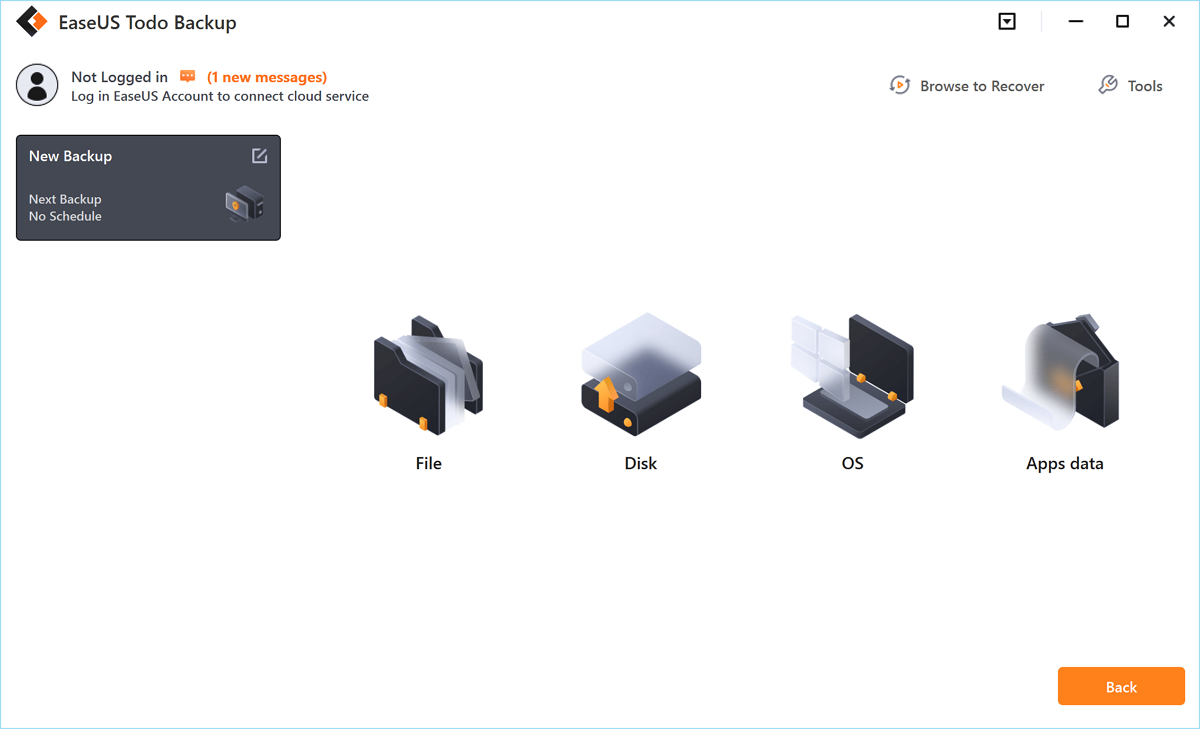 Step 3. The system partition will be automatically selected, you only need to select the location.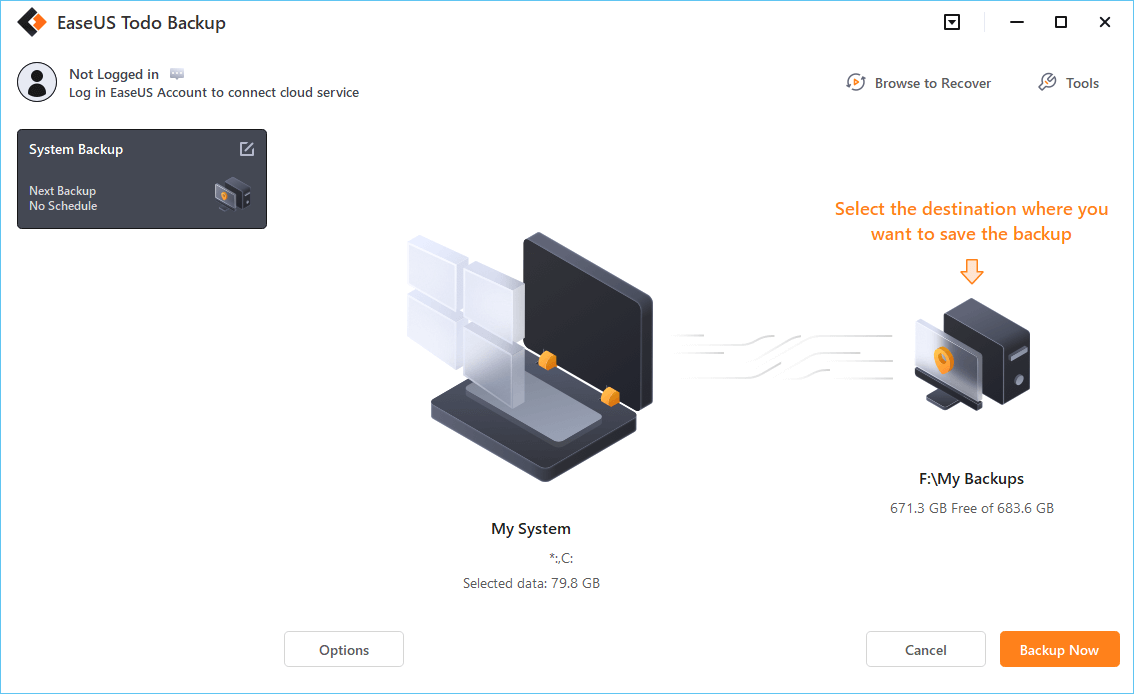 Step 4. Local Drive, Cloud, and NAS are available for you to save the backup file. You can also connect an external hard drive to preserve the system backup files.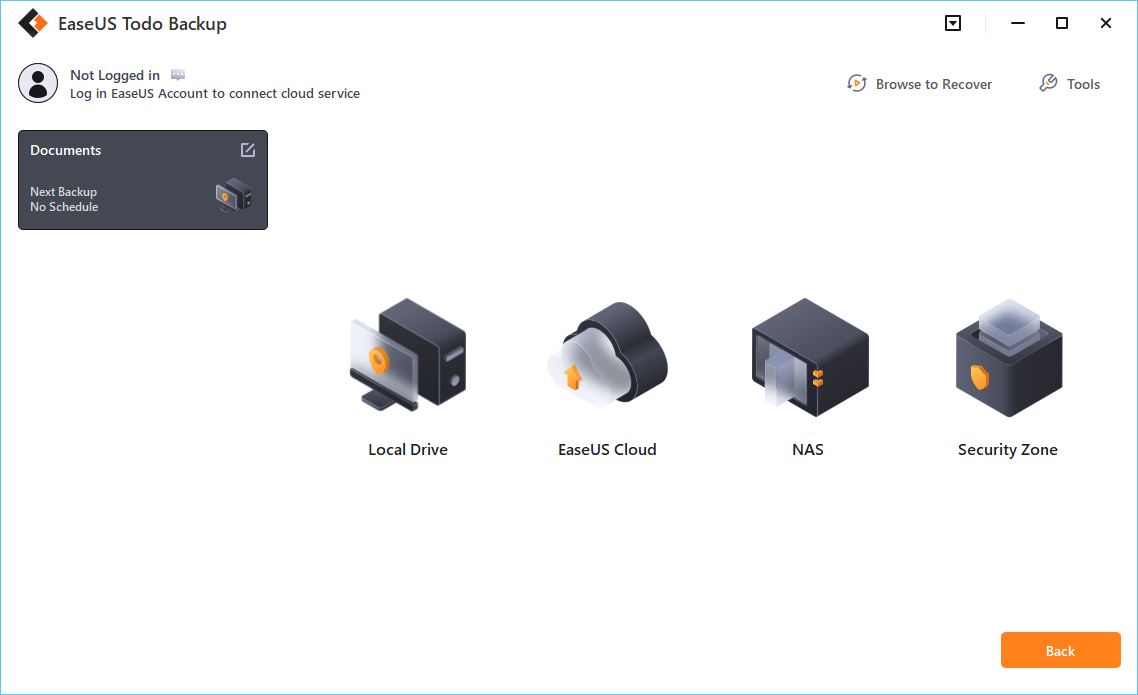 Step 5. You can customize the settings in "Options" at the left bottom. After that, click "Backup Now", and the process will begin.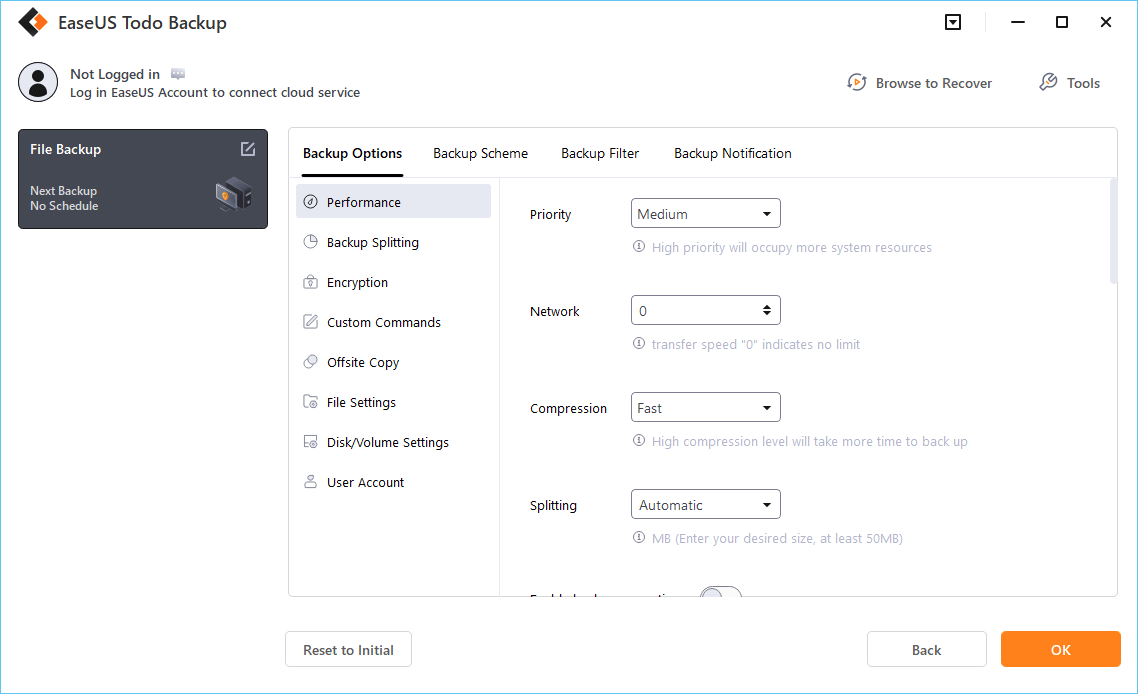 *After finishing the backup process, you can check the backup status, recover, open, or delete the backup by right-clicking the backup task on the left.
People Also Ask
Is Windows 10 File History still supported?
Microsoft discontinued the File History backup feature in Windows 10 Fall Creators Update earlier in the month. The functionality wasn't present in some of the recently published Insider versions of the Windows 10 Update, resulting in users thinking that the backup mechanism was going away. As it seems, the backup system will continue after all.
In the newest beta of the Windows 10 Update, build 16226, the File History backup mechanism is back again in the Settings app – which means you can now save your data to another disc and restore it anytime you want.
How do I access File History?
To access the File History in Windows PC, you need to launch the Control Panel. After that, search File History in the search bar at the top right corner. Now, click on File History to access it.
How do I delete File History in Windows 11?
To delete the File History in Windows 11, follow these steps:
Step 1: Access File History through Control Panel
Step 2: Click on the Advanced options, then Clean up versions.
Step 3: Select the period of the File History you wish to delete and select Clean up.
Does Windows 11 have Backup and Restore?
Files may be restored from a backup produced using Backup and Restore or File History in Windows 11. Link the external storage device containing your backup files to the computer. We recommend using File History for backing up your data.
Conclusion
As mentioned above, restoring and backing up your data is pretty essential, but making sure that you do it with an excellent and reliable tool is also necessary. Windows 11 comes with a built-in tool named File History to make it easy. And we hope that with this detailed guide on Windows 11 File History, you now have a better understanding of it!
Gemma is member of EaseUS team and has been committed to creating valuable content in fields about file recovery, partition management, and data backup etc for many years. She loves to help users solve various types of computer related issues.
Taking everything into consideration, we can say that EaseUS Todo Backup Home can offer you a little extra sense of security with a set of advanced tools. The interface provides quick adaptation, every process guiding you all the way through so you don't get stuck or further damage your system rather than keeping it safe.

 Read More

EaseUS Todo Backup Free lets you create backups of your important files or your entire computer through its streamlined interface. Just choose the backup type you'd like to get started, and let the program do the reset.

 Read More

EaseUS includes all the features I expect from backup software like versioning, incremental backups, and scheduling. For more advanced users, EaseUS allows you to install a pre-boot environment onto your hard drive so you can use it to restore files without burning a CD or putting it on an external USB drive.

 Read More

EaseUS Todo Backup
Smart backup tool for your files and entire computer in Windows 10/8/7.
Install Windows on Multiple Computers at Once? No Problem!
Learn how to install Windows 11/10/7 and special programs/software on a batch of computers. Use 10 minutes to do the 10 hours work without making a single mistake!
Get Free Solution!