Does your computer get stuck when you try to reset Windows 10 to the previous version? Windows freezes up while rolling back to lower Windows OS? In this tutorial article, you'll find reliable solutions for how to fix Windows stuck at resetting to the previous version. Read and find answers now.
Problem: Windows 10 stuck at rolling back to previous build
"Help, my computer gets stuck at 50% when I try to reset Windows 10 to Windows 7, what can I do?"
"Hi, do you know how can I solve Windows 10 rollback stuck problem? I've tried 3 times to rollback Windows 10 to my previous OS, it gets stuck. Help!"
If you are trying to reset or downgrade Windows 10 to the previous OS, remember to create a backup of all your important data on an external hard drive or storage device first, especially those files in your system drive. Then continue on to solve your issue.
How to fix Windows 10 rollback to the previous version stuck issue
Don't worry if you get stuck while restarting or rolling Windows 10 back to a previous build. The detailed steps below will get you going again
Part 1. Backup important data before fixing Windows 10 downgrade stuck error
It is highly recommended for you to back up all important data before you start to rollback Windows 10 or reset Windows 10 to the previous version. EaseUS Todo Backup allows you to back up files, hard disk partitions, and even system partition files without any obstacles.
 Tip

You'd better create the backup file on an external disk or on the cloud in case the local backup gets corrupted or destroyed.
Step 1: Launch EaseUS Todo Backup software and then choose "File Backup", "Disk/partition Backup" or "System Backup" for different backup purpose.
Step 2: Choose the system, disk partition, files or apps that you want to back up. Then select a destination where you want to store the backup file.
Step 3: Click "Proceed" to start the data backup process.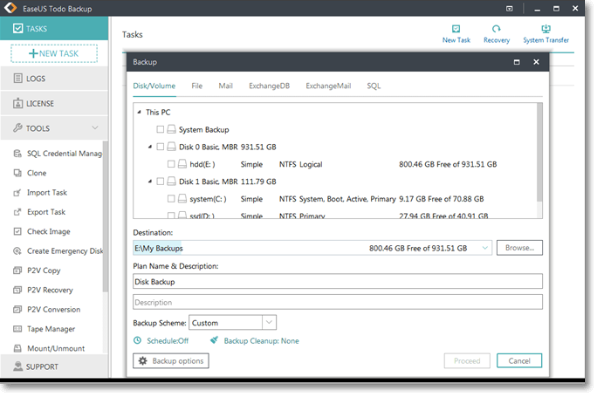 Part 2. Fix Windows 10 rollback stuck problem
Here we'll provide you with 3 major solutions to fix Windows 10 reset stuck issue.
Method 1. Create Windows restore point
This method is for those who haven't updated their system to Windows 10.
These users can create Windows restore or recovery points in their computer and then when they don't feel like using Windows 10, they can directly restore the previous OS.
You can try EaseUS Todo Backup to back up your Windows system, and when you want to rollback Windows 10 to the previous OS, you can directly use this software to use your original OS backup.
Method 2. Wait when Windows 10 gets stuck and retry
Go to "Settings" and choose "Update & Security" > Click "Recovery" and choose "Go back to Windows 7/8/8.1" > Choose "Get started".
When PC users encounter the Windows 10 stuck problem while downgrading to the previous OS, most choose to wait. And then they can eventually get their previous OS back.
If you cannot rollback Windows 10 to the previous OS and get the message repeatedly, restart your computer and try again.
Method 3. Perform a clean install of Windows OS
If you have tried many times and you still cannot revert to your previous OS from Windows 10, then you may need to perform a clean install of Windows OS.
You can go to Windows' website and download OS installation files and then follow the installation guidelines to reinstall a previous OS on your computer.
After switching your OS version, you can use EaseUS Todo Back to restore to the previous OS with the created backups.
Extra tip: check & fix file system error to solve Windows 10 downgrade stuck issue
File system error may also stop you from downgrading system. In this case, you can fix the file system error by the following steps:
Press Windows + X and click on "Command Prompt (Admin)"
Type: cd\ and hit Enter
Type: sfc /scannow and hit "Enter"
Wait patiently to let the check file system process complete, then the error code issue will be repaired