Backup is always required as the most basic data recovery method. Windows 10 file history vs time machine is the best backup option for Windows and macOS users. In incremental backups, file history backs up files in Libraries to a separate storage source, such as an external drive or a network share. Apple's backup software, Time Machine, is dependable and simple to use. It can make a backup of anything, including files, documents, settings, installed apps, etc.
Windows 10 File History vs Time Machine: Ease of Use 
Both macOS and Windows are excellent software packages, but we are discussing Windows 10 file history vs time machine. Time Machine reigns supreme while Windows ascends whenever it comes to easy and practical backups for the majority. As a result, a great deal of vital information is in danger.
Connecting an external disc, directing Time Machine at it, and switching on the service are the three basic steps for setting up a Time Machine backup. Whereas the windows backup tool needs several steps to create backups. The first issue with the windows backup software is its name, and search history doesn't seem relatable with backups. 
However, whenever we want to create backups using the Windows 10 file history, we will have to search for the file history settings and select the drive wherever we want to backup. Then we will enable the file history to create the backups.
Users find the time machine more preferable while comparing the Windows 10 file history vs time machine in ease of use. It just needs three simple steps to create backups compared to the file history, which needs more time and effort.
Windows 10 File History vs Time Machine: Backup Efficiency 
You can add additional directories to be backed up or omit particular folders via File History. Only files/folders in defined locations are backed up in Windows 10 file history. On the other hand, Time Machine can back up anything but the boot camp partition.
Time Machine's minimalism and back-up-everything strategy, except for the Boot Camp partition, necessitates no user decisions. Meanwhile, the various procedures, complicated settings, and IT-centric perspective of Windows backup software leave you wondering if you did everything right.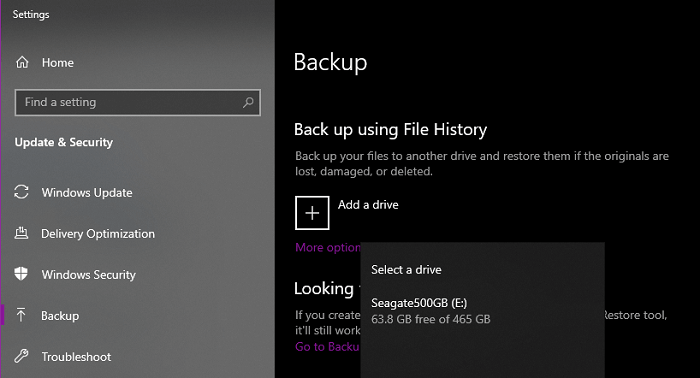 File History saves earlier versions of your documents on an external disk so you can go back through time. Once File History is configured, backups are performed automatically. If you make a bunch of modifications to files in a short amount of time, you might want to increase the backup rate from the standard of every hour. If you work with huge files, you might wish to adjust the backup retention period.
Like Windows File History, Time Machine takes snapshots of data and saves them to an external hard disc drive. It makes a complete backup of your hard disk, including the system directories and operating system. If you don't want certain folders to be backed up, you can go over the System Preferences, select Time Machine. 
Then select the Options alternative to remove the folders from the backed options. Therefore, when comparing Windows 10 file history vs time machine, the time machine performs better in backup efficiency. You get multiple beneficial choices of backup through Time Machine.
Windows 10 File History vs Time Machine: Recovery Chance 
File History is similar to Time Machine, but it is more difficult to operate. Users cannot utilize the Windows 10 file history for disaster recovery compared to Time Machine. However, It is as simple as scanning the timeline to restore from Time Machine. A Time Machine backup may also be used to restore from a disaster or replicate your Mac system to another machine. You can access your Time Machine backups in two ways: directly from Time Machine or through a compatible app.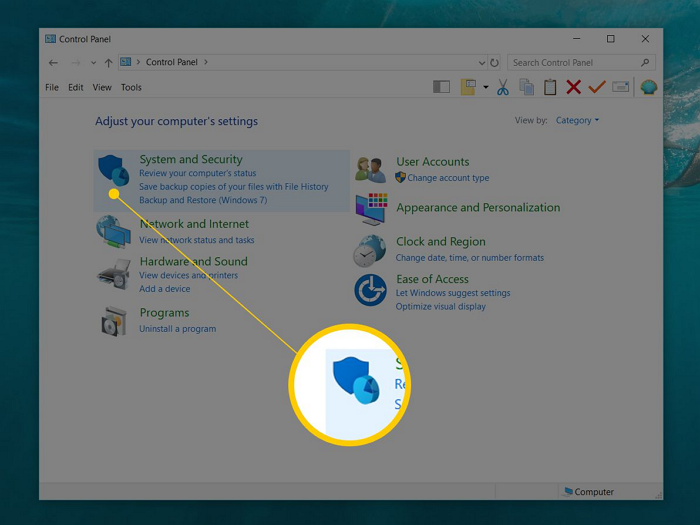 You may access your backed up data in various ways in Windows. You may get to them through Windows File History. You may also go straight to File History to search and recover your full backup library. If you want to view everything you've backed up with time, or if you're not certain where a document or File is, File History is the way to go.
To sum up, the operating system cannot be backed up using file history, but the time machine can conduct this task. As a result, if your machine develops problems and dies, a file history backup will be meaningless. On the other hand, the time machine can back up the operating system and restore it without reinstalling it. So, we can say that among windows 10 file history vs time machine, time machine offers the best recovery options to rely upon.
What's the Best Time Machine Backup Software for Windows? 
When comparing Windows 10 file history vs time machine, we discovered that utilizing file history for a whole PC backup has several flaws. Furthermore, understanding the numerous benefits of Time Machine, Windows users may seek a Time Machine-like program. Unfortunately, Time Machine is only compatible with Apple's macOS operating system.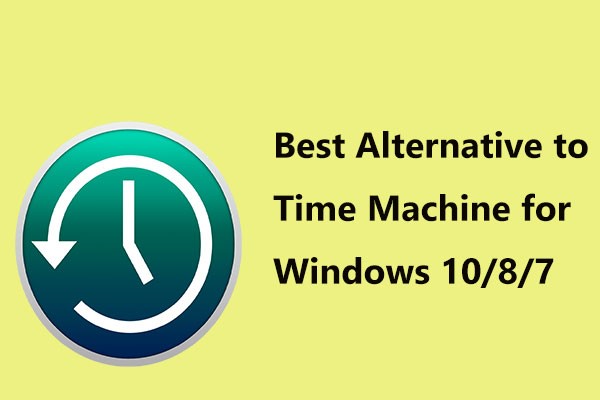 Users operating Windows 10/8/7 will find that software as Time Machine is essential for keeping their computers secure. So, what is the greatest Windows-based alternative to Apple's Time Machine? EaseUS Software is the solution to this problem.
EaseUS Todo Backup is a comprehensive system and data backup utility for the Windows operating system, a great alternative to Time Machine. It is suitable with practically all windows versions. You may use this really useful program to swiftly back up and recover your images, music, documents, movies, and other important data, regardless of hard drives or partitions.
You have the option of selecting the sort of backup you want from a variety of backup providers, as well as managing your data through the Smart Backup integrated function. It will produce fresh data backup automatically for changed files that have been already backed up. The EaseUS Windows backup application assures no data loss even if you fail to back up your altered data manually.
Conclusion
We will end this post hoping that you have discovered a fantastic Time Machine replacement for your Windows device. Ensure that you have a backup of your system, files, and data so that you don't face any data loss. EaseUSTodo Backup is the best alternative backup software for windows users who wants to avoid data loss due to any cause.
Updated by Gemma
Gemma is member of EaseUS team and has been committed to creating valuable content in fields about file recovery, partition management, and data backup etc for many years. She loves to help users solve various types of computer related issues.

Jean has been writing tech articles since she was graduated from university. She has been part of the EaseUS team for over 5 years. Her special focuses are data recovery, disk partitioning, data space optimization, data backup and Mac OS. By the way, she's an aviation fan!
Taking everything into consideration, we can say that EaseUS Todo Backup Home can offer you a little extra sense of security with a set of advanced tools. The interface provides quick adaptation, every process guiding you all the way through so you don't get stuck or further damage your system rather than keeping it safe.

 Read More

EaseUS Todo Backup Free lets you create backups of your important files or your entire computer through its streamlined interface. Just choose the backup type you'd like to get started, and let the program do the reset.

 Read More

EaseUS includes all the features I expect from backup software like versioning, incremental backups, and scheduling. For more advanced users, EaseUS allows you to install a pre-boot environment onto your hard drive so you can use it to restore files without burning a CD or putting it on an external USB drive.

 Read More

EaseUS Todo Backup
Smart backup tool for your files and entire computer in Windows 10/8/7.
Install Windows on Multiple Computers at Once? No Problem!
Learn how to install Windows 11/10/7 and special programs/software on a batch of computers. Use 10 minutes to do the 10 hours work without making a single mistake!
Get Free Solution!