Windows 10 File History vs Backup: Which One Works for Me?
Updated by
Gemma
on Nov 29, 2021
What Is File History? How Does It Work
Computers running Windows 8/8.1 or Windows 10 have a built-in backup function called File History. In earlier versions of Windows, this feature is called Backup and Restore instead. Before you learn how to enable and use File History, first, we will explain the tool's usage and capabilities.
File History doesn't create a complete backup of your computer system, but rather it focuses on keeping your files safely backed up. After setting up the folders you want to backup and a destination drive, it will automatically create backups as scheduled along with previous versions of the file. With this, you can quickly revert a file into one of the backed-up previous versions.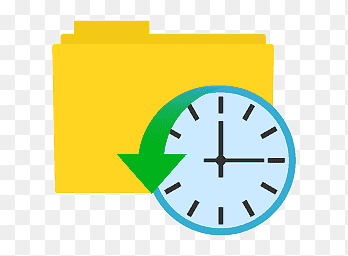 Guide: How to Enable File History in Windows 10
To start using File History to backup files on your Windows computer, first, you need to enable the tool in Settings using the steps as follow:
Step 1. Click on Start menu and open Settings > Update & Security > Backup.
Step 2. Under "Back up using File History", click "Add a drive" and select an external drive for File History to store data backups.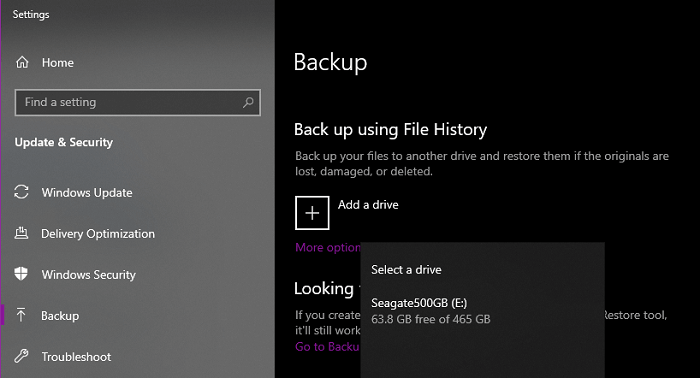 Step 3. After selecting a drive, select "Automatically back up my files" for Windows to automatically backup files when it's connected to your computer.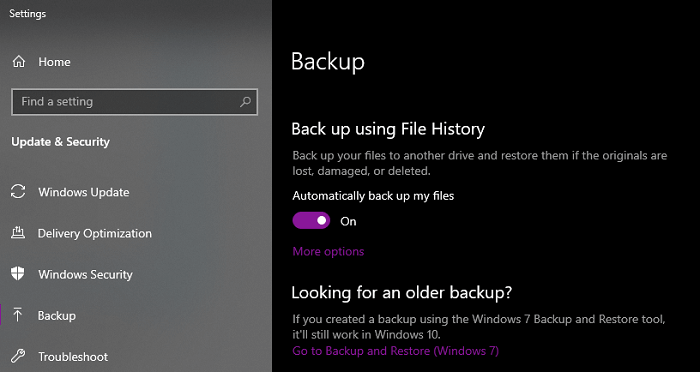 Step 4. You can click on "More options" to configure backup plans and folders you want to be backed up.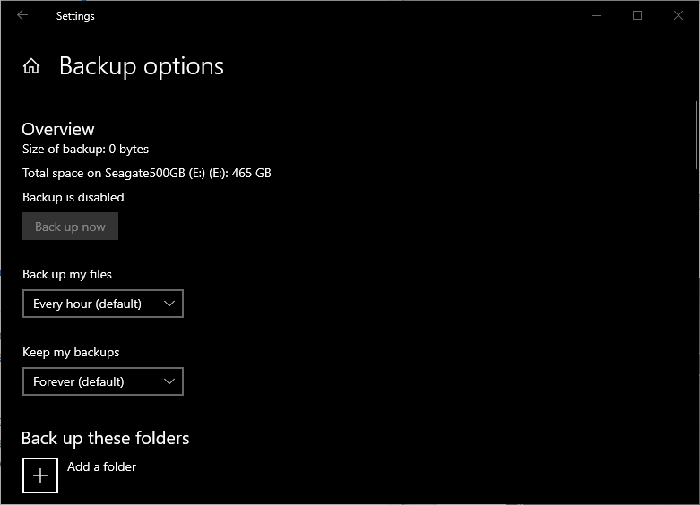 Guide: How to Restore Files from File History Backup
Step 1. Connect the device with backup data to the computer. This backup can also be created on another computer.
Step 2. Go to Backup settings and click "More Options", then scroll down to the bottom and select "Restore files from a current backup".
Step 3. You will see a list of all backed-up files available to restore. You can preview files or folders by right-clicking them and then select Preview. You can click the arrow buttons to navigate multiple backups from each time a scheduled backup was made.
Step 4. Once you have selected all needed files, click the Restore button to restore them to their original locations. You can also quickly restore a file to its previous version by right-clicking the File and then select "Restore previous versions". You will see a window showing all available backups from File History, which you can preview or restore to a different location as needed.
Data Backup? What Is It?
File History is only a way to protect your files from potential data loss issues securely. There are many different approaches to data backup, and some may be more versatile and efficient than others. The most detailed data backup concept is that you create copies of the data you want to protect and keep them separately from the original. This way, when there is an issue that causes the actual data to be lost or inaccessible, you can restore the data from this backup you have created prior.
Specifically, there are ways to backup your data that doesn't mean making exact copies of the file. For example, there are incremental and differential methods, which only certain backup parts of the file. To eliminate any complications, there are multiple tools on the market for data backup management.
EaseUS Todo Backup is one such tool, and this easy-to-use software can automatically back up a large amount of data as scheduled, keep track of changes made to the file with restore points, and much more.
The Difference Between File History and Data Backup
File History is an automated file backup system on Windows 8/8.1 and Windows 10. With this built-in tool, you can do more than just restoring previous versions of files; It's a competent backup tool for your needs.
While being generally applicable, File History is not the answer to all data backup requirements. In some cases, you may have to look for specific or more advanced tools to protect your critical data and operating system as needed fully, which may be troublesome.
There are many other ways to backup your data, such as using a third-party dedicated data backup software like EaseUS Todo Backup. With Todo Backup, you can manage your data backups more flexibly and access other valuable utilities: Create a system restore point, OS migration, partition backup, disk clone, and many more.
In short, File History is a simple, accessible method of data backup. But there are better alternative tools to backup your files more efficiently, along with other critical backups such as operating system, disk partitions, and emails.
Data Backup and Restore Software – EaseUS Todo Backup
To eliminate any complications, there are multiple tools on the market for data backup management. EaseUS Todo Backup is one such tool, and this easy-to-use Windows backup software can automatically back up a large amount of data as scheduled, keep track of changes made to the file with restore points, and much more. While being feature-rich, the interface design is kept simple, which ensures that users can back up their data without any complications successfully.
When comparing EaseUS Todo Backup with File History, there are some notable differences:
With EaseUS Todo Backup, you can choose between full, incremental, and differential backup methods to suit your needs.
EaseUS Todo Backup supports data encryption for confidential data.
EaseUS Todo Backup can do more than essential data backup; You can backup entire disk partitions, clone the operating system into another drive, create a portable Windows USB drive, etc.
EaseUS Todo Backup is capable of intelligent backup management, protecting files that are often used or changed, ensuring that a previous version of the file can quickly be restored when needed.
Additionally, our 24/7 technical support team is always available to assist you with any issues or questions regarding data backup, including thoroughly guide you through the backup process. We also provide you with a detailed user guide for EaseUS Todo Backup features such as file backup. No matter how many data backups you've made, we recommend you backup Windows 10 operating system as well, to prevent sudden OS crashes.
How to Backup Files with EaseUS Todo Backup
Step 1. Click the "Select backup contents" button to start backup.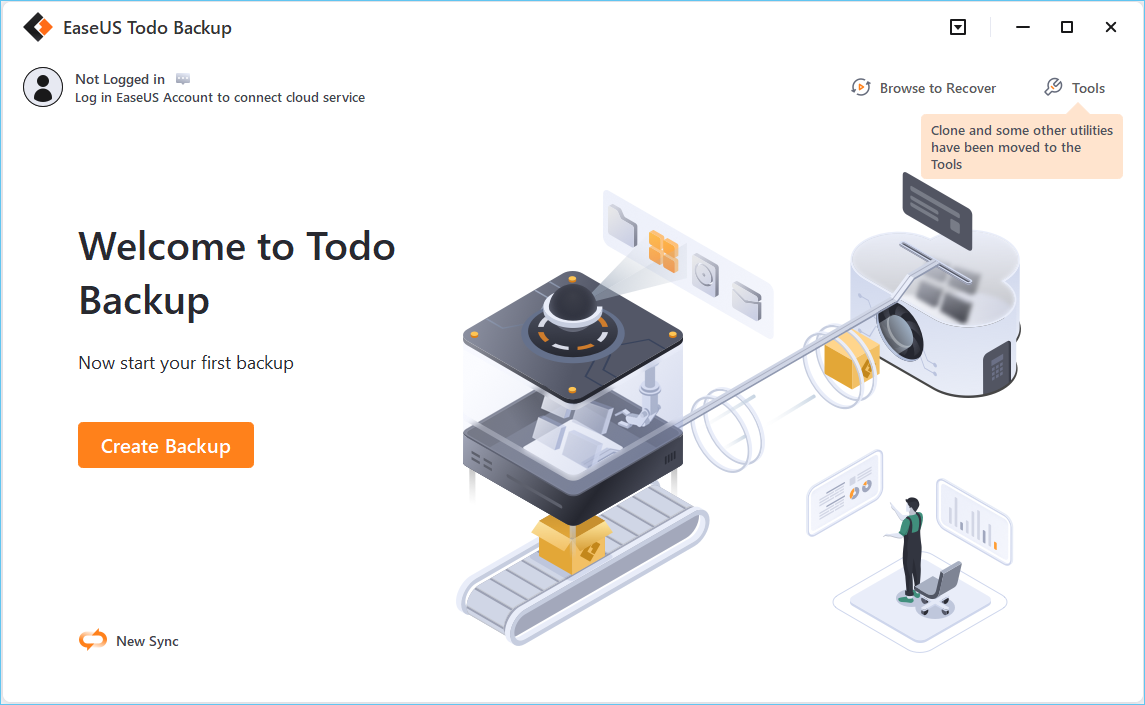 Step 2. There are four data backup categories, File, Disk, OS, and Mail, click File.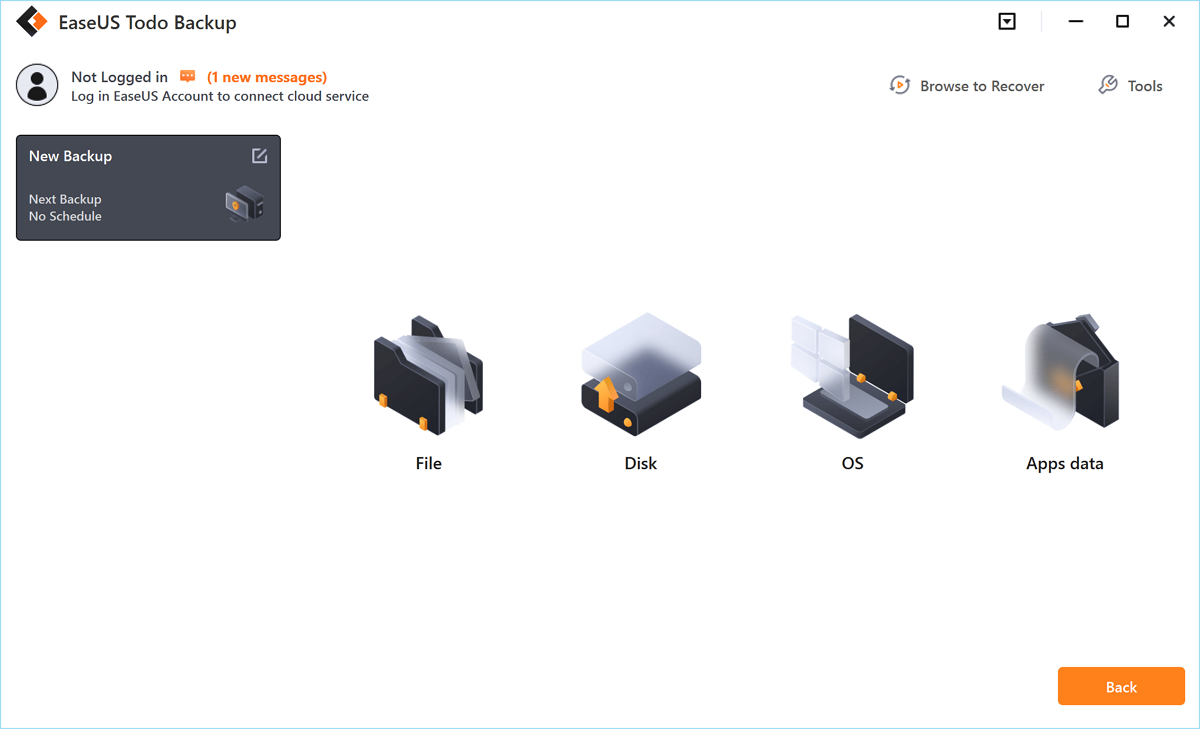 Step 3. Both local and network files will be listed on the left. You can expand the directory to select the files to be backed up.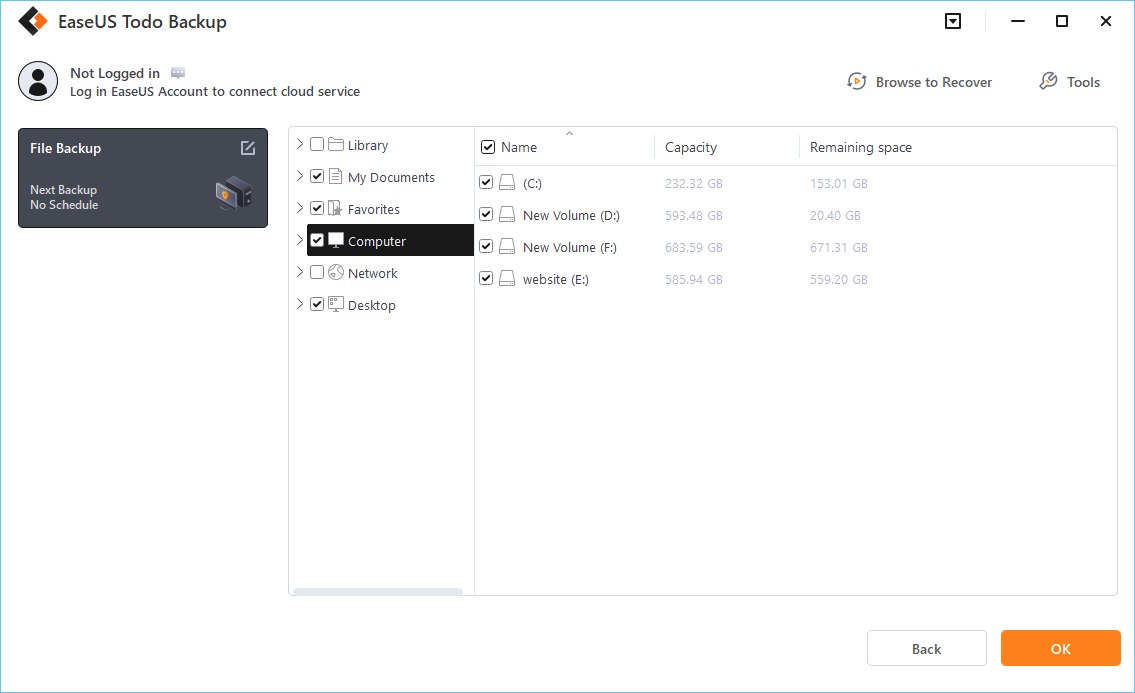 Step 4. Follow the on-screen guide, select the destination where you want to save the backup.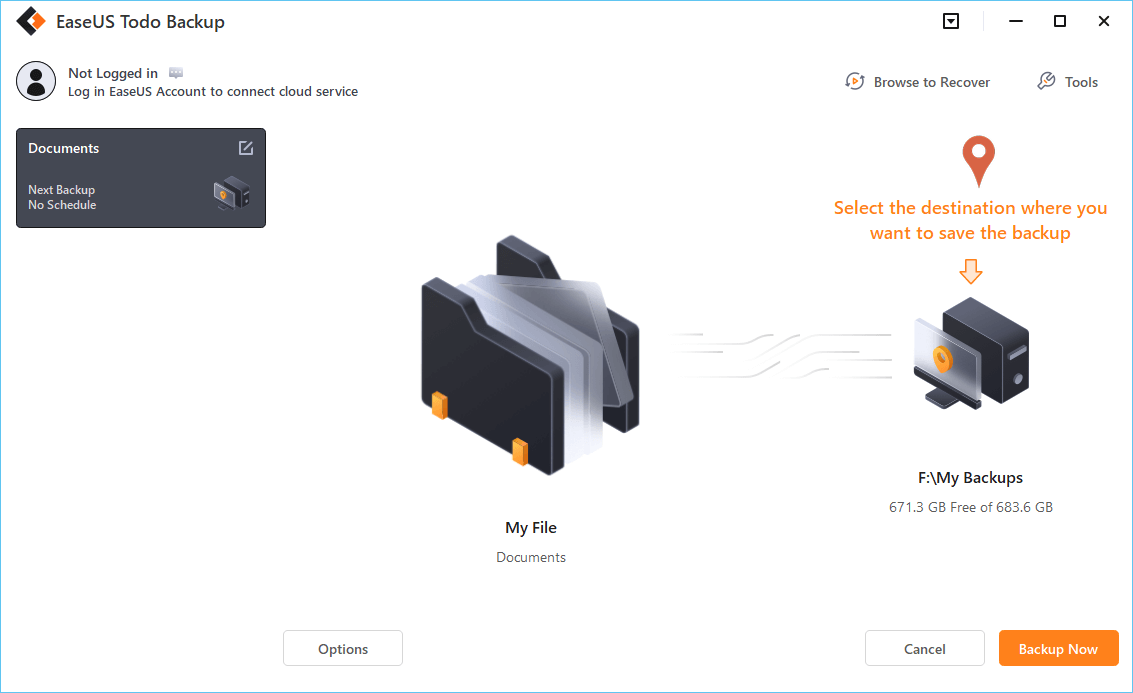 Click "Options" to encrypt the backup with password in "Backup Options", set the backup schedule and choose to start back up at certain event in "Backup Scheme". There are also many other options you can explore, customize the backup task according to your need.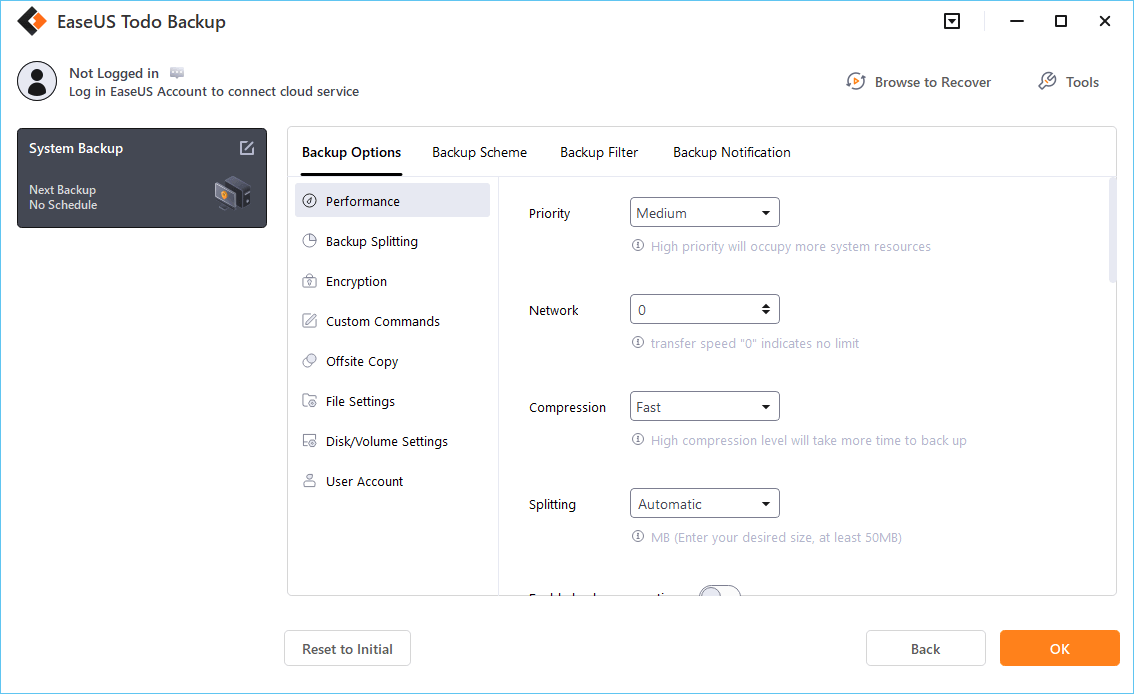 Step 5. You can store the backup to local drive, EaseUS's cloud service, and NAS.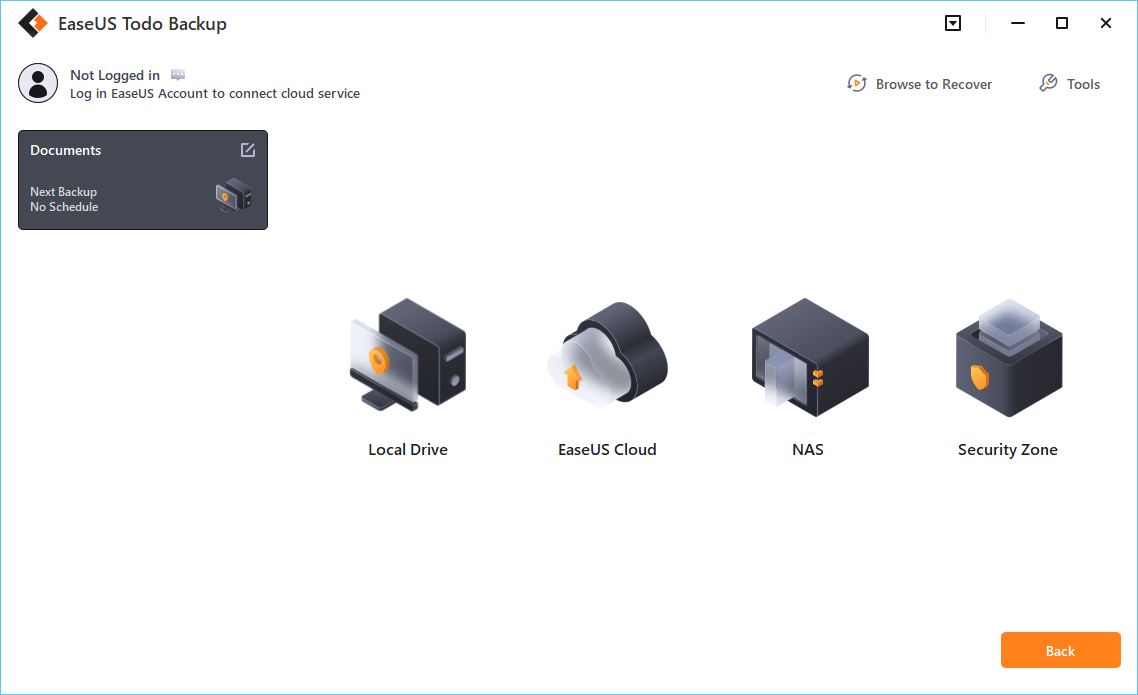 Step 6. EaseUS Todo Backup enables users to back up data to both third-party cloud drive and its own cloud drive.
If you want to back up data to third-party cloud drive, choose Local Drive, scroll down to add Cloud Device, add and login your account.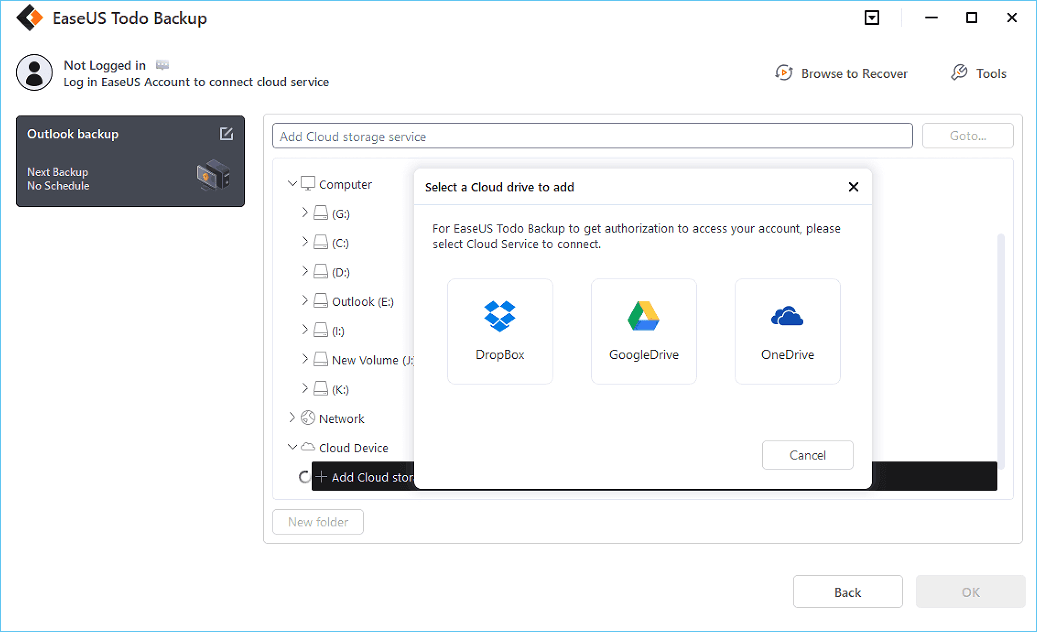 You can also choose EaseUS's own cloud drive. Click EaseUS Cloud, sign up with your EaseUS Account and log in.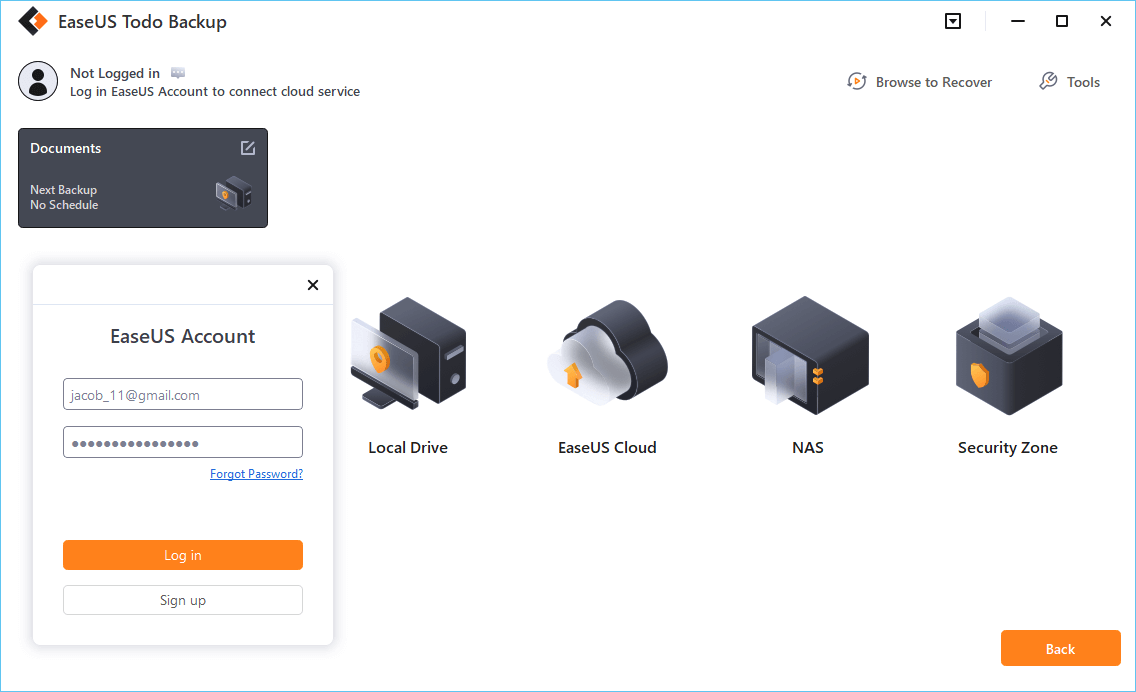 Step 7. Click "Backup Now" to start backup. After the backup task is completed, it will be displayed in the form of a card on the left side of the panel. Right-click the backup task to further manage it.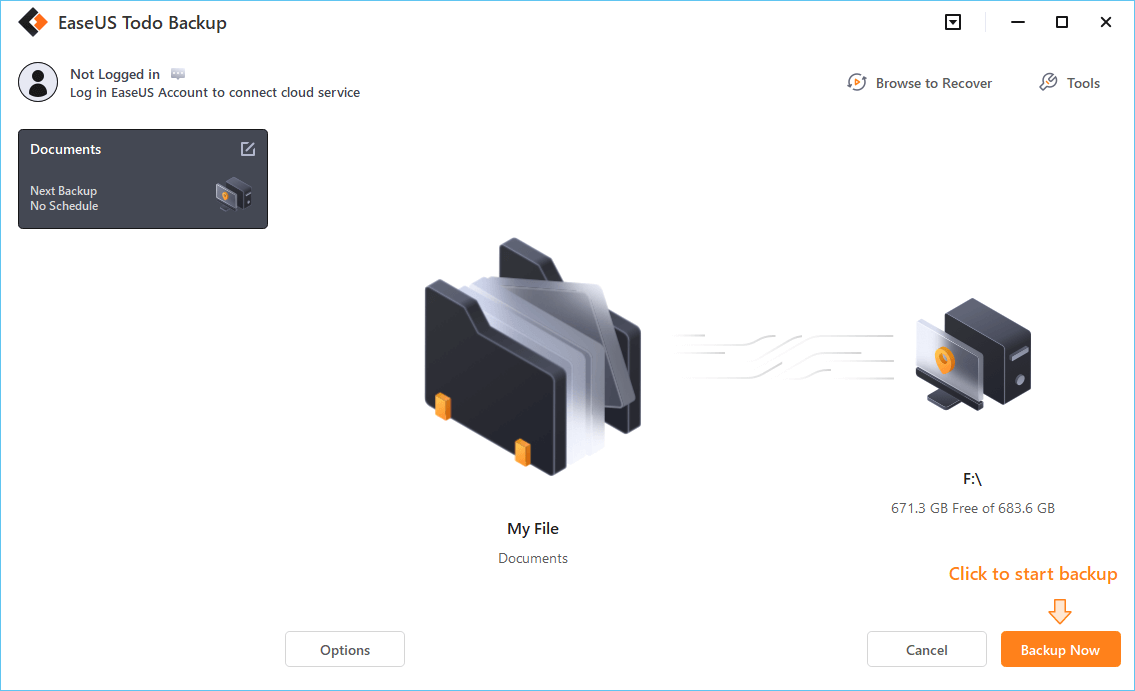 You can visit our product page and check out detailed information regarding the tool, along with a comparison of Free, Home, and Business plans. You can also try the software with our Free Trial so that you can see its capabilities firsthand.
File History vs EaseUS Backup: Which One Will You Choose?
When it comes to data security, keeping backups of important files is crucial. There are many different methods and tools for backing up data. For Windows users, the built-in File History tool allows them to schedule an automated backup of selected folders and restore files with ease. But there are many other approaches to data backup other than File History, with varying advantages and disadvantages. For some tools, advanced features may also make it intimidating and confusing for beginners.
For users who want more advanced or efficient backup tools without any difficulties, we have developed software to make data backup and restore quickly done by any computer user.
EaseUS Todo Backup is a clean, easy-to-use tool that's designed for both beginners and advanced users. With many powerful features, this software is capable of doing much more than simple file backups. Make system backup or cloning and other additional functionalities such as data wiping trivial tasks by installing EaseUS Todo Backup today and trying it out for yourself.
Gemma is member of EaseUS team and has been committed to creating valuable content in fields about file recovery, partition management, and data backup etc for many years. She loves to help users solve various types of computer related issues.

Author Jean has been writing tech articles since she was graduated from university. She has been part of the EaseUS team for over 5 years. Her special focuses are data recovery, disk partitioning, data space optimization, data backup and Mac OS. By the way, she's an aviation fan!
Taking everything into consideration, we can say that EaseUS Todo Backup Home can offer you a little extra sense of security with a set of advanced tools. The interface provides quick adaptation, every process guiding you all the way through so you don't get stuck or further damage your system rather than keeping it safe.

 Read More

EaseUS Todo Backup Free lets you create backups of your important files or your entire computer through its streamlined interface. Just choose the backup type you'd like to get started, and let the program do the reset.

 Read More

EaseUS includes all the features I expect from backup software like versioning, incremental backups, and scheduling. For more advanced users, EaseUS allows you to install a pre-boot environment onto your hard drive so you can use it to restore files without burning a CD or putting it on an external USB drive.

 Read More

EaseUS Todo Backup
Smart backup tool for your files and entire computer in Windows 10/8/7.
Install Windows on Multiple Computers at Once? No Problem!
Learn how to install Windows 11/10/7 and special programs/software on a batch of computers. Use 10 minutes to do the 10 hours work without making a single mistake!
Get Free Solution!