Learn How to Make Full Backups with 3 Windows 10 Backup Options
A computer user should always make a backup for the files and data in case sudden power outrage happens and occurred a severe data loss. Also, making a backup is one of the best ideas to protect your documents, photos, and computer settings from virus attacks or OS crashes. 
For Windows PC, users have many options to create a full backup. Once set up, you can even schedule back up the chosen files and folders. In this article, we list three Windows 10 backup options for you to choose from. You can pick whichever according to your needs.
Make Full Backups With Windows Built-in Tool
Making a full backup means to make a copy of anything on your computer, and store them in another safe location such as another drive or network drive. Then when you encounter data loss situations, the backup you created would help you restore files.
Windows 10 has a built-in backup feature, it supports users to back up files to another drive and restore them if the original files are lost, damaged, or deleted. To back up files on Windows PC, follow these steps:
Step 1. Right-click the Windows icon, choose Settings > Update & Security > Backup.

Step 2. Here you can back up using Windows File History. Click More Options to open Windows 10 Backup Options.
Step 3. Under Backup Options, you can customize the backup time interval, how long you want to keep your backups, which folders you want to back up, and you can even choose to back up your files to a different drive.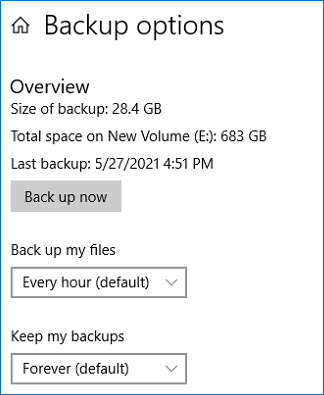 Step 4. Once you have set up, File History will back up the folders you choose according to your setting.
Create System Image Backups in Windows 10
If you want to create a system image, Windows 10 can also help you with it. You'd better create an image tool for an external hard drive or a network share folder. But one thing worth mention is that the System Image Backup is no longer a maintained feature. We decide to introduce this method is only because this feature is still available in Windows 10. Now, follow the steps below to see how to create system image backups.
Step 1. Right-click the Windows icon, choose Settings > Update & Security > Backup.
Step 2. There is an option called "Looking for an older backup?", click "Go to Backup and Restore (Windows 7)".

Step 3. Click the Create a system image option on the left.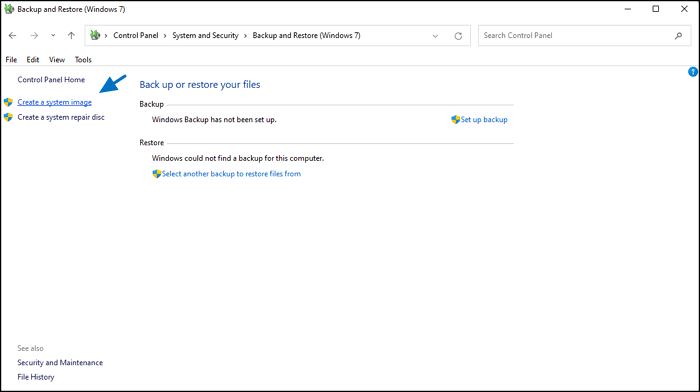 Step 4. Choose the proper disk to store the backup image and click Next.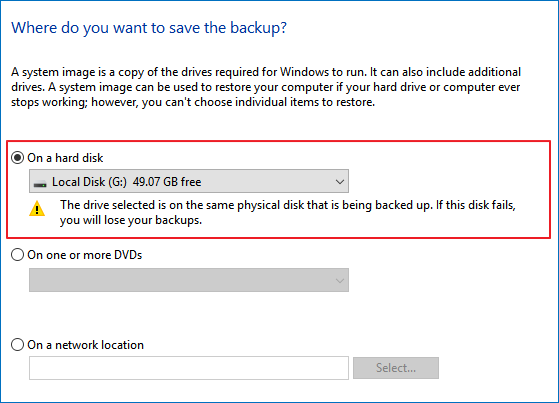 Step 5. Select any additional hard drives to include them in the backup. Then click Next.
Step 6. Click the Start backup button to start.
Make Full Backup with Third-Party Software
Another option for Windows 10 backup is to apply a third-party backup tool. Usually, third-party backup software is more powerful than Windows built-in tools. Because the developer would optimize the backup function and add new features to attract users. 
One such tool is EaseUS Todo Backup, it performs great in data backup, and added some amazing features such as migrate OS to SSD, create differential and incremental backup, and back up files to a cloud drive like Google Drive or OneDrive.
You can download EaseUS Todo Backup from the button below, and follow the guide to see how to back up files on Windows 10.
Step 1. Open EaseUS Todo Backup and select "File" as the backup mode.
You may have a large amount of vital data to be protected as time goes on, such as documents, pictures, music, and videos, etc. It is always a good habit to have a backup on a regular basis. File Backup is one of the best choices for you to get over unexpected data loss.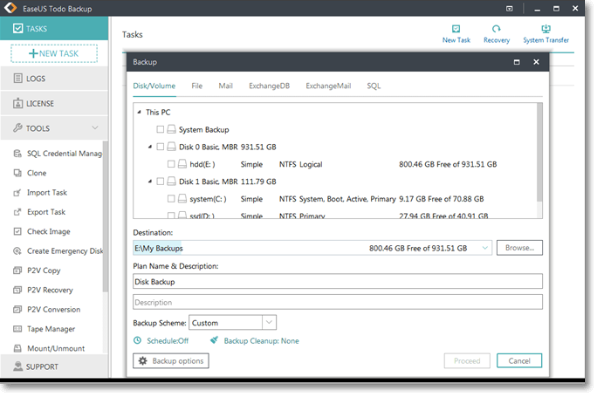 Step 2. Select the files that you want to back up.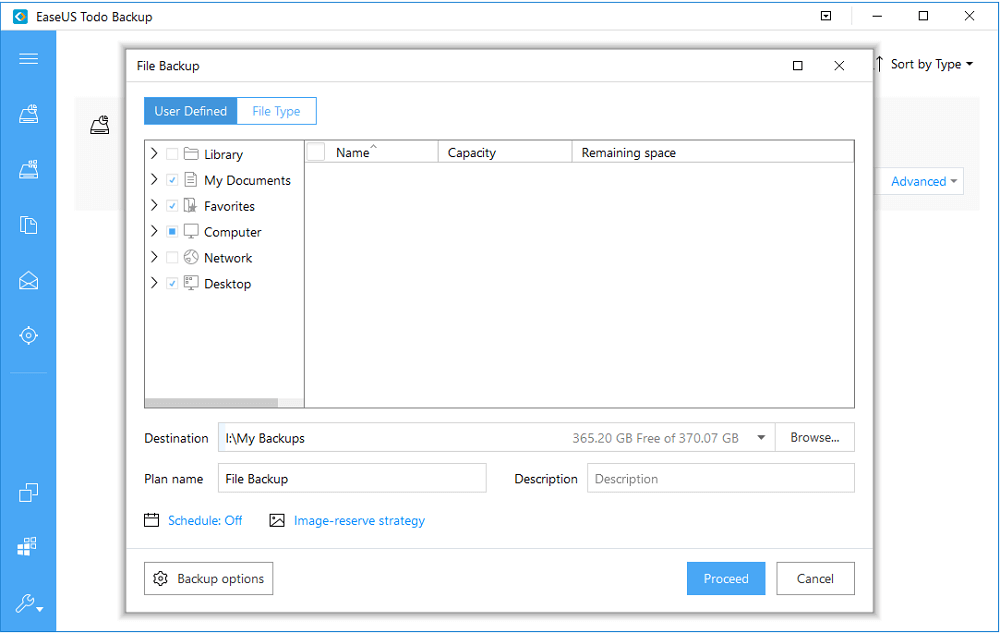 Step 3. Select a destination to save your backup of the selected files.
You'd better create the backup file in some other storage media or in some other drive. If not, there may be a risk of the backup file getting corrupted or destroyed.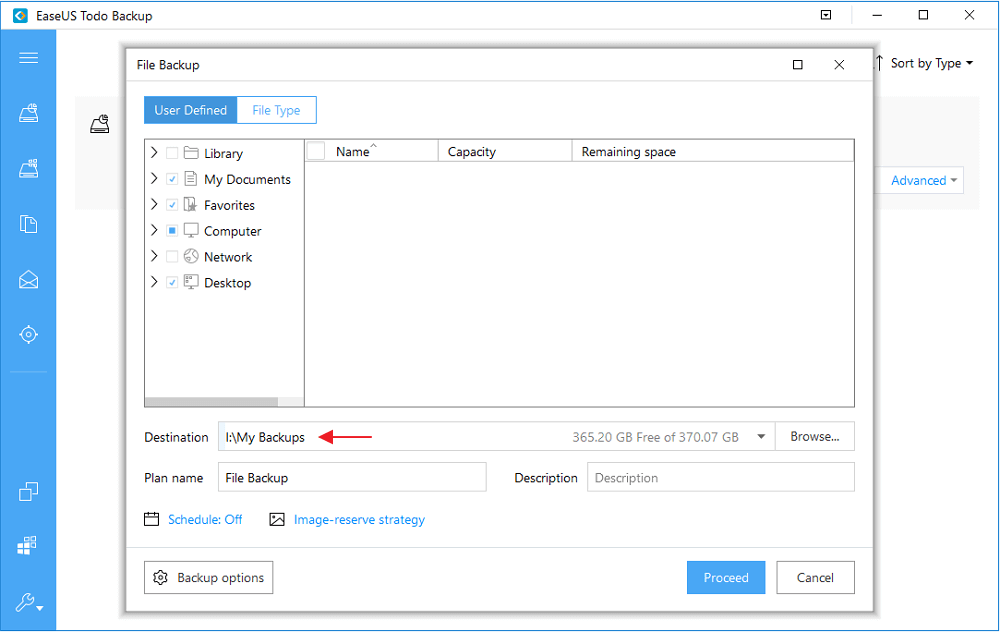 Advanced backup settings are useful when you want to create a flexible and automatic backup plan.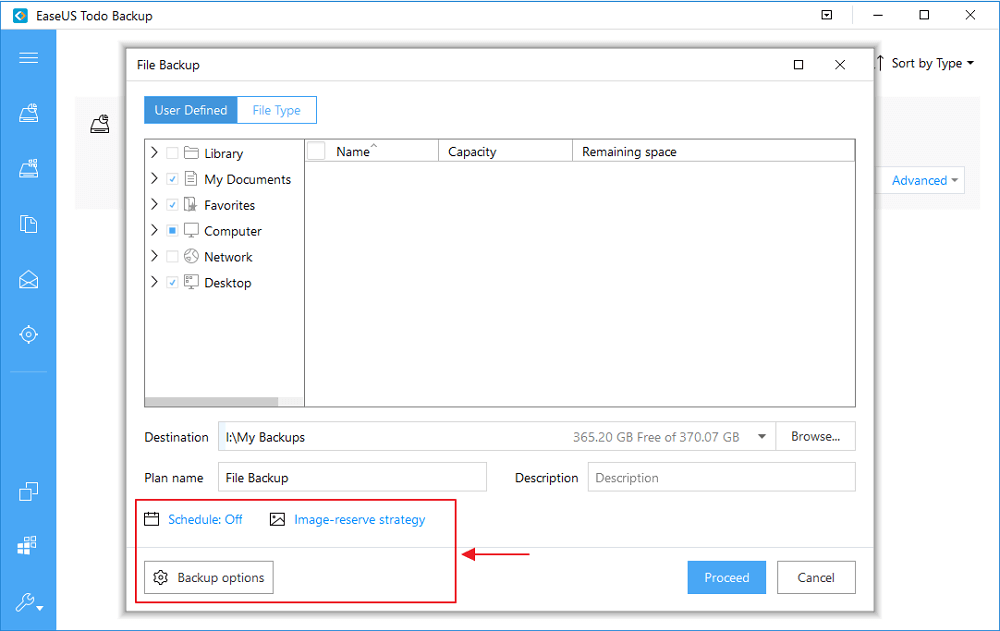 The schedule is to create an automatic backup plan.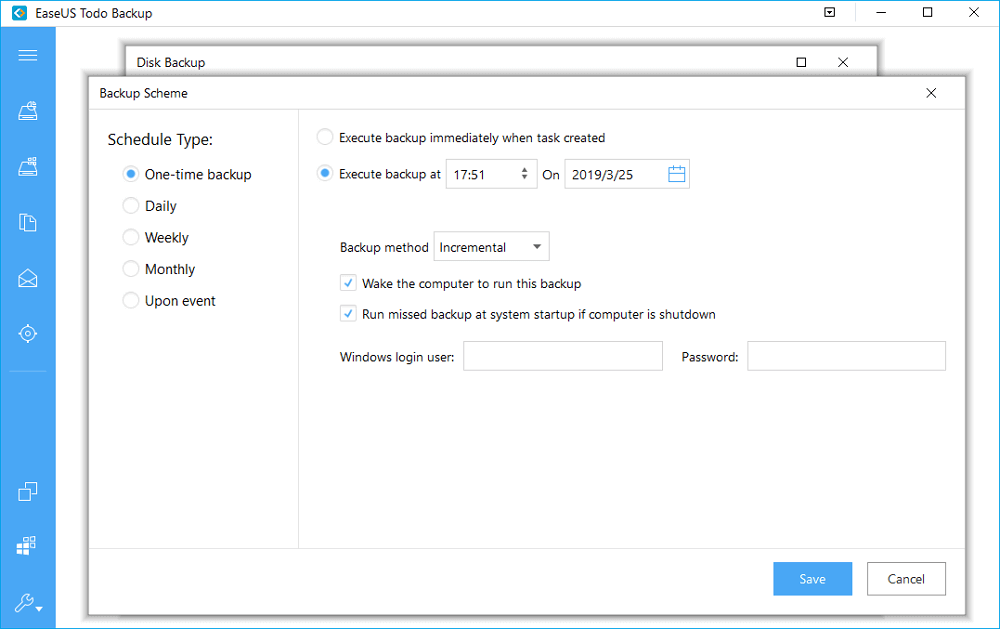 Backup options are to edit the advanced parameters.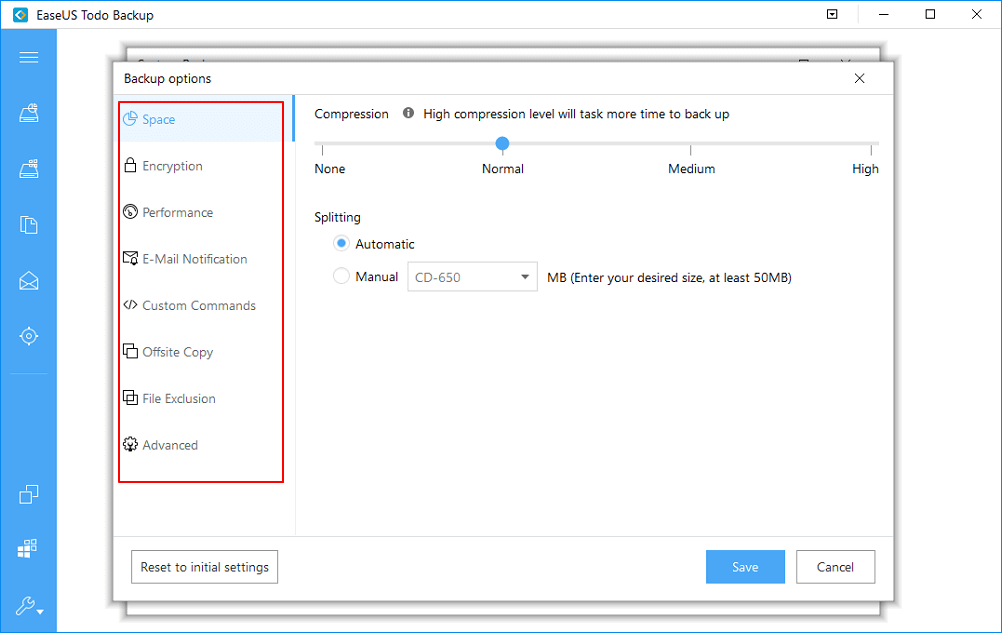 The Image-reserve strategy is to reserve the limited image as per image retention rule.
Advanced backup settings are for reference only but not a prerequisite for backup.
Step 4. Click "Proceed" to execute your operation.
Choose the One You Like, Start Back Up Now
That's all the three Windows 10 backup options. The most recommended options are Windows Files History and EaseUS Todo Backup. No matter which one to choose, always remember that making backups is the best way to protect your data.
Gemma is member of EaseUS team and has been committed to creating valuable content in fields about file recovery, partition management, and data backup etc for many years. She loves to help users solve various types of computer related issues.
Taking everything into consideration, we can say that EaseUS Todo Backup Home can offer you a little extra sense of security with a set of advanced tools. The interface provides quick adaptation, every process guiding you all the way through so you don't get stuck or further damage your system rather than keeping it safe.

 Read More

EaseUS Todo Backup Free lets you create backups of your important files or your entire computer through its streamlined interface. Just choose the backup type you'd like to get started, and let the program do the reset.

 Read More

EaseUS includes all the features I expect from backup software like versioning, incremental backups, and scheduling. For more advanced users, EaseUS allows you to install a pre-boot environment onto your hard drive so you can use it to restore files without burning a CD or putting it on an external USB drive.

 Read More

EaseUS Todo Backup
Smart backup tool for your files and entire computer in Windows 10/8/7.