Windows 10 Backup Not Working: Top Solutions 2021
Updated by
Jean
on May 07, 2022
Quick Navigation:
Workable Solutions
Step-by-step Troubleshooting
1. File History Not Working

1. Windows 10 File Backup Not Working...Full steps

2. Windows 10 Backup Not Backing up All Files...Full steps

3. File History Not Running Automatically...Full steps

2. Backup and Restore Not Working

3. Backup Tool Alternative

For the first time you use EaseUS Todo...Full steps
"If you are seeking a solution to a Windows 10 backup failure or a Windows 10 backup that is not working, you have come to the right place. Today, we will look at two cases: Windows 10 backup failure and Windows 10 backup not working and how to resolve both situations. Finally, there is a tool that can recover all of your corrupted backup files."
Creating backups is the best way to protect your system in the case of data loss or system breakdown. Windows 10, like all later versions of Windows, includes two backup utilities: Backup/Restore and File History. They both help the user build a system image or backup files.
However, some of the cases of Windows 10 backup failures include: Windows 10 backup failed, Windows 10 backup not working, and we are only here to talk about these concerns and their solutions.
So, let's get started.
Overview of Windows 10 Backup Not Working
Data backup is an ideal method for preventing data loss or system crashes in the case of a disaster. Usually, you would use the built-in backup function in Windows. Backup & Restore and File History are the two backup tools included with Windows 10. They can assist you in creating a system image or backing up crucial files to protect your PC.
However, the Windows 10 Backup failed issue occurs regularly, for example, Windows 10 Backup not backing up all files, Windows 10 backup 0 bytes, Windows 10 won't back up to external drive, Windows Backup did not complete properly, and so on. Simply expressed, Windows 10 Backup failure can be divided into two categories: Windows File History backup failure and Backup and Restore (Windows 7) failure. 
Here in the next part, we will concentrate on resolving these two issues in no time!
Once you've determined the root cause of an error, such as Windows 10 backup not working, the next step is to employ built-in utility solutions to resolve the issue. So, in this section of the post, we'll look at various built-in tool solutions for fixing Windows backup not working.
Case 1. Windows 10 File History Not Working
When utilizing Windows 10 File History to back up some files or folders, you may discover that it is not working. In this part, we will go over three scenarios and methods to fix them without any hassle.
1. Windows 10 File Backup Not Working
Some users have reported that Windows 10 Backup does not work when using File History to backup files or folders to an external disc. Here are two methods to fix this error.
Method 1: Enable File History Service and Windows Search
Step 1. Firstly, tap on the "Search Bar" icon and then type "Service" and hit "Click Services" to view it.
Step 2. Finally, locate "File History Service" and "Windows Search," double-click them, and set the Startup type to "Automatic" to resolve this error.
Method 2: Disable and Enable System Protection
Another option you can try if your Windows 10 backup fails is to disable and then re-enable system protection on your PC. Take a glance at the steps to do so.
Step 1. Navigate to "Control Panel" and then click on "System & Security" and at last open "System Protection."
Step 2. Now select a "Drive" and tap on "Configure."
Step 3. Finally, tap on "Disable system protection" and then hit on "Apply Change" and turn on "System Protection Again."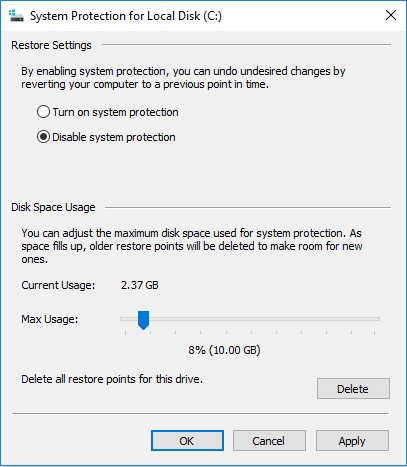 Furthermore, some customers recommend that updating Windows to the most recent version or changing the hard drive will resolve the issue of Windows 10 File History backup not working.
2. Windows 10 Backup Not Backing up All Files
Many individuals hunt for solutions to this problem in various forums. In this section, we've linked some potential solutions to File History not backing up all files.
To force a refresh, switch off File History and then turn it back on. Also, try removing the folder from the included list and re-adding it.
If the problem persists, go to the File History screen's Advanced settings and look for any issues in the Event logs. Set Keep saved versions to Forever as well.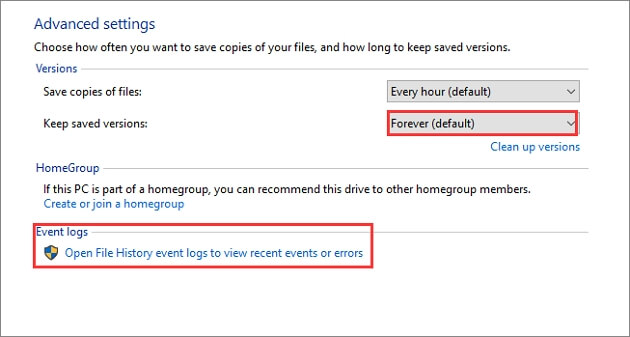 3. File History Not Running Automatically or Stopped Working
File backup from Windows 10 or Windows File History has stopped backup may be reflected by Windows 10 Backup not working. To fix them, what should you do? Try to reset the following:
 
Step 1. First, you need to stop "File History."
Step 2. Now delete the configuration by following the path:
C:\Users\AppData\Local\Microsoft\Windows\FileHistory\Configuration
Step 3. Finally, restart "File History" and select the same backup drive as before.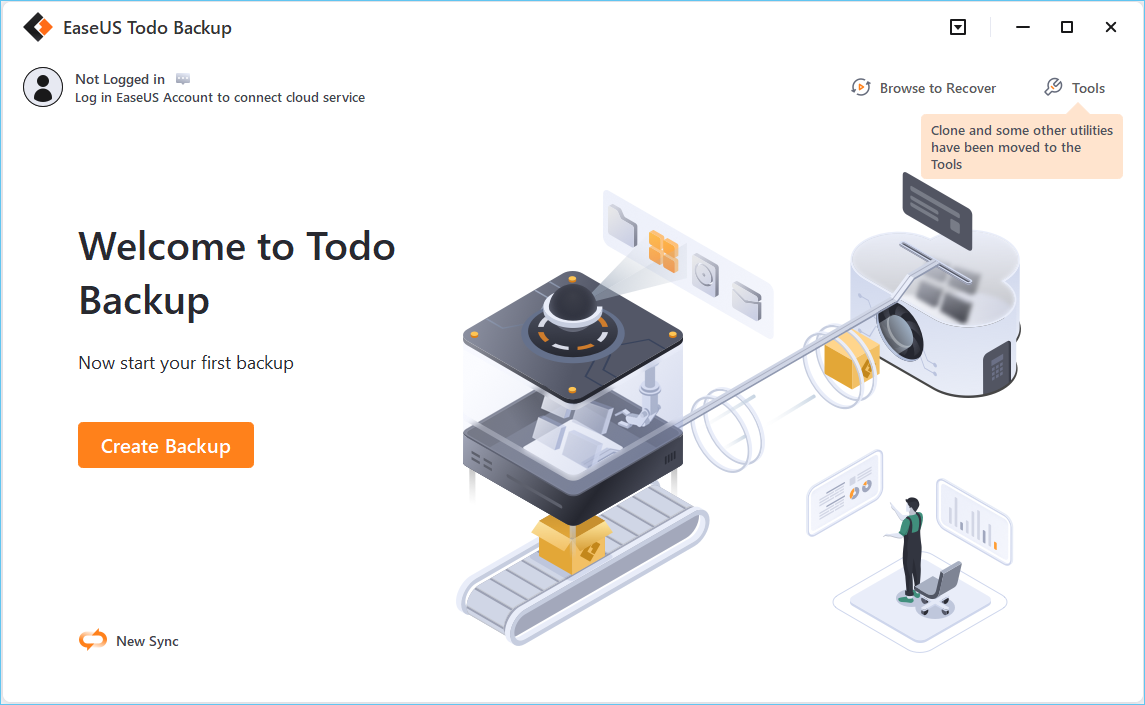 Case 2. Backup and Restore (Windows 7) Not Working
When using Backup & Restore (Windows 7) to create a backup for a single-use, Windows Backup reports that "the backup did not complete completely" or "the last backup did not complete successfully." The majority of the time, this problem occurs when an external hard disk or USB device is used. These are some of the reasons why Windows 10 fails to backup files correctly.
The backup operation was unable to finish before the time-out period expired.
A virus or malware assault corrupted the files, causing Windows to fail to find or skip the file.
The drive was removed before the backup process could finish.
The issue is with the I/O device.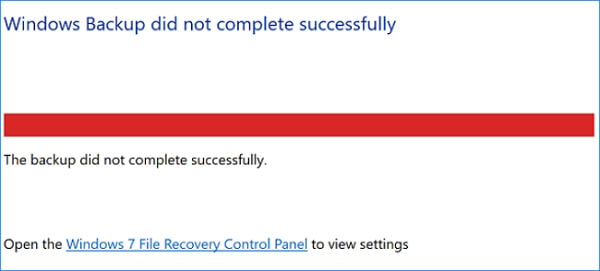 Solutions To Fix Backup And Restore (Windows 7) Not Working
Method 1: Enable Volume Shadow Copy
The first method is to enable volume shadow copy. To do so, click on "Search Bar" and then tap on "Service.msc." Once you have opened it, look for "Volume Shadow Copy" and then right-click and tap on "Properties." In last finally, tap on "Dependencies" and make sure the dependency services are running.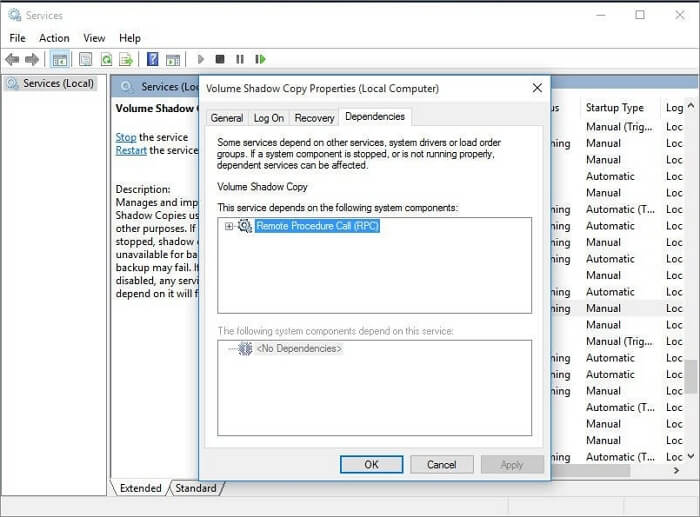 Method 2: Use the chkdsk Command
If your hard disk contains any corrupted data, your system backup may fail in some instances. To verify and fix corrupted files, use the chkdsk command. To verify your hard disk, perform the following steps:
Step 1. Press "Windows Key + X" and select "Command Prompt" (Admin) from the menu.
Step 2. When Command Prompt appears, type chkdsk /r X: (X denotes the letter corresponding to your hard drive partition) and press Enter to launch it. For example, to check your D drive, simply type "chkdsk /r D."
* You should notice that performming a chkdsk could result in data loss. Make sure you have backed up your partition data.

Method 3: Run Antivirus
You can use antivirus software to perform a comprehensive scan of your computer and eliminate viruses from both the source and target disks, or you can delete some suspicious files. Then, try the backup again.
Method 4: Removing Old Backup Files Manually
Sometimes outdated backup files cause issues; therefore, delete some of the unwanted backup files. If you don't want to remove them, you can move them to a portable device.
All the above actions can help you solve the typical backup errors. However, if you believe that these actions are tough or inconvenient, then utilizing a third-party tool is best, and you can avoid all of the techniques mentioned above.
Windows 10 Backup Tool Alternative - EaseUS Todo Backup 
If Windows 10 backup still does not work after using the methods above, you can use a free backup software: EaseUS Todo Backup to backup your system and files and folders. It is capable of recovering all of your backup files with ease. There are no file size restrictions so that you can back up anything you want. 
When compared to Windows' built-in backup utilities, EaseUS Todo Backup provides additional possibilities. You do not need to backup a non-working issue because of its reliable performance and powerful support. You can back up the system, partition, hard drive, files, and folders with a few clicks. It also supports a wide range of storage devices, including external hard drives, internal hard drives, NAS devices, and cloud drives.
Step 1. To initiate a backup, click the Select backup contents option.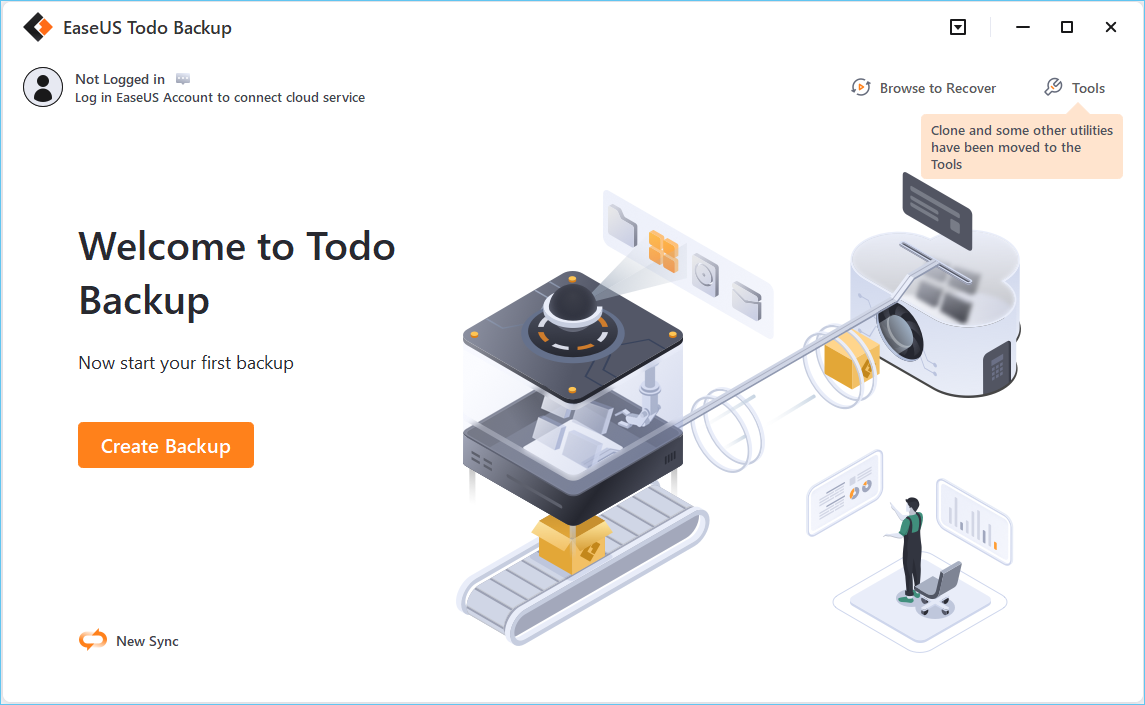 Step 2. There are four data backup categories, File, Disk, OS, and Mail, click File.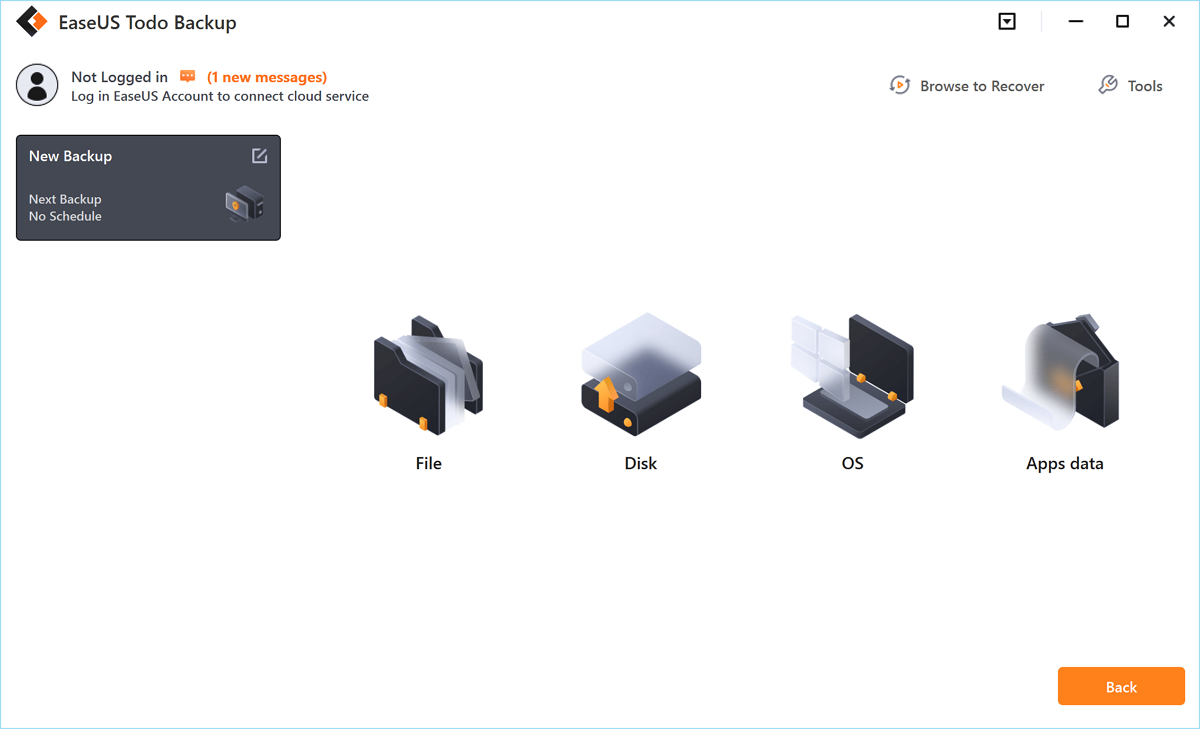 Step 3. On the left, both local and network files will be shown. You may extend the directory to pick the backup files.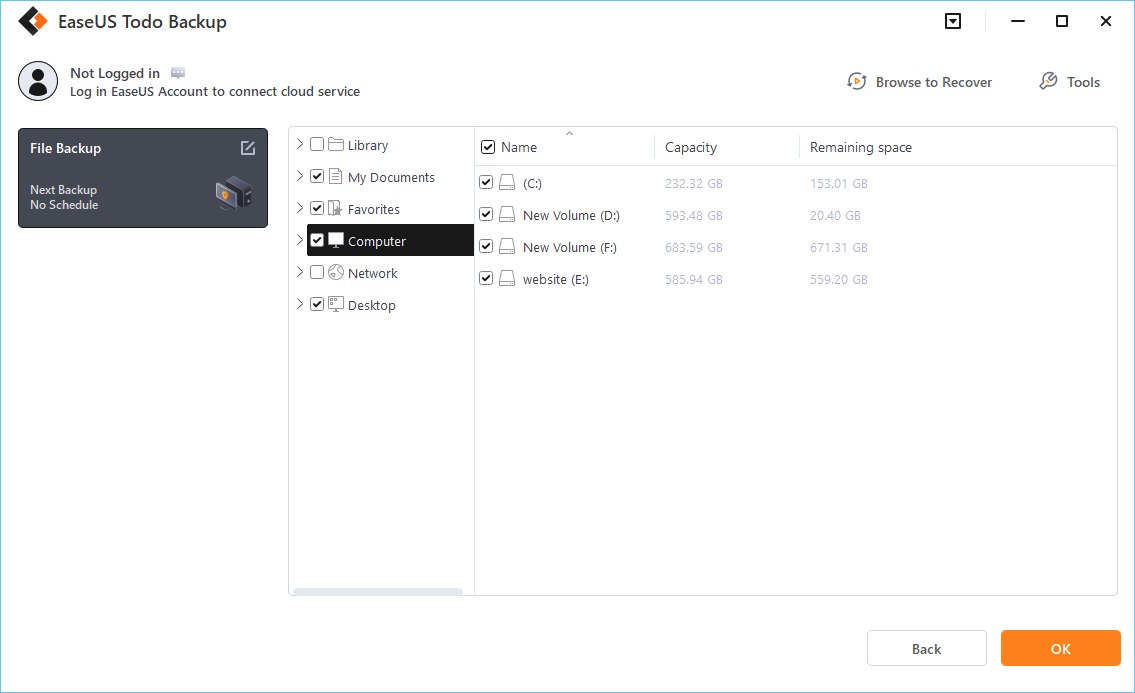 Step 4. Follow the on-screen instructions and choose a location to store the backup.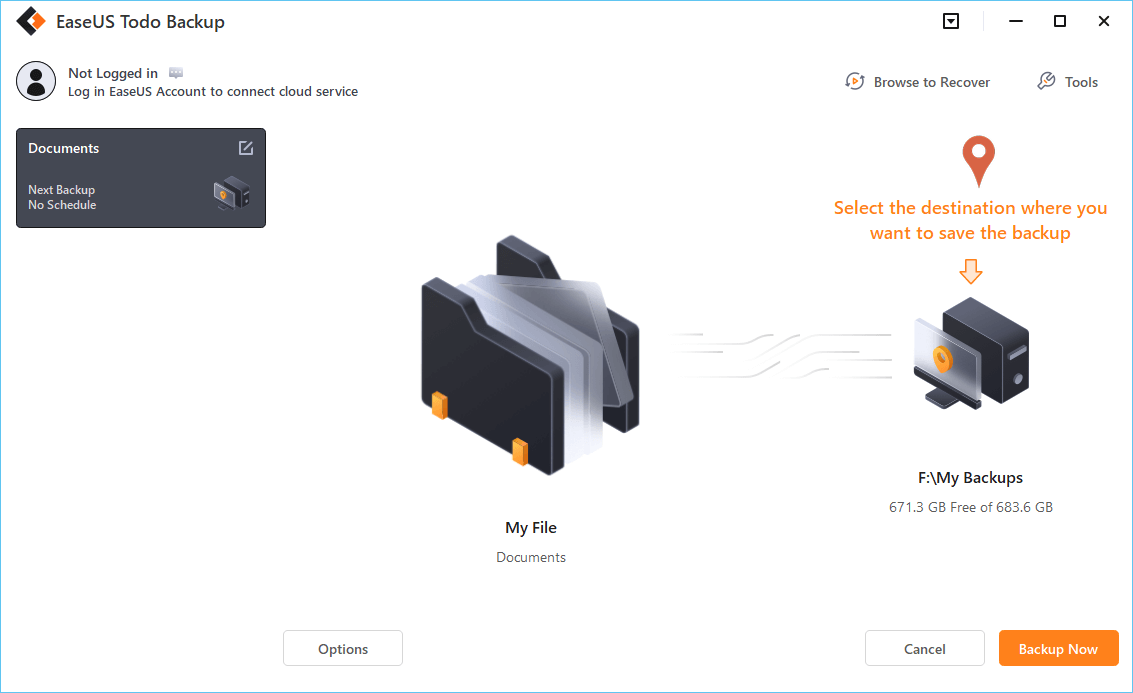 Click Options to encrypt the backup with a password in Backup Options, then click Backup Scheme to specify the backup schedule and start the backup at a certain event. There are also other additional choices you may choose to tailor the backup process to your requirements.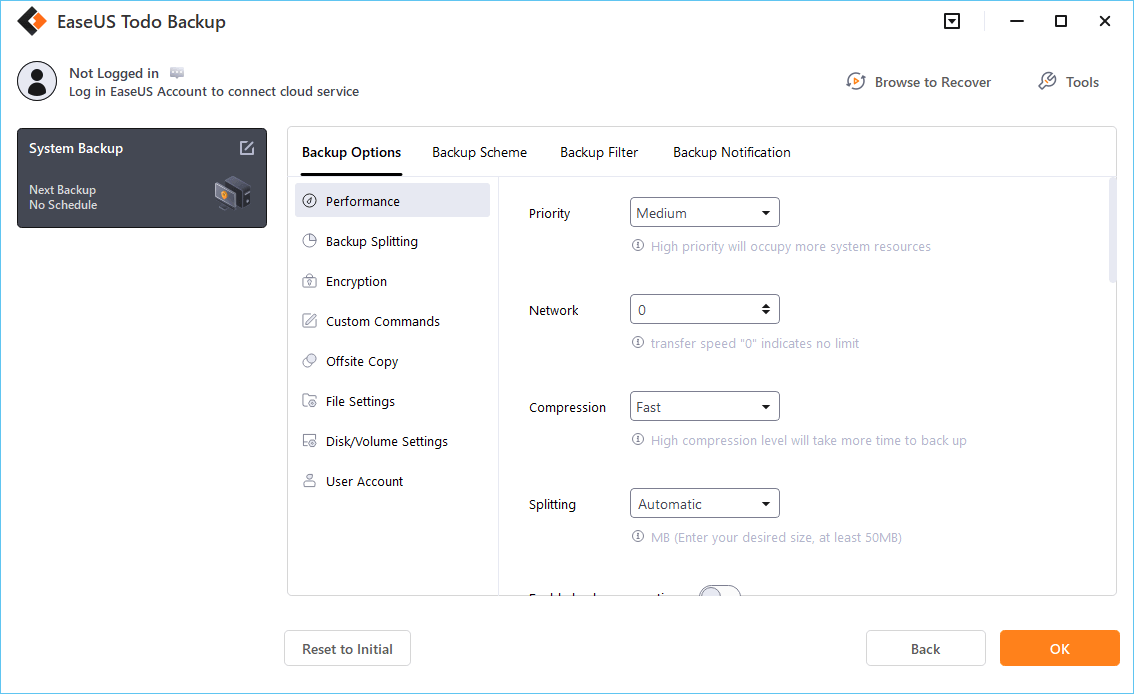 Step 5. The backup may be stored on a local disk, EaseUS' online service, or NAS.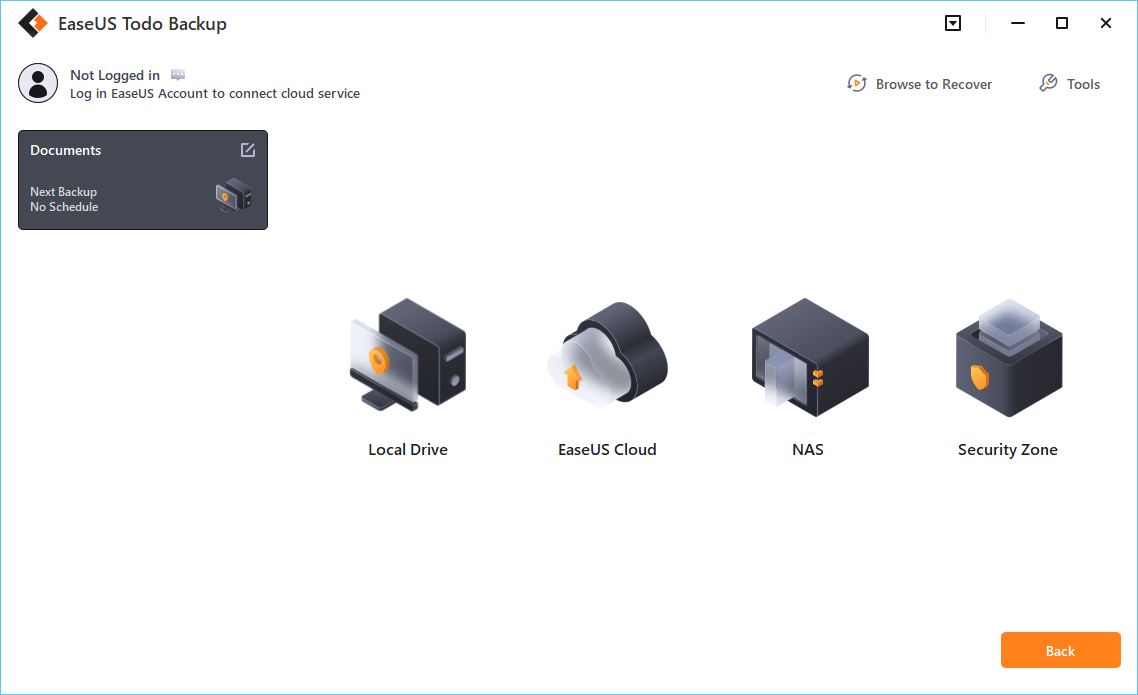 Step 6. EaseUS Todo Backup enables customers to back up data to a third-party cloud drive as well as its own cloud drive.
If you want to back up data to a cloud drive provided by a third party, choose Local Drive, scroll down to add Cloud Device, and then add and log in to your account.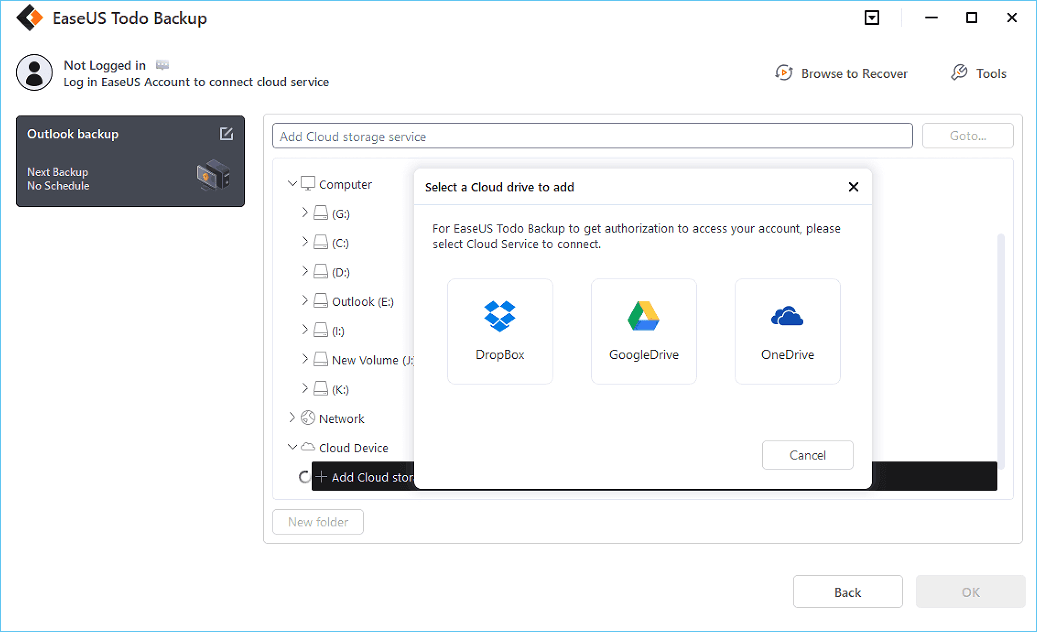 You can also choose the EaseUS cloud drive. Sign up for an EaseUS Account, then click EaseUS Cloud and log in.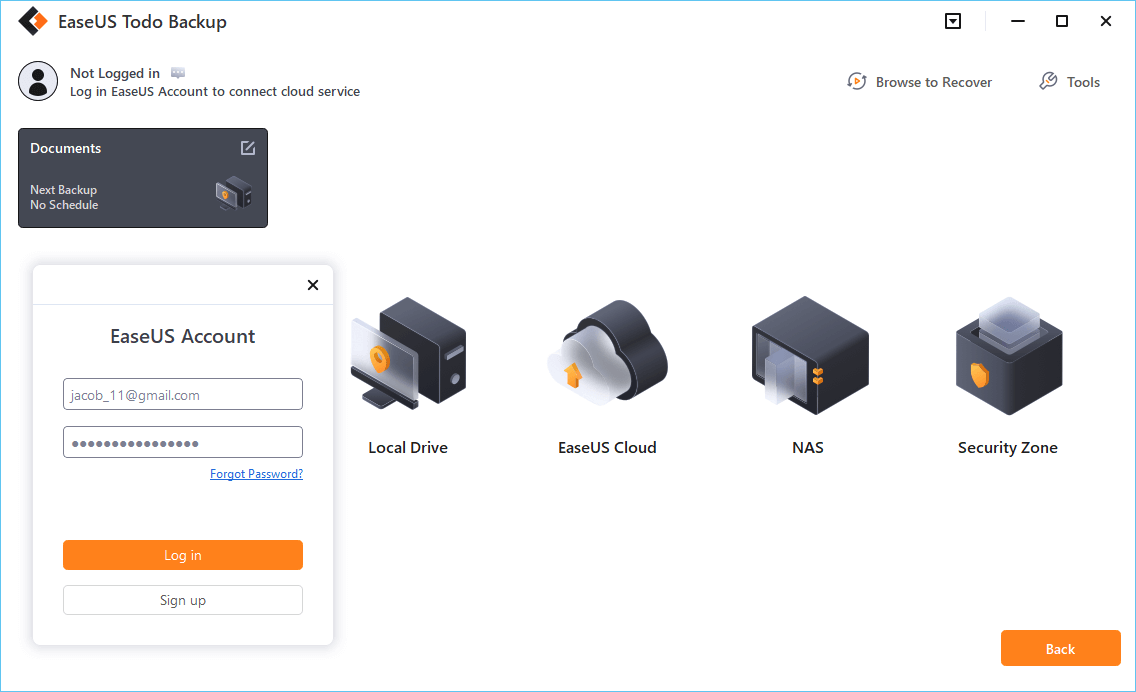 Step 7. Click Backup Now to begin the backup process. The backup job will be presented as a card on the left side of the panel after it has been finished. Right-click the backup job to handle it further.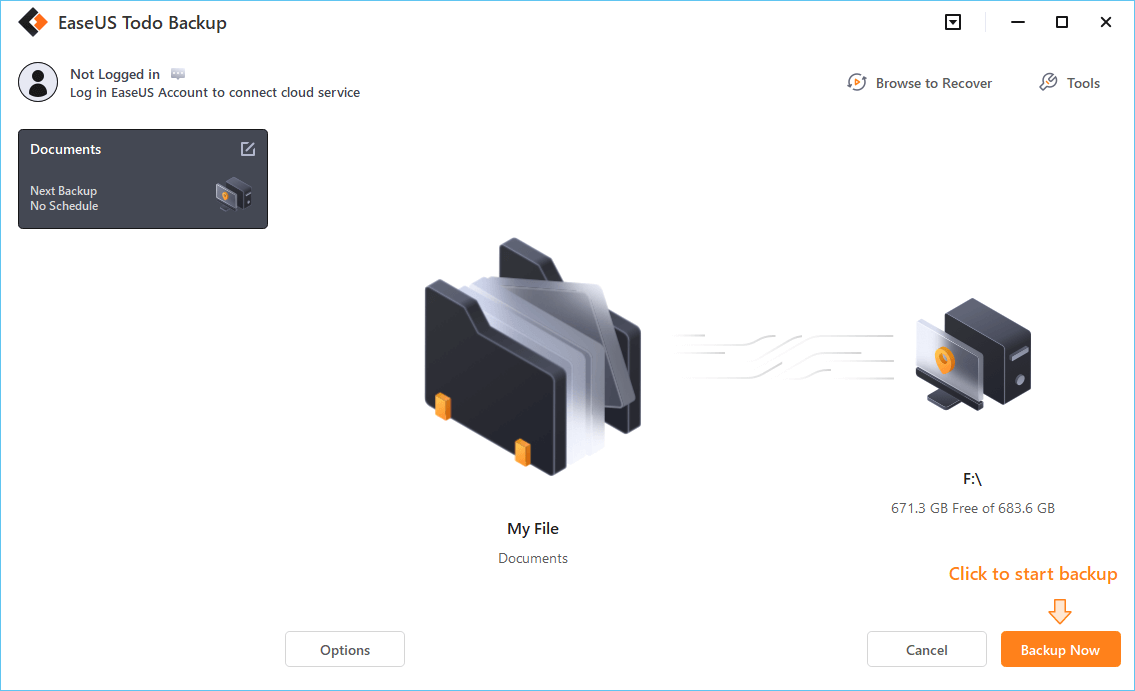 Final Words
We've highlighted a few backup issues and how to solve them in this article. So, if your Windows 10 backup failed or isn't working, give these solutions a shot; we are confident they'll solve your problem. What's more, you can try the EaseUS Todo Backup as an alternative to back up your files and folders.

Author Jean has been writing tech articles since she was graduated from university. She has been part of the EaseUS team for over 5 years. Her special focuses are data recovery, disk partitioning, data space optimization, data backup and Mac OS. By the way, she's an aviation fan!
Gemma is member of EaseUS team and has been committed to creating valuable content in fields about file recovery, partition management, and data backup etc for many years. She loves to help users solve various types of computer related issues.
Taking everything into consideration, we can say that EaseUS Todo Backup Home can offer you a little extra sense of security with a set of advanced tools. The interface provides quick adaptation, every process guiding you all the way through so you don't get stuck or further damage your system rather than keeping it safe.

 Read More

EaseUS Todo Backup Free lets you create backups of your important files or your entire computer through its streamlined interface. Just choose the backup type you'd like to get started, and let the program do the reset.

 Read More

EaseUS includes all the features I expect from backup software like versioning, incremental backups, and scheduling. For more advanced users, EaseUS allows you to install a pre-boot environment onto your hard drive so you can use it to restore files without burning a CD or putting it on an external USB drive.

 Read More

EaseUS Todo Backup
Smart backup tool for your files and entire computer in Windows 10/8/7.
Install Windows on Multiple Computers at Once? No Problem!
Learn how to install Windows 11/10/7 and special programs/software on a batch of computers. Use 10 minutes to do the 10 hours work without making a single mistake!
Get Free Solution!