Windows 10 Backup and Restore - Full Solutions to Protect System, Data and Applications
Updated by
Jean
on Mar 04, 2022
No one likes to think about things going wrong, but it is best to be prepared for the worst. Here, we are going to explore Windows 10 backup and restore options, revealing just what it is you need to back up, and how to go about doing it.
You many well be aware of various Windows 10 backup and restore approaches, but which is best? While it is true that you can take care of much of the backing up process yourself, in reality your life will be a great deal easier if you turn to a dedicated backup and recovery tool to help you out.
What we're talking about here is the process of backing up your entire computer, not just important files and folders. By opting to go all out in this way, you give yourself a quick and easy way to get your computer back up and running if something terrible should happen. it means that you can essentially take a snapshot of your computer which you can return to with relative ease – and without the need to speed hours reinstalling all of the software your need.
What Do You Need to Do for Windows 10 Backup and Restore?
Just what you need to back up really depends on how you use your computer, but there are various things to consider. There are, of course, your personal files, photos, videos, documents, and so on, but there are also this like the applications you have installed, the settings you have in place in both Windows 10 and your software, and any history records that the apps you use may generate. There is also the registry to consider, drivers, and much more.
Just starting to look at this list should make it apparent that undertaking a manual backup is going to be something of an arduous task – and this is precisely why the likes of EaseUS Todo Backup were developed!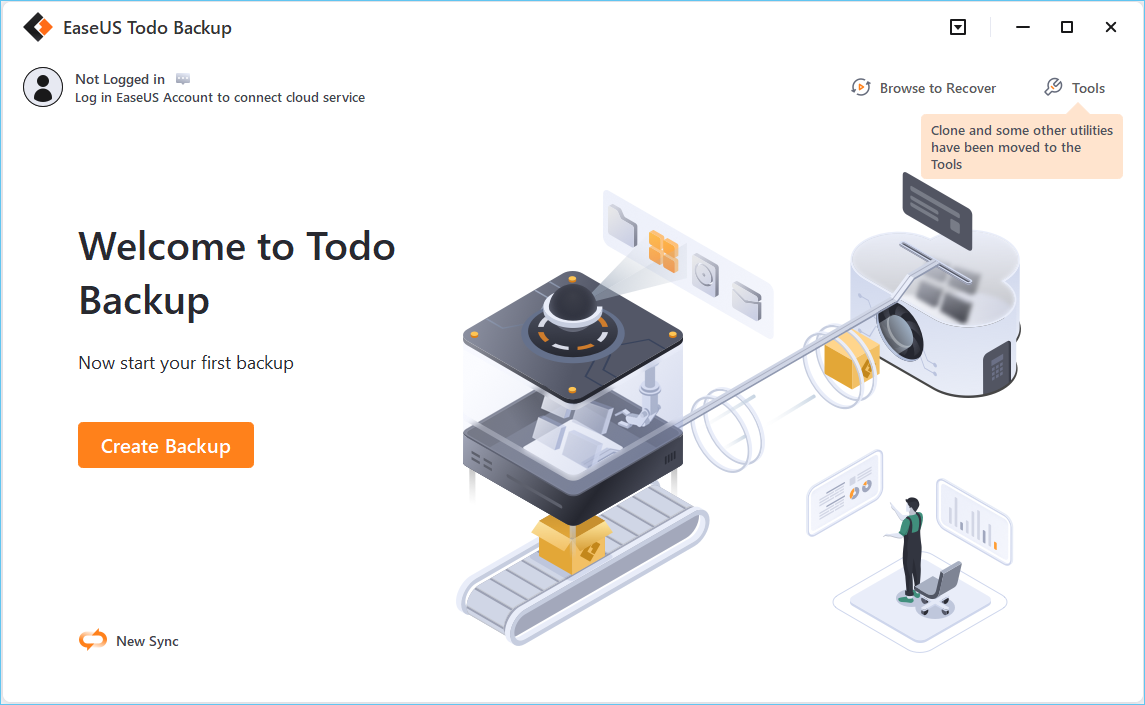 There is a trial version of EaseUS Todo Backup available for you to take for a test drive.
Choose A Suitable Method to Backup and Restore Windows 10
The manual option
Your computer contains a huge number of files. Some of these you will have created yourself, some are part of Windows 10, and other will have been created by the programs you use. In many instances, backing up files can be as simple as copying them to another location, but this is not something that you can do for Windows' own files; many files are in use when your computer is switched on, and this will prevent you from making copies of them.
However, if you are determined to do things manually, there are still certain things that you will be able to backup with relative ease. Windows includes the System Restore feature which enables you to create a restore point that backs up the registry, key system files and the applications you've installed.
You can find System Restore by clicking the Start button and searching for "Create a restore point". You can then click Create and enter a name for your restore point. Should something go wrong in future – such as a problem with driver conflicts – you can roll back your computer to an earlier time by reverting it to a restore point.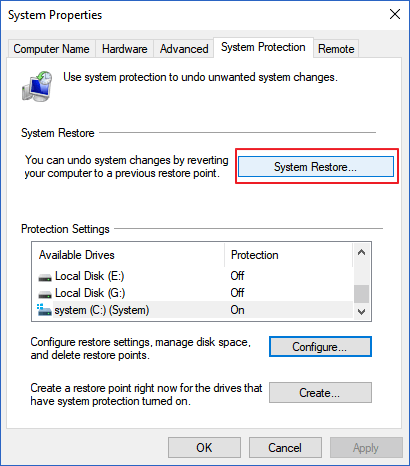 Windows 10 retains the backup tool from Windows 7, but it is slightly hidden – this is because, although the tool still works, it is not officially supported by Microsoft. Open Settings and head to the Update & Security section. Click the Backup link to the left, and then click "Go to Backup and Restore (Windows 7). Now click "Create a system image to the left" and indicate where you would like to save your backups – you can choose a network drive, hard drive (local or removable) or recordable DVDs. There are no further option to consider; you just need to click the "Start backup" button and wait while your backup is created.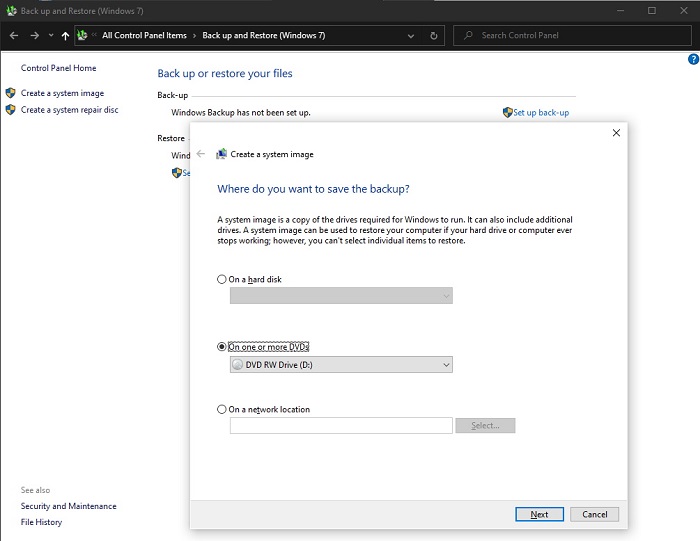 Windows 10 also includes the File History tool which can also be found in the Backup section of Update & Security in Settings. Click "Add a drive" and choose where you would like to save your backups. Make sure that the "Automatically back up my files" option is enabled, and click "More options". You can then use the drop down menus to choose how often files should be backed up, how long backups should be retained, and which folders should be included.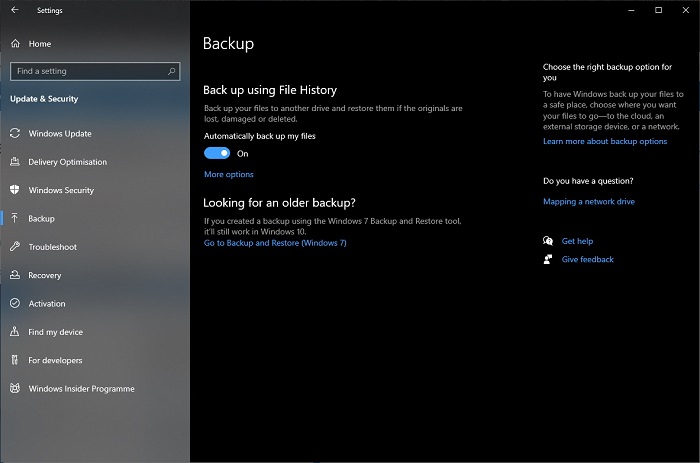 The automated option: EaseUS Todo Backup
As you can see, backing things up manually in Windows 10 is a bit of a convoluted process – and that's precisely why turning to EaseUS Todo Backup makes so much sense. In just a few clicks you can secure your entire system, backing up the full contents of its hard drive or hard drives.
There are three main versions of the PC backup and restoration program available: EaseUS Todo Backup Free Edition is available free of charge for home users to back up personal data, and more advanced features available in EaseUS Todo Backup Home Edition. There's also a version for Mac users to do data backup and protection.
Creating a full system backup is incredibly simple. Fire up the application, and click the System Backup button in the panel to the left – it is the second button down after the menu icon. The first thing you need to do is choose where the backup will be saved, and you can opt for an external hard drive, NAS drive, or other networked devices.
Click the Schedule link and you can now only configure settings that will ensure your backup is constantly kept up-to-date, but also choose between full, incremental, and differential backups. There are more advanced settings available if you click the "Backup options" button, but this is not necessary. Instead, you can just click Save and wait for the first backup to be created on a schedule, or start the process straight away by clicking Backup.
Please follow the detailed tutorial below to do a Windows 10 backup and restore with EaseUS Todo Backup
Step 1. Launch EaseUS Todo Backup on your computer, and click Create Backup on the home screen and then hit the big question mark to select backup contents.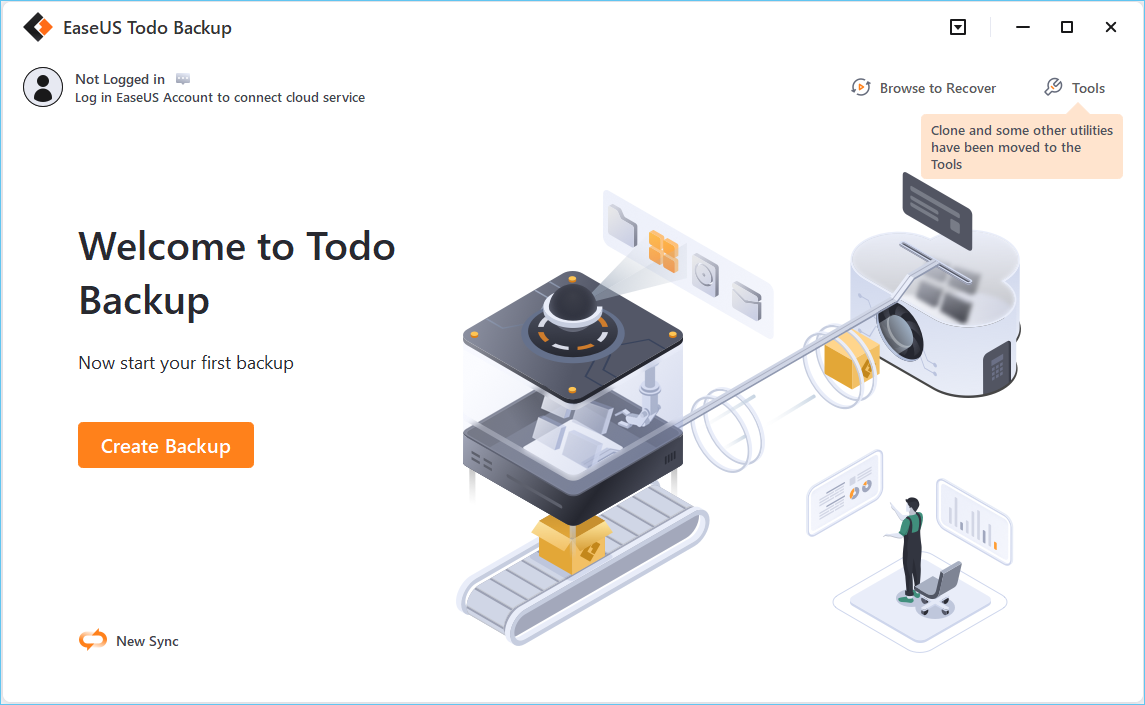 Step 2. To back up your Windows operating system, click "OS" to begin the backup task.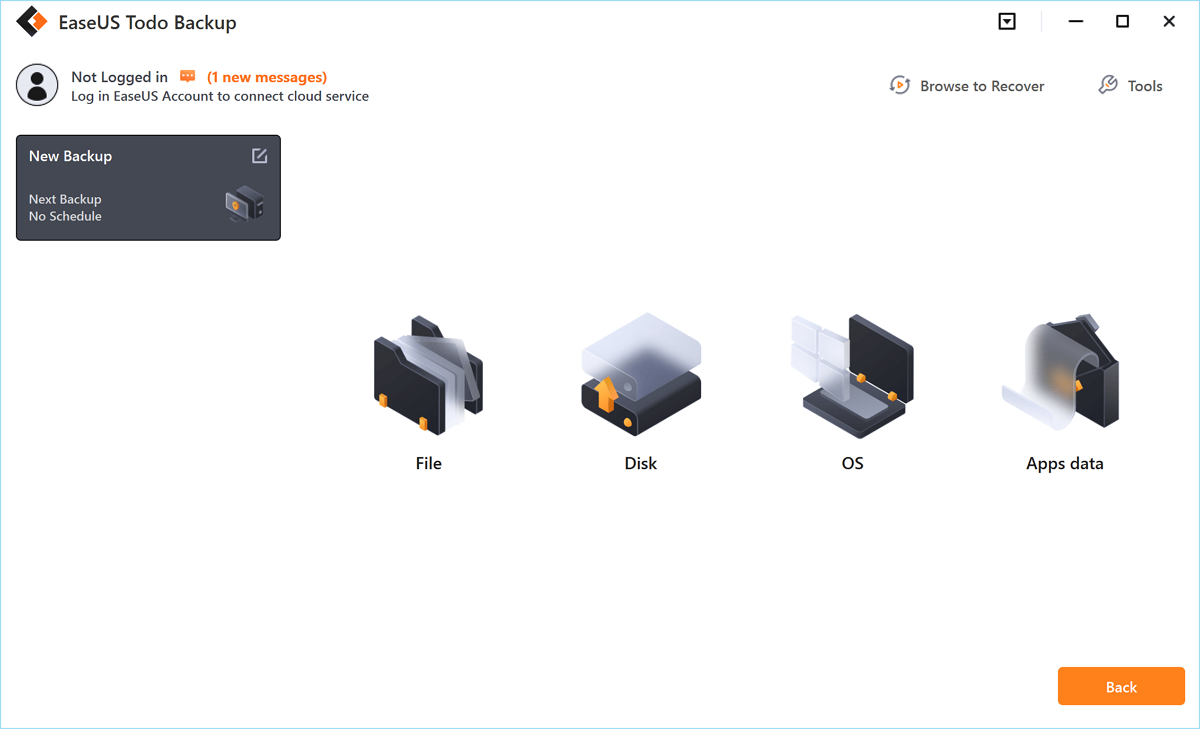 Step 3. Your Windows operating system information and all system related files and partitions will be automatically selected so you don't need to do any manual selection at this step. Next, you'll need to choose a location to save the system image backup by clicking the illustrated area.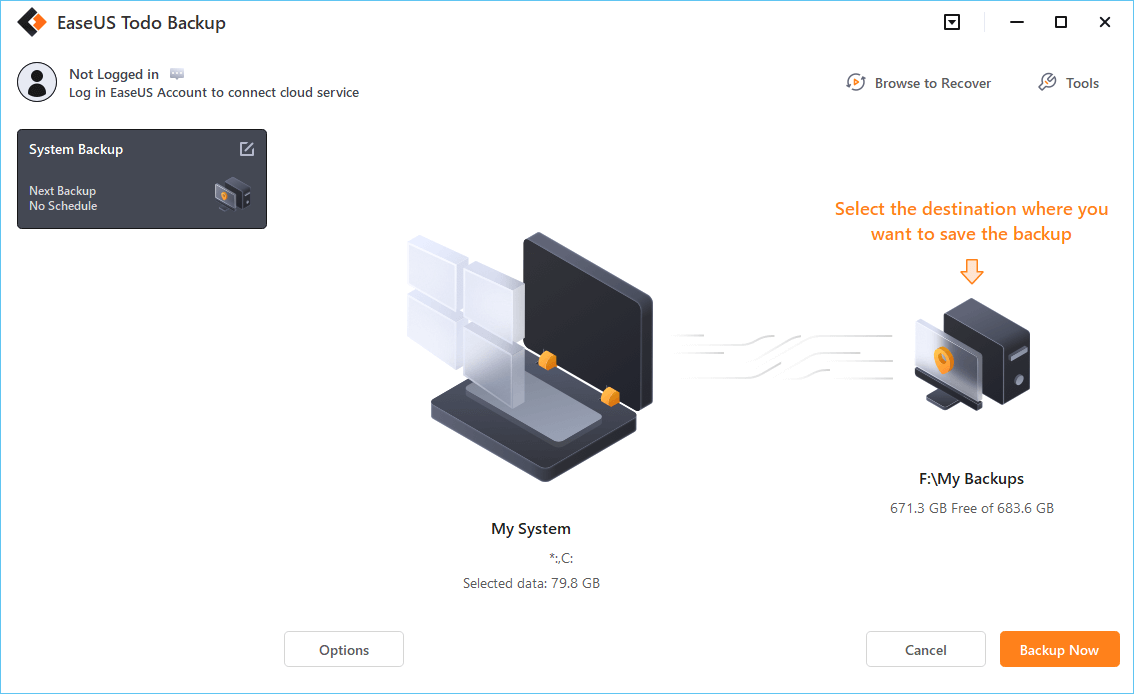 Step 4. The backup location can be another local drive on your computer, an external hard drive, network, cloud or NAS. Generally, we recommend you use an external physical drive or cloud to preserve the system backup files.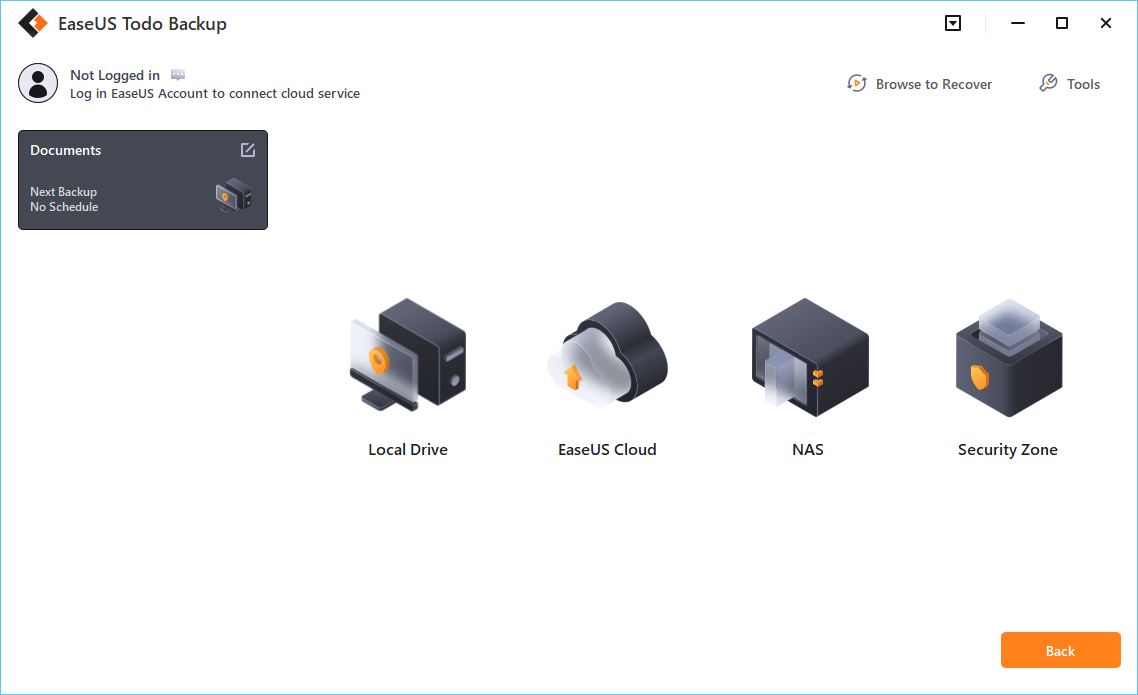 Step 5. Customiztion settings like enabling an automatic backup schedule in daily, weekly, monthly, or upon an event, and making a differential and incremental backup are available in the Options button if you're interested. Click "Backup Now", and the Windows system backup process will begin. The completed backup task will display on the left side in a card style.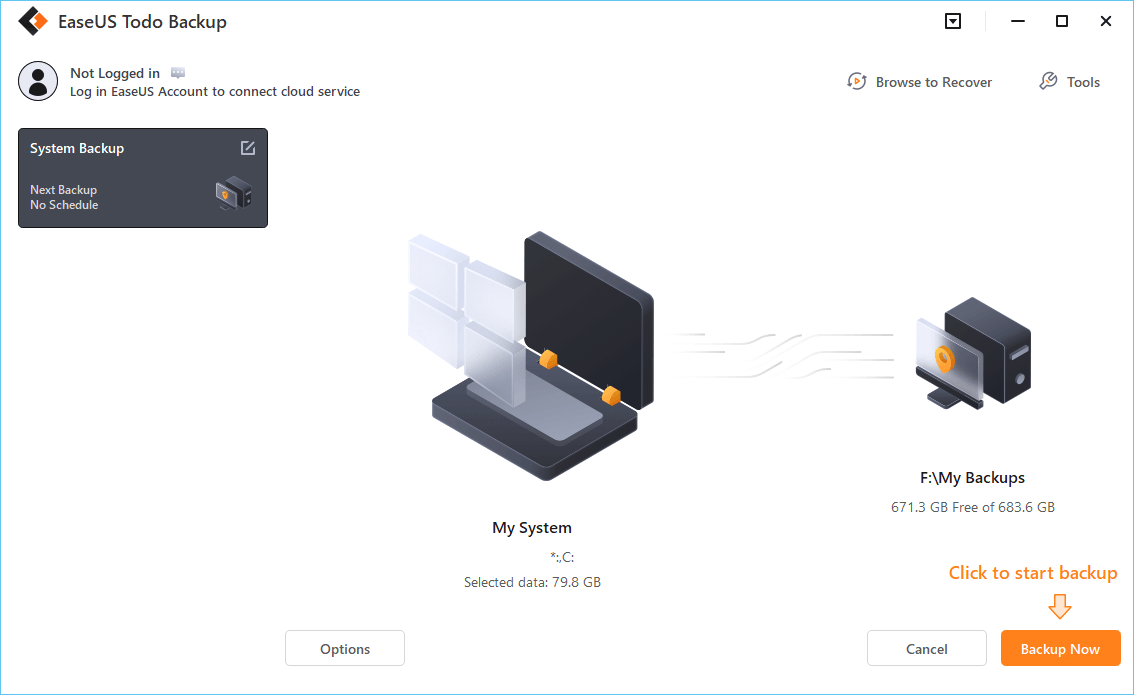 If the Windows 10 system encounters any disasters or damaged issues, please run the system recovery feature in EaseUS Todo Backup.
* To perform system recovery on a none-bootable machine, try to boot the computer through the EaseUS Todo Backup emergency disk.
Step 1. Launch EaseUS Todo Backup, click "Browse to Recover".
Step 2. Guide to your backup destination, choose the system backup file you need. (The backup file created by EaseUS Todo Backup is a pbd file.)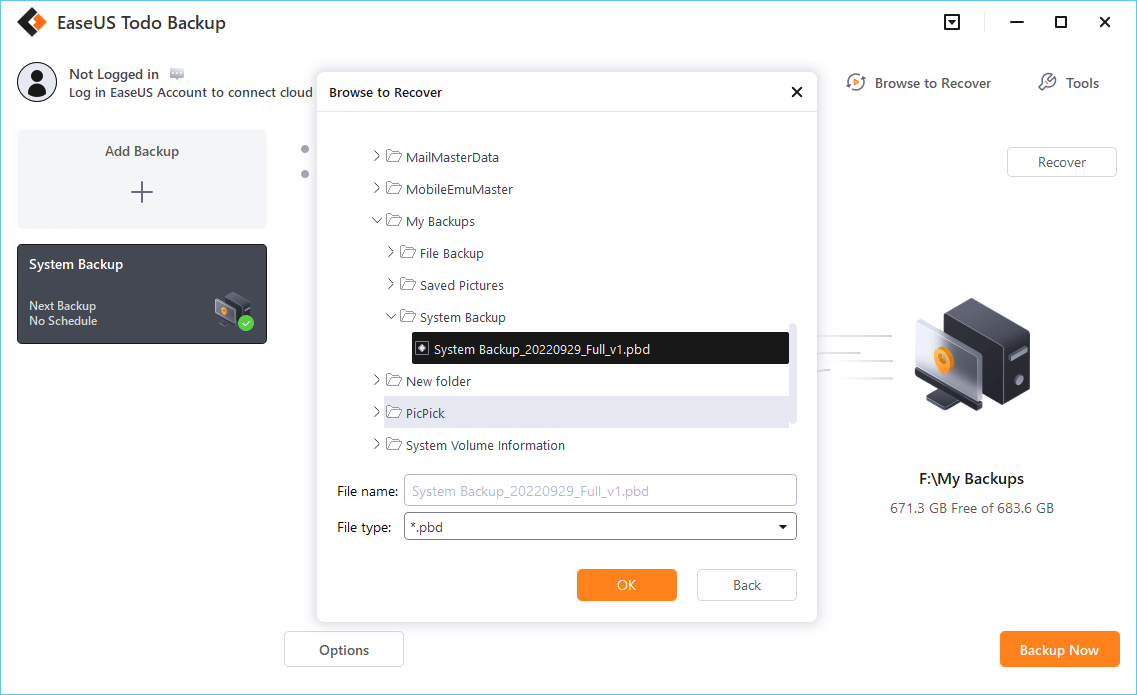 Step 3. Choose the recovery disk. Make sure that the partition style of the source disk and the recovery disk are the same.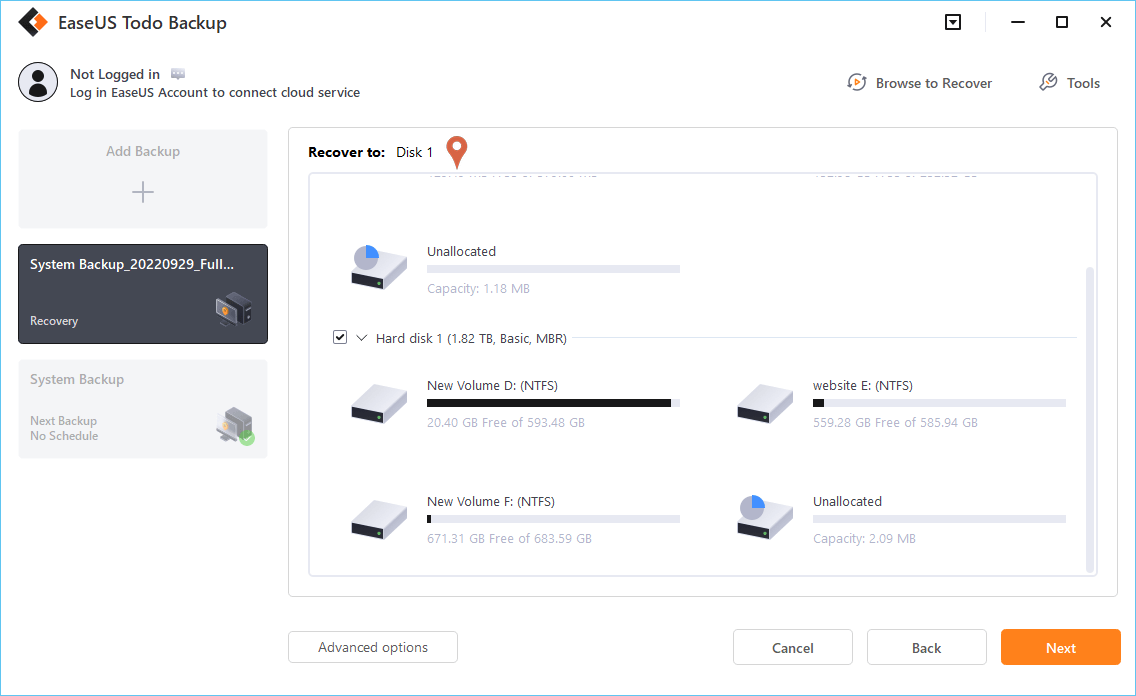 Step 4. You can customize the disk layout according to your needs. Then click "Proceed" to start system backup recovery.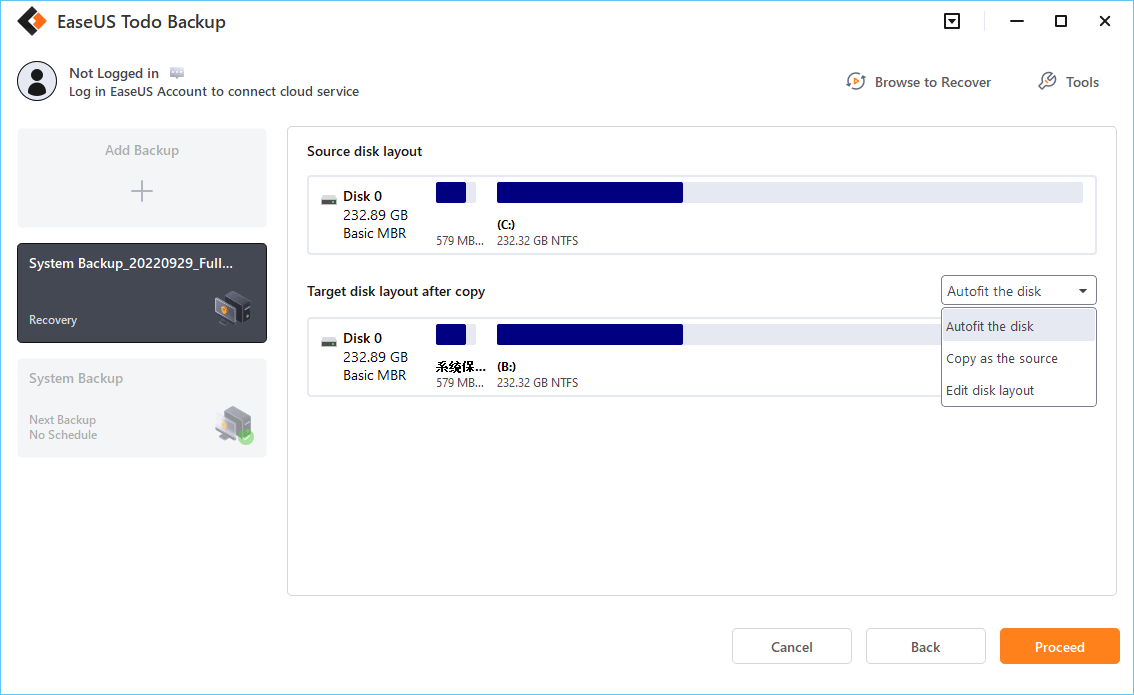 In summary
While Windows 10 includes various tools and options that can be used to back up your computer, it is far from simple. It makes much more sense to use a program like EaseUS Todo Backup to take care of everything in one place, and to ensure that the backups you create are automatically kept up to date – after all, an out-of-date backup is not much better than having no backup at all.

Author Jean has been writing tech articles since she was graduated from university. She has been part of the EaseUS team for over 5 years. Her special focuses are data recovery, disk partitioning, data space optimization, data backup and Mac OS. By the way, she's an aviation fan!

Myra joined EaseUS in 2017. As a big fan of Apple products, she mainly focuses on iOS data transfer and iOS troubleshooting tips. Meanwhile, she is expanding her knowledge and skills in other fields like data recovery and disk management. Myra is open-minded and likes both extensive and intensive reading. Other than reading and writing, she is also fond of mobile games and K-pop stars.
Taking everything into consideration, we can say that EaseUS Todo Backup Home can offer you a little extra sense of security with a set of advanced tools. The interface provides quick adaptation, every process guiding you all the way through so you don't get stuck or further damage your system rather than keeping it safe.

 Read More

EaseUS Todo Backup Free lets you create backups of your important files or your entire computer through its streamlined interface. Just choose the backup type you'd like to get started, and let the program do the reset.

 Read More

EaseUS includes all the features I expect from backup software like versioning, incremental backups, and scheduling. For more advanced users, EaseUS allows you to install a pre-boot environment onto your hard drive so you can use it to restore files without burning a CD or putting it on an external USB drive.

 Read More

EaseUS Todo Backup
Smart backup tool for your files and entire computer in Windows 10/8/7.
Install Windows on Multiple Computers at Once? No Problem!
Learn how to install Windows 11/10/7 and special programs/software on a batch of computers. Use 10 minutes to do the 10 hours work without making a single mistake!
Get Free Solution!