What is a Recovery Image? Everything You Should Know
Updated by
Jean
on Nov 29, 2021
On this page, we will be introducing system images and how to use them for data backup. Same with the creation process, you can restore a system image backup with either Windows or EaseUS tools, depending on which software you used to create it. Additionally, we will introduce the Windows recovery drive function, which can be booted to reinstall or restore Windows 10.
What Is a Recovery Image
In computing, a system image is the storage of the system's current state. The state can be saved as files for easy access and storage. System images are commonly used as data backup, which acts as a restore point for the system.
Keeping image backups of your computer system is useful when you are experiencing issues such as partition loss or data corruption. By using the appropriate tool you will be able to restore the operating system's state back to normal, fixing all issues on your computer.
Backing up using recovery images is generally more powerful and less prone to failures compared to backing up individual files and folders. In case of system failure, if you have only backed up some important files, you will still need to attempt system recovery. This can be time-consuming and may not succeed. However, with recovery images, you can easily restore the system back to its previous state with a few clicks.
How to Create a Recovery Image on Windows 10/8/7
First, we will discuss how system images work, and how to create them with Windows and EaseUS tools. Next, there will be examples of situations that system image backups are preferred over file backups.
Method 1. Create Windows Recovery Image Using Windows Built-in Tool
While the main backup method of Windows 10 is by using File History, it still supports system images since Windows 7. You can create the system image on an external drive by following the steps below
Step 1. Go to Control Panel > Backup and Restore (Windows 7)
Step 2. Select Create a system image.
Step 3. Select the external drive you want to store the system image on, then click Next. Check that the drive has enough free space to be used.
Ensure that there is enough space on the storage device.
Step 4. Select all disk partition that you want to include in the backup.
System partitions are backed up by default.
Step 5. Confirm your backup settings and then click Start backup to create the system image.
Once the process is completed, safely eject the storage device and store it in a secure location. You can create a new system image backup regularly as needed.
Method 2. Create a Windows Recovery Image Using EaseUS Software
As noted above, while Windows built-in tool can be accessed easily, the functionality is fairly limited. By using powerful tools like EaseUS Todo Backup, you can create system image backup more easily. With our sophisticated design, this tool can create Windows recovery images efficiently.
Notably, A backup image file created by EaseUS Todo Backup is smaller than one created by Windows built-in tool, More importantly, we have designed our software to be accessible for beginners. The clean, easy-to-understand interface allows users to perform various data operations within a few simple steps.
Step 1. Launch EaseUS Todo Backup on your computer, and click Create Backup on the home screen and then hit the big question mark to select backup contents.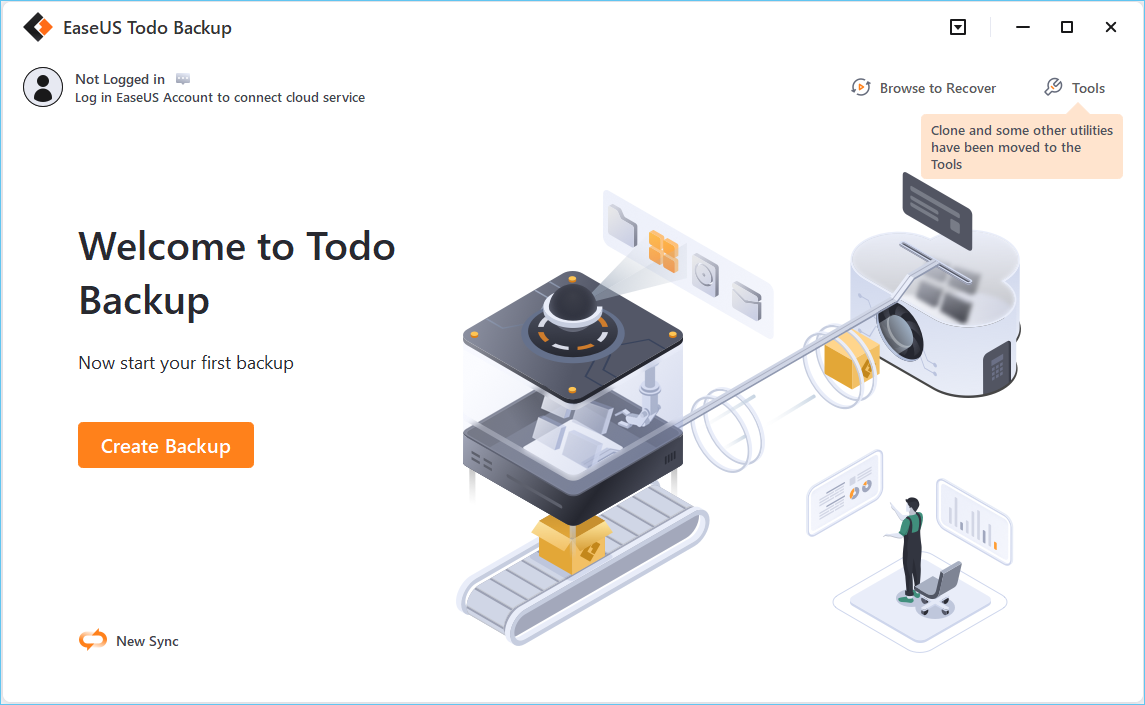 Step 2. To back up your Windows operating system, click "OS" to begin the backup task.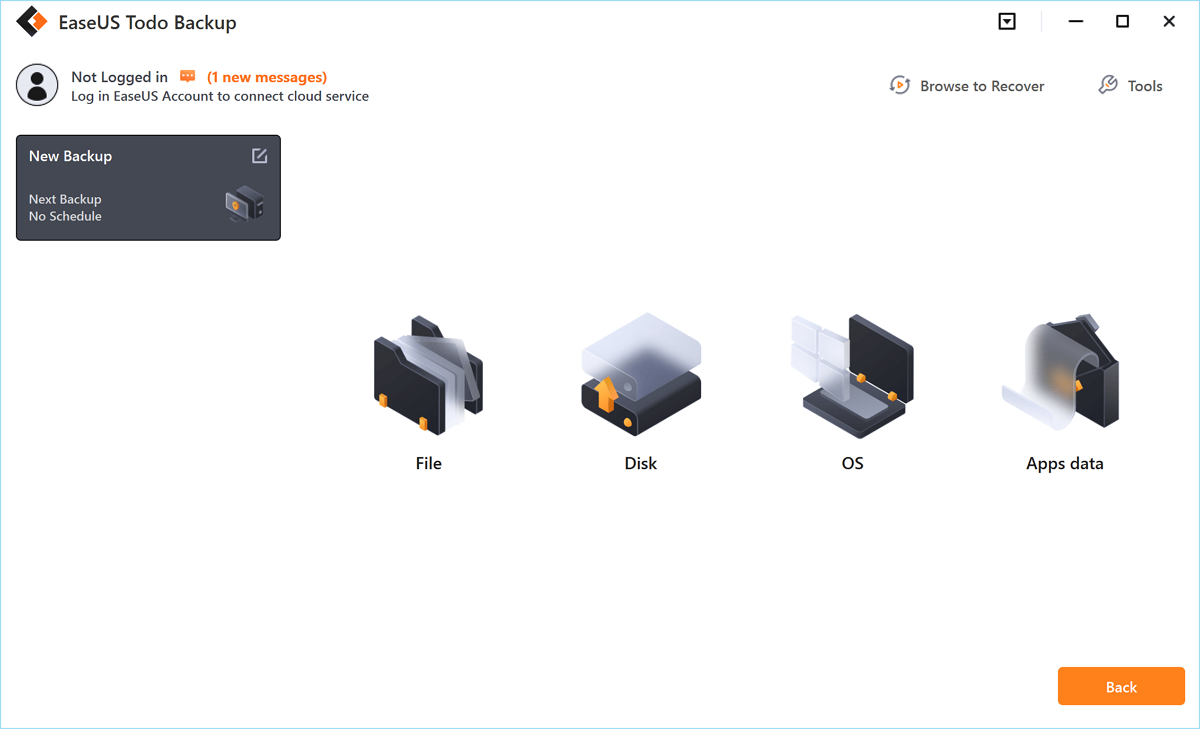 Step 3. Your Windows operating system information and all system related files and partitions will be automatically selected so you don't need to do any manual selection at this step. Next, you'll need to choose a location to save the system image backup by clicking the illustrated area.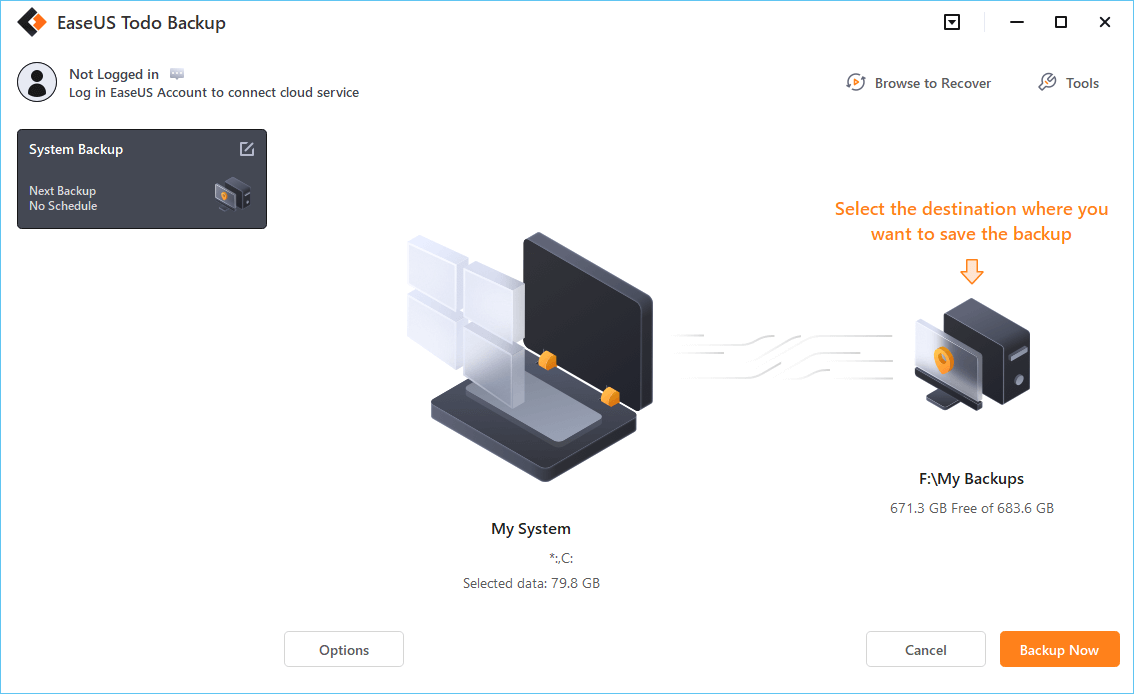 Step 4. The backup location can be another local drive on your computer, an external hard drive, network, cloud or NAS. Generally, we recommend you use an external physical drive or cloud to preserve the system backup files.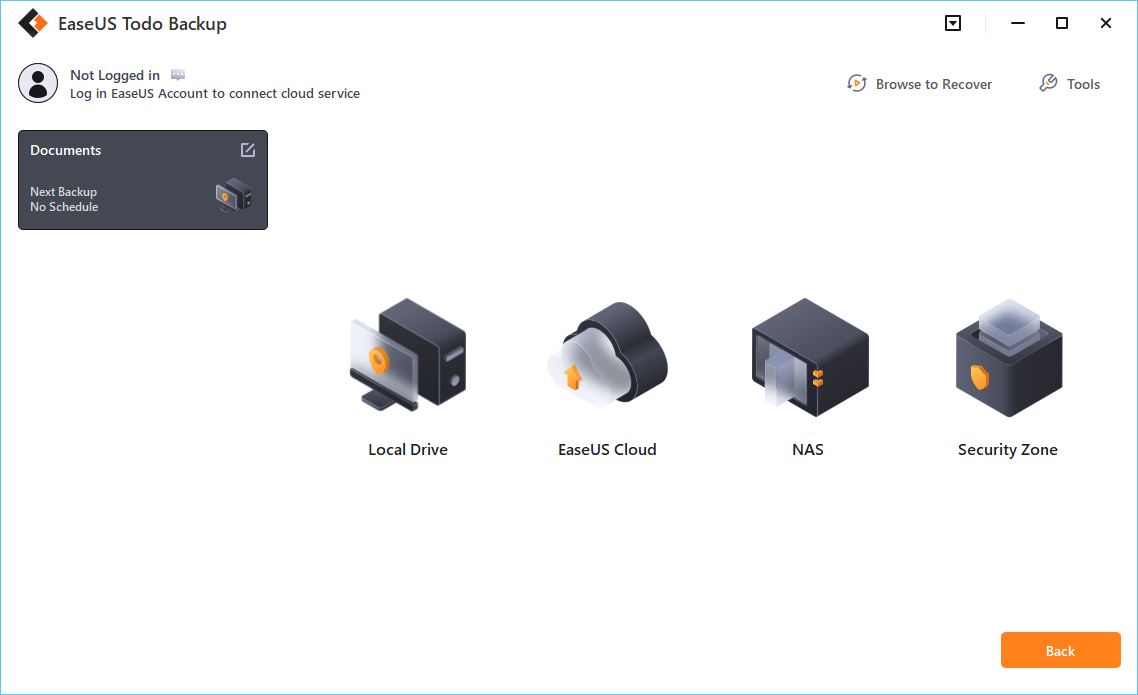 Step 5. Customiztion settings like enabling an automatic backup schedule in daily, weekly, monthly, or upon an event, and making a differential and incremental backup are available in the Options button if you're interested. Click "Backup Now", and the Windows system backup process will begin. The completed backup task will display on the left side in a card style.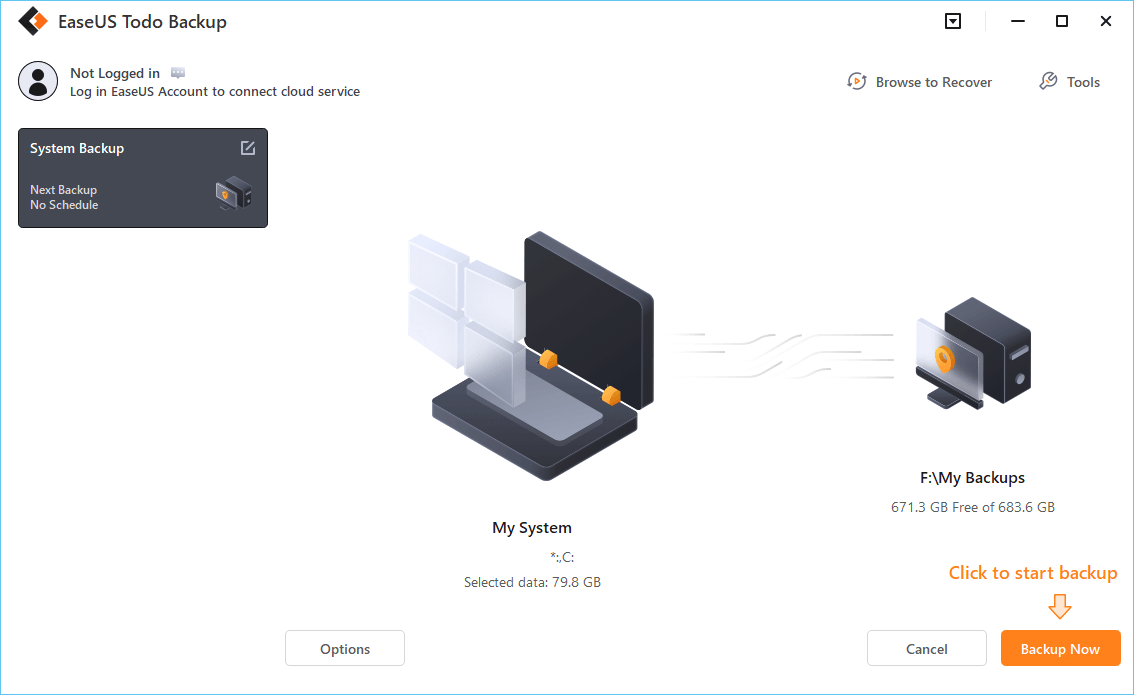 And with the same tool, you can also set up an automated data backup schedule, so you don't have to worry about keeping both recovery images and file backups up-to-date, it can all be done automatically for you.
When and How to Use a Recovery Image
Generally, for smaller issues, it can be easier to simply use backups of individual files to revert any changes or damage to the files. Recovery images are more useful when there are major issues with the computer system, such as hardware failure, disk corruption, or partition loss.
In such cases, you will be able to fully revert the issue by performing a system recovery. This can be done with Windows built-in tool or with EaseUS Todo Backup. The steps will be listed below.
Method 1. Restore a Recovery Image via Windows Built-in Tool
If there are major changes or issues with the system that you want to quickly revert, you can restore from the system image you have created. With a system image, you can restore Windows to its previous state even with serious problems such as disk corruption or virus infection.
If your backup files are kept on the same system, they may get damaged or lost along with other files. Therefore, it's crucial that your backup files are securely stored on another device to prevent complications.
Step 1. Go to Control Panel > Backup and Restore (Windows 7)
Step 2. Connect the external device with image backup to the computer.
Step 3. Click Select another backup to restore files from.
Step 4. Select the needed backup from the list, and follow on-screen instructions to restore your files.
Note that newly created files or changes made to existing files may be lost during the restore process, backup any important data as necessary.
Method 2. Restore System Image Backup via EaseUS Todo Backup
If you have used EaseUS Todo Backup to create Windows system images, you can use them to restore your system to its previous state. As long as the system images are securely kept and not damaged, you will be able to restore Windows without any issues.
* To perform system recovery on a none-bootable machine, try to boot the computer through the EaseUS Todo Backup emergency disk.
Step 1. Launch EaseUS Todo Backup, click "Browse to Recover".
Step 2. Guide to your backup destination, choose the system backup file you need. (The backup file created by EaseUS Todo Backup is a pbd file.)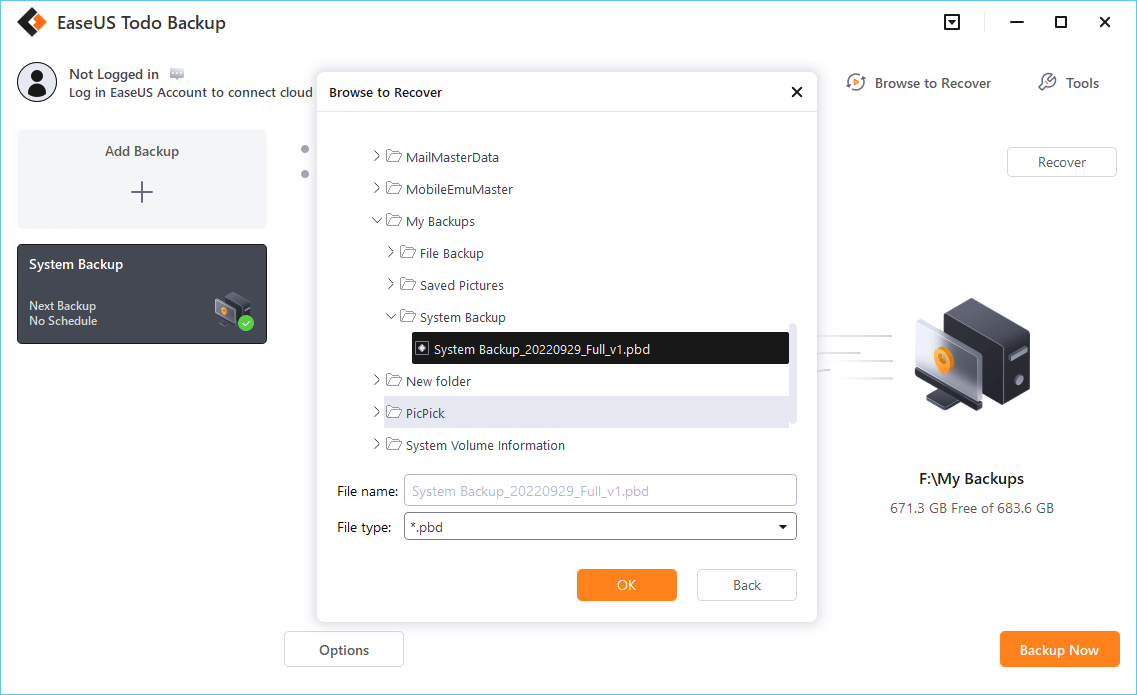 Step 3. Choose the recovery disk. Make sure that the partition style of the source disk and the recovery disk are the same.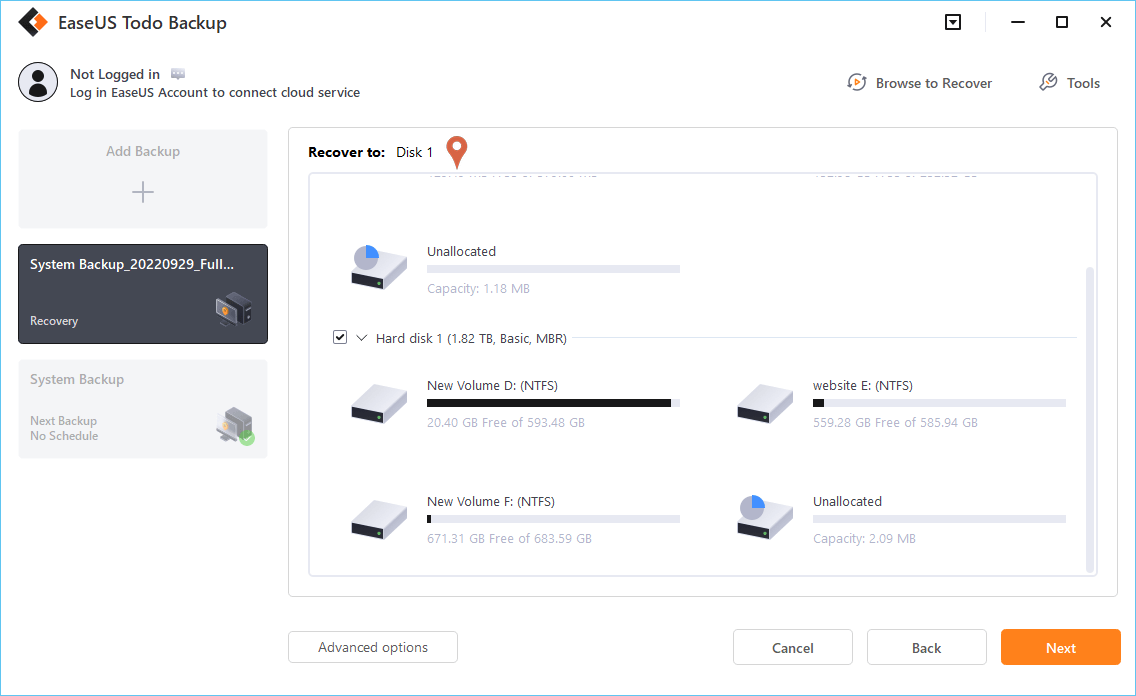 Step 4. You can customize the disk layout according to your needs. Then click "Proceed" to start system backup recovery.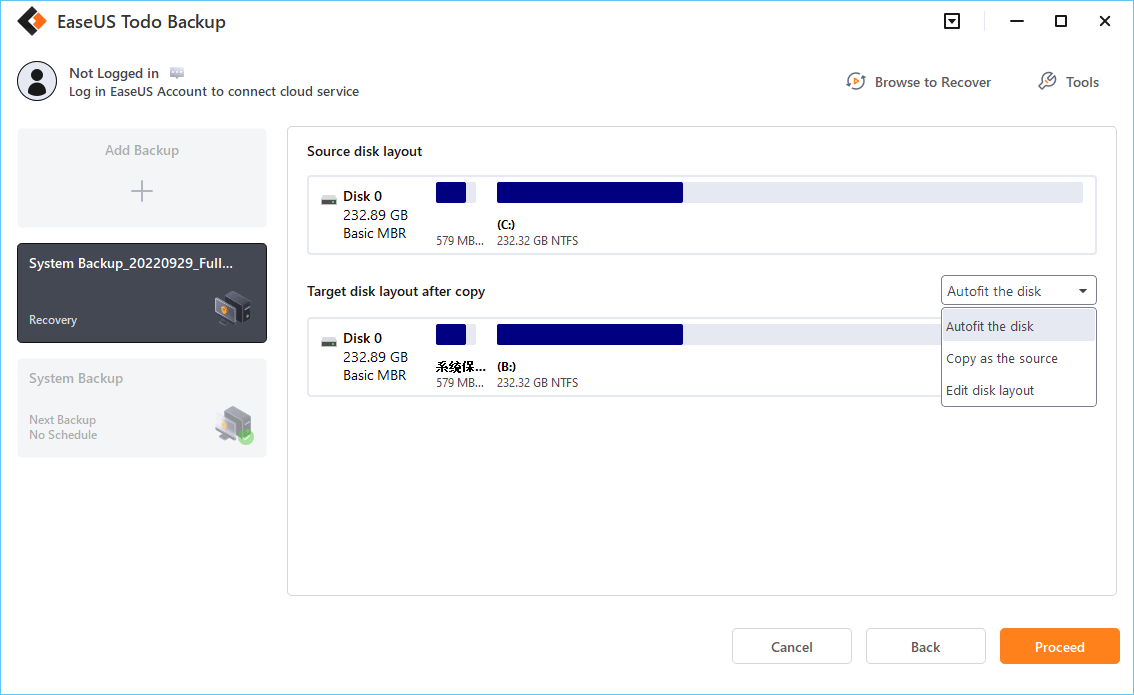 Extended Reading: What Is and How to Create a Recovery Drive
On Windows, you can create a recovery drive that can be used to reinstall Windows 10 in case of major system issues such as hardware failure. However, the recovery drive created through this method is not a full system image, so your files must be backed up separately.
You will need a USB drive with at least 16 GB capacity. All data on the drive will be erased when used to create a recovery drive.
Step 1. Open Start Menu and search for "Create a recovery drive." You may have to enter the admin password and confirm your choice.
Step 2. Make sure the "Back up system files to the recovery drive" checkbox is checked, and then click Next.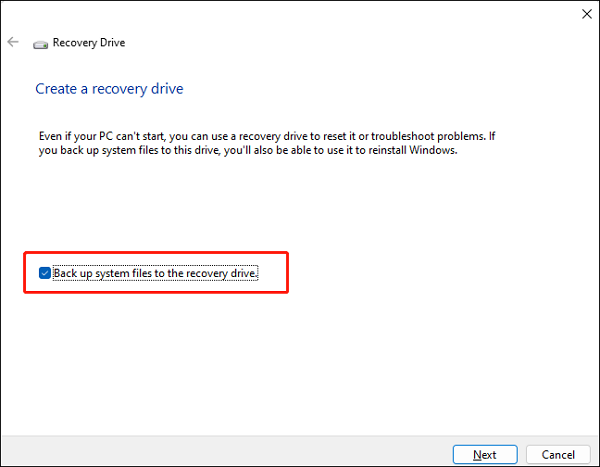 Step 3. Connect the USB drive to your computer, then click Next.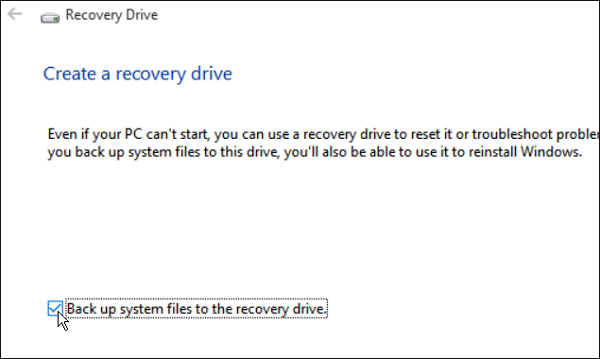 Step 4. Click Create and wait for all files to be transferred
Step 5. Safely eject and store the recover drive in a secure location.
Conclusion
A system image is the storage of the system's current state. Using these images as backup, you can restore the system back to its previous state in case of an issue with the system. You can either create a system image using Windows built-in tool in Control Panel or choose EaseUS Todo Backup to efficiently and effortlessly create Windows system images.
The EaseUS Todo Backup created system image takes up less space compared to one created by Backup and Restore. In case of data loss, disk corruption, virus infection, and other major issues, You can restore the system within a few simple steps thanks to EaseUS Todo Backup's easy-to-use interface.
Apart from system images, Windows also supports creating recovery drives. Recovery drives are smaller than full system images, as they only contain the files necessary to boot and reinstall Windows 10 from the drive in case the system drive fails to boot. While a recovery drive doesn't back up your files, it can still be useful if you are already maintaining separate backups for your important files.

Author Jean has been writing tech articles since she was graduated from university. She has been part of the EaseUS team for over 5 years. Her special focuses are data recovery, disk partitioning, data space optimization, data backup and Mac OS. By the way, she's an aviation fan!
Written by Tracy King 
Tracy joined in EaseUS in 2013 and has been working with EaseUS content team for over 7 years. Being enthusiastic in computing and technology, she writes tech how-to articles and share technical solutions about Windows & Mac data recovery, file/system backup and recovery, partition management and iOS/Android data recovery.
Taking everything into consideration, we can say that EaseUS Todo Backup Home can offer you a little extra sense of security with a set of advanced tools. The interface provides quick adaptation, every process guiding you all the way through so you don't get stuck or further damage your system rather than keeping it safe.

 Read More

EaseUS Todo Backup Free lets you create backups of your important files or your entire computer through its streamlined interface. Just choose the backup type you'd like to get started, and let the program do the reset.

 Read More

EaseUS includes all the features I expect from backup software like versioning, incremental backups, and scheduling. For more advanced users, EaseUS allows you to install a pre-boot environment onto your hard drive so you can use it to restore files without burning a CD or putting it on an external USB drive.

 Read More

EaseUS Todo Backup
Smart backup tool for your files and entire computer in Windows 10/8/7.
Install Windows on Multiple Computers at Once? No Problem!
Learn how to install Windows 11/10/7 and special programs/software on a batch of computers. Use 10 minutes to do the 10 hours work without making a single mistake!
Get Free Solution!