PAGE CONTENT:
Situation
Preparation
Solutions
Situation - USB Device Not Recognized Keeps Popping Up
"I keep receiving the 'USB device not recognized' notification on my HP laptop currently running Windows 10 whether there is a real USB connected or nothing plugged there. Besides, with 'USB device not recognized' keeps popping up, my USB flash is not working properly as it could. Can anyone tell me how to turn it off or totally stop the error from happening again?"
"USB device not recognized" is a common hardware device error that many users may come across. This notification may keep popping up no matter there is a USB plugged in or not. When it happens, you cannot use your device as normal and it could be quite annoying especially when there is nothing plugged in. To eliminate the trouble, we will present you all the possible fixes. But before you try the solutions, in order to fix "USB device not recognized keeps popping up" without losing data, you should make a backup of your USB device.
Preparation - Back Up Your USB Before Fixing the USB Device Not Recognized Error
Don't skip this important step to take a full backup of your USB flash drive which carries documents, music, videos or other critical data, for some advanced troubleshooting may wipe your USB data and make it unrecoverable. If you are using a USB flash drive, you can make a backup simply by copy-and-paste. However, if you are using a USB hard drive that has a large capacity, to back up your USB files safely and quickly, we recommend you try the free backup software - EaseUS Todo Backup. With it, you can back up your important files with simple clicks on other storage devices or cloud storage. Follow to keep your data safe.
Note: Please make sure that the new USB flash drive is empty and big enough for saving the backup image of your present USB files and data.
Step 1. Connect the new USB flash drive to your PC/laptop.
Step 2. Launch and EaseUS Todo Backup on your PC and click "Disk/Partition Backup" at the left pane.
Click the icon at the left top corner, and Disk/Partition Backup will show up on the pane.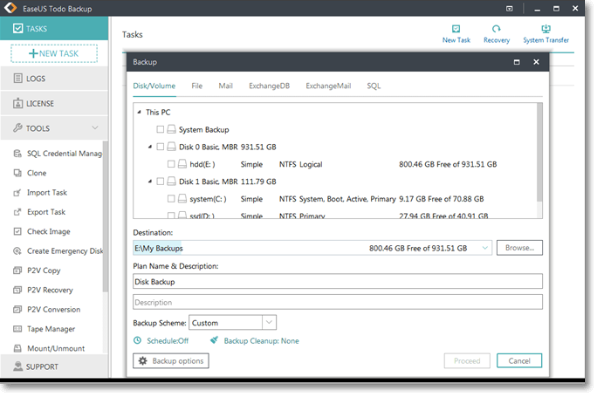 Step 3. Choose the USB that you want to back up as the source disk.
And select the new USB flash drive as the destination disk to save the backup image of the selected USB data.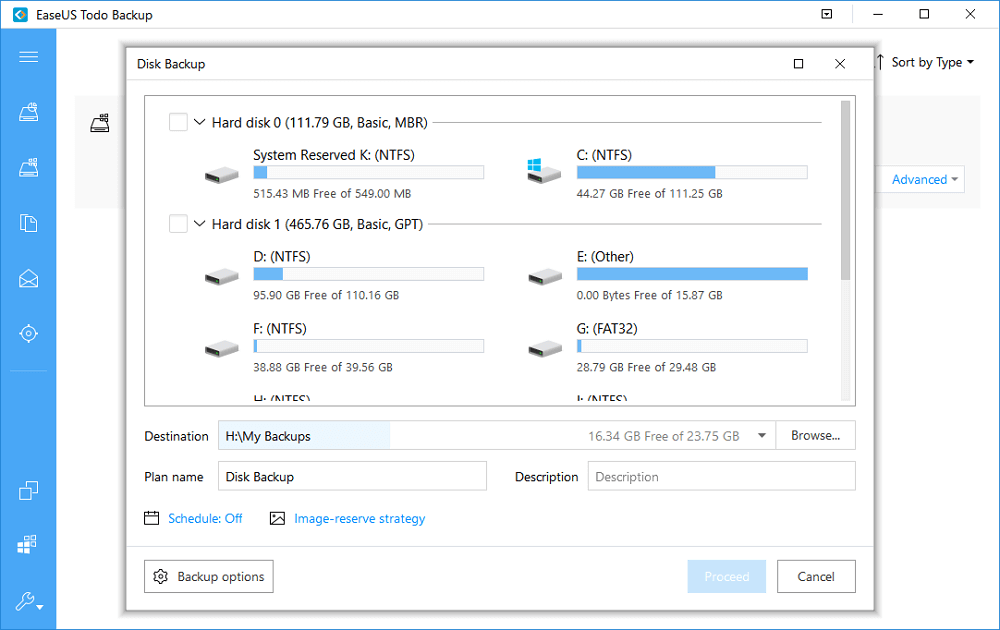 Step 4. Click "Proceed" to start backing up USB to USB now.
When the process finishes, you can unplug or disconnect the USB flash drive.
And all the data on the old USB flash drive will appear on your new USB flash drive, displaying as a compressed form by taking small space.
Fixes to USB Device Not Recognized Keeps Popping Up
According to the users who have successfully solved the error, here are the most effective solutions.
Method 1. Troubleshoot Your USB Device
A problematic USB is the main cause of "USB device not recognized keeps popping up", the easiest way to check your USB error is to run the Windows built-in troubleshooter.
Step 1. Press the "Windows" key and type troubleshoot.
Step 2. Click "Troubleshoot".
Step 3. In the Settings window, scroll down to choose "Hardware and Devices".
Then the troubleshooter will run to detect and fix your USB device. After that, go to see whether the "USB device not recognized" notification still keeps popping up.
Method 2. Reinstall Your USB Device Driver
Something wrong with the USB drive can not only cause the "USB device not recognized" error but also lead to error "Code 43" in Windows 10. To Stop the repeatedly popping up notification, you can try:
Solution 1. Update the Device Driver
Try to install the latest drivers for your USB drive. It's very likely that installing the latest drivers for the device will remove code 43 error.
Step 1. Go to "Search", type device manager, and choose "Device Manager" from the result. Then it opens with your computer name at the top and a list of devices that are installed on your computer beneath your computer name.
Step 2. Find and right-click the problematic device and choose "Properties".
Step 3. Click "Driver" and then choose "Update Driver".
Step 4. Click "Search automatically for updated driver software".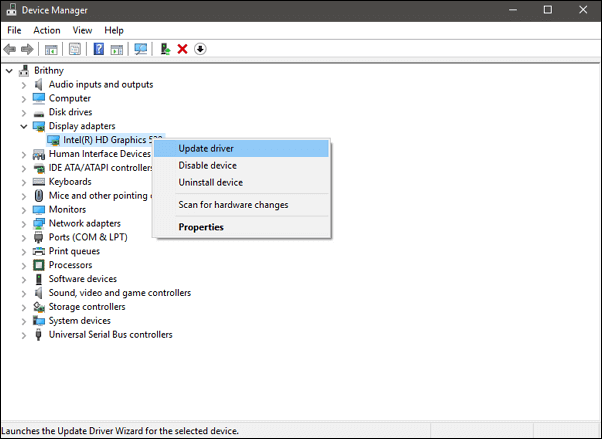 Solution 2. Roll Back the USB Driver
If you have updated the device driver before the error code 43 occur, rolling back the device driver could be one of the choices to fix the issue.
Step 1. Open "Device Manager".
Step 2. Right-click your device driver and choose "Properties".
Step 3. Go to "Driver" > "Roll Back Driver".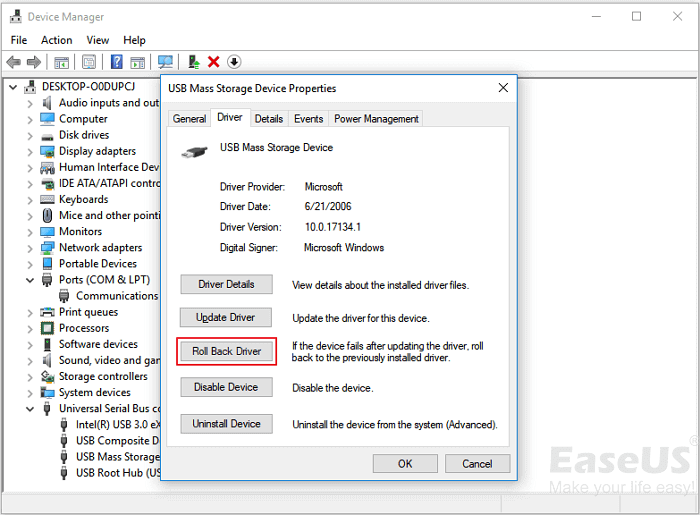 Solution 3. Uninstall and Reinstall the Device Driver
Some users have also reported the effectiveness of reinstalling the device driver to fix error code 43 in Windows 10. Try to uninstall and then reinstall your USB driver:
Step 1. Search and open "Device Manager".
Step 2. Locate the malfunctioning device in the list of devices, right-click the device, and then click Uninstall. When a warning message appears that you are uninstalling a device from your system, click "OK". Device manager uninstalls the device.
Step 3. Right-click your computer name in Device Manager and click "Scan for hardware changes". Device manager scans your system and automatically reinstalls your device.
Step 4. Right-click the device and click "Properties". On the General tab of the device Properties dialog box, in Device status, you should see the message "This device is working properly".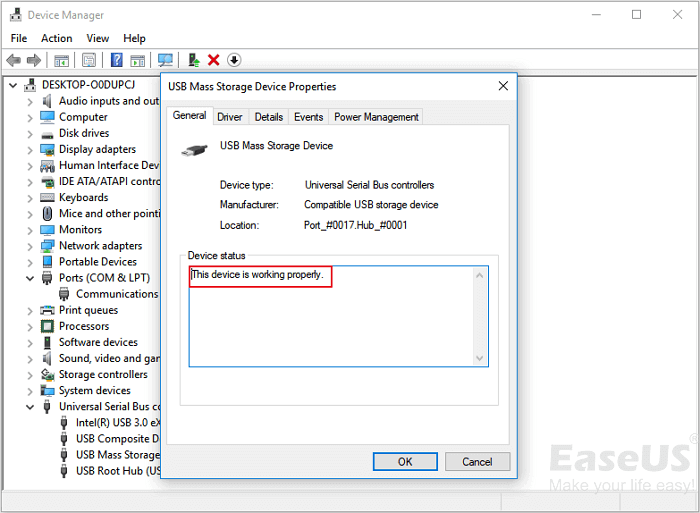 Method 3. Disable Notification
If your USB works properly or "USB device not recognized" keeps popping up with no USB plugged in, this is the most useful tip to prevent the notification from showing up.
Step 1. Open "Settings" and choose "Devcies".
Step 2. Click "USB" from the left panel.
Step 3. Uncheck the option "Notify me if there are issues connecting to USB devices".
"USB device not recognized" still keeps popping up in Windows 10? Although the methods above can solve the problem for most of the users. There are a small number of users reporting that the error remains after trying these fixes. As you may know, the causes of the "USB device not recognized" error vary. After doing some searching on Google and careful analysis, we find that, in rare cases, the endless popping up error may occur due to the following factors. Read on to see what's going on with your own device and follow the corresponding to try to prevent "USB device not recognized" from popping up.
| | Cause | Solution |
| --- | --- | --- |
| 1 | External connection of mouse, keyboard or other peripherals that are malfunctioning | Remove all peripherals including a mouse, keyboard, card reader, display screen from your PC |
| 2 | Malware or virus attack, which can be unknowingly brought by downloading insecure apps or files, outside devices infected with the virus were connected to your computer | Run antivirus software to scan and remove the virus. Or, you can use cmd to remove virus from any drive in Windows |
| 3 | System bug or system error that detects a device by wrong | Perform system restore* |
How to Perform System Restore
 Tip

In the same way in backing up the USB drive, remember use EaseUS Todo Backup to back up your computer before performing the system restore.
Click "Start" > "All Programs" > "Accessories" > "System Tools" > "System Restore".
Click "Continue" or provide Administrator credentials if necessary.
Click "Choose a different restore point", and then click "Next".
Select a "Date and Time" prior to the first sign of the issue you've described.
If the date you need is in excess of (5) days click the Show restore points older than 5 days check box.
100% of people found this article helpful.
Frequently Asked Questions
Why choose EaseUS Todo Backup?

"The easiest way to protect your data and system files." —techradar

"EaseUS Todo Backup Free is one of the most popular free data backup applications available. This software offers a myriad of features and is extremely user-friendly. It provides a full system backup, meaning you can back up your entire operating system." —TopTenReviews

"EaseUS ToDo Backup Home is a great backup program, well suited to the home and SMB space." —PCWorld
What is the difference between Clone and Backup? In what cases should I use Clone?

Clone will copy one disk to another or one partition to another (unallocated space is also supported). Usually, this option is used to upgrade the current disk by creating an identical copy. Backup will generate a .PBD image file containing the selected files or system that can be restored from the .PBD image if needed.
What is the difference between System Backup and Disk Backup?

System Backup will auto-select the system boot related partition(s) as the backup source to make sure the system image can be restored properly. Disk/Partition Backup will allow you to manually select a whole disk or speficy a certain partition as the backup source. You will get the same backup result as System Backup if you manually select the system and boot partitions with the Disk/Partition Backup option.
As a computer newbie, what features should I use to protect my computer?

You can use System Backup to back up the system and boot partitions, use Disk/Partition backup to back up the data partition and add plans to run an automatic backup. If you use the computer frequently or have software that may cause boot failure of the computer, we would suggest you back up the computer every 1 to 2 days. For other situations, you can backup the computer once a week. In addition, you can schedule File Backup to back up the files which are changed frequently.
What kind of storage service should I use to save my backup images?

EaseUS Todo Backup can save backup images to internal disks, external disks, network drives, or free cloud(Google Drive, Dropbox, and OneDrive) and CD/DVD. It is suggested to save the images to the internal/external/network drives to save time as those kinds of disks have a better read-write speed. It is suggested NOT to save the image on the source disk, because once the disk is damaged, all the files on the disk will become unavailable and you will be unable to restore the image.
As a company network administrator, what features should I use to protect our internal computers?

It is recommended that you use the SQL Backup feature to back up your company's SQL server and Exchange Backup feature to back up the Exchange server. In addition, you can execute System Backup to back up the system and boot partitions on every computer and set a plan to execute the backup once a day or twice a week to ensure that the computer can be restored timely when it has boot issues. File Backup feature can be used to back up important user data. If there are a large quantity of computers, you can purchase EaseUS Backup Center to manage the backups on the client computers centrally.
About EaseUS Todo Backup
Be it a file, system, partition, or disk, EaseUS Todo Backup will help you back up or clone the item and provide you with multiple backup plans.