Microsoft released Windows 10 Build 11099: the first Windows 10 Insider build of the year to Windows Insiders in the Fast Ring. The new build includes a welcomed fix for the broken progress dialog bar when copying or deleting files via File Explorer, an issue that was introduced in the last PC preview release, build 11082. However, along with Build 11099, there are some known issues. That means some of you might fail to update to Windows 11099 without losing anything. In this page, we would like to introduce how to uninstall a Windows 10 update and go back to a previous build. Hope it is helpful!
Known Issues of Windows 10 Build 11099
Log-in for devices using Citrix XenDesktop may be broken. It is recommended that Insiders that use XenDesktop skip this flight by moving to the Slow Ring.
Applications that depend on Adobe Flash may crash upon launch. This will affect some versions of Skype, QQ, WeChat, etc. This does not affect Microsoft Edge of Internet Explorer.
With this build, defaults for some applications will be reset. Music & Video will default to Windows Media Player. This can be reconfigured opening Cortana or Search and searching for "Choose default apps by file type" to open the correct settings page.
All the above issues are the possible problems that might happen after updating to Windows 10 build 11099. If you are not able to successfully fix them, you might need to uninstall the Windows 10 update and go back to the previous build. It is the most efficient and easiest way to fix Windows 10 build 11099 update problems. Here we will show you how to do it in two ways.
Uninstall Windows 10 Update and downgrade to the previous build in Settings
Step 1. Click on Start Menu and click on "Settings" > "Update & Security" > "Recovery".
Step 2. Click on "Get Started" under Go back to an earlier build.
Note that you can only do this when you've upgraded recently (should be less than 30 days from the installation date) and have not deleted Windows.old folder.
If everything is fine, you'll see "Getting things ready". This screen won't take long. Otherwise, you'll get "We're sorry, but you can't go back". The files we need to take you to a previous version of Windows were removed from this PC.
Uninstall Windows 10 update and revert to the previous build with EaseUS backup and recovery software
If the first method is not helpful, please don't worry! You have another choice: uninstall the Windows 10 update and revert back to the previous build with EaseUS Windows backup software. The program is a third-party professional backup utility that allows you to back up the system, files, installed programs, and even settings and restore them to the previous state easily whenever you need. You can use it to uninstall Windows 10 update and downgrade to previous builds by creating a backup image of your system partition before updating to Windows 10 11099 updates.
For a detailed guide, please refer to system recovery.
Step 1. Open EaseUS Todo Backup, click the "Recovery" button on System Backup column.
Or click "Browse to Recover" to select the system backup you created in advance.
Step 2. Choose one History version of the backup image, after confirming the contents, click the "Next" button.
And select the target location to restore your Windows.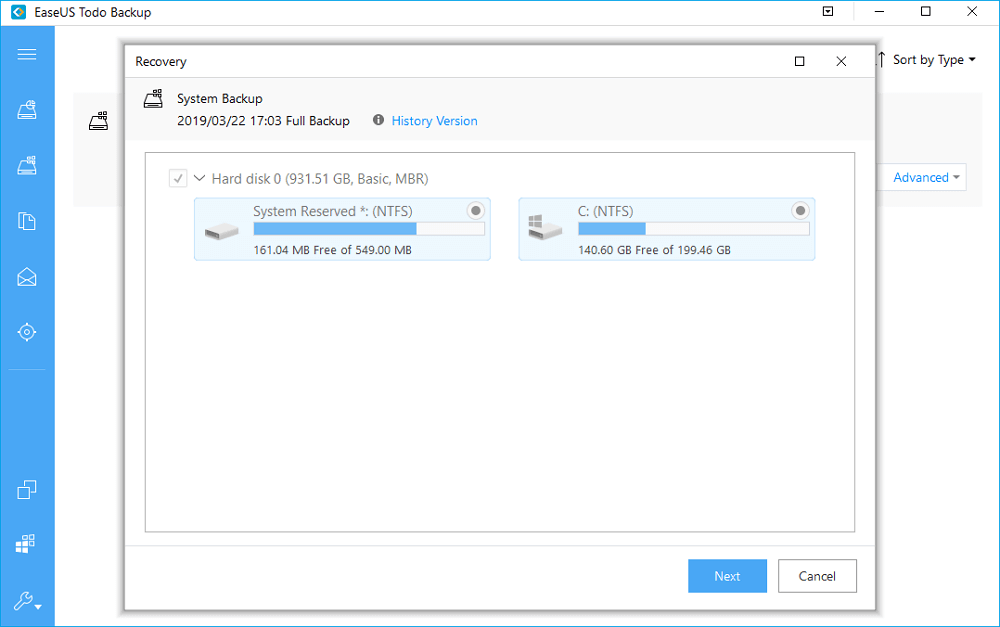 Step 3. Then click "Proceed" to start backup recovery.
Wait for the process to complete, restart your computer and then you should be able to run Windows OS on your computer again.