What Is the Best Windows 11 Backup Utility? You Got Answer Here
Losing your valuable data is one of the scariest things one can ever experience. The reason for data loss can be anything, like hard drive crashes, system failure, and ransomware attacks. Sometimes user also accidentally deletes or rewrite essential data, which can be a nightmare. Now the question is, what is the solution that can fix this? Lucky you can easily take a backup of your files with the help of Windows 11 backup utilities and protect your computer data.
Here, in this post, you will know about the three best windows 11 backup tools like EaseUS Todo Backup, in-built Windows 11 Backup and Restore, and in-built File History to backup Files. Also, detailed steps on taking backup and restoring files easily via these three best Windows 11 backup utility tools.
What Is Windows Backup Utility?
Many users are now confused and doubt their minds about whether Windows 11 has a backup utility? The answer is yes! Like before, Windows 7 and Windows 10 will also get a backup utility for Windows 11. 
The backup utility is nothing but an essential tool that assists the user in creating a copy of the data or files on your hard disk. In the event, if unintentionally the original data on your hard disk is erased or overwritten, you can use the backup files or data to restore your damaged or lost data. Overall, the backup utility assists users in safeguarding data from accidental loss.
Now the question is, what people can do with the backup utility? People can do several things like:
Restore the archived files and folders on the hard disk 
Archive selected files and folders on the hard disk 
Make a copy of the system's state, which includes the registry, system files, and other system components 
Make a copy of the boot partition, system partition, and the required files needed to start a system in case of network or system failure
Overall, Windows backup utilities are essential for every Windows user, which usually helps them secure their system data.
3 Best Windows 11 Backup Utility Free Download in 2022 
The three best Windows 11 Backup Utility are like:
Windows Backup and Restore
In-built File History to Backup Files
EaseUS Todo Backup 
Here is a simple comparison table between these three best Windows 11 Backup Utility for a better understanding.
|   | Windows Backup & Restore | File History to Backup Files  | EaseUS Todo Backup |
| --- | --- | --- | --- |
| Price | Free | Free | Free/Paid |
| Supported OS | Windows | Windows | Windows |
| Pros | Offers all disk management solutions. | No System Image Backup, Only for a small set of files. | Easy to use, Less Resource consuming. |
| Cons | No Preview, Accidental Data loss chances are high. | Need to add folders manually. | No major cons. |
If you want to take backup for your files, data, and Windows 11 operating system, then you can use any backup utilities and create backup files immediately. While Windows Backup & Restore offers complete backup, it cannot restore individual files. On similar lines, File History is limited to files but doesn't help in system crashes.
Choosing to EaseUS Todo Backup is better because it is an all-in-one Windows 11 backup utility tool with unique features. Keep reading to get more information.
How to Use Windows 11 Backup Utility - EaseUS Todo Backup  
When it comes to backup Windows content, EaseUS Todo Backup is the best tool you can trust. This is one of the most reliable and highly recommended Windows 11 backup Utility tools, which permits users to perform several tasks. This utility tool comes with many attractive features:
You can download the EaseUS Todo Backup from the button below.
This tool also comes with lifetime access at a reasonable price, which is worth it if you want to enjoy more premium functions. Now let's learn how you can create a backup from this tool.
Step 1. Launch EaseUS Todo Backup and choose "Create Backup" on the home page, click "Select backup contents".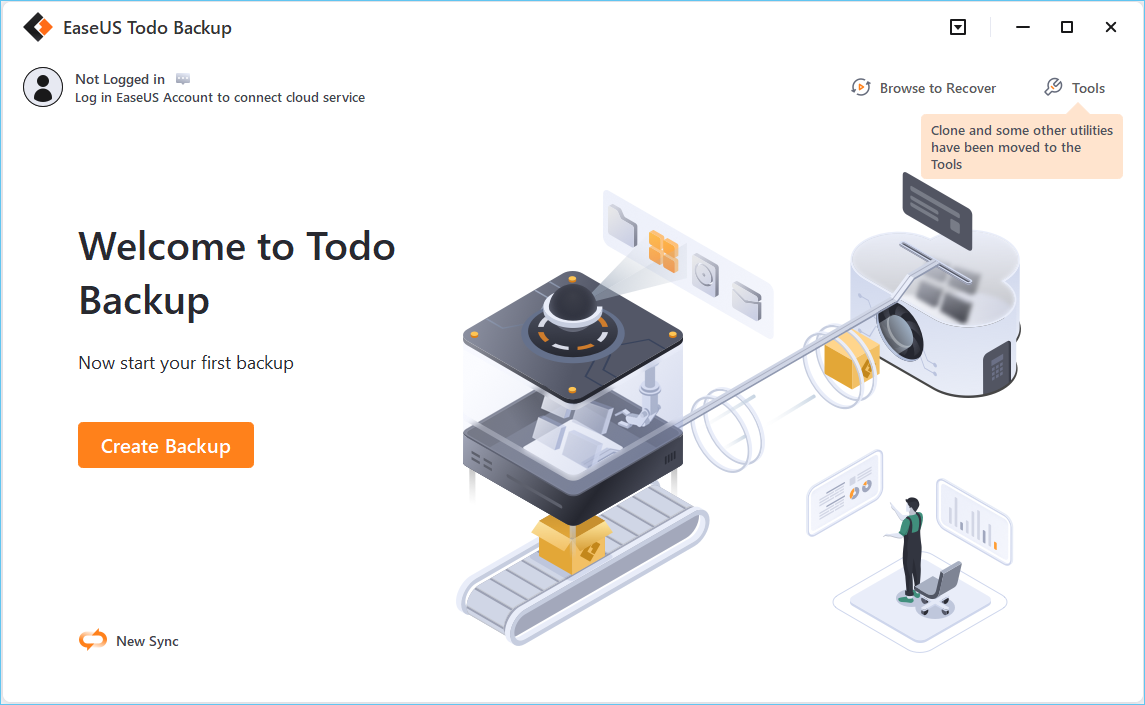 Step 2. Among the four available categories, click "OS" to start back up.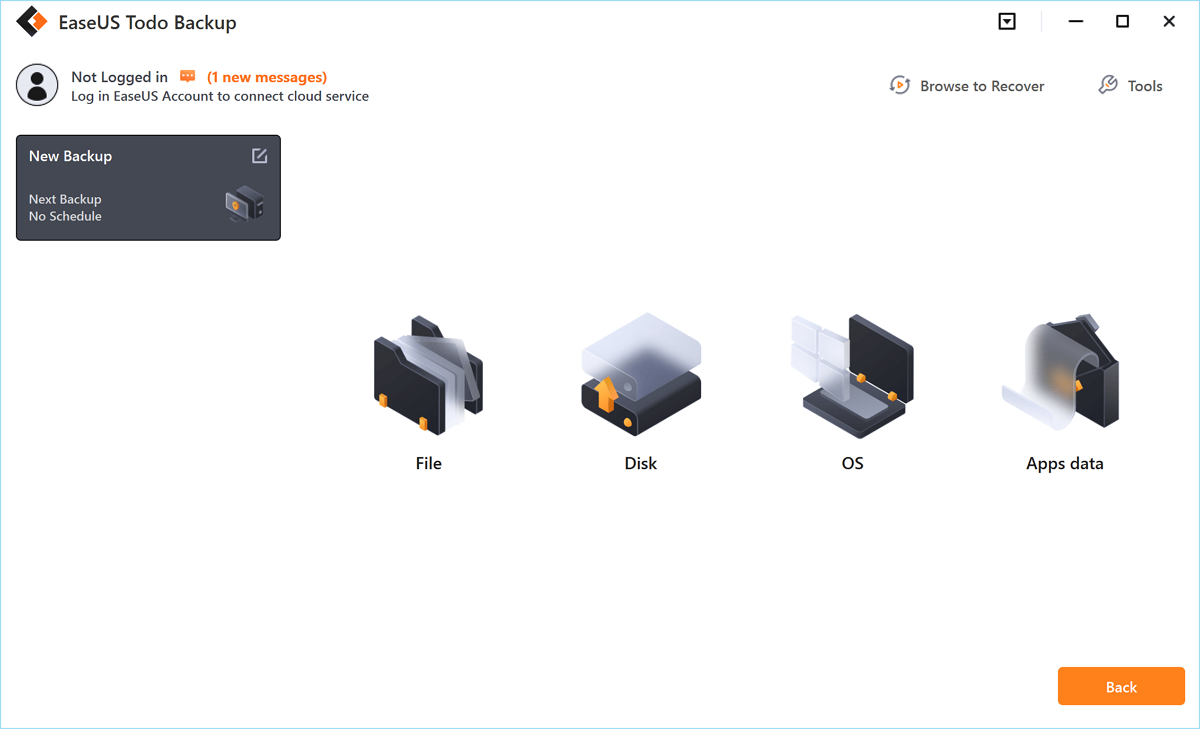 Step 3. The system partition will be automatically selected, you only need to select the location.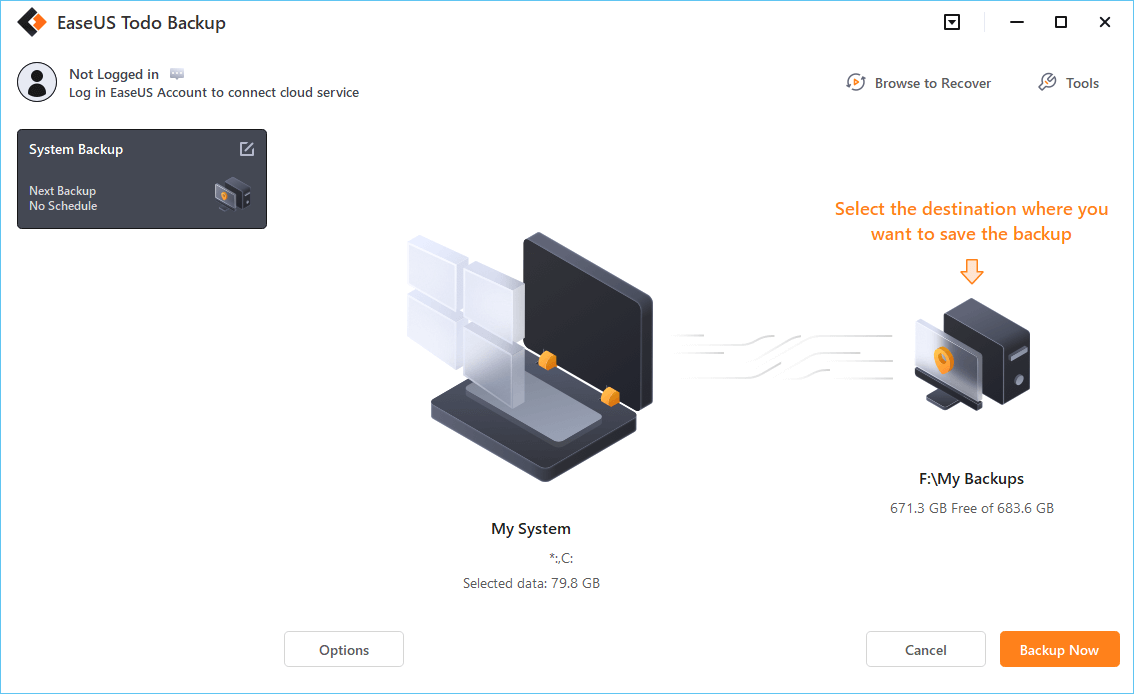 Step 4. Local Drive, Cloud, and NAS are available for you to save the backup file. You can also connect an external hard drive to preserve the system backup files.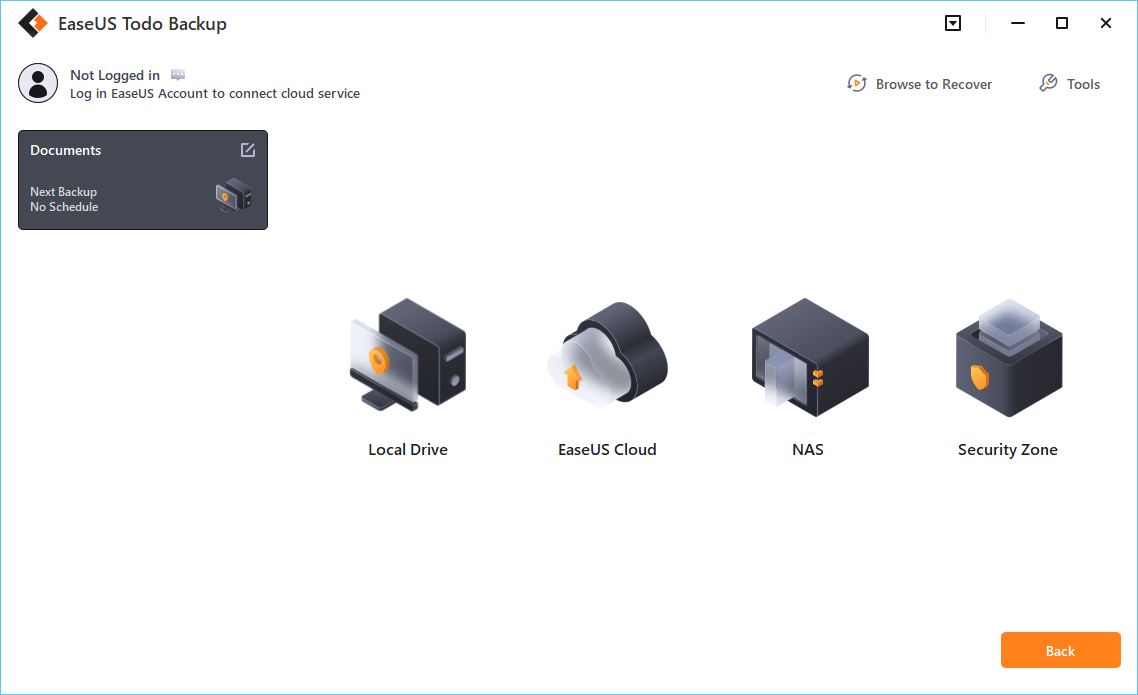 Step 5. You can customize the settings in "Options" at the left bottom. After that, click "Backup Now", and the process will begin.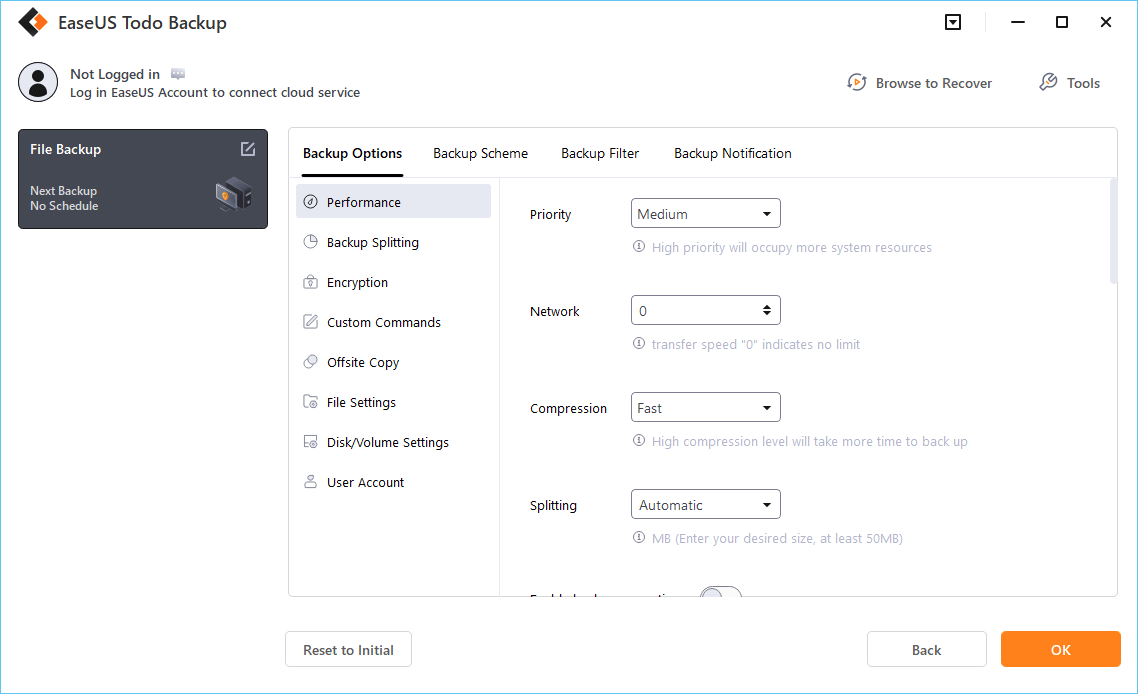 *After finishing the backup process, you can check the backup status, recover, open, or delete the backup by right-clicking the backup task on the left.
How to Backup Windows 11 Data with Backup and Restore? 
Backup and Restore is another excellent in-built Windows feature. Using this tool, you can easily take backup data files saved in libraries, desktops, and default Windows folders. 
All of these items can be backed up on a regular schedule. This backup and restore tool can also take backup images of your entire system along with operating system(OS), settings, and applications.    
If you want to back up files with the help of the Backup and Restore method, then follow the exact steps given below.  
Step1. Press the Windows key, and type Control Panel. When it appears in the list, click to open. Then click on the Backup and Restore (Windows 7) link.
Step 2. Select the Set up backup option under the Backup section. The new window will show you available drives where you want to save your backup; select your preferable backup drive and click Next.
Step 3. Finally, you can let Windows decide what to backup or choose yourself. Next, it will back up all your files on the desktop and save them in libraries and default Windows folders.
Restore Backup Using Backup and Restore 
When it comes to restore your files and data, follow the exact steps given below.
Step 1. Open Control Panel. Then click on the Backup and Restore icon.
Step 2. Click on the Restore my files button under the Restore section.
Step 3. Click the Browse for folders button to select the Backup Folders which you want to restore. After selecting Folders, click Next to start the process of restoring.
How to Use Windows 11 File History to Backup Files 
If you want to back up files to an external drive in Windows 11, then the in-built File History for backup can help you a lot. With this feature, you can easily take regular backups files like videos, pictures, music, documents, and desktop folders.
As you have multiple backup files, If the original files are damaged, deleted, or lost accidentally, you can quickly restore them with the help of these backup files. To know the process, follow the exact steps given below.
Step 1. Connect an external hard drive to your system, open Control Panel, and click on File History. Click "On" under the "Automatically back up my files" option and click on More options.
Step 2. Here, you can organize how often File History backs up, which files to backs up and how long it keeps those backup files.
Back up my files: The file history automatically backs up your files every hour, but you can change it according to your requirements. Here you will get different options starting from 10 minutes to 24 hours.
Keep my backups: By default, this is set to keep backups forever, but you can change this setting from one month to two years before deleting them. 
Back up these folders: You can quickly get the entire list of folders in this window and add more folders you want to backup by selecting "Add Folder". If you want to remove any folder, choose a folder here and use the "Delete" button to prevent Windows from backing it up.
Step 3. When you are finished, save and exit. Then click Back up now. Window 11 will backup your files to the drive automatically when you connect them to your computer.
Conclusion: Go and Follow Windows 11 Backup Utility to Protect Your Data Now 
After reading this long detailed post, you now know how to back up Windows 11 properly with the help of the 3 best Windows 11 backup utilities. You can take backups via Windows Backup and Restore and Window File History to backup files feature.
But I will always recommend EaseUS Todo Backup, as this is the best and highly recommended tool for the most straightforward Windows 11 backup utility that assists users in applying and fully taking backup of their system files. It supports all kinds of storage devices. If you want to back up your system, download EaseUS Todo Backup now and use it.
Gemma is member of EaseUS team and has been committed to creating valuable content in fields about file recovery, partition management, and data backup etc for many years. She loves to help users solve various types of computer related issues.
Taking everything into consideration, we can say that EaseUS Todo Backup Home can offer you a little extra sense of security with a set of advanced tools. The interface provides quick adaptation, every process guiding you all the way through so you don't get stuck or further damage your system rather than keeping it safe.

 Read More

EaseUS Todo Backup Free lets you create backups of your important files or your entire computer through its streamlined interface. Just choose the backup type you'd like to get started, and let the program do the reset.

 Read More

EaseUS includes all the features I expect from backup software like versioning, incremental backups, and scheduling. For more advanced users, EaseUS allows you to install a pre-boot environment onto your hard drive so you can use it to restore files without burning a CD or putting it on an external USB drive.

 Read More

EaseUS Todo Backup
Smart backup tool for your files and entire computer in Windows 10/8/7.
Install Windows on Multiple Computers at Once? No Problem!
Learn how to install Windows 11/10/7 and special programs/software on a batch of computers. Use 10 minutes to do the 10 hours work without making a single mistake!
Get Free Solution!