This short blog post guides you on how to keep your data safe and secure, and accessible from anywhere through any device. Read more and learn more about it quickly.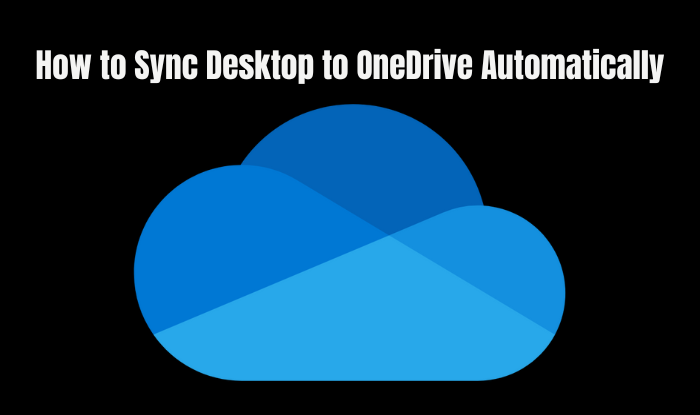 There is a way to protect and automatically sync or back up the computer data to our OneDrive cloud account, which includes our files, documents, pictures, videos, and other folders. First, you should know what is Onedrive, how it works, and for which purpose you can use it.
What Is OneDrive
OneDrive is an associated platform with Microsoft that allows you to store files, documents, and personal material in a single space. Also, you will be able to share them with other people and have access to them on any device.
With OneDrive, your business teams can create a document on their Desktop and edit it in another work environment without having to save it to USB or send it to your email address.
This space also allows you to collaborate with colleagues while editing Word, Excel, PowerPoint, and OneNote files. It works similarly in different windows like windows 7, 10, or 11. You might see a little difference in various windows versions, but features are the same and more advanced in windows 10 and 11.
You may be interested in how to use OneDrive to back up and restore your PC.
Why Might You Want to Sync Your Desktop to OneDrive
Most computer users would like to put their most-used folders on the Desktop. To keep Desktop data safe and easy to access, more and more people want to sync the Desktop with OneDrive or other cloud storage like Google Drive, Amazon Drive, etc.
You can easily access your Desktop data from other devices by syncing it with OneDrive. For example, you haven't finished your work and want to continue it at home. By syncing your work with OneDrive, you can eliminate the hassle of saving your files/folders to a USB flash drive before leaving the office.
In addition to providing easy access, Desktop sync with OneDrive can be used as a form of backup. It is the most convenient method to keep your data safe and secure. You can use your data as a data recovery plan if your data is accidentally deleted. 

[Error 0x8007016a] Fix OneDrive Cloud Error Code
While many users consider using this storage service - OneDrive Cloud, they have reported several issues relative to cloud operations. If you have the same troubles, you can get help within simple clicks.
How to Set up OneDrive for Syncing with Your Desktop
OneDrive comes with Windows 11/10/8. For Windows 7 users, you must download Onedrive and install it on your PC/Laptop. Sign in with a Microsoft account.
The easiest way to sync Desktop with OneDrive is to drag and drop the Desktop folder to the OneDrive folder. The Desktop path: Drive C > User > your username > Desktop.
However, dragging and dropping the files every time new files are added would be annoying. To sync Desktop with OneDrive automatically, you can set the location of the Desktop folder on your PC to be the OneDrive location, so anything saved to this folder will be synced to the cloud. Here we explain how to do it.
Step 1. Go to the OneDrive folder and create a new folder called "Desktop".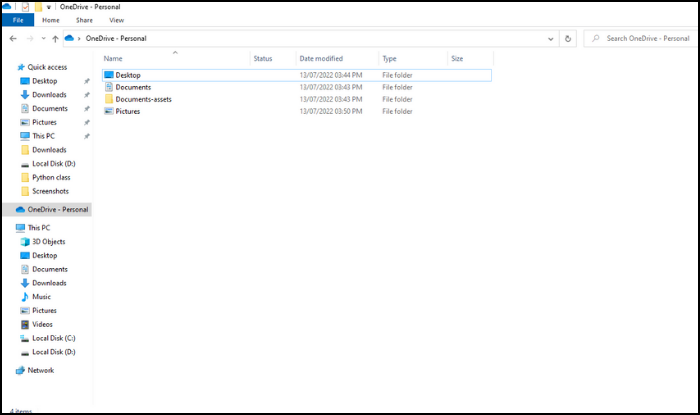 Step 2. Find the desktop folder in the C drive and right-click it. Next, select Properties.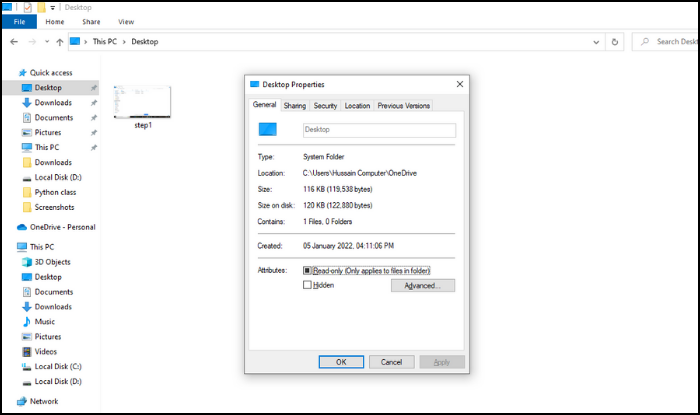 Step 3. Now, a new window called "Desktop Properties" opens with several tabs. Select the "Location tab". Then select "Move".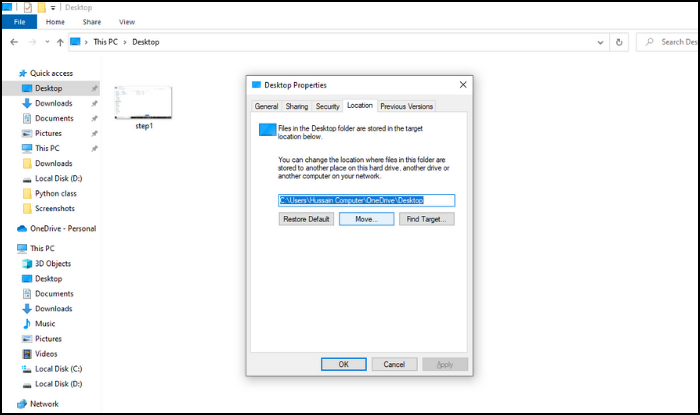 Step 4. In the box that appears, double-click OneDrive, select the Desktop folder inside, and then choose Select folder when it's highlighted.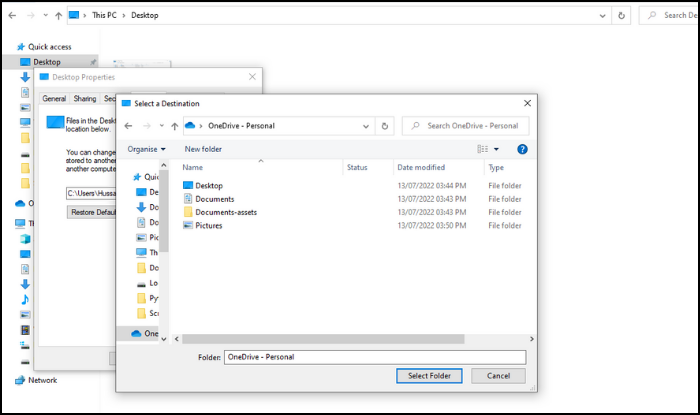 Step 5. Click Apply on the Desktop Properties window. Then click Yes to confirm that you want to move the Desktop folder to OneDrive.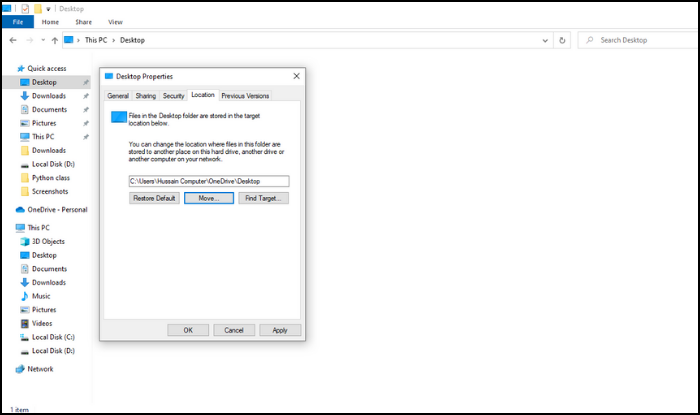 Although it seems simple, syncing files and folders in Windows 10/8/7 with the OneDrive folder has some limitations. Not all folders can be set to sync with OneDrive automatically. You can only sync the default user folder with automatic sync. For some folders, like Program Files, you have to sync them manually.
If you want a better way to sync the Desktop and other folders with OneDrive for business work, school, or personal use, It would be better for you to use a professional OneDrive sync tool - EaseUS Todo Backup.
Related: How to stop OneDrive backup in Windows 11.
Sync vs. Backup: Have You Considered to Back up Files to OneDrive
File synchronization is the procedure of assuring that two or more locations contain duplicate up-to-date files. When you add, modify, or delete a file in one location, the sync process adds, changes, or deletes the same file in the other location. Files are duplicated in both directions, keeping the two or more locations in sync.
Files back up are essential whether you want to fully restore a computer after a crash or to restore a small number of files after they have been accidentally deleted or damaged. Backups are usually the last line of protection against data loss. With EaseUS Todo Backup, you will back up your Windows data. All backups made with EaseUS Todo Backup are fast and secure and can be done over the Internet or on a server.
EaseUS Todo Backup is a free Windows data backup and recovery software with valuable features:
EaseUS Todo Backup allows you to keep a backup of Windows files and folders in different locations. For example, you can back up your data to external hard drives, OS and USB flash drives, networks, cloud drives, etc.
EaseUS Todo Backup works in Windows 7/10/11.
EaseUS Todo Backup provides professional guides about how to clone disk/partition and also the Windows operating system between HDD and SSD.
If you'd like to learn more about EaseUS Todo Backup, take the time to download it and give it a try. Follow the steps to back up your data and enjoy its incredible features!
Step 1. For the first time you use EaseUS Todo Backup to back up files, click Create backup on the home screen and then mouse click the big question mark to select backup contents.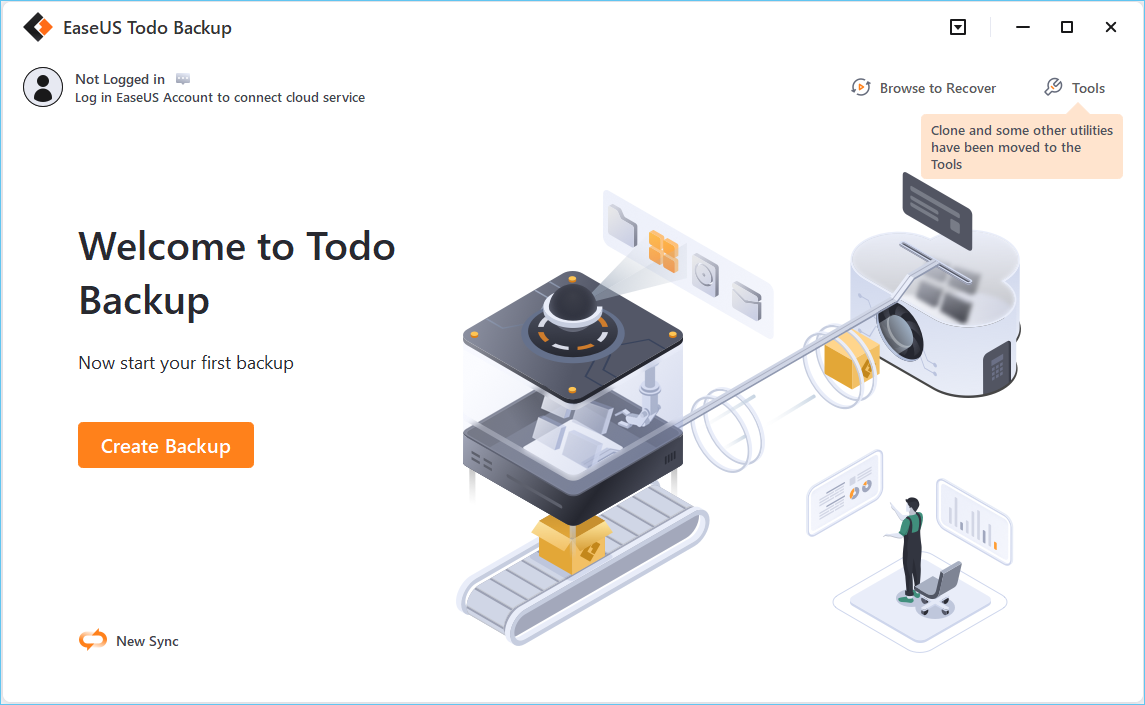 Step 2. Since you're going to back up files and folders on your computer, go on with the "File" backup mode, where you can select pictures, videos, documents and all other types of files to back up.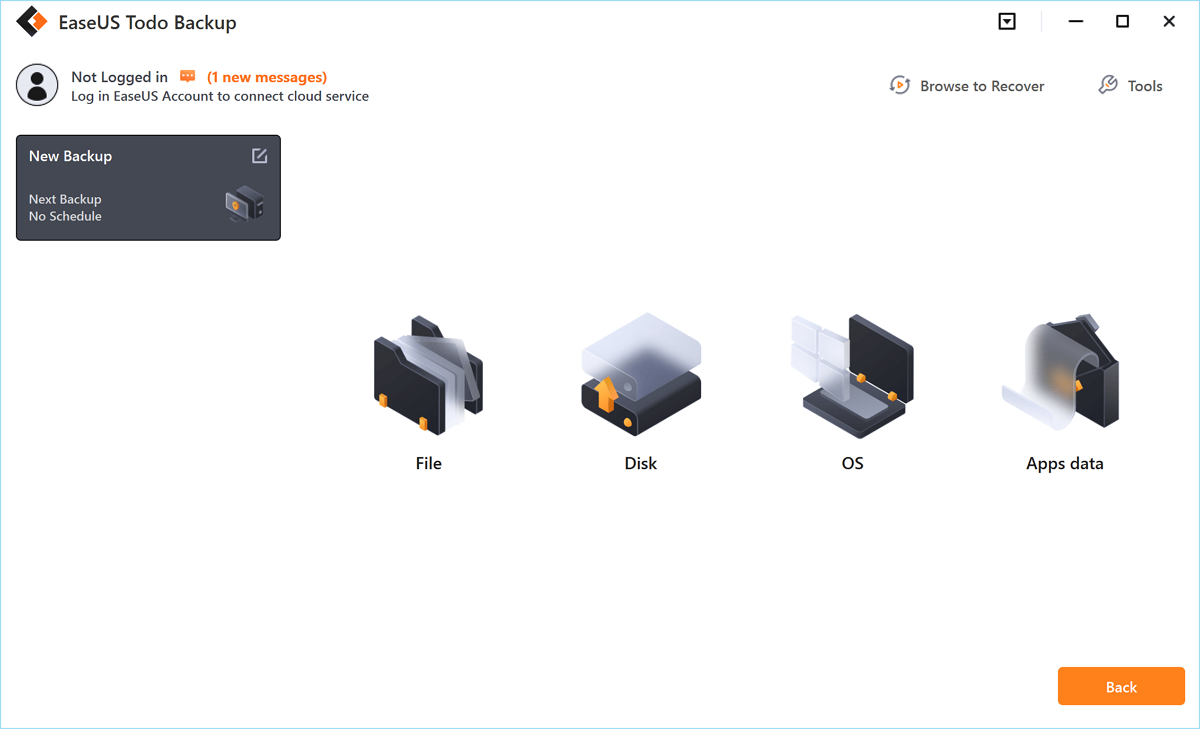 Step 3. Follow the paths to locate the files, folders or directories you want to back up, select them all and click "OK".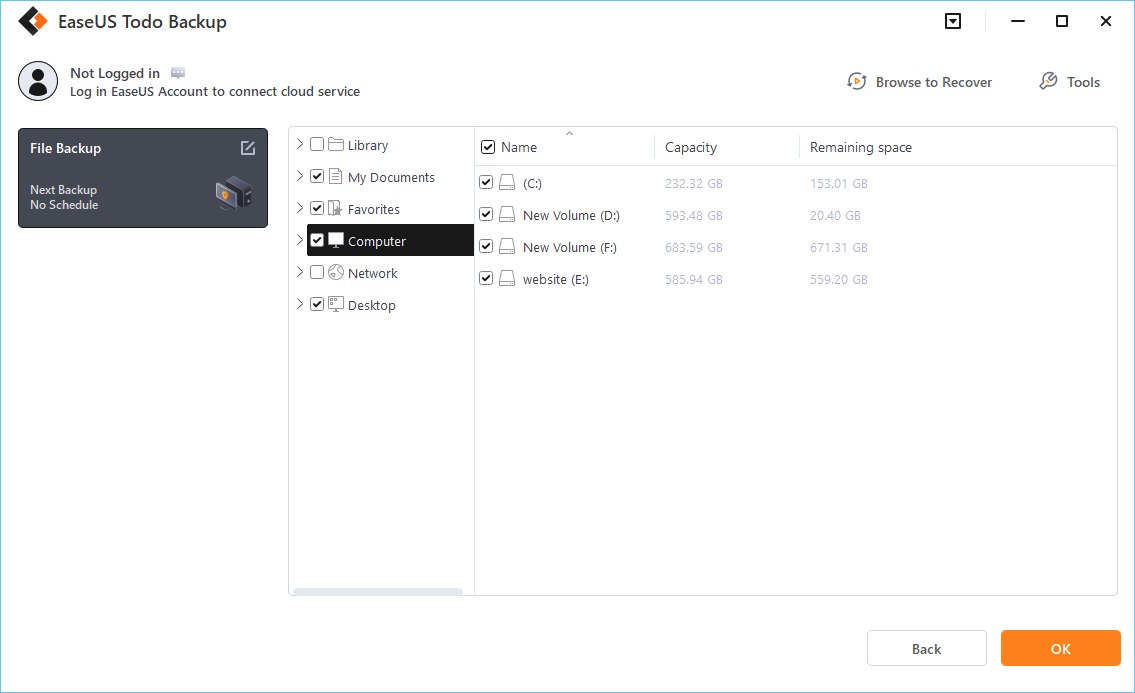 Step 4. Now you need to select a backup location to save and retain the backup.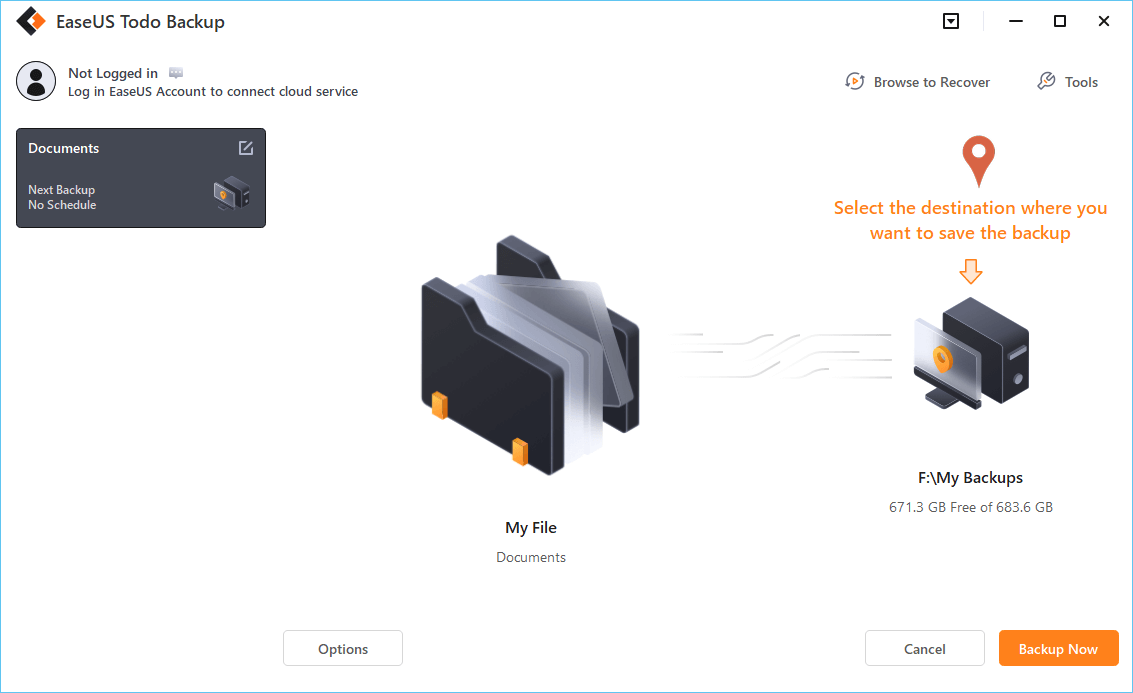 Step 5. EaseUS Todo Backup allows users to save the backup files to every device that is handy for you, like a local hard drive, external USB drive, SD card, network drive, or a NAS drive, plus a cloud drive of the EaseUS brand. We personally recommend users to choose the cloud drive prior to a physical drive to save important backups due to the greater accessibility, flexibility and safety.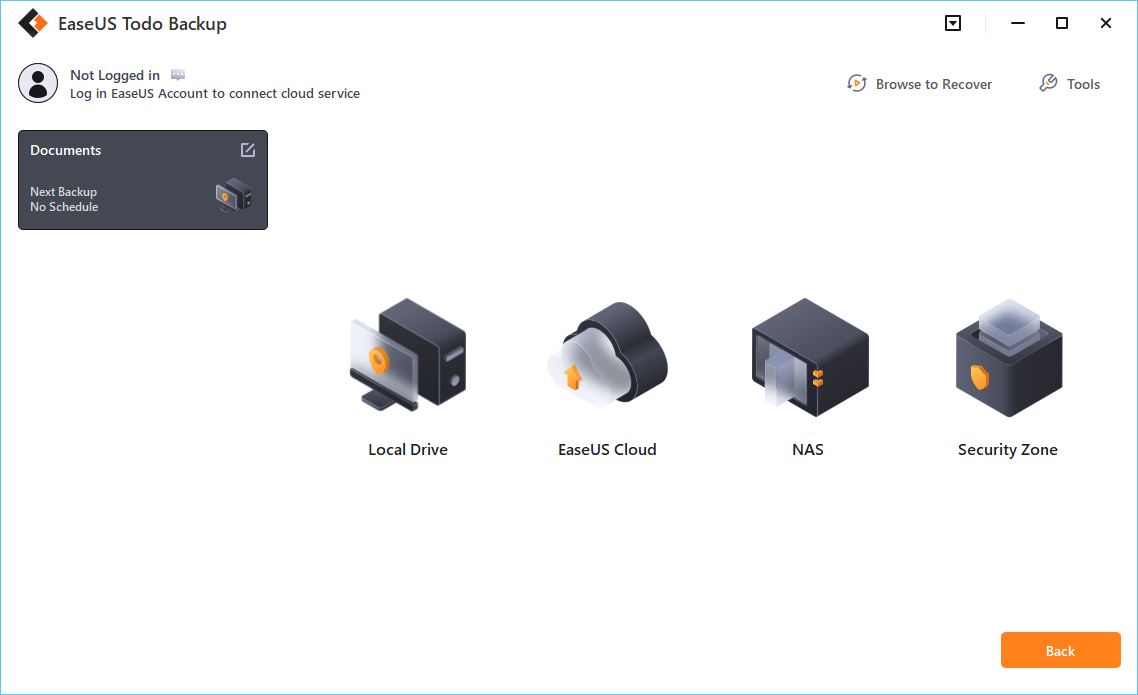 To be able to access to EaseUS cloud, all you need is an email registration and login.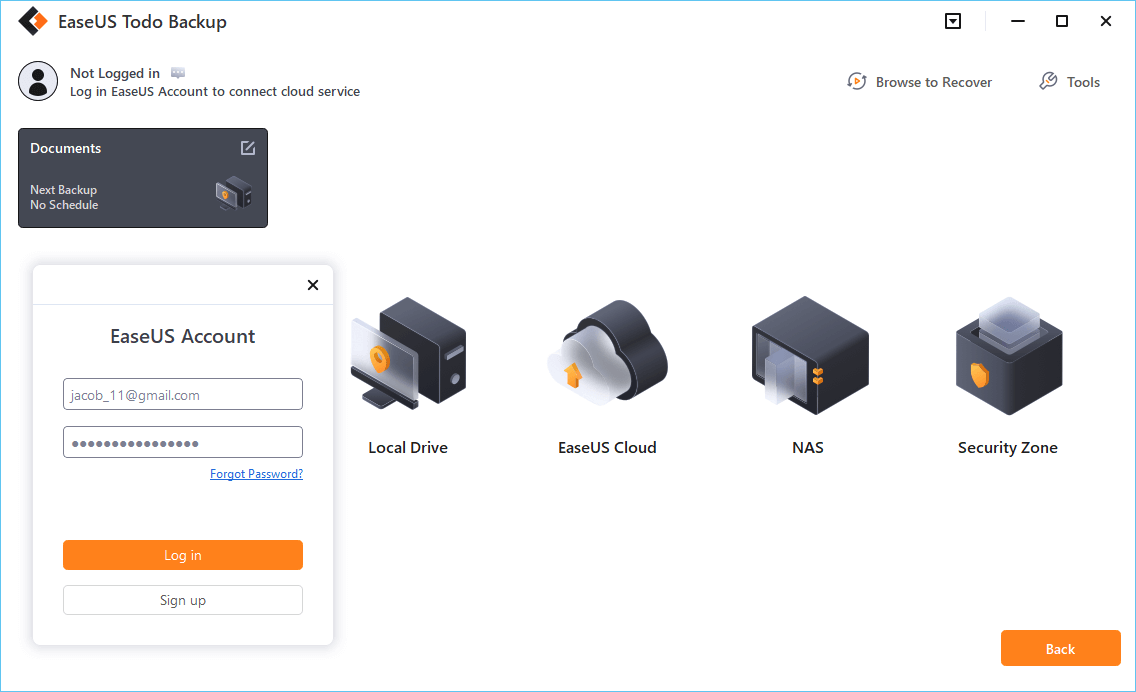 Step 6. If you're interested in an automatic and intelligent backup schedule for the next file backup task, go on with the "Options" setting. There you can encrypt a confidential file backup, compress the backup image size, or customize a backup scheme to tell the software in what time to start the next backup. 
Customize an advanced and automatic backup task here: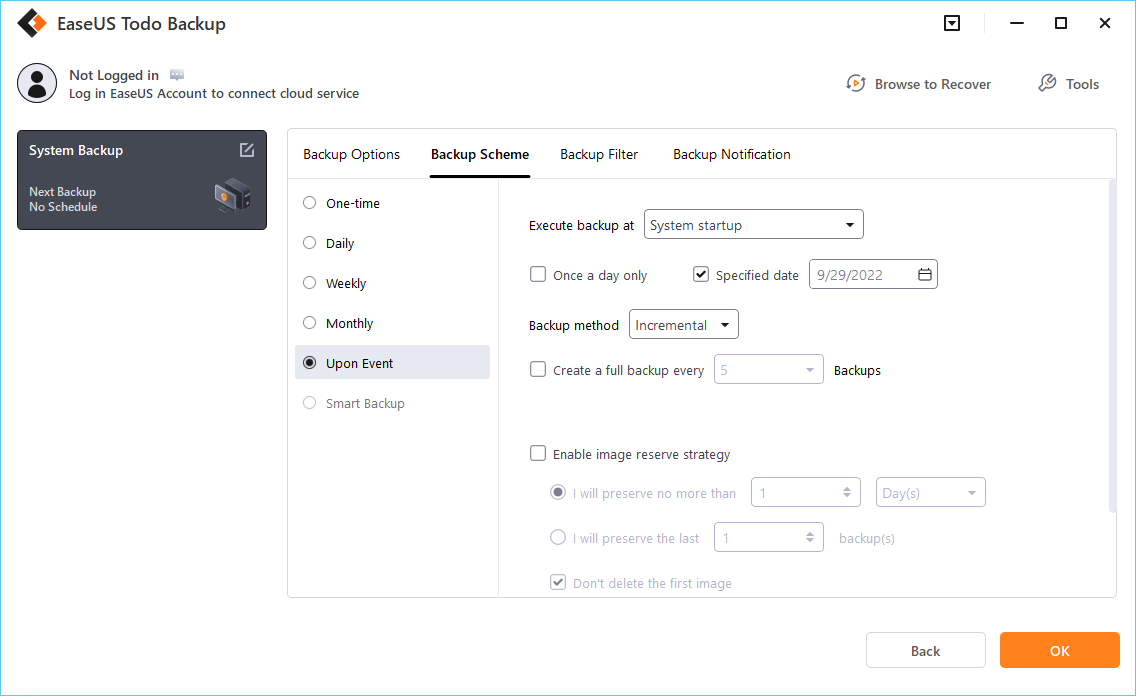 Step 7. Click "Backup Now" to start the file backup process. Your completed backup files are visible on the left area in a card style.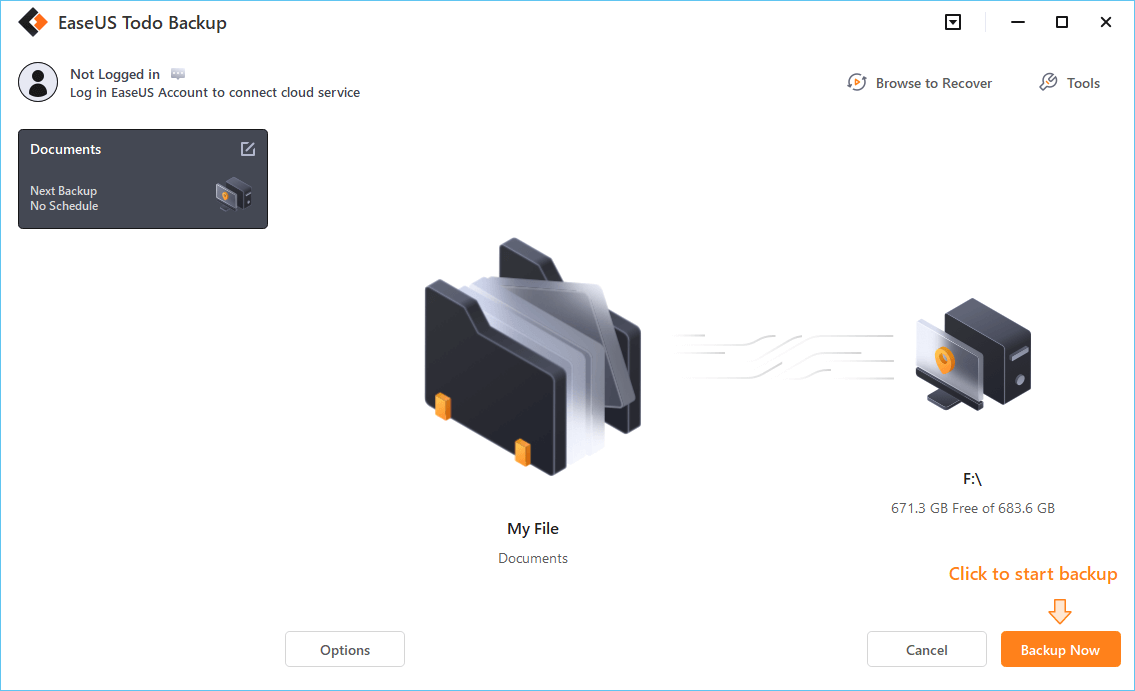 Common FAQs to Fully Control OneDrive Backup and Sync
1. How do I force OneDrive to sync Desktop?
Open Onedrive, and click the "Pause button" at the top or "Resume syncing" from the menu. In this way, you can force Onedrive to sync the Desktop.
2. Why does my OneDrive not sync automatically?
There are various reasons why your Onedrive doesn't sync automatically. Maybe you have exceeded your free space limitations because Onedrive gives 5 GB of free space. Another reason is you might use an old version of the Onedrive app.
3. How to stop OneDrive from syncing Desktop?
Open the Onedrive setting option for a business client. In windows, right-click, and in Mac, double-click the Onedrive icon near the clock. Click on the settings, navigate to the account tab, discover the folder sync you want to disable, and click "Stop sync".
Note: Locally available files will remain on your PC/Laptop. However, online files will be unlisted from the folder.
Conclusion
Syncing a Desktop with OneDrive is an excellent way to keep your data safe. With the help of EaseUS Todo Backup, you can make this process much more manageable.
EaseUS Todo Backup is very powerful software yet easy to use. It is advanced enough to synchronize and back up while keeping it accessible for a novice to use. With EaseUS Todo Backup, you can schedule backups or syncs to happen automatically and be sure your files are safe and up to date, giving you complete peace of mind.
Was this page helpful? Your supoport is truly important to us!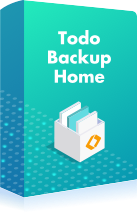 EaseUS Todo Backup
EaseUS Todo Backup is a dependable and professional data backup solution capable of backing up files, folders, drives, APP data and creating a system image. It also makes it easy to clone HDD/SSD, transfer the system to different hardware, and create bootable WinPE bootable disks.
Updated by

Daisy is the Senior editor of the writing team for EaseUS. She has been working in EaseUS for over ten years, starting from a technical writer to a team leader of the content group. As a professional author for over 10 years, she writes a lot to help people overcome their tech troubles.…

Read full bio

Written by

Jean is recognized as one of the most professional writers in EaseUS. She has kept improving her writing skills over the past 10 years and helped millions of her readers solve their tech problems on PC, Mac, and iOS devices. …

Read full bio