PAGE CONTENT:
For digital platform users, storage is one of the major points of concern when it comes to ensuring high-quality user performance. Indeed, people deal with the data regularly in media formats, everything from operating online software to storing data backups.
In these contexts, your design must have enough storage capacity to compensate for high-intensity functions and processes. External storage types like USB types are helpful for storing the backup of file types, allowing the users to free up their system storage for a better user experience.
However, consider the Samsung T5 (Portable SSD) device if you want high-octane computing support. The storage type has a USB 3.1 2nd Gen interface, compact design, and user-friendly functionality. Learn why Samsung T5 backup software is essential and why it is vital to back up the data here.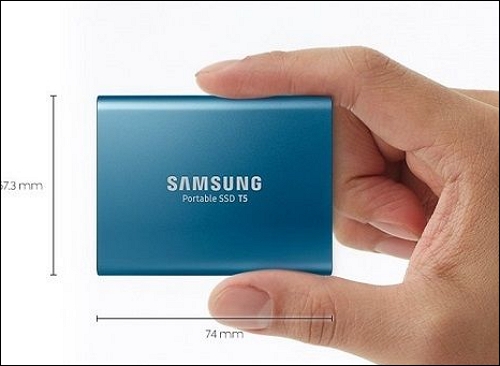 Short Review of Samsung T5
Both Samsung external and internal storage devices are some of the strongest options available. Among them, the Portable SSD T5 is one of the most high-grade, modern solid-state drives available in the market.
The device here assures various performance-oriented benefits for the users. It has a strong storage capacity and a lightweight design with a minimalist, metal-covered body. Users can also expect superior-level transfer speeds while using this storage type.
The device comes in four variations in terms of the capacity they offer users- 250 GB, 500 GB, 2 TB, and 1 TB. Regardless of the capacity limit you choose, the developers created this storage type as 4.9x faster compared to any regular external hard drive.
This is due to the available V-NAND flash memory and even the USB type it contains. On average, users here can expect up to 540 Mbps.
The Necessity of Backing Up Samsung T5
The Samsung T5 version is the top choice in the market regarding fast transfer and performance capacity with a storage medium. However, while the speed and performance limits are high here, there is the risk of device and data damage. So, users must consider other alternative methods to keep their data safe.
Here are some notable points to focus on.
1. During the formatting process
The Samsung T5 device is incompatible with the exFAT default file system. So, many users prefer to format their available storage drive into the NTFS file system to transfer important files easily. However, the formatting process typically results in the loss of all data in the system.
In this case, it is important to keep a backup of the files beforehand to avoid functional issues or data loss.
2. Device damage
Portable SSD devices like the Samsung T5 version are compact and lightweight. However, the device can suffer some problems if you drop it, despite its high-quality external condition and shock resistance capacity. 
Losing all available data is possible in this condition as well. So, you should back up all data previously.
3. Firmware failure
There is the risk of SSD firmware failure in many cases. This situation can also occur with Samsung's T5 Portable SSD model for various reasons. Not to mention, in most cases, the issue occurs without any sign, which wipes out all of the available data. In this case, keeping the information safe is important.
The Best Samsung T5 SSD Backup Software Recommended
Of course, when adequately backing up files from the system storage to external storage, you need to consider the best software for the task. The Samsung T5 SSD requires robust and stable backup software that will work with different operating systems, media types, and programs.
Among the various choices for suitable backup platforms that are available, EaseUS Todo Backup Home is a high-grade choice for many. It supports different types of data and file types. These include videos, images, texts, documents, systems, disks, etc.
Moreover, it is compatible with high-quality data transfer capacity. Users can also upgrade or clone the mobile system. Here, you can access the Security Zone to avoid ransomware attacks and continue the data migration and backup process into the cloud backup.  
Top Features:
There are some features that the EaseUS Todo Backup Home users will notice with this software that enhance user experience here. 
Security support for data
One of the biggest benefits of the EaseUS Todo Backup Home software is the availability of the Security Zone feature. 
Another high-grade functionality benefit users can expect while running the EaseUS Todo Backup Home software for their Samsung T5 backup process is the hot backup process. 
This refers to the backup process for the file system's used section. When you activate this function on your device, it is useful for optimizing the backup time and image file size.
One of the top benefits EaseUS Todo Backup Home users can expect while operating this program is the offsite copy benefit. Indeed, when the user creates a data backup of all files in the target location, a copy automatically appears in the linked FTP. 
Pros and Cons
Like any software, there are some aspects where the Todo Backup Home program will excel or fail compared to others in the market. Let's understand them as well in this discussion.
Pros:
Get timely email notifications about the backup process in real-time.
Smart backup support is available for the files and folders in your device with an automatic backup.
Create scheduled backups according to users' ideal cycle
After the system crashes, conduct an instant backup restoration process.
Cons:
The SQL/Exchange type of Backup and Restore option is unavailable for the Home version users.
How to Backup Samsung Portable T5 SSD?
The next natural focus is learning the steps when discussing Samsung Portable SSD T5 data backup needs and the best tool to carry it out. The following are the main steps to follow after you download and install the best backup software for this process.
Step 1. Click "Select backup contents" to initiate a backup.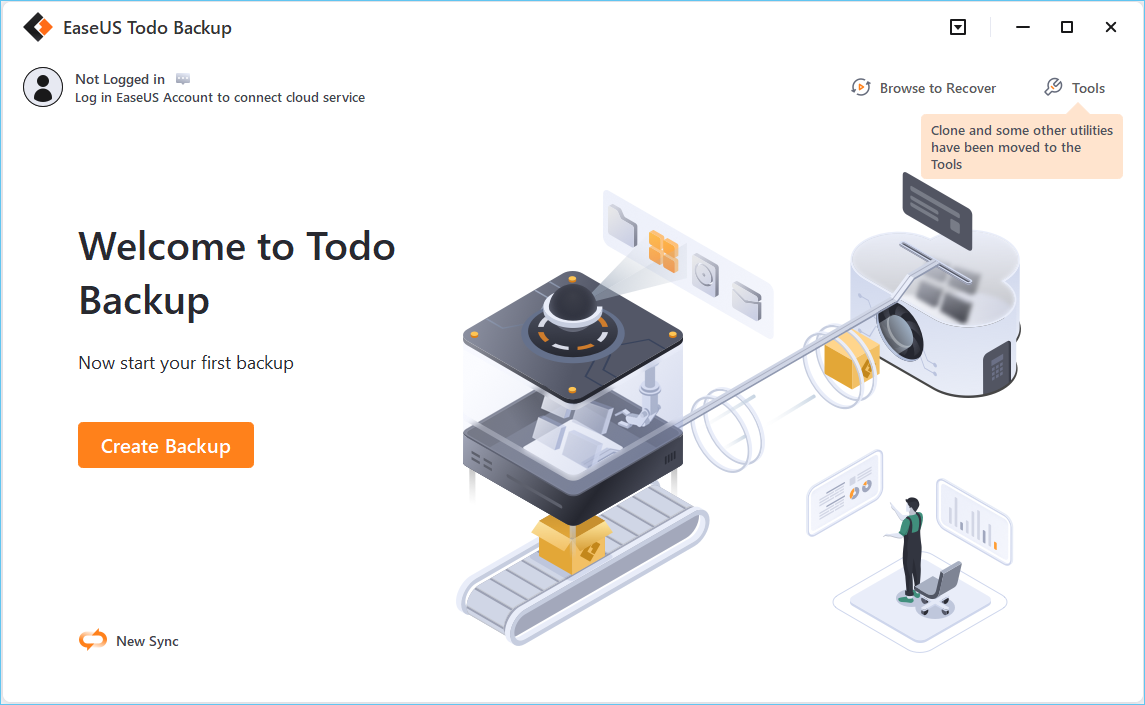 Step 2. There are four data backup categories, File, Disk, OS, and Mail, click File.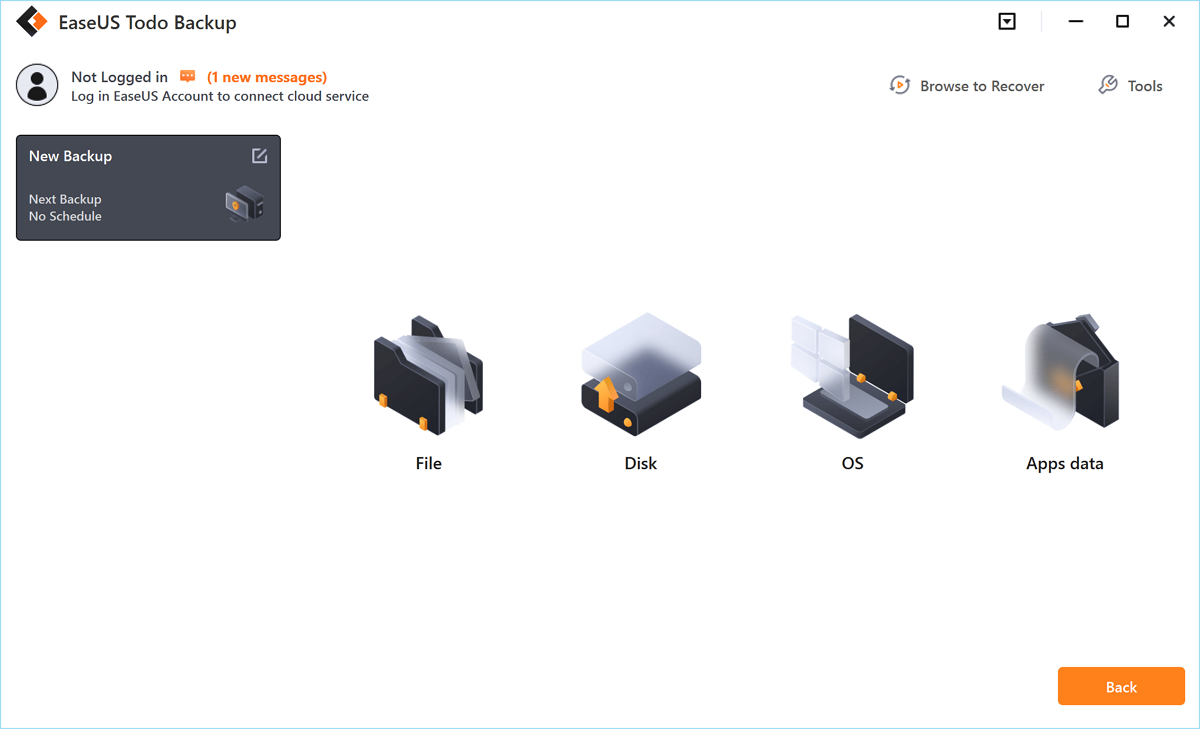 Step 3. Local and network files will be displayed on the left side. You may extend the directory to choose which files to back up.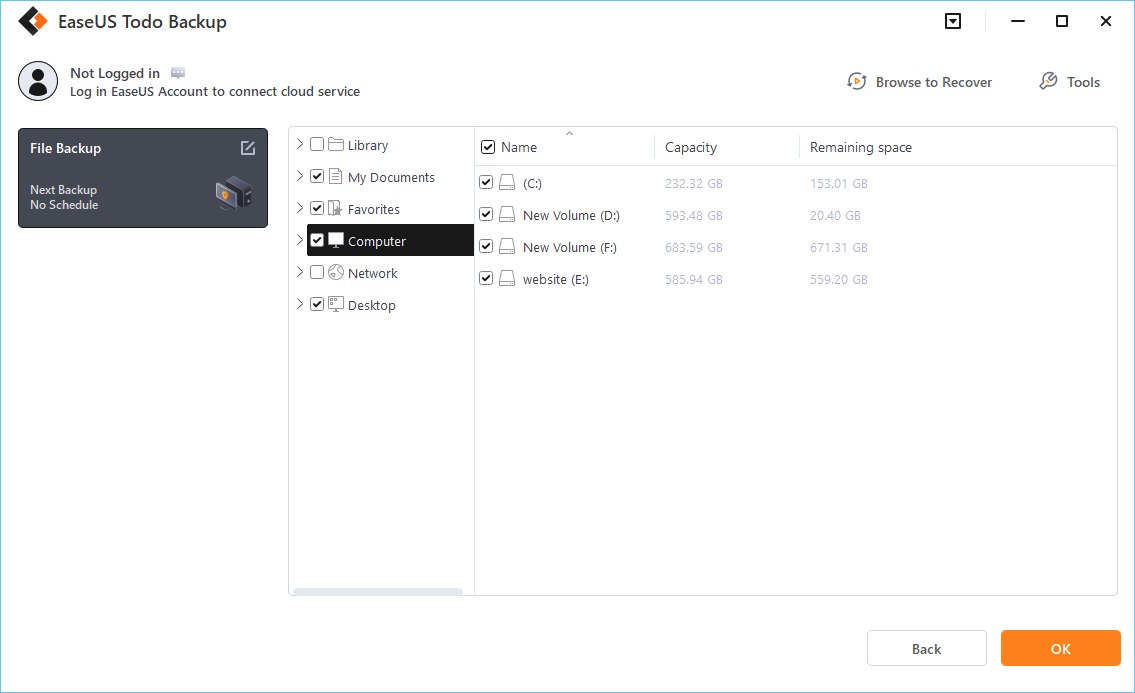 Step 4. Select the location where you want to store the backup by following the on-screen instructions.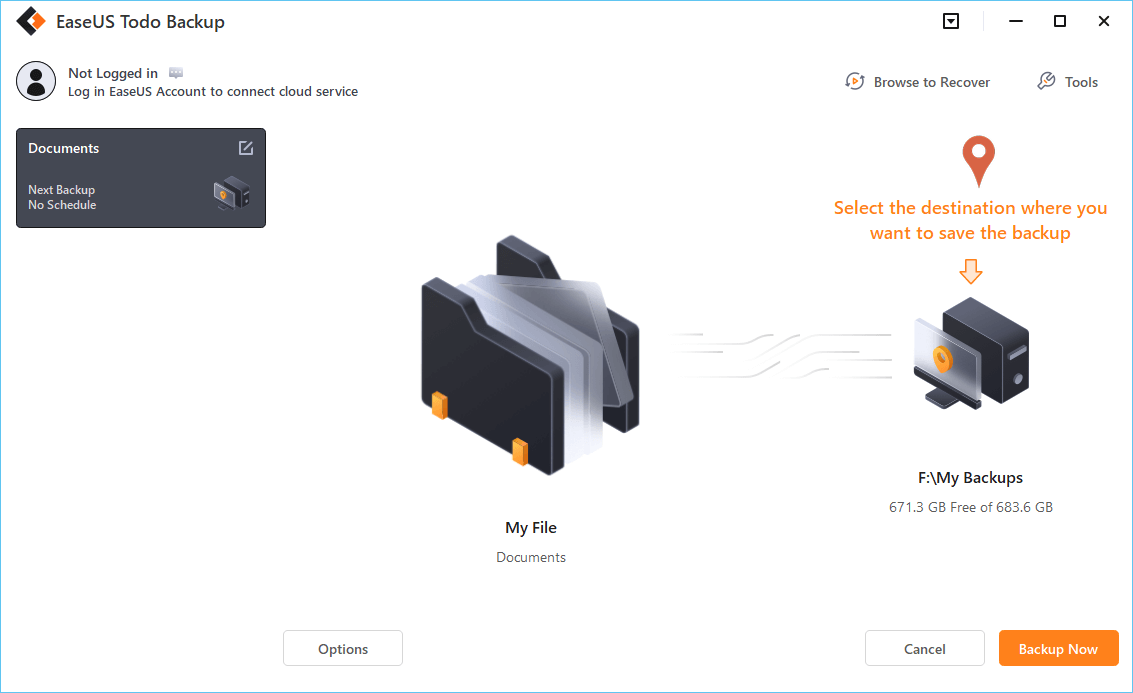 Click "Options" to encrypt the backup with a password in "Backup Options," and to setup a backup schedule and choose to initiate a backup at a certain event in "Backup Scheme." There are a variety of other customization options available for the backup process.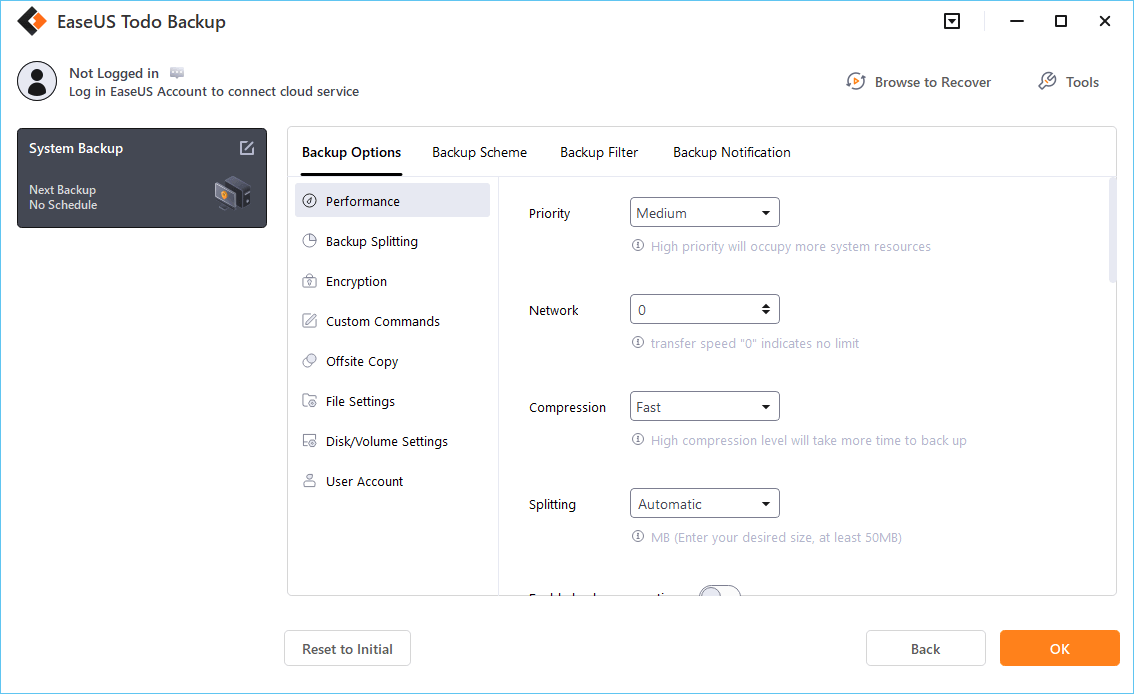 Step 5. You may save the backup to a local disk, EaseUS' online service, or a NAS.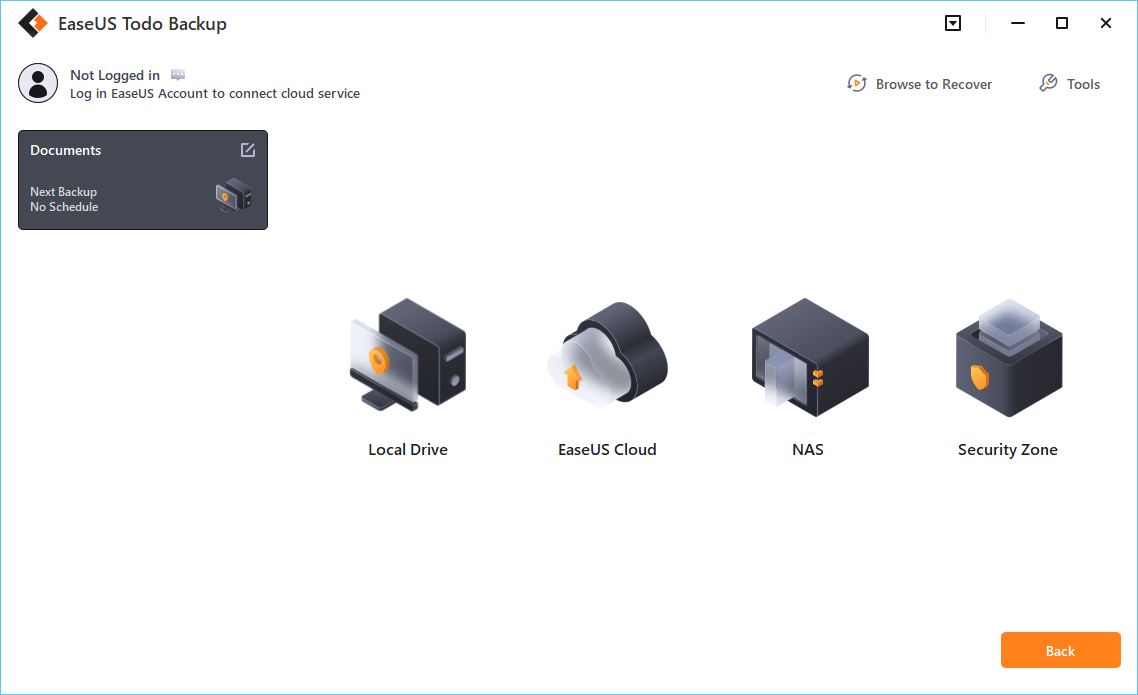 Step 6. EaseUS Todo Backup enables customers to back up data to a third-party cloud drive and its own cloud drive.
If you want to back up data to a third-party cloud drive, choose Local Drive, scroll down to add Cloud Device, add your account, and then log in.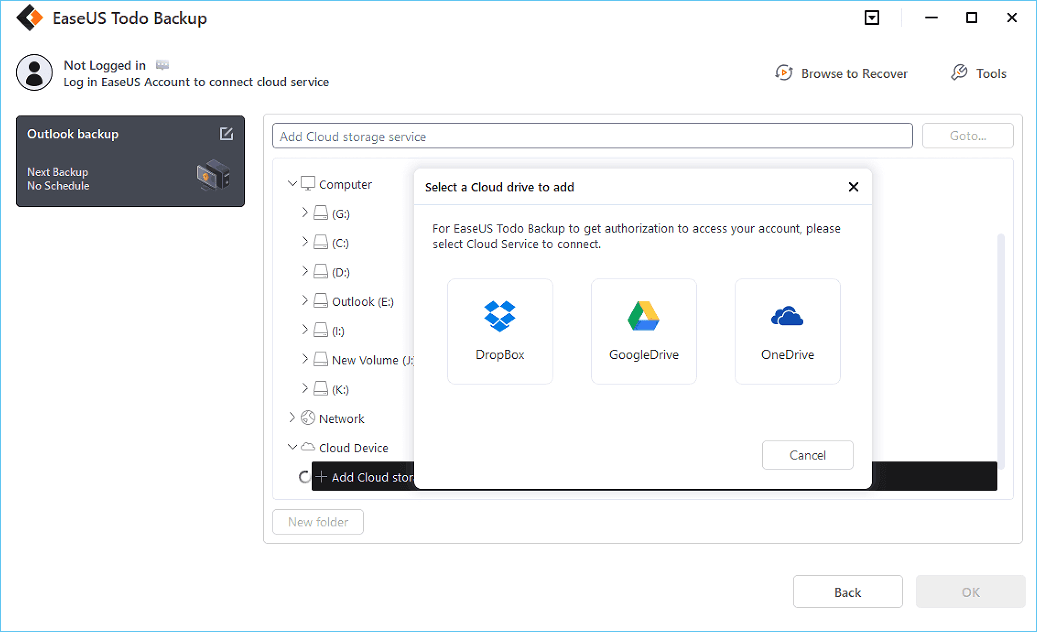 You can also save backups to EaseUS's cloud storage service. Sign up for an EaseUS Account and log in after clicking EaseUS Cloud.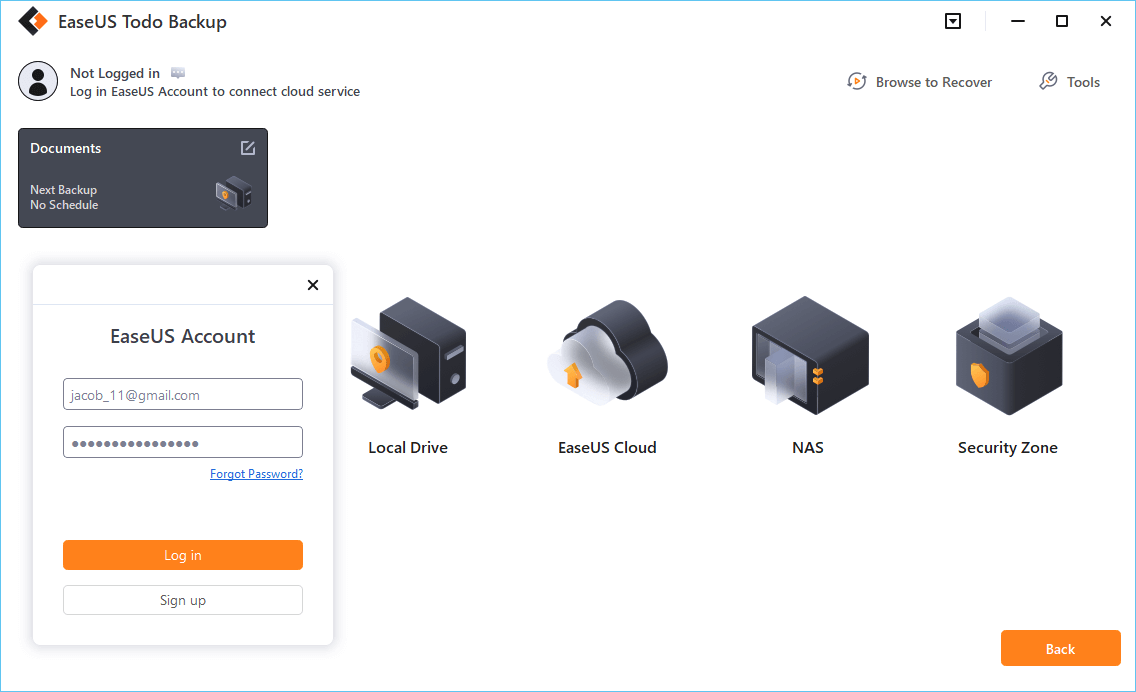 Step 7. To begin backup, click "Backup Now" Once the backup process has been finished, it will be shown as a card on the panel's left side. To further manage a backup job, right-click it.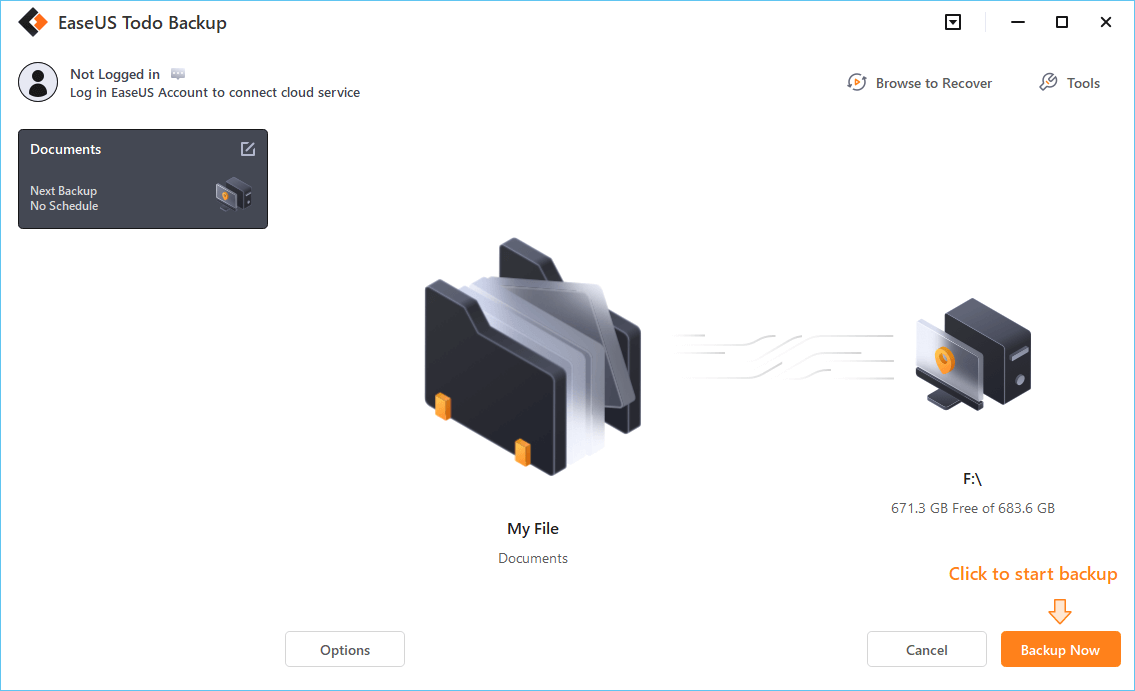 Conclusion
Having a proper storage device like the powerful Samsung T5 version is valuable for all users. However, regardless of the type of portable SSD device you utilize here, there is the risk of losing all the saved files and folders for various reasons. In this condition, a suitable backup in external hard drives with Samsung T5 backup software is useful, like the advanced and user-friendly EaseUS Todo Backup Home software.
From the unique and powerful features available here to the simple UI condition for easier navigation, there are many benefits to this backup tool. Learn all the file backup process steps and directly try them to know how to utilize this software properly.
FAQs
There are some questions users often have regarding the Samsung Portable SSD T5 tool and its backup method specifically. Here are these common notes to understand.
1. Is Samsung T5 good for backup?
The Samsung T5 device, with a 2 TB storage support limit, is a portable SSD type that users can depend on for file transfers. The device does not have an in-built backup mechanism, and you must use another reliable option like EaseUS Todo Backup Home for that benefit.
2. Is Samsung T5 SSD worth it?
The Samsung T5 SSD device is a compact type of storage option for devices and assures high-quality data transfer speed. It is available in different storage capacity options, up to 2 TB, which is highly useful for people. Plus, it delivers a higher transfer rate capacity than many other external hard drives, making it a suitable choice to consider. 
3. Is T7 better than T5?
Developers created the Samsung T7 version as a successor to SSD T5 and upgraded certain aspects related to performance and capacity. Both versions have 500 GB/1 TB/ 2 TB storage capacity, although the T5 version includes 250 GB as well.
As for performance, Samsung T7 has higher sequential reading and writing speeds at 1050 Mbps and 1000 Mbps, respectively, compared to Samsung T5's 540 Mbps sequential read/520 Mbps sequential write speed.
Was this page helpful? Your supoport is truly important to us!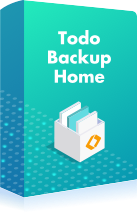 EaseUS Todo Backup
EaseUS Todo Backup is a dependable and professional data backup solution capable of backing up files, folders, drives, APP data and creating a system image. It also makes it easy to clone HDD/SSD, transfer the system to different hardware, and create bootable WinPE bootable disks.
Updated by

Rel has always maintained a strong curiosity about the computer field and is committed to the research of the most efficient and practical computer problem solutions.…

Read full bio