Samsung Magician Software Download for Data Backup and OS Migration
Updated by
Jean
on May 07, 2022
What Is Samsung Magician Software?
Samsung Magician Software is a utility suite for supported Samsung SSD devices on Windows 7 and up. With this software. users can quickly optimize SSD performance using its intuitive interface design. You can monitor drive health and customize your SSD easily using this official tool.
This software is available for free on Samsung's website here. Note that the software only supports Samsung SSD devices. An internet connection is not required to use the software, however you can receive new updates while connected to the internet. Simply download and install the software and start with the guide wizard.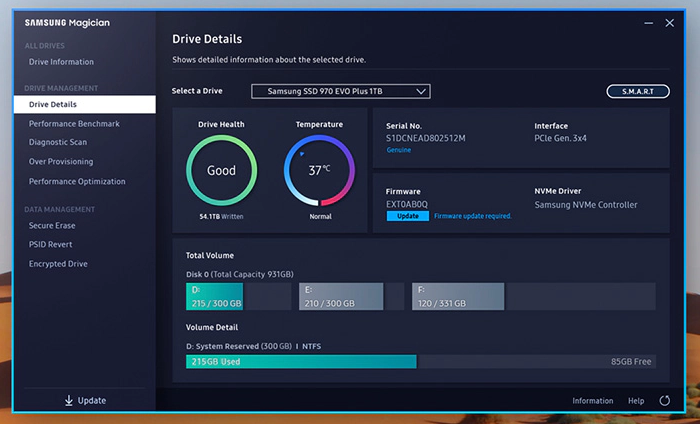 How to Make Full Use of Samsung Magician Software
There are many features on the Samsung SSD tool that can be used to manage your drive. Apart from SSD diagnosis and optimization, Magician also supports data wiping and restoring the drive to factory settings. The main functions of the software are as follows:
1. Drive Management
You can manage drive usage to maximize performance by various means, the software can configure various settings automatically without any user input required.
- Performance Benchmark
Perform random read/write checks on your SSD to compare drive performance with previous tests.
- Diagnostic Scan
Scan your drive to identify and fix any potential problems.
- Over-Provisioning
Automatic partition resizing ensures that your SSD has enough space to perform routine maintenance such as TRIM and garbage collection.
- Performance Optimization
With RAPID Mode, your SSD will be able to perform more efficiently by removing processing bottlenecks
2. Data Management
While incapable of backing up data, you can use this utility to wipe sensitive data from your drive, revert a drive to factory settings, or encrypt important data to protect it from attacks, etc.
- Secure Erase
Delete sensitive data from your drive without affecting the SSD's functionality. This feature can be done from a Bootable USB to fully wipe the drive clean.
- PSID Revert
Using the PSID password printed on the drive label, you can fully reset the drive back to factory settings. This fully wipes the drive and should only be used if all other recovery options cannot help.
- Encrypted Drive
You can enable drive encryption to protect sensitive data on your device. Magician tool will help you with the steps in setting up the encryption. This feature requires BitLocker Drive Encryption and may not be available for all versions of Windows
3. Drive Information
- Drive Health & TBW Check
Get an instant diagnosis of your drive to identify problems affecting performance. You can view Total Bytes Written to assess the drive's health.
- SSD Authenticity
Verify the drive's authenticity to ensure that you are getting the performance and reliability of a genuine Samsung SSD.
- S.M.A.R.T. Check
Check S.M.A.R.T. to inspect your SSD and detect possible drive failure before it happens.
Can Samsung Magician Software Back up Files or Migrate OS?
While Samsung Magician Software is excellent at performing various diagnosis and optimization tasks including data wipe, it's incapable of backing up files on your SSD or OS migration. For users looking for an easy to use tool for data backup and SSD cloning software, we recommend Ease US Todo Backup for your everyday use. This affordable tool allows both beginners and advanced users to quickly perform data backups with a few clicks.
Pick A More Comperehensive Samsung Magician Software Alternative
EaseUS Todo Backup is a data backup suite for Windows operating systems. Users can easily manage their important data to ensure that all files are backed up as needed. This software supports many useful features such as:
Automatic backup
You can set a schedule for EaseUS Todo Backup to automatically perform a backup of the selected files. Old backups can also be deleted automatically to save storage space.
System backup
Create a backup of the Windows operating system along with user settings. With the bootable backup, you can quickly restore the system to its previous state when it crashes.
Follow the below guide so you can back up and restore a Windows operating system to its previous working state without reinstalling after it crashed, showing black or blue screen of death.
*Try to boot the computer with the EaseUS Todo Backup emergency disk to accomplish system recovery on a non-bootable machine..
Step 1. Click Browse to Recover to luanch EaseUS Todo Backup.
Step 2. Navigate to the backup location, and then select the system backup file you need. (The backup file created by EaseUS Todo Backup is a pbd file.)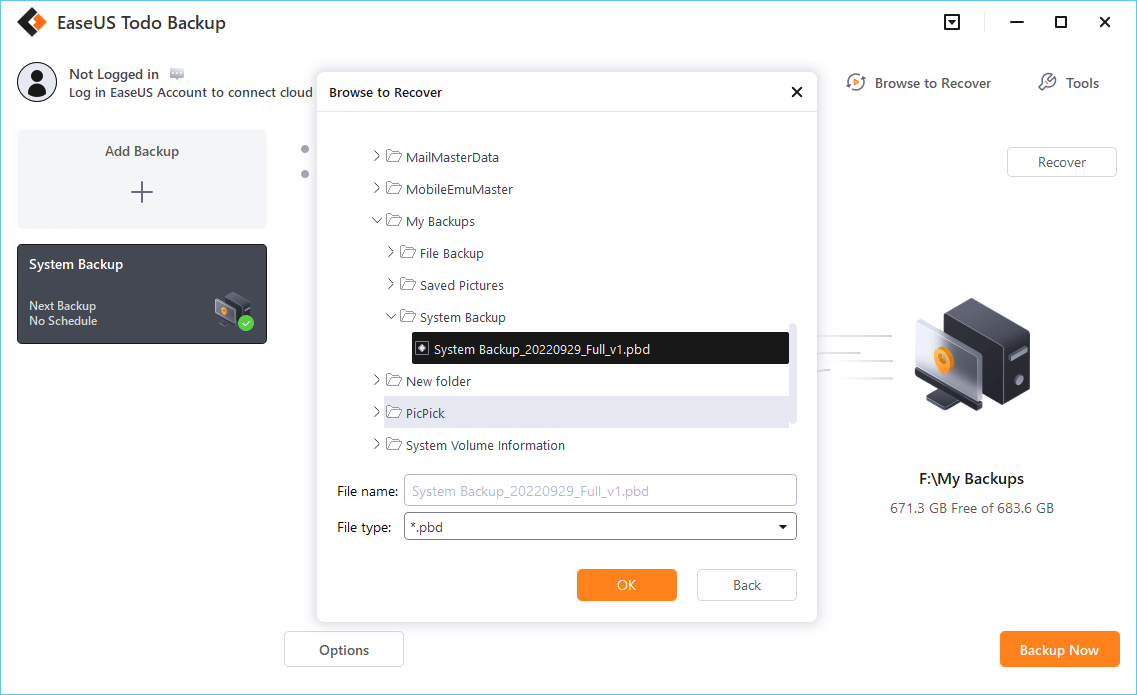 Step 3. Select a recovery disk. Verify that the partition styles on the source and recovery disks are same.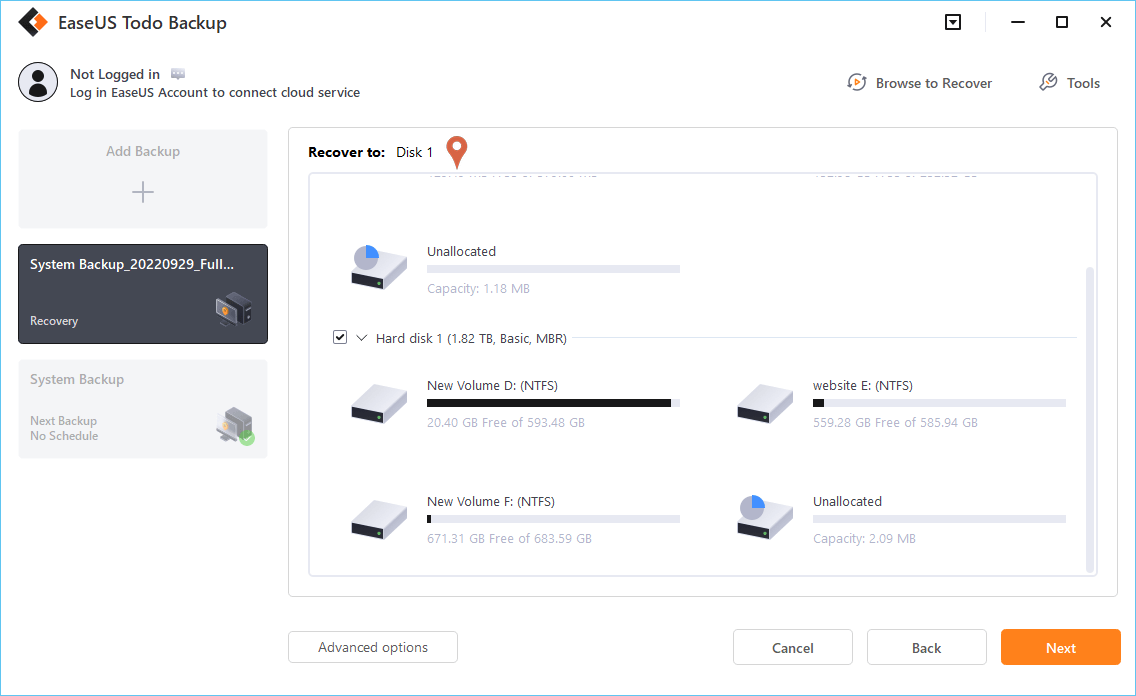 Step 4. You may change the disk layout to suit your requirements. Then, to begin system backup recovery, select Proceed.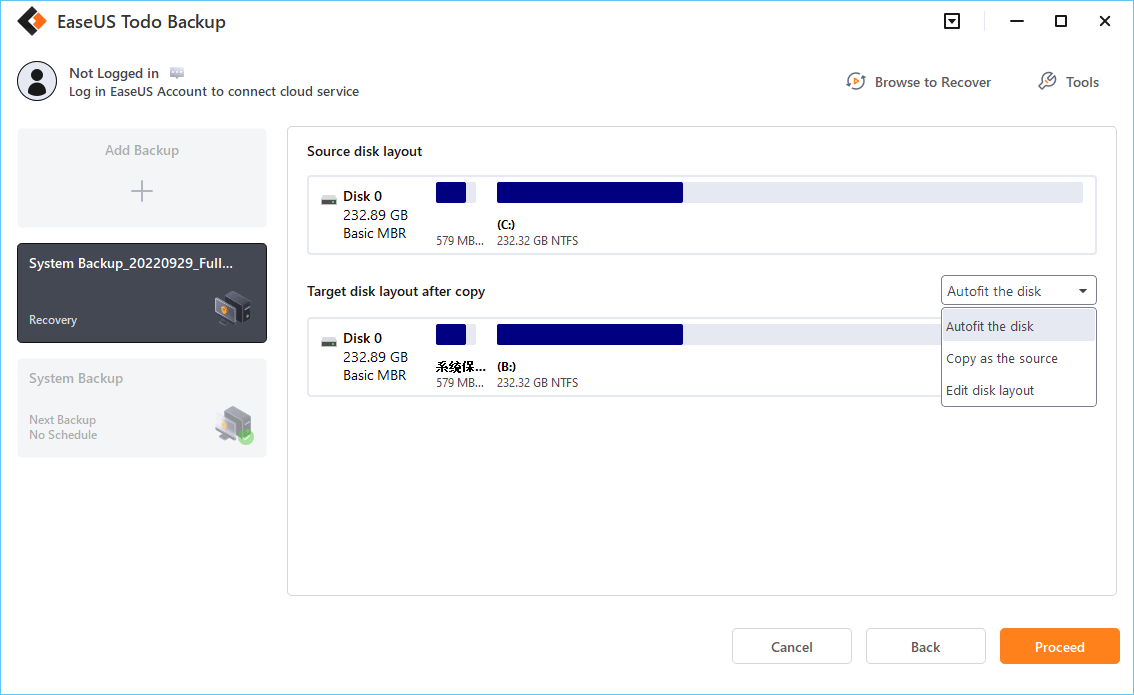 Apart from its powerful features, users of EaseUS Products will also have access to 24/7 technical support. Our specialists will assist you with any questions or concerns you may have about data backups or other operations. Remote assistance is also available for any problems you may encounter when performing data backups.
Conclusion
Samsung Magician Software is a utility suite for users of Samsung SSD devices. With this tool, you can optimize your drive's performance easily using its powerful features. It can also scan the drive for any potential issues and fix them before the drive becomes unusable. If you want to wipe selected files or all data on the drive, you can also perform the operation with this software. However, for users that are looking for a data backup tool, a different software is needed.
We recommend that you use EaseUS Todo Backup, a simple and affordable backup software suitable for all levels of computer users. This Windows software allows you to easily setup automatic backup schedules to ensure that all your important files are safely backed up at all times.

Author Jean has been writing tech articles since she was graduated from university. She has been part of the EaseUS team for over 5 years. Her special focuses are data recovery, disk partitioning, data space optimization, data backup and Mac OS. By the way, she's an aviation fan!
Taking everything into consideration, we can say that EaseUS Todo Backup Home can offer you a little extra sense of security with a set of advanced tools. The interface provides quick adaptation, every process guiding you all the way through so you don't get stuck or further damage your system rather than keeping it safe.

 Read More

EaseUS Todo Backup Free lets you create backups of your important files or your entire computer through its streamlined interface. Just choose the backup type you'd like to get started, and let the program do the reset.

 Read More

EaseUS includes all the features I expect from backup software like versioning, incremental backups, and scheduling. For more advanced users, EaseUS allows you to install a pre-boot environment onto your hard drive so you can use it to restore files without burning a CD or putting it on an external USB drive.

 Read More

EaseUS Todo Backup
Smart backup tool for your files and entire computer in Windows 10/8/7.
Install Windows on Multiple Computers at Once? No Problem!
Learn how to install Windows 11/10/7 and special programs/software on a batch of computers. Use 10 minutes to do the 10 hours work without making a single mistake!
Get Free Solution!