Can I move Windows 10 to SSD without reinstalling everything?
I'm running Windows 10 and I got everything installed on the internal HDD when I did the upgrade job. But now I am investing a new, empty SSD on Amazon and I want to try installing Windows 10 on the SSD for better performance. I have backed up all my data to an external hard drive, so I'm not too worried about losing it all. But I am not sure if I should reinstall the system & installed applications. Actually I mean I want to find a way to migrate Windows 10 from HDD to SSD without reinstalling everything. Is it possible? Please give some advice.
Similar with the above case, you might need to migrate Windows 10 from HDD to SSD for various reasons. And usually it takes much of your time and efforts to reinstall the system and applications, to manually copy the file one by one, especially when you are an average user who have little computer knowledge. But here I would like to tell you that there is an easier solution: clone Windows 10 to SSD with professional SSD cloning software. By copying everything, the system, the programs, settings and personal data, it can save you all the tedious work.
Steps to migrate Windows 10 to SSD with EaseUS cloning software
We recommend you to try EaseUS Todo Backup. It is a professional third-party backup software with powerful cloning capacity. With its help, you are allowed to move Windows 10 to SSD by cloning the whole HDD. The process just takes 2 simple steps and everything on the HDD will be well kept.
Step 1. Launch EaseUS Todo Backup Workstation and click Clone. It will pop up the below window and choose the source disk you want to clone. And then click "Next" to continue.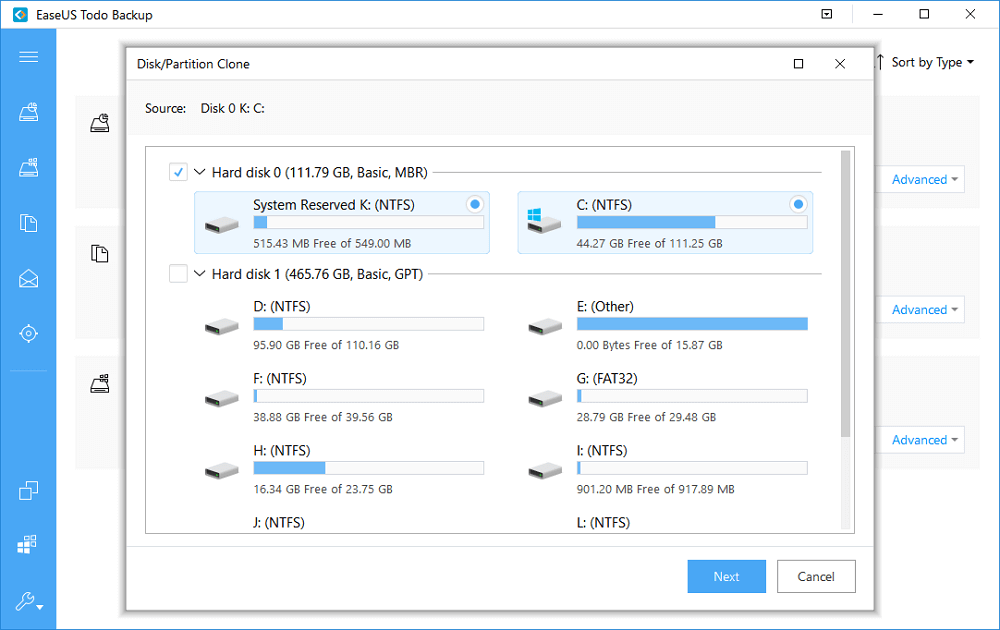 Step 2. Choose the destination disk. Tick Sector by sector clone in Advanced options, with it, you can clone all sectors from source disk to the destination disk. You are allowed to preview the disk layout in advance, then click "Proceed" to clone the disk.