Overview of Lenovo OneKey Recovery (OKR)
In many branded laptops and desktops, there is always a recovery option available which is designed to backup and restore customers' computers that turned into a sudden black screen, blue screen, slowing down, crashing, hanging or freezing.
For example, Lenovo OneKey Recovery, a backup and recovery feature to store the system and the OneKey Recovery system program files, and it has been already built in a hidden partition from the factory. For the purpose of protecting users from mistakenly deleting the recovery partition, this partition contained OneKey Recovery essential files is invisible in My Computer in File Explorer. That's why many people find that their new computer hard drive shows less disk space than it advertised.
Situations to OneKey Recovery not working, not backing up or restoring system properly
Though it's of great help to have OneKey Recovery when something wrong happened to your Lenovo computer, sometimes you find OneKey Recovery not working as you expect.
OneKey Recovery button is not working.
Deleted recovery partition in Disk Management.
C drive has been changed so that the function of recovery partition lost.
The system has been reinstalled by means of a clean install.
Hard drive where the recovery partition resides on develops bad sectors, getting corrupted or damaged.
How to Solve the OneKey Recovery Not Working Problem
Here is what you shall do if Lenovo OneKey Recovery on longer worked due to C drive partitioning, disk corruption or Windows OS reinstallation, making you unable to restore the system with one key recovery function: find an alternative solution that compensates for such shortcomings and disasters.
 Tip

In case that your computer encountered serious problems and cannot boot in the system, after creating a system backup, it's highly suggested to continue creating an emergency disk with EaseUS Todo Backup so that you can boot the system from the emergency disk and do a system restore.
EaseUS Todo Backup is the best Lenovo OneKey Recovery alternative that provides a possibility to create a portable Windows system backup on every PC of various brands, such as Lenovo, HP, Dell, Acer, Toshiba and so on.
Regarding the function and form of Lenovo OneKey Recovery, you can use EaseUS free backup software, in which the system backup feature, to achieve the same goal. So, as soon as OneKey Recovery failed to play its role, fix it all by yourself with EaseUS Todo Backup!
Step 1. If you want to back up your current Windows Operating System to an external storage device, connect it to your PC.
And note that the device should be as equal to or even bigger than your system drive.
Step 2. Launch and run EaseUS Todo Backup, click the "menu" at the left top corner, then select "System Backup" on the left tool pane.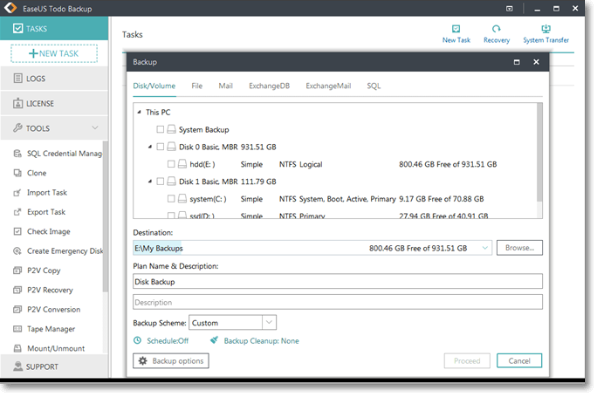 Step 3. Select the Windows System that you want to back up and specify the destination - local Windows computer hard drive, cloud/network drive or external storage device to save the OS image.
Click "Proceed" to start backing up your Windows OS now.
PLUS: If you want to create an automatic backup plan for your Windows system image, please refer to the below tips for a tutorial guide:
1. After selecting System Backup, click "Schedule: Off" option, then set up backing up your OS by daily, weekly, or monthly.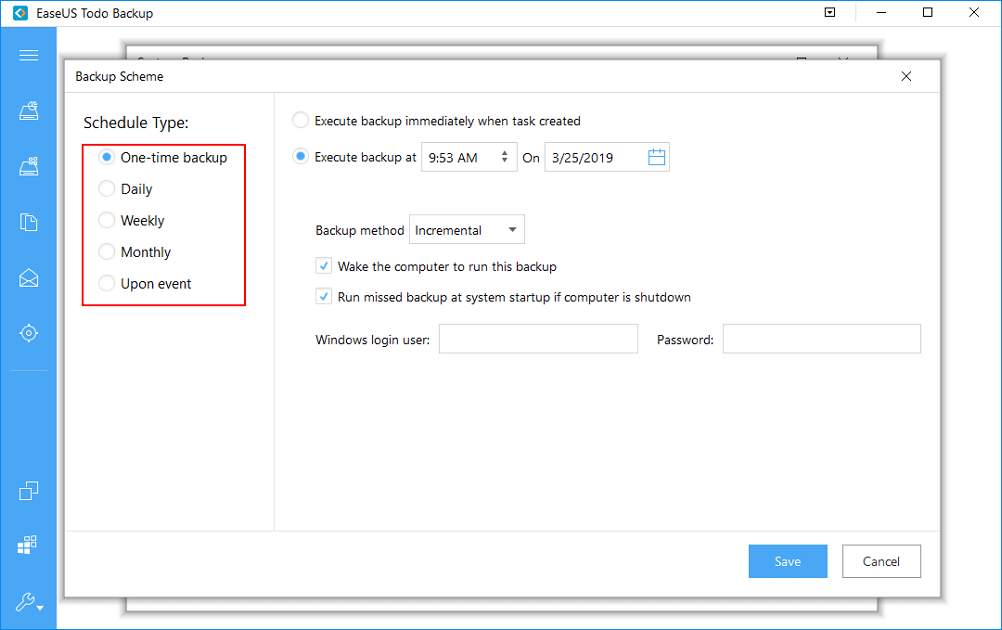 2. Save the changes. And finish the process by following Step 3. After the first full backup of your Windows OS, EaseUS Todo Backup will automatically to run an OS backing up on itself as your settled schedule.
100% of people found this article helpful.
Frequently Asked Questions
Why choose EaseUS Todo Backup?

"The easiest way to protect your data and system files." —techradar

"EaseUS Todo Backup Free is one of the most popular free data backup applications available. This software offers a myriad of features and is extremely user-friendly. It provides a full system backup, meaning you can back up your entire operating system." —TopTenReviews

"EaseUS ToDo Backup Home is a great backup program, well suited to the home and SMB space." —PCWorld
What is the difference between Clone and Backup? In what cases should I use Clone?

Clone will copy one disk to another or one partition to another (unallocated space is also supported). Usually, this option is used to upgrade the current disk by creating an identical copy. Backup will generate a .PBD image file containing the selected files or system that can be restored from the .PBD image if needed.
What is the difference between System Backup and Disk Backup?

System Backup will auto-select the system boot related partition(s) as the backup source to make sure the system image can be restored properly. Disk/Partition Backup will allow you to manually select a whole disk or speficy a certain partition as the backup source. You will get the same backup result as System Backup if you manually select the system and boot partitions with the Disk/Partition Backup option.
As a computer newbie, what features should I use to protect my computer?

You can use System Backup to back up the system and boot partitions, use Disk/Partition backup to back up the data partition and add plans to run an automatic backup. If you use the computer frequently or have software that may cause boot failure of the computer, we would suggest you back up the computer every 1 to 2 days. For other situations, you can backup the computer once a week. In addition, you can schedule File Backup to back up the files which are changed frequently.
What kind of storage service should I use to save my backup images?

EaseUS Todo Backup can save backup images to internal disks, external disks, network drives, or free cloud(Google Drive, Dropbox, and OneDrive) and CD/DVD. It is suggested to save the images to the internal/external/network drives to save time as those kinds of disks have a better read-write speed. It is suggested NOT to save the image on the source disk, because once the disk is damaged, all the files on the disk will become unavailable and you will be unable to restore the image.
As a company network administrator, what features should I use to protect our internal computers?

It is recommended that you use the SQL Backup feature to back up your company's SQL server and Exchange Backup feature to back up the Exchange server. In addition, you can execute System Backup to back up the system and boot partitions on every computer and set a plan to execute the backup once a day or twice a week to ensure that the computer can be restored timely when it has boot issues. File Backup feature can be used to back up important user data. If there are a large quantity of computers, you can purchase EaseUS Backup Center to manage the backups on the client computers centrally.
About EaseUS Todo Backup
Be it a file, system, partition, or disk, EaseUS Todo Backup will help you back up or clone the item and provide you with multiple backup plans.