PAGE CONTENT:
If you are using Macrium Reflect to back up your data, have you ever been stuck on questions like "Is Macrium Reflect safe?" and "Is Macrium Reflect still free?" Some users have reported that they met some issues when using Macrium Reflect. This article from EaseUS will tell you whether it is safe to use Macrium Reflect and describe a Macrium Reflect alternative to you.
What Is Macrium Reflect
Macrium Reflect is a practical backup, disk imaging, and cloning program. Its support in more than a dozen languages, together with its multilingual capabilities, has contributed to its continuing to rank among the most widely used backup utilities for Windows users worldwide.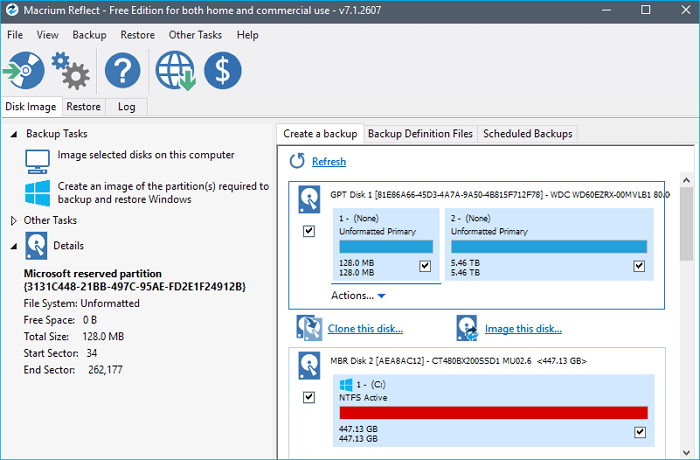 Macrium Reflect can help protect your PC data and let you back up files to local, network, and USB drives. You can use it to create a Windows system image on an external hard drive, so once the system is crashed, you can use it to restore the entire system or even restore individual files and folders.
Macrium Reflect also enables you to upgrade your hard disk and mount images as virtual drives in Windows Explorer for simple file and folder recovery using Copy and Paste.
Price
The Macrium Reflect has different versions, including Macrium Reflect Free, Trial, Home, Business, etc. And the trial version lets you use it for free for 30 days. You can also select between two types of premium versions: respectively, Home, for personal use, and Workstation, for commercial use.
The Home version costs $70 per license per computer, or you can pay a discounted price of $140 for 4 licenses. For the commercial version, a license for each computer costs $75, a server license costs $299, and a "Server Plus" license costs $599.
Main Features of Macrium Reflect
Macrium Reflect, in essence, is a backup and disk cloning utility. But it also has other practical features. So, here we will list some main features of it.
Backup and Recovery
Archiving & Retention
Automatic Backup
Full/Incremental/Differential Backup

Disk Cloning
Lifetime License
Backup Log
Bare-metal Restore
Is Macrium Reflect Safe
After knowing the basic information on Macrium Reflect, a heated topic will come to mind: Is Macrium Reflect safe to use?
Yes, the answer is in the affirmative. Macrium Reflect is safe, and you can feel free to use it. It is not a computer virus and is a completely safe backup solution. It can help back up your files, disks, and partitions. Furthermore, it allows you to clone a hard drive and upgrade your hard disk.
Although Macrium Reflect can keep your essential data accessible and safe, it has some negative sides.
Macrium Reflect takes various steps while imaging your drive to make the anti-virus tool mistake it for harmful software. Macrium Reflect occasionally generates huge files that antivirus software misinterprets as harmful software.
When using Macrium Reflect to clone HDDs, it reportedly prompts users to install Microsoft WinPE. So, is HDD cloning safe using Macrium Reflect? You could encounter errors when using Macrium Reflect to clone a hard disk, such as the Macrium Reflect clone failed error.
Undoubtedly, it is safe to use Macrium Reflect to help you back up your files or clone your hard drive. But you cannot ignore its drawbacks. Therefore, it would be best if you use the Macrium Reflect alternative to help you perform such tasks.
Alternative to Macrium Reflect
As mentioned earlier, Macrium Reflect can help you back up your data and clone or image a hard drive. But you may encounter some errors when using it. Under such circumstances, you can try Macrium Reflect alternative - EaseUS Todo Backup to help you out.
EaseUS Todo Backup Home is versatile backup and recovery software compatible with Windows 11/10/8/7. It can let you automatically back up your files, disks, partitions, and computer apps, and it also lets you create an image of your SD card.
In addition, it lets you create various types of backups, then store them in diverse locations, such as the local drive, external drive, NAS, and Security Zone and transfer your operating system from one computer to another.
Price
EaseUS Todo Backup has 3 editions: Free, Home, and Business. The Home version has 3 prices: Standard Yearly: $39.95; Premium Yearly: $59.85; Standard Lifetime: $79.95. The Business version also has 3 prices: Workstation: $49/year; Server: $199/year; Advanced Server: $299/year.
Key features of EaseUS Todo Backup Home
One-click Backup and Restore
Multi-path, Cloud Storage Provided
Full/Differential/Incremental Backup
Hot Backup
Scheduled Backup
AI Smart Backup

Cloud Backup: 250G Free Cloud Storage
Universal Restore
Security Zone Backup
Mount Backup Images to Extract individual files
Backup Notification
Prime Technical Support
Here is how to use EaseUS Todo Backup to back up your computer.
Step 1. Launch EaseUS Todo Backup on your computer, and click Create Backup on the home screen and then hit the big question mark to select backup contents.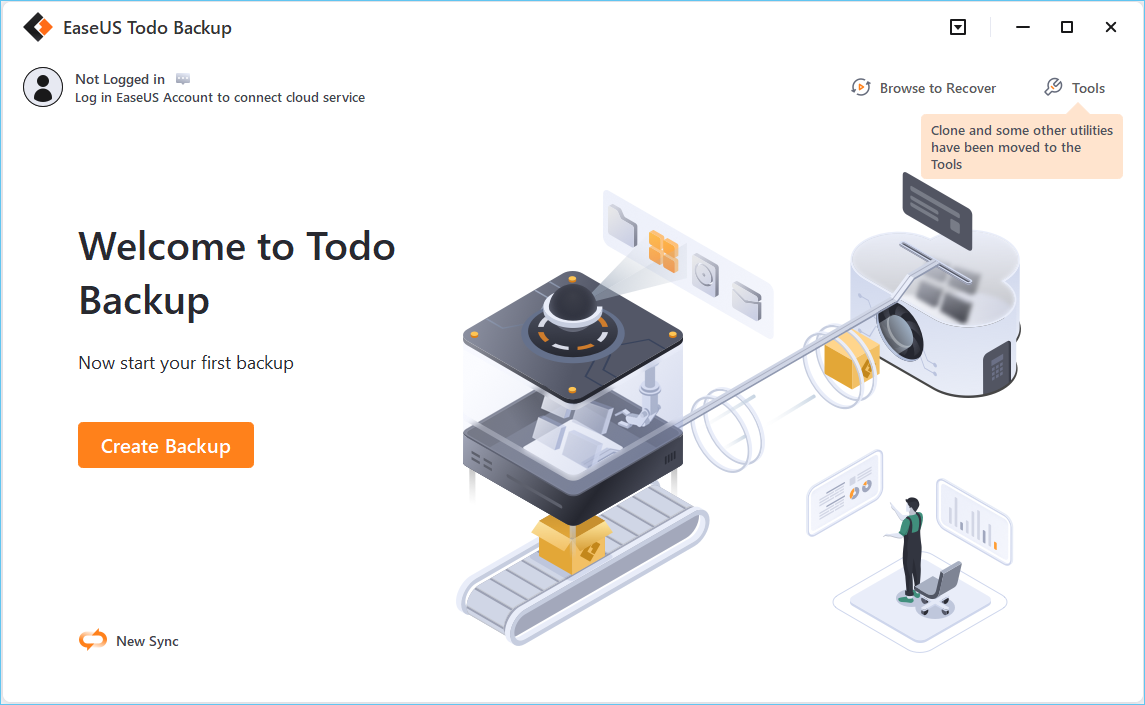 Step 2. To back up your Windows operating system, click "OS" to begin the backup task.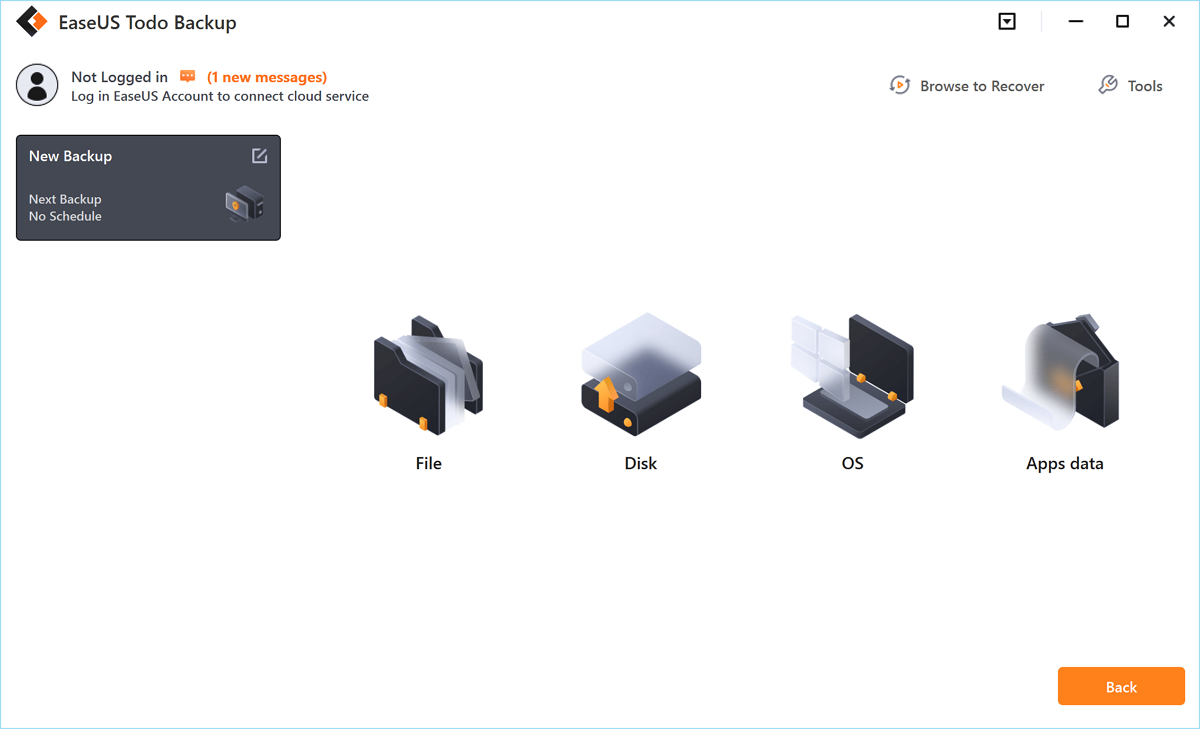 Step 3. Your Windows operating system information and all system related files and partitions will be automatically selected so you don't need to do any manual selection at this step. Next, you'll need to choose a location to save the system image backup by clicking the illustrated area.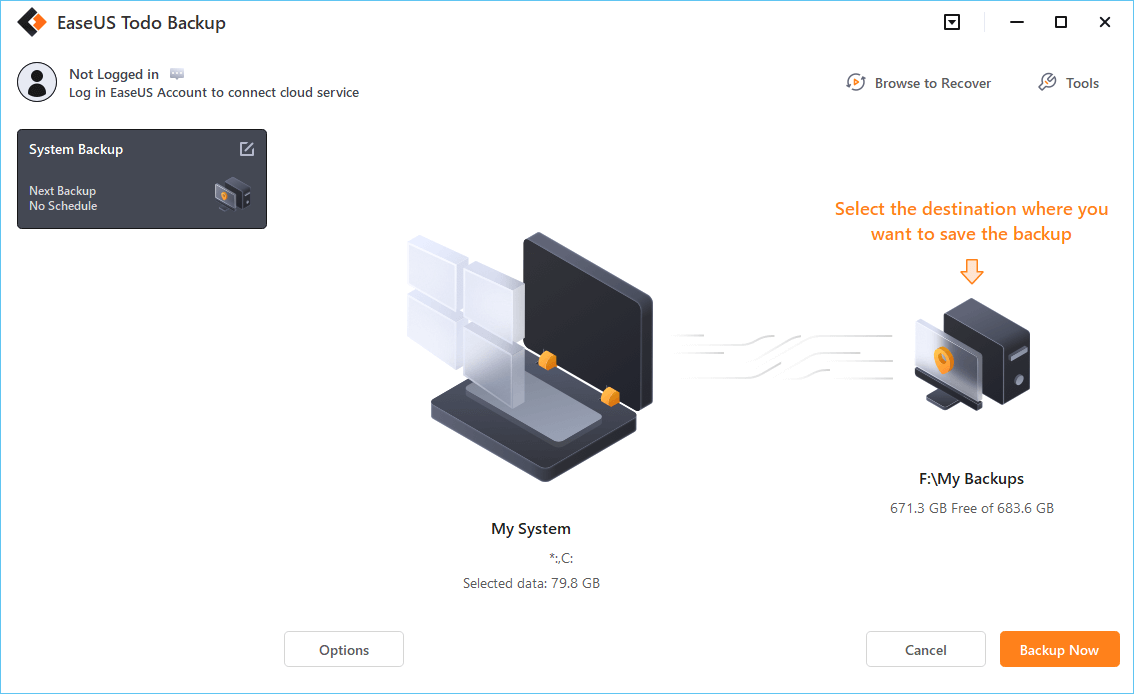 Step 4. The backup location can be another local drive on your computer, an external hard drive, network, cloud or NAS. Generally, we recommend you use an external physical drive or cloud to preserve the system backup files.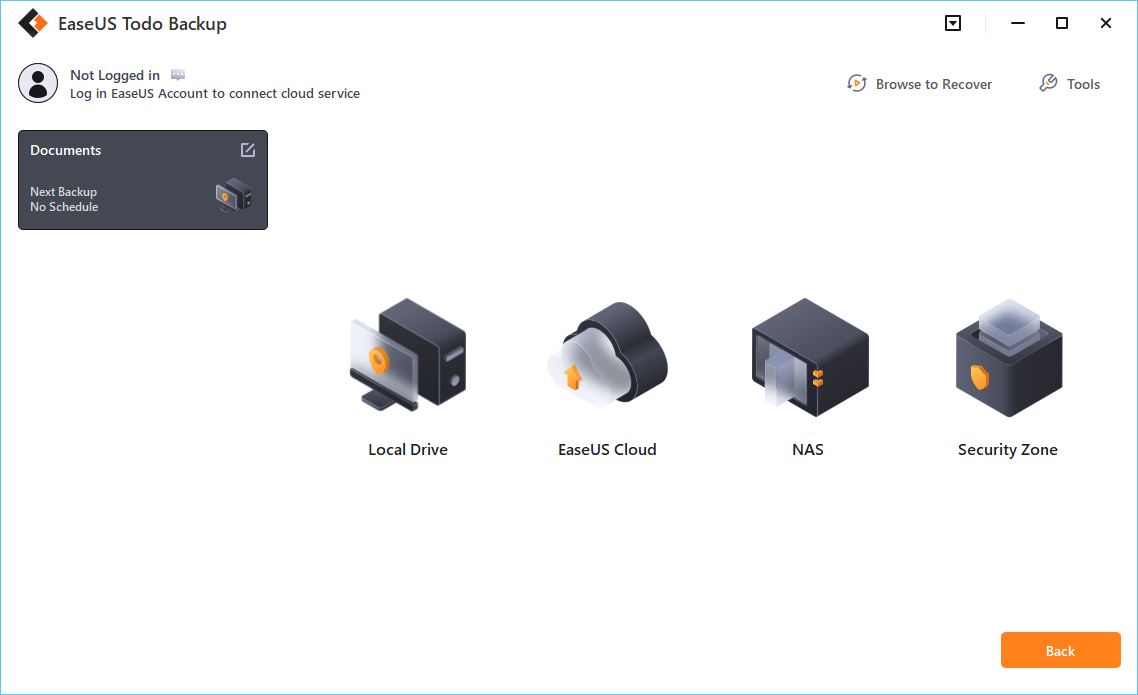 Step 5. Customiztion settings like enabling an automatic backup schedule in daily, weekly, monthly, or upon an event, and making a differential and incremental backup are available in the Options button if you're interested. Click "Backup Now", and the Windows system backup process will begin. The completed backup task will display on the left side in a card style.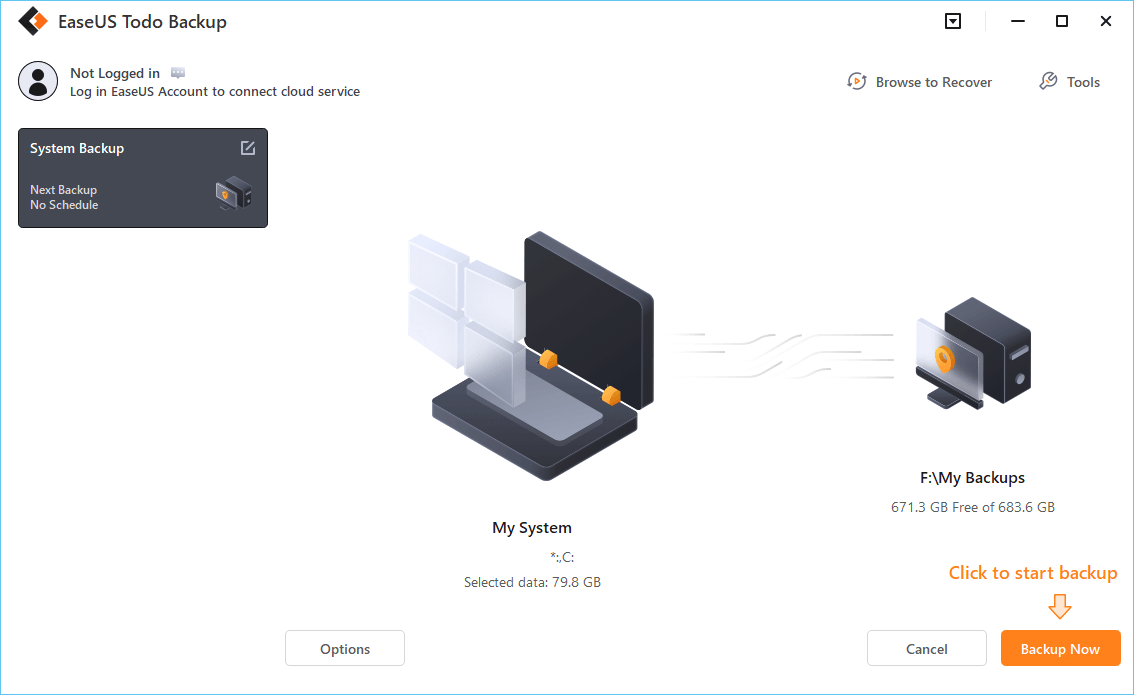 To Wrap Things Up
Is Macrium Reflect safe? I guess you have gotten your answer after reading this post. Generally speaking, it is rather safe to use Macrium Reflect to help you back up your files. But it is worth noting that you may encounter some issues when using it.
Under such circumstances, you can use EaseUS Todo Backup to help you back up your computer or clone a hard disk. EaseUS Todo Backup has a user-friendly interface and relatively faster backup and cloning speed. It can help you suit your different needs. So what are you waiting for? Just download and try it to keep your computer safe and secure.
FAQs on Is Macrium Reflect Safe
1. Is cloning better than fresh install?
Disk/partition cloning software is all you need if your hard drive and Windows operating system are in good working order. If the OS and hard drive are not operating properly, on the other hand, you should choose the Windows Clean Install option.
2. How long does a Macrium license last?
Macrium license will last for an entire year, providing you with total peace of mind. Undoubtedly, Macrium Reflect is a practical tool to help you protect your data. But sometimes you may be annoyed by its drawbacks. Therefore, you can use EaseUS Todo Backup to help you finish backup or recovery tasks.
Was this page helpful? Your supoport is truly important to us!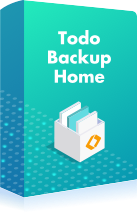 EaseUS Todo Backup
EaseUS Todo Backup is a dependable and professional data backup solution capable of backing up files, folders, drives, APP data and creating a system image. It also makes it easy to clone HDD/SSD, transfer the system to different hardware, and create bootable WinPE bootable disks.
Updated by

"I hope my articles can help solve your technical problems. If you are interested in other articles, you can check the articles at the bottom of this page, and you can also check my Facebook to get additional help."…

Read full bio